BigCommerce is quite a popular eCommerce platform and the fastest growing eCommerce software platform, originating from Austin, Texas.
It is not an ABC or as easy as Shopify, but it is still not that hard to use.
If you think BigCommerce is complicated, remember, when you lose in accessibility, you gain in customizability.
However, I also agree that choosing an eCommerce platform is not as straightforward as ordering a cup of tea.
In today's blog, we will give a complete tutorial and explain to you how easy it is to get started with BigCommerce. And if you've got the idea and products for your eCommerce store, then you could start trading within a couple of hours.
This blog will be the ultimate tutorial on launching an online eCommerce store.
Be ready to join the long line of online merchants.
Let's get started.
BigCommerce: A Quick Overview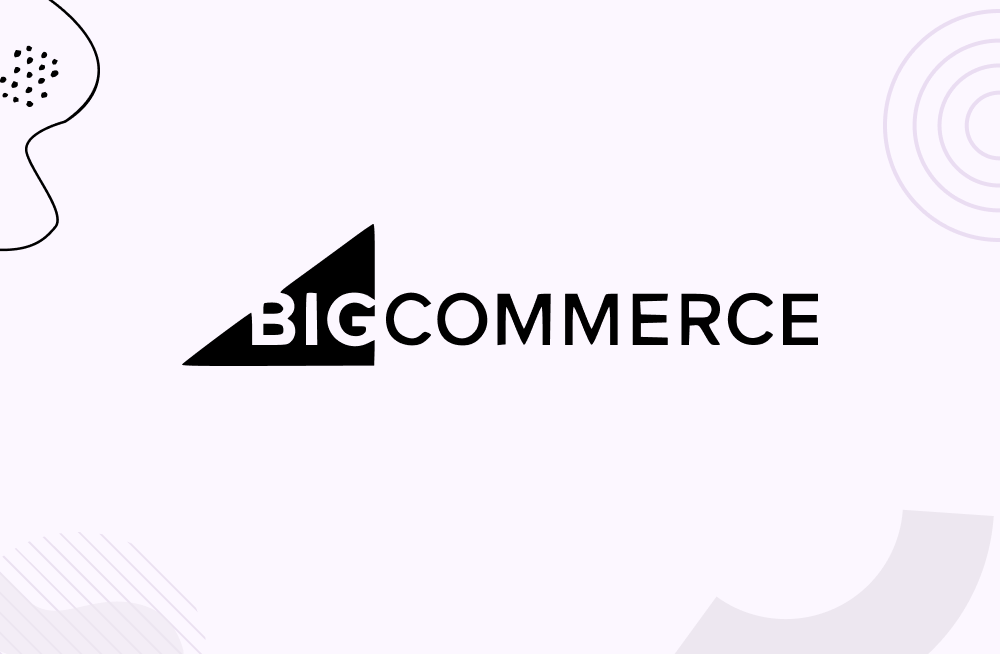 BigCommerce was founded in 2009, and today it is the world's fastest growing eCommerce platform, started in Austin, Texas. It is a SaaS-based eCommerce platform with many in-built features and specs that make things easy for entrepreneurs and merchants to establish an enterprise that is robust, full-featured, and simple.
At present, BigCommerce supports around 90,000 online eCommerce stores in over 120 countries.
Why is BigCommerce Designed?
The services offered by BigCommerce are convenient and a good fit for all kinds of e-Commerce/e-retail businesses, including startups, small, mid-sized, and large businesses.
The ease of use offered by BigCommerce makes it a suitable fit for all kinds of new and experienced companies.
BigCommerce also offers several video tutorials for beginners on its you-tube channel for retailers and online sellers.
Perks and Pitfalls of BigCommerce
Perks
It gives a 15-day free trial for beginners.
BigCommerce offers advanced services that other similar platforms will charge a hefty sum of money for.
Unlike Shopify, which demands a premium account, third-party real-time shipping calculations will be available on any plan.
As opposed to the competing programs, the plans offered by BigCommerce are of excellent range with reporting features and multi-currency compatibility.
BigCommerce comes with an in-built product assessment system, a blog, and a drag-and-drop page builder.
Pitfalls
The high cart capability is way more expensive than other similar products, with no shipping discounts offered on any kind of subscription plan.
It imposes restrictions on annual online sales, and to avail of this, you have to subscribe to a more expensive plan.
They have in-built blogs without any RSS feed support.
How is BigCommerce Different From Shopify?
BigCommerce and Shopify are both online shop builders that allow you to sell all kinds of physical and digital goods, even if you don't know how to code.
Even though they are alike, there are still some areas where each platform has a distinct advantage.
The areas where BigCommerce beats Shopify are reporting, product options, multi-currency selling, and SEO.
The Cost of BigCommerce
As I said, BigCommerce offers a 15-day free trial and offers monthly subscriptions at three levels, starting at $29.95 and going up to $299.95.
It also offers a custom-priced enterprise package on its platform.
The four plans are somewhat like this:
Standard- For your new online eCommerce stores.
Plus- For your growing online store, with some crucial marketing features.
Pro- For big online stores, with extensive features and additional support.
Custom- For enterprise businesses.
Important Must to Have a Look Features of BigCommerce
It is a highly adaptable platform with pre-cast responsive designs and features such as the BigCommerce Stencil, Akamai Image Manager, and many more to help you conveniently create an online eCommerce store that can make a good impression on your target audiences.
It comes with in-built SEO tools and analytics dashboards with performance and consumer insights all present on one platform.
Payment and inventory regulation. The platform accepts all third-party payment methods such as PayPal, Apple Pay, Stripe, Amazon Pay, and others.
BigCommerce is integrated with various third-party apps and only maintains tested and approved partnerships.
Let's Get Started With BigCommerce

Create An Account With BigCommerce
First, you have to visit the BigCommerce website. It would be good if you first explored the website to understand the resources and support documents provided on the website. Check out the pricing, features, and video tutorials given on the site. This will let you decide whether you have made the right decision by coming to BigCommerce or not.
If you have made up your mind and are already on the BigCommerce home page, click on the "Get Started" button. A few other buttons will appear, do the same. Now select the "Start Your Free Trial" button. It will lead you to another page.
The website will want you to create a BigCommerce account. So you have to do this. Enter all the details accurately. After this, press the "Continue To Store Details" tab.
By creating your account on the website, you can test all the primary features and can publish your store when it is ready.
Now, in the next window that will appear on the screen, enter your eCommerce store name and create a password for your account.
This way, you will be logged in to your eCommerce dashboard with your email address and password.
BigCommerce will ask you to fill out some details like your full name, your phone number, and the size of your online business. After filling in all these details, click on the "Create Your Store Button" to proceed.
Some other options will appear for you to fill in, which you can skip, but since this is a tutorial, we will explain everything. The drop-down menu will ask what you'll be selling on your website. Fill in the bar from the long list of industries.
Once that is done, press the "Finish" button to start creating your online eCommerce store.
Add a theme
Once you are on the BigCommerce dashboard, there will be a lot of options for you to pick from. There you will have the option to select the BigCommerce plan and choose the URL of your online store.
However, I would recommend you first get used to the settings of the BigCommerce website before you start paying for the platform.
To customize the theme, click on the "Storefront' option, below which choose the "My Themes" tab. By clicking the option, you will land on a page where you can select from a wide range of themes. You will get dozens of free and premium themes.
When you find the right theme for your website, click on the "View In My Themes" tab.
Customize Your Theme
You will come back to the dashboard, where you can see the theme that you just selected as your website's current theme. You will see a "Customize" button. From there, you can start editing your theme.
On the customization page, you'll notice several menu tabs like styles, global, header&footer, the home page, products, buttons and icons, the Checkout page, and more. If you open the homepage menu tab, several checkboxes will reveal different color setting options that you can directly apply to your homepage.
Add Your Logo
There are various branding settings that you should be concerned about, but adding a logo is the very first thing that should be done.
Again, in the Storefront menu, press the logo button. The page will ask if you would like to enter text to your logo or not. You will get options to adjust your logo's position by launching the theme editor.
Create & View Products
To create the first product, visit the product menu and click on "Add." There you will see all the sample products added to your theme. However, if you want to upload your products, click on the Add button visible at the top.
On this page, you have to add all your product details. Enter the product name and default price, then select the category in which you would like to place the product.
After completion of this, click on each and every menu item, and save your product when done.
Test the Frontend of Your BigCommerce Store
There's a "Preview Product" option visible on the dashboard to view your product on the front end. You can view your entire website to examine which elements look good.
The Final Step: Store Launch
The final step in the BigCommerce tutorial will be to compare the plans that you have picked for your URL. After finishing, you will start paying a monthly fee for hosting your website and tools. Soon, you will get to launch your store and start selling your products.
Click the orange button that says, "Launch Your Store."
Congratulations, you're now an eCommerce trader. Now all that is left is to attract your customers and sell your products.
Final Words
BigCommerce is a trusted B2B and B2C eCommerce online store solution provider, regardless of whether you are a newbie or a geek.
However, it owns everything that a SaaS eCommerce platform should have. It is a third-party development that embraces abundant features and functionalities. It is an end-to-end solution that you can customize.
If you are still muddled about choosing this platform, then contact us.
Extern Labs is a leading website development company.
If you are into the eCommerce business, choosing an ideal eCommerce platform and a well-calculated marketing plan is a must.
We have certified eCommerce platform experts and have developed various eCommerce stores as per the client's demand.
Visit our website today or contact us our experts will guide you on the same.