Over time you must have come across- allow or turn on the GPS requests on your smartphones. The geo functionality of the mobile applications offers you classified nearby locations.
If you are craving ice cream- but don't know the best ice cream parlor around your locality, just click on an app to help you locate the best ice cream outlet in your locality. In case of emergency, when you are panicking, just turn on your GPS and you will get assistance within minutes. Instead, you can use a mobile phone tracking app and it will do the job for you.
This blog is to explain how a mobile tracking app can do wonders. This merger of smartphone tracking features with the smartphone will lengthen the life and overall rapport of the smartphone.
The mobile tracker apps are used for spying on the targeted individual through their mobile phones. This kind of application comes in handy for everyone like parents using the mobile tracking app to know the daily life routine and daily activities of their teenagers.
The MNCs and offices use this secure mobile tracking feature to trace the location of their employees. Companies like Zomato, Airbnb, Ola, and Uber use these location-based mobile tracker apps to examine the delivery-specific locations of their delivery partners.
In the year 2023, there are a lot of opportunities for businesses to develop an on-demand application in this niche. With the increasing vogue of on-demand delivery solutions and mobile applications, tracking systems are now becoming the prominent demand for users and businesses. 
Start your journey of mobile tracker app development with us and dwell in this prospering marketplace with some amazing features.
So, let's discuss the ways to build a mobile tracker app and all other information related to mobile tracker app development.
How a Smartphone Tracks the Location of the User
Mobile tracker applications digitally help enterprises to track, monitor, and manage many aspects in real time of their personnel fleet. The mobile tracker app is built for companies and individuals so that they can control their deliveries and resources to enhance their productivity by cutting down costs.
This can be the best way for businesses to surpass their sales and revenue by serving the low-cost business solution in the market.
For the mobile tracker application to work properly you have to allow the geolocation services and the API to merge with the maps and detect the best possible route or direction for faster transportation and reach.
Reason To Develop a Mobile Tracker App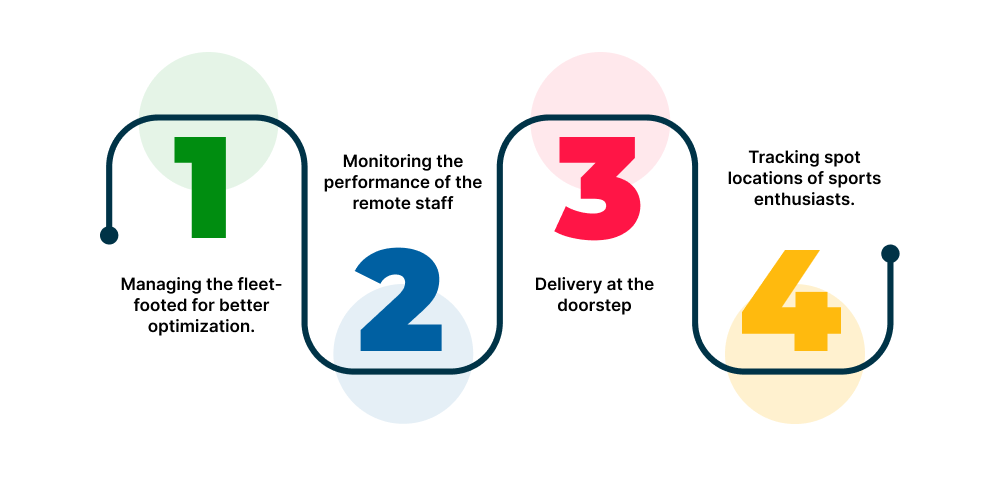 A mobile tracker app development system permits important information for tracking the location of the device. It makes use of the geographic data of the user. There is ample tracking of important data everywhere like food, health, work, fitness, personal, etc.
The businesses retrieve most of the data from social networking sites, location services advertising, and through other tracking systems.
The fitness, weather, and game areas are among the top areas that use mobile tracking and GPS to play, consult, and suspect the weather condition of the location where you are present.
Some basic purposes for mobile tracker app development include:
Managing the fleet-footed for better optimization.
Monitoring the performance of the remote staff
Delivery at the doorstep
Tracking spot locations of sports enthusiasts.
Trends in Mobile Tracker App Development
As per the report of statista, the universal mobile app users are expecting a massive growth rate of 61 in the market. This gives mobile app development companies a chance to knock off the market.
It is a lucrative niche that has highly affected the tourism and logistics industry. The mobile tracker app allows monitoring by asking the delivery app drivers and partners to turn on their GPS.
Don't you think, it is a convenient yet modern solution to the tracking problem? According to a report, the tracking-based service-providing industry will experience a huge increase in revenue estimated to be around 39 billion by the end of 2025.
These location-based tracking and monitoring apps help businesses to fill the gap in the industry.
Mobile Tracker App: Let's Understand the Mobile Tracker App Development Process
Creating a mobile tracker app includes various stages and sub-stages from the start to the end. The process of mobile tracker app development will start with research and analysis, wireframing, MVP creation, prototyping, embedding, testing, and development support.
Features For Mobile Tracker App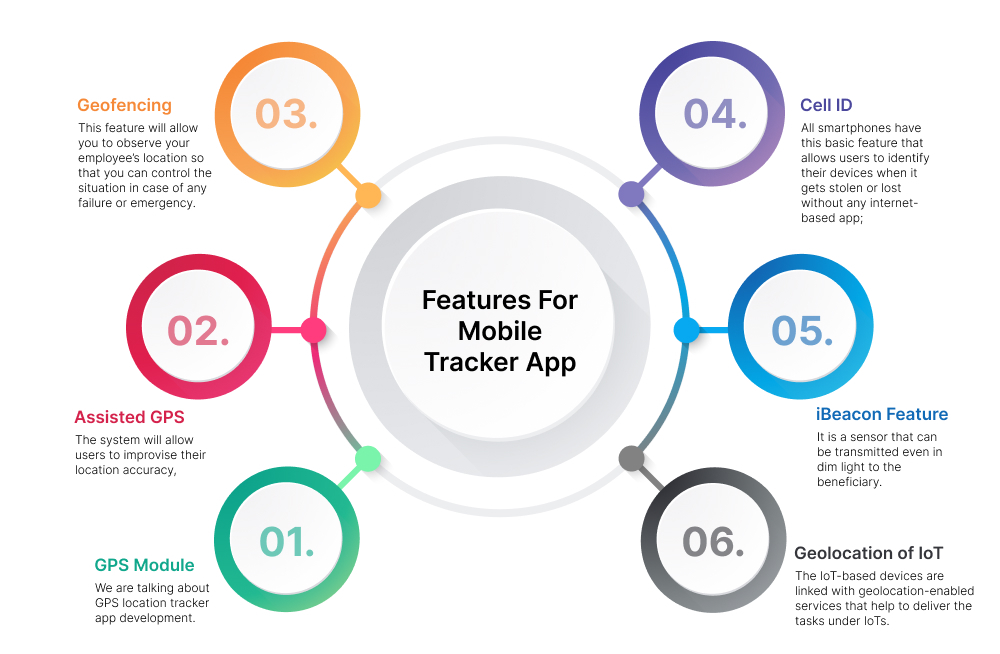 Smartphone tracker apps will work well with the incorporation of various technologies. Your phone should have the latest map and location services. The features that should be added to the mobile tracker app to create the best location service-based application for your business are:
1. GPS Module
We are talking about GPS location tracker app development. So, a GPS module is a must to add to the application.
The GPS module should be enabled with an in-built navigator to coordinate users during navigation.
2. Assisted GPS
The system will allow users to improvise their location accuracy, it is a blend of GPS technology with virtualization. It will allow your mobile to track their phones more quickly.
3. Geofencing
This feature will allow you to observe your employee's location so that you can control the situation in case of any failure or emergency. This feature will also be helpful to control users below 18 from using any software, or tracking their working on systems. YouTube is a good example here. They have configured this feature to give parental control to parents when they are away from their children.
4. Cell ID
All smartphones have this basic feature that allows users to identify their devices when it gets stolen or lost without any internet-based app; simply by identifying the phone over the cell phone towers that are fetched through satellites.
5. iBeacon Feature
It is a sensor that can be transmitted even in dim light to the beneficiary. Eddystone is an example of iBeacon technology, it is a Bluetooth transmitting device that consumes very low light.
6. Geolocation of IoT
The IoT-based devices are linked with geolocation-enabled services that help to deliver the tasks under IoTs. the sensors will sense the radio antennas and allow the fast working of the devices.
Categories of Mobile Tracker Apps
Yes, there are types of mobile tracking applications and they all belong to different categories. If you are an entrepreneur, it will be good if you know these categories:
Route tracking apps
Map tracker app
Car tracking app
Bus monitoring apps
Food industry
Medical industry
indoor/outdoor positioning app
Logistics or any location-based industry
To Sum Up
This mobile tracker app can also be utilized for personal use. It can also be considered a trustworthy data backup application and use the spy app to save all the important apps.
Think of this, because of this feature the device or handset change will become so convenient. As all the important data will be saved on the web portal of the tracker app.
One can also use the mobile tracker apps to assure the safety of your device. The point is, that there are several benefits of mobile tracker apps and this explains why you should understand the mobile tracker app development process. These apps are like a full package, you must try them to know their worth.
Saying that, if you require a mobile tracker app we can build that for you. We always acknowledge our clients to develop a tracking system app, so that they can walk without any hassle.
To get more details, how about you connect with us?
I think it's a good idea.
Why not, give it a try?