You should agree on this, that smartphones are a crucial part of our daily life. And all the digitalization and technology advancements have fueled it more. Believe me, some individuals use their mobile phones all day long.
And come to think of it, it is not something we can truly handle. Consequently, every task like booking a ride, movie tickets, shopping for clothes to making doctor's appointments- there are mobile applications for everything. Besides, we are into a habit of using almost anything to everything with our smartphone apps.
Agree! The whole digital era has transformed time into our most important assets that we all should value. Further organizations and individuals are searching for paths to easily manage their routines and minimize the waste of time.
If we look at the above-mentioned scenario, it is not at all surprising that demand services will soon become and have become on some level; the next big thing in the domain of technology and consumerism.
Due to the on-demand services now; you can have any product or service you require in no time at your door. One such on-demand service that is growing exponentially is the food delivery industry. Clearly, this never-stopping growth is mainly because of the infinite customer base for food delivery.
It can be seen as a new reality that inspires restaurants to cooperate with the already existing delivery services or to develop their food delivery app. The demand for the food industry is growing every minute and so it's a perfect time for you to come into the limelight among the restaurants and customers by appraising food delivery app development.
Postmate is like an epitome for doorstep food delivery apps that have transformed the whole food delivery service dramatically.
Why am I saying this? The outpouring number of app downloads has shown that Postmate has made a strong foothold mark.
And we also acknowledge that industries are mad over developing a food delivery app like Postmates. Thus, we are here with the content on the same topic. This Blog will give you an insight on building Apps like Postmates along with their cost and features.
Let's start!
A Few Lines On Postmates
Postmates is a go-to app for individuals that have made shopping more fun. It is a delivery service launched in 2011 by Bastian Lehman, Sean Plaice, and Sam Street.
The headquarter of the company is located in San Francisco and it operates with over 600,000 restaurants and more than 100 metropolitan areas in the whole US.
Some impressive points about Postmates are-
Postmate completes 2M delivery orders per month
The company has a line-up of around 500 employees.
Postmates has its hand over 9.1% of the US food market share
The Postmate app has an alliance with food maestros like Apple, McDonald's, Starbucks, Chipotle, and Walgreens.
To be clear, it is a regular courier service that delivers products directly to the consumers. The best part is, the Postmate app has exceptionally blended with non-standard business approaches and technologies to offer outstanding on-demand delivery service.
By the non-standard business reach, I mean- approving anyone and everyone to work as a courier. Any fanatic user can fill out the form and enlist themselves as a courier. Nevertheless, the courier position may vary from strollers to van drivers.
How Does A Food Delivery App Development Company Like Postmates Work?
Making an application like Postmate is simple yet very demanding. Think of it, the Postmate team must have gone through tons of ideations before deciding their working model and business model for Postmate.
The working model of Postmate is Inspiring and very simple. It is as follows-
1. The logged-in user can search through the list of restaurants and their menus to decide what their order will be.
2. Next, the order is confirmed after the full payment is made by the customer.
3. Once the payments are done by the end-user; the app sends a notification to the respective restaurant and their delivery chief. The closest destination courier picks up the order in an hour.
4. The GPS helps the end-users in tracking their order and to be aware of any delays. If in case a delay is found in the order it can be expressed by the end-user to the team.
Why You Should Build An On-Demand Food Delivery App Like Postmates?
Who would not love to invest in an app that can attract maximum return on investment? The on-demand food delivery app development can be a good opportunity for all the entrepreneurs augmenting to make an on-demand industry hike.
The food delivery mobile app development confirms an increase in the number of customers. One can have the maximal capability to handle clients without agonizing over the paperwork.
There are minimal roadblocks while accepting online orders. Also because of this very reason, one can guarantee the customers with faster processing and delivery.
If you also follow the pace of Postmates, you will be able to adjust to the delivery mode of any type. By creating a food delivery app like Postamtes you can present your customers with faster processing and delivery.
It strengthens to deliver career more reliable delivery services and ergo seize the market spot.
Points To Note Before Getting Your Food Delivery Mobile App Development Company
You have to do thorough research and analyze your idea before developing an app like Postmates. To avoid the possible errors you can follow the below-given steps-
Doing An In-Depth Market Research
First, you should finish a market data analysis and assess all the competitors in the on-demand food delivery app development services. You must not forget that Postmates, Zomato, and Ubereats are your direct challengers. Look how successful they are and how they promote their service- you can learn a lot from the marketing tactics of these companies.
Make sure to test the key statistics, metrics, and available applications. Also, remember that your competitors are the pioneers of the industry.
Get The Hang Of The Business Model
This is the method of foreseeing your business model. For the novice, the model will help them to get a deeper insight into their business from all possible angles. In addition to this, you must look for all viable errors associated with the physical part of your app before you outreach the on-demand food delivery app development.
After all this the thing left is to make relationships with shops and restaurants if you are thinking of making a Postmates-style app.
Come Up With An Idea That Can Make You Shine
For making your service or product special and marketable you have to come up with a unique idea or prizes that are not present in the market (try to look at them from a different point of view). Moreover, If You need to stand out; let consumers understand why they should choose your app instead of others.
Keep Up With The Influential Trends
Well, this point is all about helping you in building an exclusive value proposition, since they are closely related. For doing so the following trends will work best-
Modern technologies: Chatbots, voice recognition will always attract customers attraction.
Customization: Create a distinct customer and partner program to offer a specialized experience to your targeted audience.
Augmented Reality: AR has infinite use- from food viewing to navigation through mobile mailing apps.
But these three steps are not cheap. Not to mention, they will help you in making a wonderful implementation of your idea.
There Will Be Two Main Applications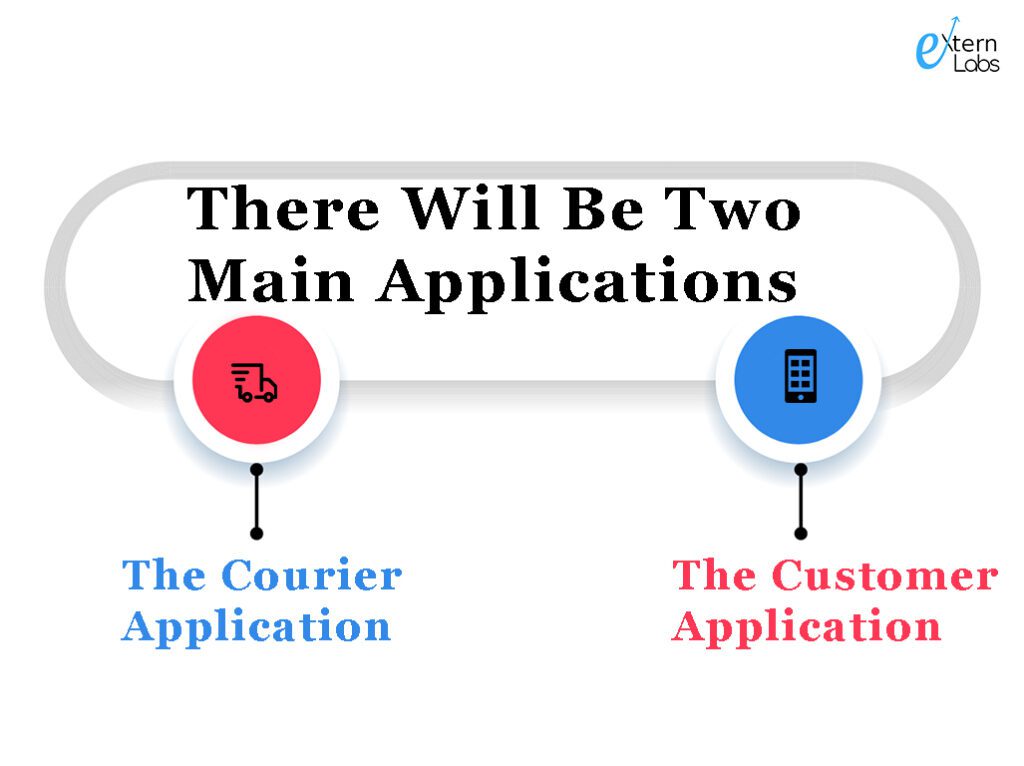 The Courier Application
This app is primarily for courier persons who will be making deliveries of the products. There are three main functions that this app will perform-
Delivery request-reply
Orders update
Delivery history
The Customer Application
It is the end-user application and so it will be rich in features as compared to the courier app. The important features this application will hold are-
Registration/ login
Price calculation
Payment processing
Push notifications
Geolocation services
Reviews
Order tracking
Order history
messaging
Modern Features That You Can Incorporate In An App Like Postmates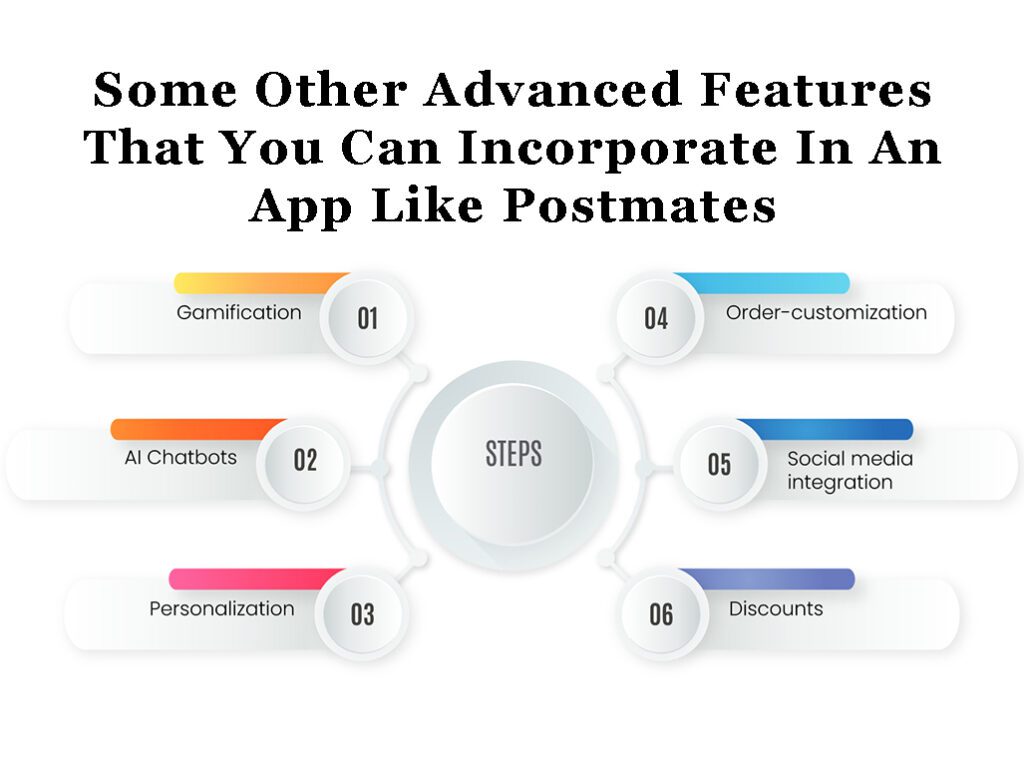 The app owner will have options to make the app unique to make it stand out in the crowd and to guarantee its success. Some of the modern features that you can incorporate in your food delivery app are-
Gamification
AI Chatbots
Personalization
Order-customization
Social media integration
Discounts
Food Delivery App Development Cost
The right way to begin is by performing a thorough analysis in the geo-location where you plan to launch your food delivery app service. By doing this you will get to know what people in that particular location are interested in. it will help you create something that customers can use.
You have to communicate and collaborate with on-sight service providers. Because comprehensive market research is indeed the best way for creating any delivery application. After you are done with your research, start writing down the functional features.
Then you can hire a trusted app development team to start designing your app. Always hire a developer who works on your project as their own. It's always best to start with MVP. Because by doing this you can reach the market at an economical cost plus in the shortest possible period
The total cost for the mobile MVP app will be around $26,000- $35,000 if the production rate is $30 for an hour. Ideally, it will take 16-18 weeks to develop a product.
Plus, the customer MVP application can be developed under $51,000- $60,000 and it takes 20-26 weeks to develop a food supply app.
The Revenue Model Of On-Demand Food Delivery Apps
It is obvious that by designing an on-demand food delivery app you are wishing to make money. Below are mentioned the ways through which you can earn money with your food delivery application.
Delivery Charge
You can make loads of money by charging end-users on every order they make.
Fees From Eateries
You can charge your registered restaurant partner for using your platform and earning orders.
In-App Advertisements
You can allow third parties to market their services or products on your platform. In return, you can charge money.
Subscriptions
You can initiate subscription plans through which you will offer some freebies and discount codes to your subscribers.
Conclusion
Looking at the popularity of Postmate it is confirmed that it's never too late to start a food delivery app development.
The increasing demand and the advancement of technology like AR and VR give a clear picture of how this market is going to boom in the near future.
If you have any questions feel free to contact us, our team will aid you in providing resilient solutions.
Finally, Thank you for reading the blog till the end!