To start simply, conventional TV channels are on their way out, and OTT platforms are on the rise.
In the past decade, the amount of audience heading towards the internet for news, entertainment, education, and more has increased exponentially. OTT video consumption is also continuously rising, and so it is estimated that the online streaming industry will soon be $247 billion worth by the year 2027.
As a result, companies are rushing to capitalize on this trend in order to raise brand awareness and offer value to their audiences.
We also cannot deny that the pandemic has fueled an increase in the use of the OTT network.
The way I see it; global obsession with watching content on OTT platforms is directly related to a bigger realization: we all are content creators.
And this is true. You are probably on this page because either you are in brand marketing, creative content writing, or you are here trying to get a good idea out of the masses. And I acknowledge that because I am a content writer too.
If there is an ever-increasing demand for content, it also means that there is ever-increasing competition. So, how will you get through this commotion and shine as a personal brand or business?
You don't have any idea! Let me tell you, to do so you have to evaluate the OTT streaming platforms so you can be identified as a thought leader, qualified prospect, and shine over the market.
To begin with, you have to get knowledge about what your options are, what's so good about them, and what they mean for your upcoming content.
So, today we will discuss what an OTT streaming platform is? And we will list the best OTT streaming platforms in the world.
Excited! Let's start.
A Little About OTT Platforms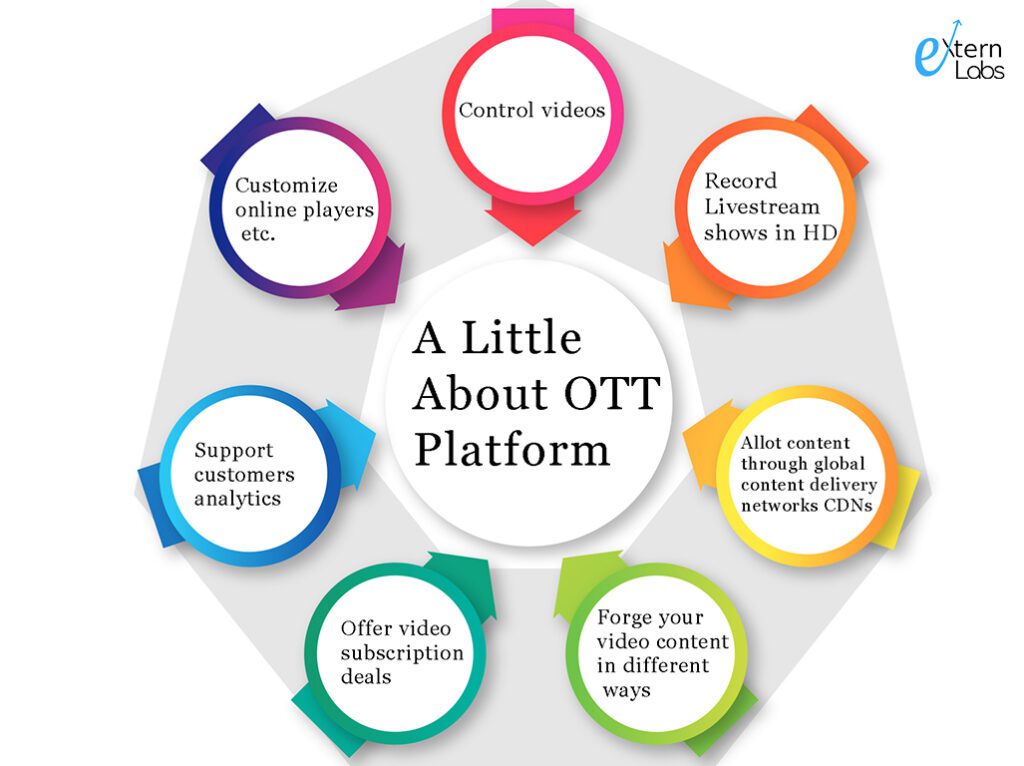 OTT is an abbreviation of "Over-the-top". It symbolizes the method of media distribution that acts as a replacement for conventional satellite or cable TV.
We are stepping into a future where the media or content is delivered through the internet.
OTT streaming technology is circulating gradually more media each day. If truth be told. Some industry executives justify that we should stop discriminating between OTT and broadcast television entirely.
An OTT streaming service is an application or a website that audiences turn on to watch their favourite content (programs and movies). This service is obtainable on all types of internet-enabled gadgets like smart TVs, gaming consoles, PCs, laptops, smartphones, and tablets.
Usually, OTT streaming services limit their access to their lucrative viewers. Individuals can pay to get access on pay-per-view grounds. One can also subscribe for unlimited on-demand access to the OTT platforms. Every now and then, broadcasters forge their content with sponsored ads.
Initially, these platforms were famous for Video on Demand (VoD) and live, superior-quality streaming services. All though now, they also cater to other services like messaging, audio streaming, VoIP, and many more.
Besides streaming videos online, an OTT platform will also allow you to-
Control videos
Record Livestream shows in HD
Allot content through global content delivery networks CDNs
Forge your video content in different ways
Offer video subscription deals
Support customers analytics
Customize online players etc.
Best OTT Platforms In The World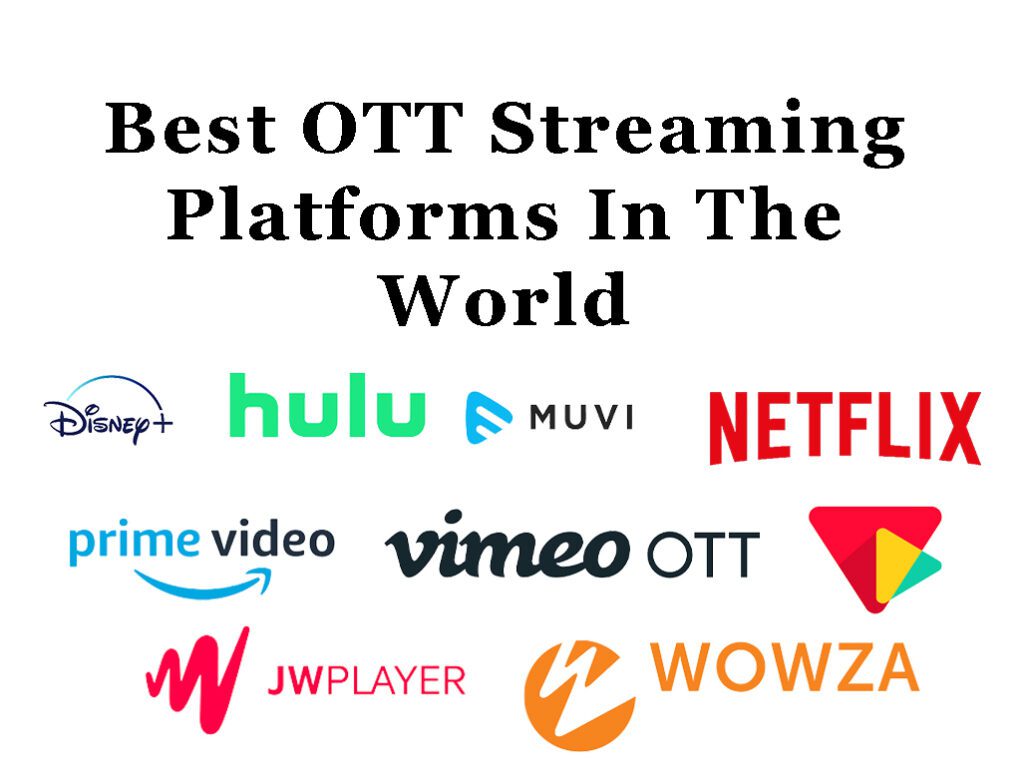 Here are my contenders for the best OTT platforms all over the world.
Netflix
Netflix is the aboriginal OTT streaming service. It started its carrier as an online DVD rental shop. It evolved through time and became the live streaming platform.
At present, Netflix is the biggest on-demand OTT streaming platform on the internet, presenting more than 15,000 titles. Netflix presents titles from other production companies as well as it also accommodates its authentic content that can only be found on its platform.
Netflix broadcasts the complete seasons of television shows at a time. This makes it popular among audiences that love "binge-watching". There are three types of monthly pricing plans by Netflix. The primary plan is $8.99 per month with the good video quality. Moreover, users have the option to upgrade to better video quality by paying $13.99 per month and the best video quality for $17.99 per month. All these plans include unlimited advertisement-free streaming.
Disney+
Disney+ is another top OTT platform that gives access to films and shows owned by The Walt Disney Company. It embodies Disney, Pixar, Marvel, Star, NatGeo, and Star Wars. A wink to all marvel fans!
Disney+ charges $7.99 per month and $79.99 per year for unlimited ads-free online streaming.
Hulu
Hulu is a popular OTT streaming platform that broadcasts the majority of all Asian shows and movies. It is a bit disparate from Netflix as in Hulu the new episodes are added the day after they air.
As being a K-drama fan Hulu is my personal favourite because you can see all Asian dramas that are not even available on Netflix. The pricing plan offered by Hulu is-
$5.99 per month, Hulu + Live TV- $64.99 per month, Hulu (No-Ads Plan)- $11.99 per month.
Prime Video
Prime Video is an OTT platform and a part of Amazon's Brand. It caters to unlimited access to an entire library of videos but with a subscription. There is additional content present on Prime Video that one can access through rent or purchase.
One exclusive feature of Amazon Prime Video is that the beholder can purchase access to movies that are still in theatres. In addition to this, you can also get access to live programs like sporting events. You can avail of the Prime Video subscription through the Amazon Prime Membership.
VPlayed
It is a top OTT Platform that enables content broadcasters, TV production media, content owners, and many others to create a Whitelabel upgraded OTT content monetization platform that broadens the reach of crystal-quality videos across various platforms with very little effort.
They are capable of sending high-quality video content on a variety of devices such as Web, Android, and Smart TV. through VPlayed every industry can harness the advantages of OTT streaming.
JW Player
It is a strong OTT platform that will provide you HQ video content in a faster and smaller format on any device. The highlight of the JW Player is its recommendation engine which is hard to miss.
JW player offers CDN streaming to all its viewers globally. It utilizes multi-bitrate streaming technology to allocate videos. The plus point is, they will always be there to answer all your technical questions and complaints. For beginners, they charge $10 per month.
Uscreen
Uscreen is always present in the top OTT platforms all over the world. It is a self-contained OTT website and an app. One can enable 4K ultra HD viewing on various devices due to its multi-bitrate streaming and fast encoding.
It is a fully Whitelabelled platform and supports an HTML5 video player. Not to mention, powered by global CDN. The primary plan is $49 per month and the enterprise plan is customizable according to the needs of larger organizations.
Vimeo OTT
It is the oldest and the most popular OTT platform in the industry. There are over 200 million professionals, groups, and companies that are at present using Vimeo.
It is a perfect platform for all content creators who are in need of an easy-to-handle platform to stream their videos to viewers. You will get an option to customize the platform according to your brand's logo and style. Vimeo offers a free 30 days trial however its OTT package is $500 per month.
Wowza
Wowza is seen as a primary solution for the content creators that are in need of a basic platform for live streaming.
With Wowza's content delivery network, enterprises can utilize the platform to customize the kind of experience they want to deliver to their audiences. The platform supports an HTML5 video player and it is also white-labelled. The starting plan of Wowza is $85 per month.
Muvi
Muvi is an exclusive OTT platform that aims to attract businesses that require a solution similar to Netflix or Hulu. It is the most lavish platform on our list. But it was worth mentioning as it is a full-stack OTT solution. It indicates that its audios and videos can be employed across Web, Mobile, and TV. Its starting price is $399 per month.
To End With
Watching content on OTT platforms has already become a habit of 70 per cent of adults worldwide. Looking at the size of the industry, and how rapidly it's growing, currently it's a good time to take account of this trend.
The initial step to start is selecting an OTT streaming platform to regulate your content streaming service. A great way to select an OTT streaming platform is by using free trials. By doing this you can check out all the specifications of the platform and can also find out if the respective OTT platform is meeting your goals.
If the increasing popularity of the entertainment industry is alluring you to create your own platform then our experts will help you reach new heights in the entertainment industry.
Lastly, if you find this article helpful, let us know. You can also check out our related blogs here.
Thanks for reading till the end. Have fun!