In today's competitive market organizations should make sure; their team is constantly and successively upgrading new skills sets and expertise to stay up to date. It can be easily achieved if there is powerful content that is capable of keeping learners active and helping them to be productive. So that they can reach their work goals.
Now, organizations have recognized the benefits of Outsourcing Software Development for eLearning like the high completion rates and cost-effectiveness. Some of the organizations have also started hiring experts to grasp their training objectives.
However, the precise way to present the content will be determined by the business deeds organizations want to attain and the resources they can draw on. And so, companies are actively participating in corporate training to amplify their employee's performance. Regarding this, the business leaders are approaching website development companies.
Read till the end to find out what is eLearning outsourcing development? And what are the best ways to begin?
All About eLearning Outsourcing Development
If you are in an IT & Software business you must be aware of how the IT service providers juggle in the long development process. And without appropriate management, no one can handle the tough situation by themselves. And due to this, there are high chances that management can also witness some conflicts.
Moreover, if your organization does not have the right team to help you there are chances of your minimum progress. That is why organizations choose to go along with the Outsourcing Development method. But before starting Outsourcing Software Development it is essential to gain knowledge about points on outsourcing software testing.
Therefore, companies avoid proceeding with the method themselves and they choose to go with experienced software development solutions to make sure everything is in the right order.
Of course, you can go with your in-house team but if you are thinking of selecting an outsourcing team then you need to consider some factors.
We will state five benefits that are why a company should select outsourcing software development.
Benefits Of Outsourcing eLearning Software Development
Get Technical Experts
Even if your organization has in-house employees with content development skills, there are some skills that are hard to specialize in. Like your in-house team may not be good with authoring tools to create advanced interactivities for e-learning.
So, when an e-learning development is outsourced to vendors, organizations will have access to the team; who are skilled and experienced in L&D (Learning & Development), and many other domains of creating effective online learning.
These will be professionals that use advanced design strategies to make your e-learning up to the current standards. For instance, if an organization wants to devise a mobile learning solution or wish to have learner tracking then sourcing e-learning professionals is the best way to proceed.
High-Quality Content
Given the fact that software development service providers are experienced and well-informed on the development process and hold the needed expertise to get the work done, there is a high chance that development will be finished more quickly.
Why so? e-learning vendors are fully equipped to increase production as compared to the in-house team. Because the former majors in using authoring tools that permit them to create high-quality modules, at the same time keeping the content engaging and valuable.
So, if your organization is facing tight deadlines and wish to deliver the training to their employees within a week; Outsourcing Software Development will work to offer a faster turnaround time to fit into their fastly-approaching due date.
Reduce Your Training Development Cost
By partnering with an eLearning vendor, companies will considerably lower the development costs as they will spend money on content development only when it is required.
Reducing the development cost is possible due to the potential to either escalate the projects or slow down the outsourcing development.
With outsourcing eLearning development, organizations lower the expenses they face if they hire their own team to do the work. In addition to this, companies do not have to worry about upgrading the technology as it has already been taken care of by the eLearning vendor.
Extend Or Step Down As Needed
The biggest task with in-house software development is that organizations can not increase the eLearning development at their will. But, with Software Development Outsourcing, they can create advanced solutions on demand. Companies will decide the frequency at which they want to outsource eLearning software development. And then place their requirements with the service provider.
Achieve High productivity
At present learners, favor and are prompted by online learning courses that include a good portion of multimedia and interactivities. By outsourcing the eLearning development to a third-party expert, it will maximize the likelihood of recognizing that objective.
When the teams are trained with high-quality and meaningful content, they get equipped with the required skills for their job. This way they feel more committed to their assigned tasks, which in turn will escalate their productivity.
The Best Way To Begin eLearning Outsourcing Are-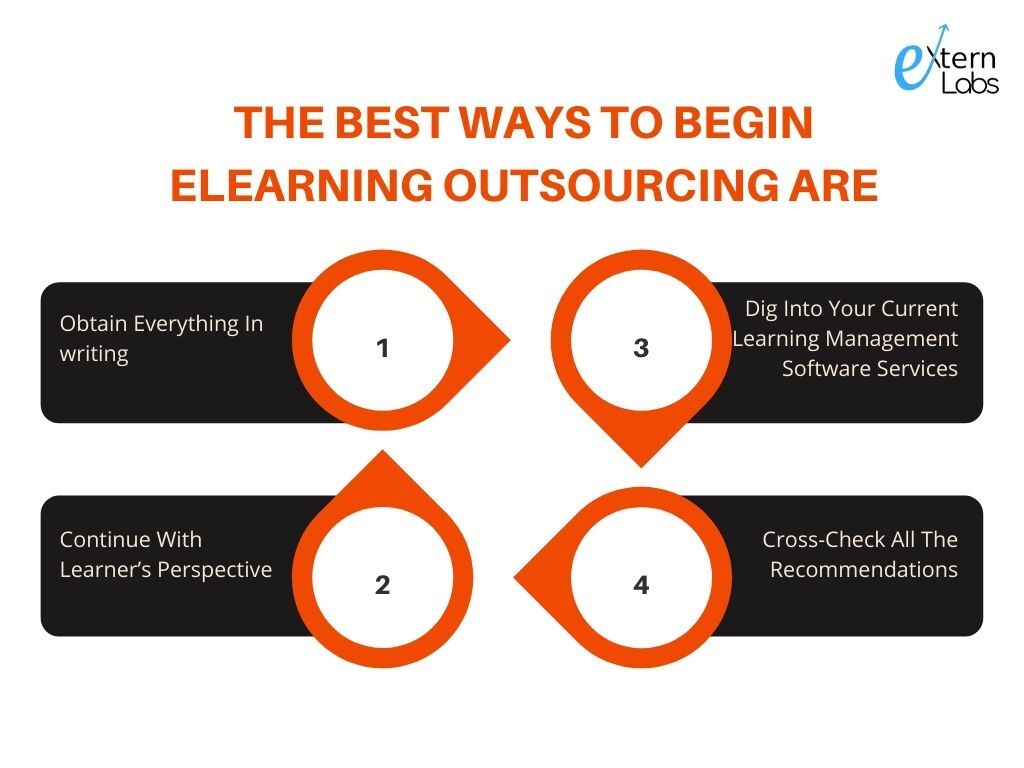 Obtain Everything In writing
Do you believe in verbal communication? Or Do you believe in mentioning everything on the piece of paper?
If your answer to the first question is YES, then my friend think over it again!
No doubt, verbal communication is important but not in business. Because this can lead to miscommunication and errors.
Thus, it becomes too important to take every single thing into attention through the mail so that you will be able to track them in case of any deviations.
There are several factors that you have to mention on paper such as the eLearning Course Management system, specific points, and payment terms.
Extern Labs knows how to start with the eLearning Software Development Outsourcing method so you can rely on our software solutions to get better results.
Dig Into Your Current Learning Management Software Services
Once you have captured every minute detail on the paper, the next step is to examine the current Learning management software and regarding this- you can take help from our consulting services.
You are right! It is a technology-driven field but human involvement is an important factor to correctly understand the online development instructions and to manage the task for the corporate learners.
Besides this, it is also important that you are providing smooth troubleshooting ways to identify the troubles. Because when your team will start their learning course; it will take a large area in their device, which can restrict their initial learning process.
Continue With Learner's Standpoint
You can start by realizing the requirements and expectations of your learners. You can go on with SMEs to understand how the project should go. The software development team will help you out with relevant content and clear information that should be there in the process.
Cross-Check All The Recommendations
Once you have completed the above steps make sure to start looking for a better and more reliable eLearning outsourcing service. It is essential to collect detailed information regarding their sources to find out the best services they have offered by far.
You should also cross-check all the reviews and recommendations from their previous clients to know them better. Many people go with the monotonous way to search. And verify their partners but instead, you should make phone calls to verify their references.
Conclusion
It is important to understand every part of eLearning services. However, without any proper support and team, you can't thrive. In current times, Outsourcing Software Development has become vital for companies in different industries to deliver quality content to their novice.
Therefore, it totally makes sense that various organizations have begun hiring professional eLearning service providers to appreciate their training objectives and minimize the development costs, and maximize productivity.
Book a call with us today to know how eLearning outsourcing development works.