The new-age technology is converting the way we produce and furnish digital learning. And since E-learning is becoming more and more common in the business world, it becomes essential to gain knowledge on a variety of authoring tools that are present in the market to make the learning experience as convenient as possible.
There are many IT Service Providers that are serving with an online learning experience by using E-learning authority tools or programs. To expand your company you have to consider the technical expertise and the size of your online learning development.
To understand the learning management system (LMS) first, you have to recognize the E-learning authority tools to advance your online learning. There are abundant choices available in the market and choosing the superior one based on your requirement can be a big task.
But, no need to worry! We are here to guide you.
In this guide, we will learn about some of the popular E-learning authority tools and will help you select the right one for your business.
Let's start!
What Is An Authority Tool?
An authority tool is a program that assists in the process of creating digital content. It can be anything from creating Microsoft Word documents to complex graphic design.
The E-learning authority tool permits the end-user to create and manipulate software objects for the planned content idea. In the domain of technology and development, authority tools are utilized to generate digital learning content (E-Learning).
The E-learning tools are predominantly used by designers in the learning and development (L&D) team to produce training resources for the employees. The training part can be made up of agreement, onboarding, hard and soft skills, and many more.
E-learning software can extend from basic to powerful and highly specialized.
You can take suggestions from our Software product development team to initiate the process.
Types Of E-Learning Authoring Tools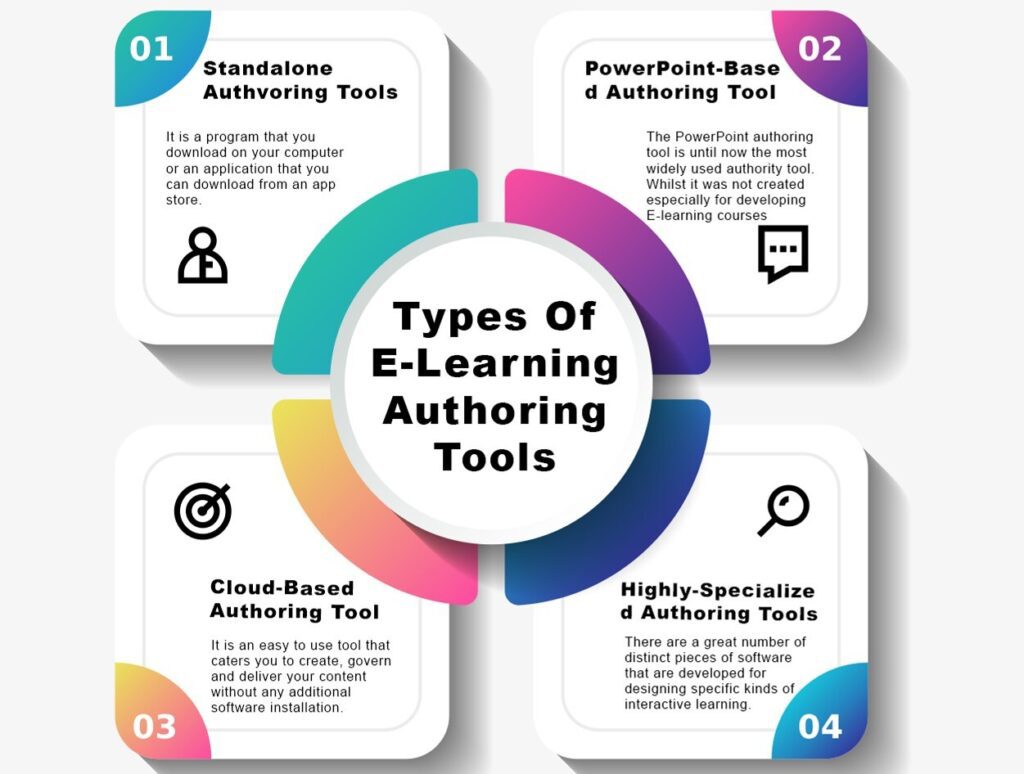 Standalone Authoring Tools
It is a program that you download on your computer or an application that you can download from an app store. The good point about Standalone Authoring tools is that they are economical.
It is not even necessary to have special skills to use this tool. Most of them have features of adding graphics, audio & video clips, and other elements. On an easier scale, some are way easier than others.
Its pitfall? The Standalone tools are not flexible enough if you need something. It can get complicated as some of them will let you export high-quality files, and some of them don't offer customization, you will be stuck with what they have provided you.
PowerPoint-Based Authoring Tool
The PowerPoint authoring tool is until now the most widely used authority tool. Whilst it was not created especially for developing E-learning courses, there are various in-built templates that will assist you in speeding up your development process like adding quizzes, embedding videos, and more.
It works well with all levels of users whether you are a beginner in creating E-learning modules or an experienced professional who has used the software for decades.
PowerPoint links well with various Microsoft products, which is a plus point. Because sharing content across different platforms will get easier.
Hence, it can be a good collaboration if your team uses these platforms.
By operating on PowerPoint you can make engaging videos, clips, and animated designs.
Its pitfall? The only pitfall PowerPoint holds is that you have to export your presentation on a different program to convert it into an active E-learning course.
Cloud-Based Authoring Tool
It is an easy-to-use tool that caters you to create, govern and deliver your content without any additional software installation. Despite that, there are several cloud-based tools that are applicable for making high-quality courses.
Due to this, you will end up with limited features, along with plenty of restraints like monthly charges and range of course size. Be that as it may, if all you want is a few course modules then using cloud-based service might be worth your time and money.
Highly-Specialized Authoring Tools
There are a great number of distinct pieces of software that are developed for designing specific kinds of interactive learning. Up until now, we have only focused on those that permit us to create games, quizzes, or stimulations.
The highly-specialized authoring programs are quite more complex than others, but nothing can surpass its ease of use when it is about designing interactive tutorials. These programs will allow you to smoothly upload your content in the form of text, image, or sound into templates created by developers.
Who Should Use Authoring Tools?
By now, you must be wondering who should use an E-learning Authoring Tool? But, the question should be who doesn't?
The reason is, mostly all E-learning designers are biased towards authoring tools instead of PowerPoint and other software to create courses because of their practical design and ease.
But, it also doesn't mean that if everyone is using it you should also use it or take it for granted.
Because all authoring tools are not the same. There are some authoring tools in which even the experts of E-learning struggle while choosing products due to their coinciding functions and pricing structure.
Moreover, authoring tools provide you with the freedom to use varied ranges of features without even support from programmers. Besides this, one can also develop an online learning platform together with Python and Django framework to exhibit your creativity.
Therefore, before making any decision understand what exactly will suit your requirement. If you are facing troubles in making a decision then consult our IT Consultants today.
Points To Consider Before Selecting Best E-Learning Authoring Tools
What are the traits that make an authoring tool great? In this part, we will discuss the key points we should consider while choosing the best authoring tools.
The points one should use to compare the authoring tools in the market are-
Features Of E-Learning Output
Degree of customization available
The genre of formats to choose from
Branching options free-for-all
Speed And Productivity
How rapidly one can produce high-quality E-learning content
Traits that can speed up your production
Alliance option for smoothening the feedback process
The facility of having more than one author working on a project together
Flexibility
How convenient it is to reuse, edit and measure your E-learning content.
Economical for producing E-learning contents at mass.
Is E-Learning Software Different From An Authoring Tool?
E-learning software is seen as a broad term that can be used for many elements in a learning technology group. Inside the E-learning software category, you will see programs that target different attributes of E-learning.
For instance- the authoring tools are adapted to create effective and engaging E-learning tutorials.
The Learning Management System (LMS) then automates the administration, tracking, and reporting of these tutorials.
Examples Of E-Learning Authority Tools & Software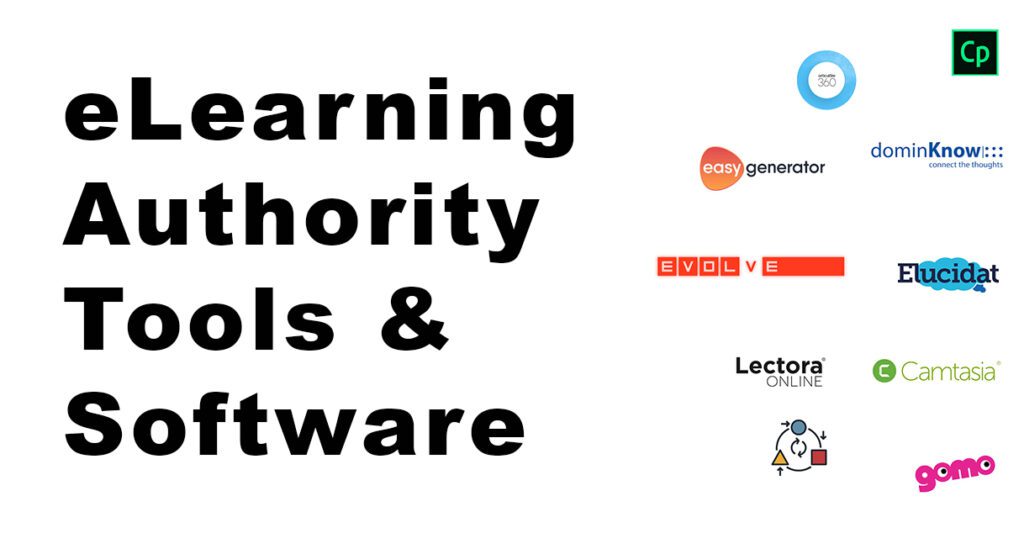 The commonly used best E-learning authoring tools and software's are-
Elucidat- Assist employers to minimize the cost of business-critical training.
Adobe Captivate- Gives power to authors for creating high-quality content.
Articulate Storyline 360- best for individual users who favor PowerPoint, but with an added level of customization.
Gomo- Great for experienced designers that don't need advanced customization.
Lectora- Provides authors an effective tool for creating HTML5 content.
Adapt- Developed for technical authors who want to design bespoke HTML5 authoring by using back-end designs.
DominKnow- Best for a team whose focus is on responsive screen capture.
Easygenerator- The authoring software designed for small groups who want to design simple content.
Evolve- Developed for teams who collaborate together very often and take time to get the hang of it.
Camtasia- Best of video editing, screen recording tutorials.
Conclusion
There are lots of features and functionalities in the E-learning authoring tools, but if you are clear with your needs and the quality at which you want to create your digital learning will help you narrow down your list. Because in the end the best E-learning tool will be based on your team's needs.
We hope this article was helpful for you!