These days, We can't imagine our lives without Smart Phone. And the pandemic made us more dependent on mobile phones. Mobile apps are the main reason we use smartphones, they provide us with various services in many different ways. They are a necessary part of our daily routine; They help us do many things like helping us manage accounts, in navigation, shopping, communicating to others in various mediums, booking hotels, movies, events, and transports, getting a doctor even more than we can't think about. Let's discuss some of the top mobile app ideas for 2023.
In near future, they are going to do more and will cover more part of our daily life. With new immerging technology, the tech industry is going to utilize more things to a mobile application. Have you ever thought about how they can help you grow your business?
Here are the Top Mobile App Ideas to pick your new business with future scope of larger scale.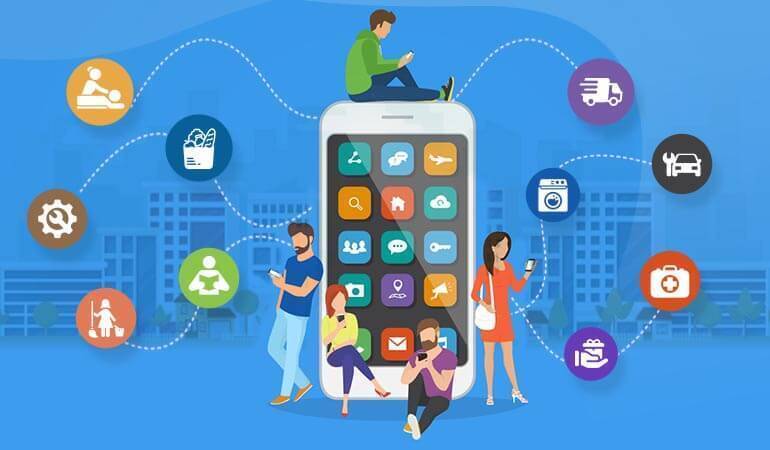 On-Demand applications are one of the most used applications on mobile phones. They provide daily essential services whenever asked. That is why they are known as On-Demand Applications. These can be the best option for starting a business. Most on-demand applications connect local service providers to customers or visa-versa. Let's check some of the top mobile app ideas for on-demand services –
Loan Lending Applications
This pandemic and its unpredictable waves was a big hit for everyone; many lost their business while some found a good alternative, But it was sure that many people were facing financial issues. On the other hand, many big projects with a good amount of money got pushed, and some got canceled. So a considerable amount of money is still in the market, just waiting to be invested or rerouted so their owners can keep it running, and Those who need it can get some financial add in their tough time. The loan Lending app is the best option to apply this idea with security and legal. The loan Lending app connects people who want to invest money and those who need money for some time, and this system is called Peer-to-Peer or P2P.

Loan Lending App can be the best option to start your business, check our guide on Loan Lending App Development.
Top Loan Lending Applications
PaySence
Dhani
PayMe
Nira
MoneyView
Hotel Booking Applications
You must be faced problems in finding a good hotel; This initiated the idea of an on-demand hotel room booking application. Hotel booking apps allow mobile users to book and check their desired room in the desired hotel. In addition, many service providers offer good discounts and facilities.

Hotel booking apps just connect guests looking for a stay to hotels in the whole city and provide all necessary information to the users to help them find what they want. You can choose the option to pay within the application or at the hotel. A service provider gets a small commotion or service charge from the hotel after every successful booking.
Top Hotel Booking App
Trivago
Booking.com
Pobyt
Agoda
Hotels.com
Cab & Taxi Booking App
You must have used UBER once; They provide you a premium cab or taxi service in an instance. It doesn't matter how dense is the population of the town, cap services are always required. Big cities have much more traffic that drives people towards to get a cab instead of driving their own cars.

Cab Booking Applications just connects taxi drivers to users wanting to hire a cab for their various purposes. Some providers, like Uber, hire their specific drivers with their own cars and give them a monthly salary and serve users. Whereas others just connect taxi owners and drivers to their app users. They keep a small commission and the users get their good and fast taxi.
This is also a very good Mobile App Idea for 2023. Some Cab & Taxi Booking Service –
Cleaning Services Application
Finding cleaners for regular home or office work is really hard and sometimes it takes up to a week, That initiated the idea of the Cleaning Service Application. You can hire one or more cleaners with equipment for cleaning. You can use filters to short out your preferred cleaner with budget and abilities. They provide manpower to clean home, office, bathroom, kitchen, mopping, dusting, etc.

Cleaning Services apps works on a very simple mechanism; They list local labor capable of cleaning in various ways with knowledge of tools and connect them to the app users. Some only take small commissions whereas some take the whole revenue and provide salary to the cleaners. This is a minimal and quick idea of mobile Applications. You can hire Web & Software Developer and build a prototype app within a month.
Top Cleaning Mobile Application
HouseCall
Tidy
Handy
Extra Cleaning App
Car Service & Repair Application
Stuck on an unknown road with a malfunctioning vehicle? Open your phone and call the on-demand car repair. They provide repair service and car tow at any location in their service areas.
Car service applications also provide car repair and regular services with pickup and drop. You just have to download the application of the service provider and choose your car and time with dated or pick up and drop, make payment at final.
They hire some manpower for pinching and dropping a vehicle to their contracted repair centers and connect this service chain to the application users.
Top Car Service & Repair Applications
AUTOsist
Fuelly
Openbay
Drivvo
Openbay
Sports Learning Applications
Most people use youtube to learn various things and sports can be one of them, But there is not a perfect guide to learn the proper sport. That's where Sport learning apps came into the game.
They provide written and video guides made by particular sport professionals with many tips on improvement videos. You can also get extra help from a professional coach to your particular problem on a video call. They connect sports personals to the users with their video and step-by-step guidance. You can build a sport learning application with a minimum investment and five to ten sports at the start you can add more sports and hire coaches.
Top Sport Learning Applications
Packers & Movers Application
Sometimes you change your residential or office locations, This is easy work but only if you found a team who will help you in moving the luggage and stuff. There are already many services out there that provide you with aids in moving and sifting. But they only give you one service, if you hire a cleaner then they will clean the place, and transporter then they will only transport the packages.
On the other hand, Packer & Mover can cover the whole work you just have to sit and guide them on what should be moved or not. They will pack everything and then clean our old location and then move the whole packages and staff to the new and cleaned location and will unpack and adjust them according to your instructions.
Top Packers & Movers Services
Packerswala
ShiftKarado
Porter
GoShift
Shift Freight
Restaurant Booking Application
Restaurant booking apps allow you to get a list of your nearby Restaurants with their respective services and menus. We can browse them and book tables at our favorite restaurant.
They ties-up with restaurants and list them on the application and allow users to book their comfortable tables. Another simple yet efficient method of business. You can Hire Android Developers to build a restaurant booking app, it will take only a month to build a soft launch product while you can approach restaurants.
Top Restaurant Booking App
Zomato
Tablein
Opentable
Eat App
Yelp Reservation
Bus Booking Application
A bus booking application allows users to choose a seat on a bus of their interest at a specific time and date. this cuts the hassle of getting the wrong seat and an uncomfortable journey. They connect travelers to various bus operators from different states and provide the user with a massive network of bus transportations. The idea is pretty simple you can pay within the app or pay to the bus operator directly.
Top Bus Booking App
RedBus
PayTM
MakeMyTrip
ClearTrip
AbhiBus


Price Comparison App
You must have been confused between two or more products with the same price tags; which one to choose. Then Price comparison apps came to the rescue, They provide full product information with respective categorizations. you can choose two or more products and compare them one by one with their features and specifications and decide what should you buy.
They don't give any service or charge for anything; instead, they provide you with valuable information according to your needs. They make their revenue from advertisements and affiliations. They can generate much more value than an active revenue generator app.
Top Price Comparison Applications
ShopSavvy
Price.com
BuyVia
Grate
TripAdvisor
Fuel & Gas Delivery App
These type of applications provides fuel and oils for your specific vehicles at your location. These apps only need your contact details and you can pay within the app or at the time of delivery of fuel. With real-time tracking of the delivery. In addition, some services provide other vehicle servicing.
This type of mobile application connects users and fuel centers with their ground forces to deliver the products.
Top Fuel Delivery Apps
Booster
Yoshi
Gaston
Filld
Gaston
e-Learning Application
Another Convenient, Time saving and cost-effective Mobile Application e-Learning Application for mobile devices. These days, education is becoming mobile even for school students. From pre-school kids to working professionals, everyone needs education for various purposes. When we got eLearning Applications. They provide us with systematic educational courses for school, college, and skills.
These are not hard to build, you will need to hire developers, course material, and some educators for additional stuff in mobile.
Top eLearning Applications
Byju's
Unacademy
Brainly
Vedantu
Next Learn
Language Learning App
Many people are trying to learn new languages as their interest and some are improving their current; And the most convenient way to learn new languages is with a Language Learning App. They open the user to various type of tasks that passively improves their language like Games, cards, puzzles, and more.
To build an initial Language Learning App, you only need a good developer, some language experts, and a strategy that will give the idea of the functionality of the app. There are already many language apps and non of them is sufficient for total language support. You can generate good revenue via advertisements and in-app purchases.
Top Language Learning Apps
Duolingo
HelloTalk
Memorise
Busuu
Exam Preparation App
Help students in preparing for their exams via Exam Preparing App. Unlike eLearning Apps they don't provide full-course instead, they provide expert guides, notes, and pre-exam papers. They are way easier and convenient to make. First, You have to decide technology stack for your exam preparation app and its developer. Then you can start with some 2 or 3 subjects and add more after.
Top-Exam Preparation App
Exam Countdown
Quizlet
Pocket
My Study Life
Toppr
Laundry App
Laundry Services are new in on-demand mobile businesses with potential growth in local markets. We can build a Laundry business with three models that provide a good amount of revenue to you and your business partners.
Read our article on how to build an on-demand laundry App for detailed information.
Top On-Demand Laundry Apps
Pick My Laundry
Laundrapp
UClean
Laundryheap
Face Swap App
Face App or Face Swap apps are some of the trending apps that can provide variations for your facial data. One of the best examples is they can show how you will look when you are older or they can tune your face into any celebrity image or even video. They are trending these days with celebrity images and videos from various movies. They work too fast and provide instant results, here we are going to find some of the top face swap applications to use.
Face Swap is a mobile app that can be native or cross-platform; to build one you have to plan the app with the platform you want to build it for. Now, you have the idea you will need expert developers who can build a face swap application for you. You can hire a dedicated Mobile Developer who can build an for you along with an innovative designer. For adding advanced features you will be needed some advanced technology developers like AI, ML, and AR developers. If you are planning to build a full-fledged face swap application then Extern Labs is the best option for you. We have highly skilled developers in the latest technology like Blockchain, AR, VR, AI, ML, and more.
Top Face Swap Apps
Reface
AgingBooth
Meitu
Oldify
Cupace