This pandemic and its unpredictable waves was a big hit for everyone; many lost their business while some found a good alternative, But it was sure that many people were facing financial issues. On the other hand, many big projects with a good amount of money got pushed, and some got canceled. So a considerable amount of money is still in the market, just waiting to be invested or rerouted so their owners can keep it running, and those who need it can get some financial add in their tough time.
The loan Lending app is the best option to apply this idea with security and legal; And here we are with our guide to Loan Lending App Development. The loan Lending app connects people who want to invest money and those who need money for some time, and this system is called Peer-to-Peer or P2P.
Here you will get a complete guide on developing a Loan Lending App and legal stuff you need to do to save your money, and your app will be Fail safe. You can choose platforms or try all the major ones, So let's dig into it –
Money Lending App: Where to begin?
You will be managing money in significant numbers, So you need to work legally and will need permissions from finance and legal departments. Let's divide it into three steps –
Legal Entity
Popular money Lending apps are LLC or Limited Liability Company and, as experts, are the best option with a corporation. It will save you from taxation, and tax will apply to the users.
Get all the necessary permissions from respective departments.
Register Your Business Name
Choose your business name and app name and register them from any country of your choice. Follow the local instructions and keep everything legal and check its available for trademark.
Secure Your Initial capital
Before starting your services, you will need the service you will provide your customers: money. This is the most necessary part for any Peer-to-Peer and load Lending services. Look for investors who do this kind of investment and check for big canceled projects. Usually, investors look for this kind of investment because it provides higher interest. This might sound difficult, but it will be more easer.

How Loan Lending App System Works?
Now, you get the paperwork and finance; You are good to go into business, and all you need is The Application. This can take longer but can be done in lesser time if you hire experts or more developers.
Loan Lending App will work like any other app –
Install The App
Register your account with legal documents
Check the available lending limit and select the total amount you want to lend
Choose an interest and payback plan that you like
Connect bank account for auto credit and documentation
Get the lent money in your account
This is all! Simple as using a social network. You can use app features of reminder notifications and more.
Loan Lending App Features
There are already many apps available that offer loans at affordable rates, but to stand out, you have to offer something better than no one is offering besides the basic features. Some basic features that a money lending app must have to serve users safely and adequately –
User Registration & Log-in with proper legal documentation
Loan Management
Secure EMIs and Transections
Billing and Payment Management
Easier Transfer and Withdrawal Options
Additional Features
Rewards and Points Systems
Referral and Earn Options
Custom Plans and Report
ChatBot for management & Help
AI-based Analysis
Loan Lending App Development
This is the hard part. In this part, you will need to make some hard decisions that will decide your final product.
Now You have a perfect architecture for your money lending app; You just need an ideal body to embed to it. Next, we are going to break the development process into some easily understandable steps for you to get.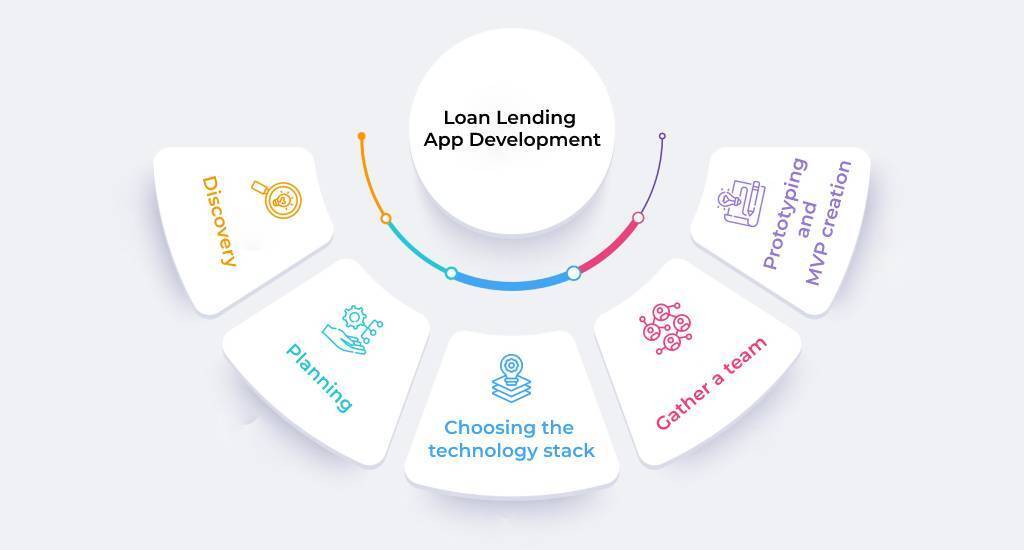 Discovery
Explore the market and take a look at every app in the same business. Every application will give you an idea that you can use and one mistake that you must ignore. Discovering the market will help you decide what you can design and develop that your users will like the most.
Planning
Now you know what you have to do or what you are going to avoid. Amazing the market will only tell you what you should do or whatnot. But you have to plan what strategically and how you will represent all your work to the users.
Choosing the technology stack
Now you know the market, and you have plans for your services that users will use, but this design will give you a face. You have to pick one technology, or you say a medium of development, to build the best application for your work. There are many options like Hybrid App, Native Android or iOS App, or React Native. You can choose any of them at your convenience.
Gather a team
You have the plan and strategy at this stage, but you need the workforce to implant it. So, when choosing a team, look for people with imagination and something that will keep them working with you.
Prototyping and MVP creation
Now you have almost everything; Plan, Face, team and technology. Then you can start the prototyping of your application. First, try to build a clickable and interactive application to get the face of your future app. Then, when satisfied with its look and feel, the team can create an MVP based on the SoW document.
MVP model is not necessary, but you can use it to get user feedback and develop a better app quickly.

Development Model For Money Lending App
There are three ways to develop a Loan Lending App lets discuss them one by one to find what will suit your model the best.
Dedicated Team
You can hire a dedicated team of your decided technology stack. Start with posting requirements based on the speed of your project. You can hire one for each task or more for the desired pace of development. This is the fastest way to develop a money lending application but will cost you way more than any other method. Even after initial product development, This will keep hearting your budget. But this is the most powerful and robust method of development.
Software Product development
You have the face and idea of the development but lacks the team to help you. You can hire a software development company to help you in the development of the product. They will give you an initial product in a very short time, and you can keep their support to build a more stable application. Your technology partner will give you a full cycle of product development.
Hire Remote Developer
The most money-saving method of development. If you know any technology that you can use to build a money lending app, then you can hire one or more experts who can help you in the development, and on the other hand, you can hire an expert and some more developers to get a remote team of developers to build a perfect team with the lower-paying team. You can check our blog on the benefits of hiring a remote developer.
Loan Lending App Development App Cost
The cost will depend on the scope of your work. There is much technology available for application development, but some technology developers charge less than others. There isn't any way that can give you an idea of the development cost for the money lending app. But you can get a rough idea of the development per hour. For example:-
Poland: $40
Argentina: $55
Costa Rica: $40
Chile: $50
Mexico: $55
Uruguay: $55
Nigeria: $40
South Africa: $40
India: $30
The quality of the work depends on the location; Most talented developers originated from India. In addition, India's currency value is much lower against dollars, which gives the advantage of lower cost to the employers.
2020 was a huge hit for everyone, and the whole world has stopped together, but many people still need to pay their bills. This motivation initiated the idea of a loan landing application. There are so many efforts that take to build a Money Lending App, but it's the best way to keep your money running with better returns. This keeps investors motivated to invest in these kinda investments. If you are planning something like this, then it's the best time to implant the idea.
For development, you can hire Extern Labs for innovative software development at lower cost and end-to-end support. We also provide dedicated remote developers to boost-up development.