The question of how to calculate the ROI of a business application is always on every enterprise's mind. Do you also run a business? If so, then do you have information on how to calculate the App ROI or return on your investment on mobile app?
If not, then this blog is a must-read for you, and if you have knowledge about ROI for business applications, then also read this blog to not miss any extra information.
We will give a detailed explanation of the strategies involved in improving the ROI of your business, along with all the calculations involved.
The initial obstacle to your business mobile app's success is gaining a large number of users. After all, we all need more potential customers and clients to download and run the application. And what after that?
Applications are never built with the mentality of set-it-and-forget-it. Applications need to be optimized, marketed, and utilized to become successful. And if you succeed in boosting your app usage, the ROI (Return On Investment) of your business application will improve.
Thus, it becomes very important to understand every aspect of return on investment (ROI) for your business.
Let's move ahead, and give you all the answers to "what is mobile app ROI?"
What is Mobile App ROI?
With the knowledge you have about ROI, you might start wondering how to achieve a successful ROI rate for your business.
Improvement in Return on Investment (ROI) through business apps is an area of concern for many businesses who are investing in the digital platform. The role of business apps in growing your business is still unknown to the corporate world, and so there's a big gap in understanding how these mobile applications can improve the ROI of your business.
Mobile app ROI is a leading player in improving business return on investment (ROI). Thus, this asks the question, "what is mobile app ROI?"
Mobile app ROI is a kind of ROI (Return on investment) that occurs as a result of a mobile marketing strategy. One such strategy is mobile advertising. These kinds of strategies are pulled off through the use of mobile app ROI.
And a mobile app can heighten your business in various ways. You can relate to this sentence, as most of the sales and purchases in today's time are done online. We all buy ninety percent of our daily stuff online through mobile applications.
This is because of the convenience that online business applications offer, and it is only because of this convenience that sales have improved in companies. On the other hand, this has also led to a boost in mobile and technological commerce, which amplifies a business app's ROI.
The mobile app marketing strategy in the industry has shown impressive results, and other studies have confirmed that it will increase commercially. Even though organizations are aware of this crucial path towards high profit, no business owner is convinced of what business app ROI offers.
The reason behind this is the lack of proper knowledge related to app ROI and the uncertainty that foreshadows it. This uncertainty is mainly due to intricacy and high competition.
Now, after getting a grasp of what mobile app ROI is, we should have to do a master's in the ROI from mobile apps.
What is the Present Scenario of Business Apps?
In the last five years, there has been a steep rise in the number of business applications on the Google Play Store. In current times, the Google Play Store hosts 2.8 million applications and the Apple Store hosts 2.2 million apps. This number is increasing every single minute.
The app market is expected to reach 95.2 billion by the end of the year 2025. One prime reason behind this amplification is the app's marketing strategy. With all the digitalization, businesses are heavily investing in application development. This results in the release of 3000 applications daily all around the globe.
Although the COVID-19 pandemic has depressed the economy in the world. And nothing is better than technology to address the safety norms of maintaining a safe distance while communicating. It has made people over-reliant on technology.
There is a famous quote by Bill Gates-
Reading this seems more impactful now, doesn't it?
Top 10 Strategies to Improve the ROI of a Business App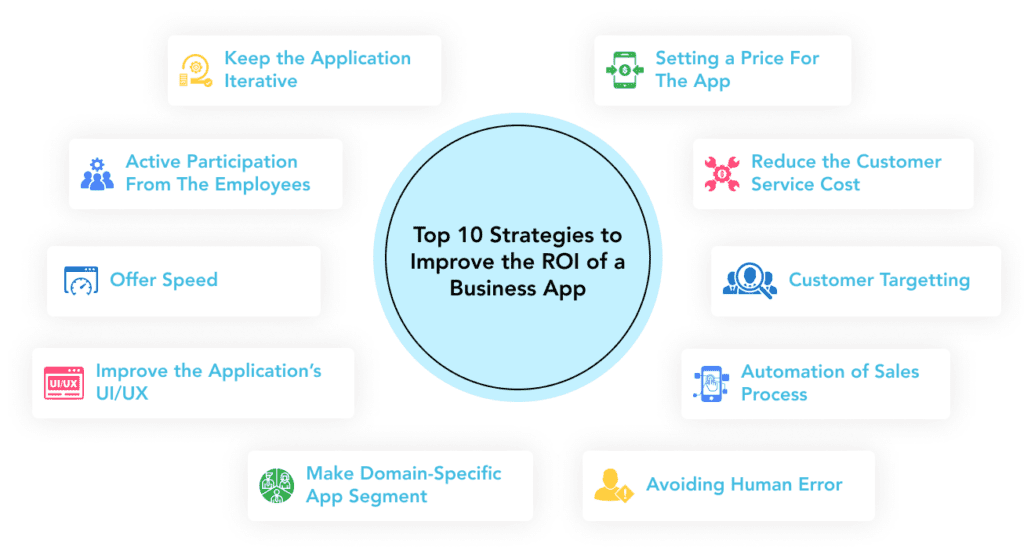 The strategies to improve the ROI of business apps can be determined on the basis of how concerned you are about keeping your employees with the application.
There are several ways to achieve this. Strategies or ways to improve the app's ROI are:
Keep the application iterative.
Active participation from the employees
Offer speed
Improve the applications' UI/UX.
Make a domain-specific app segment.
Avoiding human error
Automation of the sales process
Customer targeting
Reduce the customer service cost
Setting a price for the app.
1. Keep the Application Iterative
The first step to increasing the ROI of your business application is to make a plan for repetitive iteration. You have to monitor what features the users and the employees are interacting with the most and get their take on it.
And based on that information, keep changing the app features continuously to achieve the milestone of working on all the points highlighted by the employees being addressed timely.
If I put it clearly, you cannot expect your business application to be perfect in the first go. To make your business application unique and perfect, you have to keep doing A-B testing to get the best out of it and the whole company in general.
2. Active Participation From The Employees
According to research, the biggest problem that any organization faces is the shortfall of participation from its employees.
It is common for employees to show no interest in anything that will depart from the legacy system—especially if more of your employees are GenX.
3. Offer Speed
For today's digital first-generation, speed is their sweet spot. Whether it's about tedious content or connecting with the applications, today's generation doesn't take low speed lightly. To improve the speed, and thus improve the business mobile ROI, business software developers can try to compress the image size, and eliminate the redundant features that will weigh down the app load speed.
4. Improve the Application's UI/UX
Refining the application's UIUX will be the basic way to guarantee your app's acceptance for its appeal and aesthetics.
The UI/UX of an application should be made so that it causes zero distractions.
Not to mention, the design of your business application should be compelling enough to let the users know where to move their cursor, which button to click next, and many more.
5. Make Domain-Specific App Segment
One of the complaints that business app users commonly face is having multiple sets of features in one application. Due to this, a domain's team ends up viewing several features that do not even affect their work. So, to have multiple screens within an application, each screen will be designed to answer a specific domain instead of all.
Thus, we say a must-have quality in an enterprise application is that it should be an enabler,s, not a roadblocker.
6. Avoiding Human Error
With the use of a mobile app, you can get rid of minor human errors, human errors, or flaws. No matter how small they are, they can lead to something devastating, like regulation bypass, production problems, and many more.
With a mobile application, a computer can handle all tasks with perfection and will save you extra costs that you might face due to sudden damages.
7. Automation of Sales Process
As a business, you will have an entire team committed to direct sales. Nonetheless, with an application, your sales team will get more time to perform other important functions, as the mobile software can handle most of the sales process while giving the sales team more practical tasks like negotiating and lobbing new clients.
8. Customer Targeting
With the usage of mobile apps, there will be a guaranteed increase in sales of a product/service. And you can get new clients and customers with the use of mobile applications, and you can effortlessly keep your existing customers by making things easier for them, like easy product purchases.
Your application should be designed in a manner that persuades the customers to keep on purchasing and allures them to come back for more purchases, which in turn boosts the profit increase.
9. Reduce the Customer Service Cost
Using automated software to handle the majority of your customer service will ease you related to the expanses of doing it manually. For example, the use of chatbots is now getting popular on most websites and applications.
The Chatbot makes use of an excellent algorithm to initiate communication with customers before any human customer service takes off.
This will help in reducing and classifying customers depending on their needs. Simpler and small tasks can easily be handled by the bots, giving human customer service more space to handle other difficult tasks.
This one can reduce the customer service cost and it can help greatly improve your app's ROI.
10. Setting a Price For The App
Setting a suitable price for the customer in the app or of the app is a method to link your business goals that generate profit and boost the ROI from the business application.
How to Estimate the ROI of Your Business App
As a software development company, we have our own website and have developed several applications for our clients. In this segment, we will share with you a process that we usually follow to help our business mobile app development clients know their return on investment (ROI).
There is a three-step procedure to calculate the ROI of your business app.

The first step is to know the total cost you invested in getting your application made. This will give you an idea of the cost of mobile application development. You might have to ponder the bill generated by the web and software development company you are associated with.
The second step is to evaluate whether the business app was able to deliver the output you expected. One of the best ways to do that is by enlisting KPIs (Key Performance Indicators).
Some general KPIs that can be utilized to measure effectiveness are:
Sales data
Amount of paperwork
The reaction time of the field expert
Total production cost
After you get the before and after numbers against these KPIs, the last step will begin.
The third and last step of evaluating the business mobile app ROI is calculating the ROI. Through this, you can contemplate the after-effects of the investment made in developing business applications.
Now, let's come to the calculating part.
I know many people will take a step back only by reading the above line. But, calculating ROI is quite easy.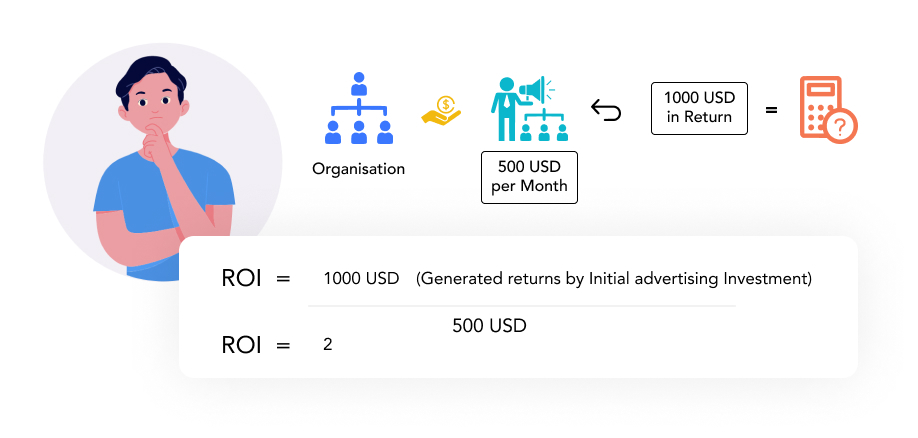 Let's understand this through an example;
Assume a business enterprise or an organization spends 500 USD per month on promos and campaigns and then generate 1000 USD in return. How will you calculate it?
It is quite easy. You will divide your generated returns by your initial investment, i.e., 1000 USD divided by 500 USD.
So, here your answer will be 2.
Thus, for every dollar invested by the company in the promotional campaigns, the company has generated a profit of two dollars.
A wise businessman will harness the opportunities around them and use them for their benefit to generate massive returns.
You should also invest in mobile app development with a reputable application development company to improve the ROI of app development.
This is the future. Get in touch with our enthusiastic team of mobile app developers to develop top-notch, highly functional mobile applications.
Extern Labs delivers excellent mobile application and software development services to our patrons all around the world. Our skilled team has a deep understanding of what elements will make a mobile app successful and offers a comprehensive solution to boost the productivity of a client.
Because, in the end, it's all about profit in business.