How much app design cost? Generally, this is the very first question that app development companies and developers need to know the answer to, whenever they launch any app development project.
The app development cost is fundamental yet the most important component of a budget for any mobile application development project.
And you will see, the company owners most often try to give answers to questions like- how much does a mobile app design cost through hiring an app development company vs. how much app design cost if developed internally.
These are the two common approaches, and in this article, we will discuss the development costs of these two approaches.
If you are already in the mobile app design sector, every effort you make in your application, whether innovative or ground-breaking in the end, all depends on its design. There are a lot of things entangled with the term "mobile app design." It can alone decide whether your team's long efforts will result in a profitable solution or not.
In today's article, we have decided to discuss the topic of how much app design costs.
Let's see!
Need For A Mobile App Development Services
Mobile app design is something that catches the user's attention first. And if you are looking for the mobile app design cost, then I assume that you are already clear about your mobile app idea and you have a general understanding of what you want in your mobile application.
If it is, then kudos to you!
Let us now take the authority of providing you with the guide on mobile app UI design costs.
However, before getting ahead with factors determining the cost of mobile app design, we should understand why there is a need for a mobile app design and overall mobile app development service.
With the mobile app design, comes mobile app development. Every design is created with the intention of solving a specific problem. And it has nothing to do with whether you are developing an application from the start or redesigning an app, the main goal of every step will be the same- solve a problem in the most minimal way.
A perfectly designed mobile app UI and UX design should offer the below-given benefits:
Untangle the interaction with the UI.
It Converts end-users into customers.
It Entitles users to achieve their main objective.
Smoothen the development stage of the application.
When you talk to company owners who are planning to build an application for their business, they will always reject the idea of hiring a mobile app development service as they think that mobile app developers can handle it as an alternative service for their application development project.
Am I right? wink!
However, there are a couple of complications with this type of approach. Let me point this out to you:
See, developers can control the basic mobile app design task, but they cannot go beyond the appearance and behavior of app design. And a professional mobile application designer will keep several things in mind when creating a mobile application, such as functionality, flexibility, content priority, branding, and many more.
An expert app designer will be aware of the practicalities behind every design by being mindful of the components such as the project statement, the impact of app size, plagiarism, and much more.
In addition to this, your application will have inconsistencies in its design, which will lead to higher costs to redesign the mobile application. Thus, your project development will become costlier and will also lead to delays in application development.
App Design Cost: What Do The Stats Have To Say?
Mobile apps are predominant for all smartphones whether it's for gaming, shopping, dating, or banking. With so many users downloading apps daily, it is no surprise that organizations and marketers are heading towards this profitable app industry.
According to the Statista report, 25 percent of mobile applications are only used once and then are deleted. And most of the time, the lower user retention is dictated by low app usability. As a matter of fact, 70 percent of online business fails due to this factor only.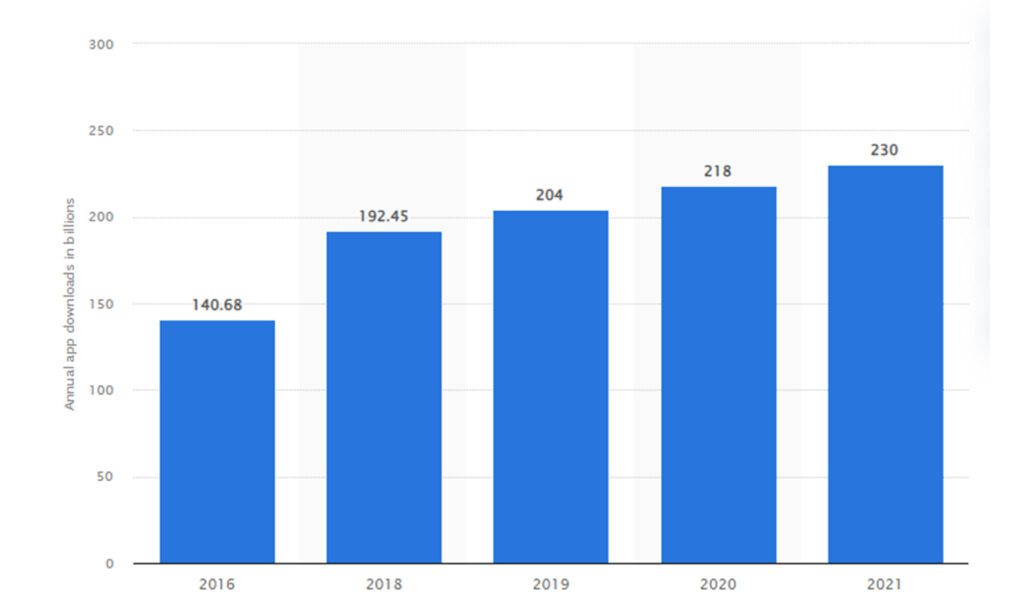 In order to avoid such kinds of situations, it is essential to approach app design squarely in the initial stages of the application development process.
However, it is also important to have a clear insight into the two terms app development and app designing. As both are two distinct services and are crucial.
App development is regarded as the final stage of app creation and it is mainly a technical execution of the elements that have to be added to an application.
App designing is focused on problem-solving. As I said, the main goal behind any application development is to solve the problems that a user faces. The overall process of designing a mobile application is a bit complex.
How much does it cost to design an application by yourself?
Well, it is possible to do the complete process by yourself, but you will require a mobile UX designer, who has deep knowledge of app designing tools and should know how to design an application.
Only a skilled UI/UX designer knows the details of the app designing process, guidelines, and points that can make any application best for a specific domain.
So, now let's frame the question again. How much mobile app UI design cost? Or How much an app UX UI design cost?
Mobile App Design Cost: Influential Factors
There are some major components that determine the overall app design cost. Some of these components are as follows:
The type of design
App Complexity
The type of development team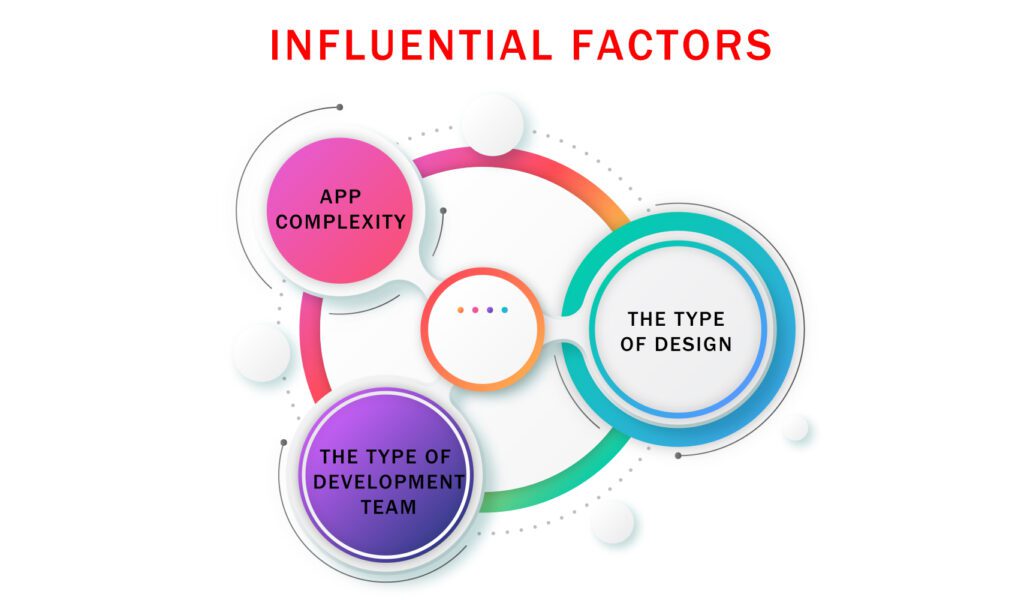 The Type Of Design
There are generally two kinds of designs that can be implemented. And the mobile app development cost for both design services is different.
Custom Design
With custom design in mobile application development, you have to create a UI and user experience from the very start instead of using ready-to-use libraries.
It is much more productive as compared to the native design and so the cost will be more than the native design, but at the same time, custom design is recognized as too tricky.
With custom design, you can ensure branding as the app design and cost will greatly reflect the vision and mission of your organization. Customization can be a healthy representation of your business profile.
Almost every app on smartphones these days makes use of a custom design. Because a customized design can bring great results if you do everything perfectly.
But, there's also an alternative to custom design, that is, Native design.
Native Design
Native design simply means platform-specific design guidelines and placements.
For example, iOS, Android, and other mobile devices always have a "Go Back" button on the top left corner of the mobile screen as they follow the same set of criteria.
Thus, with native design, there will be fewer application design costs in comparison to the custom one. However, this also means that there will be minimum experimentation and limited design solutions.
Native designs ensure quick development, as by using templates a lot of time and cost are saved. In addition to this, the native designs are easy to implement as they all work with overfamiliar systems. Therefore, the total mobile app design cost is also less.
App Complexity
In relation to design, the complexity of the application is another crucial feature. Let's breakdown the complexity feature:
Number of roles
The very first thing you will have to decide is the roles of your team members. Depending on the number of features you want to incorporate into your app, more UI and UX designers will be required.
For an average project, you might need a project manager and a specialist who will be responsible for tasks like- designing a user's persona, creating app wireframes, working on application prototypes, developing in-built app interfaces, and making changes after testing and after feedback.
Number of screens
There are many basic screens that an application includes. For example, an average app will have- a home screen, onboarding screen, login screens, screens with all the icons, menu screens, and many other screens.
So, for designing an application with various screens and animations, the cost will probably be higher than the average cost.
Number of features
On the basis of a number of features, the application design cost will depend on several factors like:
The platform of the application development process.
Type of the app and product.
Implementation of technologies like AR, VR, AI, and ML.
Adding other unique elements, like specific cohorts of end-users.
Based on all these factors, you will get an estimation of the number of hours needed to design an application.
In the end, your choice of the service provider will impact the overall app design cost.
The Type Of Team
Now, the most important question is, who will design your application? Are you deciding to hire a local agency, a freelancer, an in-house team, or outsource?
Let's see what to contemplate from all types of teams:
In-House team
In-house developers are the people who work at the company itself. This type of association has its own advantages and disadvantages.
First, it is easy to control the activities of the in-house team. The in-house team will be more dedicated and involved in the tasks as they will be more likely to understand the brand value and brand philosophy. Plus, the performance will be high as the app programmers will solely work on one project.
The disadvantages that one can face are that in-house employees will be restricted to only projects, so they can burn out. And hiring an in-house team will cost more than hiring development service providers and freelancers.
Thus, hiring an in-house team can be cost-consuming as there will be a lot of additional work.
The alternative option besides this is hiring a development agency.
App development agency
Hiring a design agency means hiring a team within your domestic area. Let's see the significant pros and cons of mobile app design costs by a local app development agency.
The app development agency will understand your targeted audience. They will provide you with communication and speedy updates. Plus the team can make use of local resources, brand ideas, and reciprocity. The disadvantages that it includes are you will not have the authority to change the personnel of the team, and the cost can be higher depending on the location.
By now, we have acquired a good knowledge of factors that influence the mobile app design cost. Based on app complexity and features, the app design cost can vary from $5,000 to $100,000.
For simple app designing, the approximate cost will range from $10,000 to $30,000. For an average app project, the price may vary from $25,000 to $75,000, and for complex applications, the app design cost will start at $100,000.
Understanding The Variability of Mobile App Design Costs in India
As I said, app design costs vary across regions and are based on several factors. And for mobile app design costs in India, these factors are largely at play. Over the years India has emerged as a one-stop for the most competitive app development firms quoting cheaper evaluations than their international counterparts.
The best part is, India is a thriving IT market that has been globally recognized as a talent pool, and the competitive small businesses have made India a truly lucrative place for outsourcing.
At Extern Labs, we possess many of these standard cost-competitive factors that Indian app development agencies are worldwide known for. In addition to this, the experience of dealing with domestic business projects has ultimately helped us to give an edge to our skills and approaches, even for a small-budget project.
This is the reason why the development cost can range between a few thousand to a million-dollar, Indian app development companies give a safe bet.
Final Thoughts
Mobile app design cost in India is less than in other parts of the world. In spite of this, there is a fierce hunt to locate more efficient ways to lower the development cost. Since the application development market is outstretched to small businesses and startups, these cost reduction estimates are becoming more and more important.
Above all that, because of the COVID-19 pandemic, several app developers have relocated and have started working remotely, this also has a significant impact on total mobile app design cost.
As you can see, app designing and development is not an easy task. But, if you have an idea for an app and you are thinking of developing your own mobile application, we can surely help you.
Contact us to get a quote on app design and development.