While watching Shart Tank India, I saw several startups that came up with the idea of implementing technologies like AI and ML in sports like cricket and kabaddi. Seeing the craze for sports among today's generation, those startups got excellent investments from the sharks.
If you have also seen Shark Tank, you know what I am talking about.
Since then, this subject has been on my mind, and I wanted to write a blog on it. So here we go!
There is no denying that technology is everywhere. But the most fascinating thing is how this technology is utilized everywhere. The use case of technology in every segment is limitless.
And the sports industry is not anomalous to technology.
We are all aware of the use of technology in sports and in live matches, but how technologies like AI and ML can be useful for athletes' training still remains unclear.
Let us give you a clear grasp of the use of AI and ML in sports.
Continue reading to learn some exciting facts and details about the use of AI and ML in sports.
AI and ML in Sports
Over the last couple of decades, there has been an advancement in technology in the sports industry. With these evolutions in technology, teams and coaches have now started embracing technology to enhance training techniques, improve players' performance, and reduce injuries of players.
Remember the movie, "Moneyball" with actor Brad Pitt?
This movie is the best example of data-driven performance improvement in sports. If you have never heard of this movie, it is a movie that showcases the story of Oakland's Athletics general manager, Billy Beane, who uses statistical data and AI-generated analytics to build a fierce team despite a small budget. And eventually, due to his historic decision, the team reaches new, unprecedented heights and wins some remarkable accolades. The movie shows how a data-driven approach can enhance performance and compensate for the lack of resources by enabling effective decision-making.
Okay, enough of a movie review.
After a decade now, the events of the Moneyball movie are finally coming to reality. With the introduction of artificial intelligence in the sports realm, we can observe a tide of change in the ways matches are played and the way athletes perform or players are trained.
Today, some of the top professional and top sports organizations are utilizing artificial intelligence, machine learning, and data science to get an upper hand over the competition. Let's see some tangible advantages of AI and ML in sports.
Where Does Machine Learning Come in Sports?
One of the prime uses of machine learning in sports is in players' training. With the incorporation of AI, the performance analysis of players has become very sophisticated. When AI and ML are merged with sports, coaches can obtain noteworthy information about their players' strengths and weaknesses. In addition to this, the data collected on the field can also provide crucial insights that will help the coaches and captains modify their game strategies and implement new tactics.
Let's understand how machine learning can revolutionize sports training through an example.
For instance, during basketball and cricket training, the players in professional clubs use wearable technology (devices fitted with sensors) to record the player's movement and their ball-throwing speed.
There are IMU sensors like accelerometers, gyroscopes, and magnetometers that collect the leaping heights, running speeds, and the precision of players' movements, along with various other pieces of information. The information collected by these IoT-powered wearable devices is then analyzed and furnished into machine learning algorithms to get some relevant matrices.
The Use of AI and ML in Sports
There are only a limited number of items in the world that can't be quantified. And every single thing, that can be quantified can be done with precision using AI, ML, and data science. And the sports industry is abundant with such quantifiable elements.
Seeing the positive impact of artificial intelligence in sports, they will continue to make progress in the domain of sports.
Below, we mention some areas in sports where AI and ML are being utilized to become mainstay components:
1. Scouting and Recruitment
2. Training and performance analysis
3. Maintaining athletes' health and fitness
4. Broadcasting and advertising
5. AI Referee
Here's how AI and ML will redefine the world of the sports industry!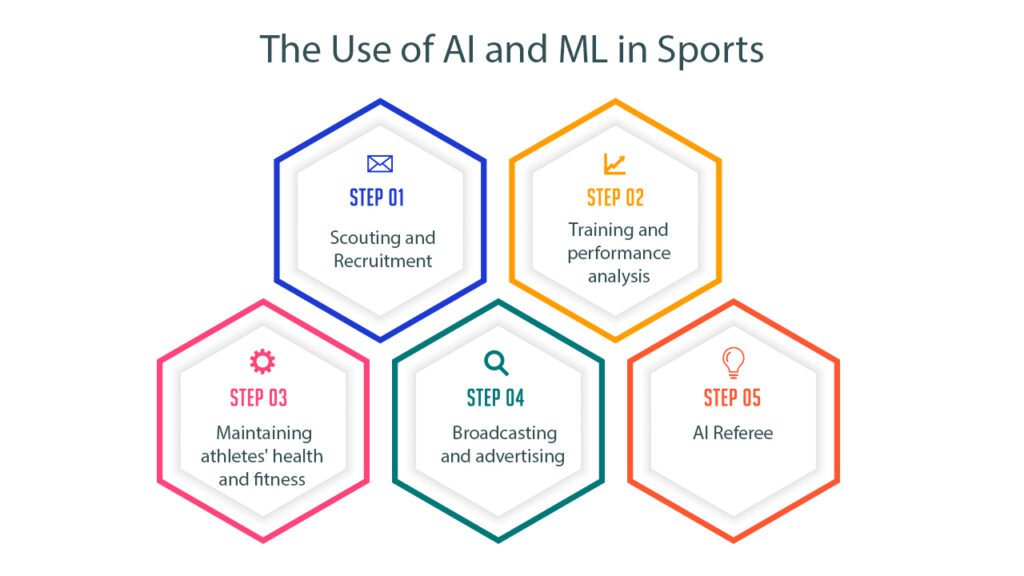 Scouting and Recruitment
Despite the fact that humans are far from being inappreciable using quantitative criteria, their performance can be subject to quantitative scrutiny. Sports teams, whether cricket, basketball, baseball, football, or soccer, extensively using individual players' performance data to measure their fitness and potential.
Here, the data doesn't mean only using open stats but gaining more complex matrices that account for multiple factors.
With the use of AI and ML in sports management, the entire process of measuring and evaluating the indicators guarantees the success of the team.
With the utilization of artificial intelligence in sports, one can also access historical data to predict the future potential of a player before investing their time in the player. Plus, it can also help in estimating the right value of the player while recruiting new talent.
Training and & Performance Analysis
As I mentioned earlier, the usage of general matrices is not the best way to access performance. To gauge the player's performance in any sport, the coaches need to evaluate a plethora of data for the individual and collective performance of the player.
This will give them an idea of where the players can excel and where they lag. For example, in football, the prime performance of the forward player is different from that of the midfielders and defenders, and the features of the player's game can be quantified and measured.
With the use of artificial intelligence in sports, one can also identify the patterns of their opponents and their strengths and weaknesses for games. By utilizing this data, coaches can make a game plan to maximize their chances of winning the game.
Maintaining Athlete's Health, Fitness, and Safety
It is a fact that AI is transforming the healthcare industry in many ways. And these extraordinary predictive capabilities of AI can be applied in the domain of sports, where health and fitness are of major importance.
Since the soul of sports is fitness, the sports authorities invest heavily in the physical and mental well-being of the athletes. Thus, authorities are increasingly investing in healthcare technology tools. These days, AI is the latest healthcare tool. When players undergo physical tests, the AI analyzes their health parameters and their movements of the player to measure their fitness and detect the early signs of stress and fatigue.
There are now wearable technologies that track the player's physical parameters to keep track of their overall health.
Broadcasting and Streaming
Along with revolutionizing sports for the players and coaches, AI also revolutionizes live streaming and broadcasting to enhance the audience's experience of sports. Based on the events occurring in the field, AI systems are utilized to automatically choose the correct camera angle to display on the screens. It can also offer automatic subtitles for live matches in different languages based on the audience's location.
Artificial intelligence in sports can also be utilized to identify the opportunities to present ads based on crowd excitement in sports leagues and then generate revenue through ad sales.
AI Referee
Remember! In 1999, during the first test match between India and Pakistan in Kolkata's Eden Garden stadium, there was a controversial umpiring decision. Sachin Tendulkar was given a run-out after he collided with Shoiab Akhtar.
Of course, anyone who knows cricket knows about this incident. The Kolkata audience was so enraged with the umpire's decision that Sachin Tendulkar had to personally request the audience to calm down.
Today, such kinds of decisions can be avoided with the use of AI referees. And thus, all big decisions that can change the match outcomes can be judged accurately and controversies can be hugely reduced.
Key Takeaways
Today's sports industry is all ready to embrace AI and ML technology. And artificial intelligence in sports will make the predictions for the game outcomes more accurate and reliable.
Machine learning in the sports realm is also growing at a rapid rate, with new applications and advancements being introduced each year.
However, regardless of how certain and predictable we become in sports, there will always be an unpredictable element and a surprise (human element) in sports. After all, this is something that makes the sport interesting and fascinating.
The ways in which AI and ML are being utilized in sports are only scratching the top of the layer. There are immense possibilities for AI and ML in sports.
One more tool that can enrich the training and coaching process in sports is the marketing automation tool. And this is where Extern Labs comes into the limelight. Our expert developers can offer an all-in-one customer engagement platform and AI and ML wearable tools and software that are user-friendly and at an affordable price.
So, if you are also a sports lover and want to do a business related to AI and ML to transform the sports industry then look for our services.
For more information about our services, contact us.