What's your definition of a vacation?
A change, a new and amazing place to explore, a new place to stay, or amazing hospitality, right? Or something related to this. This is what a trip or a vacation means.
However, with advancement and a growing economy, the gig economy is becoming more approachable. People are renting and sharing their apartments and houses with travelers, earning loads of money.
Airbnb is a giant name in this niche. It may not seem like it, but e-hospitality is one of the biggest revolutionized segments in the travel industry and apps like Airbnb are currently ruling over the market.
No, I'm not saying these lines for the mere content. As a content writer, it's my habit to come up with facts and claims for every single line I write. The ditto thing applies here. You will be amazed to know these facts about Airbnb.
Airbnb owns 10-15% of the travel industry.
There are 2.9 million hosts that list their property on it.
In the year 2021, they experienced 14000 new hosts every month.
Airbnb covers 220 countries with 100,000 cities all around the globe.
There are 150 million Airbnb users all around the world.
Since Airbnb only covers 15% of the market, there is 40%–50% of the space available for other startups to develop Airbnb clone apps. In fact, this is a huge market for another startup or a unicorn to disarray the travel industry.
If you are looking for a chance to convulse this niche, then you will definitely find this article quite gripping. Continue reading to learn about the specifics of application development in this area and if you want to build your own travel and stay booking app.
We have prepared a complete guide on how to develop a vacation rental app similar to Airbnb.
The Story of Airbnb
To begin with, there was no Airbnb in the early days. Instead, this website was called "Airbedandbreakfast.com", a long but quite meaningful name as it's the website for renting and renting out temporary adobe or shared spaces.
A meaningful name because bed and breakfast is a form of overnight stay where breakfast prices are included. "Air" in the name signifies an airbed, which is the most commodious and cost-effective place to sleep on. The crux is to develop an application that has options for all types of pockets.
It is the simplicity and peer-to-peer connection between the host and the guest which made Airbnb popular. Airbnb lists the below-given types of stay:
Shared spaces
Apartments
Standalone homes
Hotel rooms
Inn rooms
How Airbnb Functions?
To build an app like Airbnb, you should be aware of how the latter works. In this segment, we will give an overview of how Airbnb works.
Even if you have never used Airbnb, we will explain both scenarios- the host and the guest.
Here we go:
Airbnb for Guests
Guest subscribes with their phone number or email address and confirms their registration to fill in personal details.
They set their traveling location and their objective like finding a place to stay for a specific period of time.
Set the exact dates of your stay. You will also get the option to boost the result range.
Enter the number of guests: adults, children, infants, and pets if any.
See the map that displays the available accommodations with price tags along with the list of accommodations with price per night.
By selecting the property, you can see the detailed description, address, host's name, contact info, pictures of the place, and guest reviews.
After confirmation, the guest will pay for their booking through the available payment method.
If everything goes according to your plan, the guest will only have to arrive at the agreed time and enjoy the trip.
Airbnb for Hosts
Here also, the first step will be the details authorization through a phone number or email address.
The host will have to fill in their individual details, in the profile tab. After this, the user can list their space to sublet to guests.
The host will have to enter all applicable information like the type of house, apartment, bed n breakfast, hotel, location, etc., and have to upload at least 5 up-to-date photos. Plus, they have to set their prices on a per-night basis.
Airbnb lets the host operate the business if renting out is the host's only source of income or as a private individual. In both cases, there are different conditions for placing at Airbnb with guidelines related to the European Economic Area (EEA).
When the offer is online, it will be the host's duty to track the activity on it, respond to the messages, and accept or reject guests' requests.
The host will get paid 24 hours after the guest's check-in and they do their best to get a five-star rating.
Features To Consider While Developing an App like Airbnb
In this section, we will discuss all the necessary features as suggested by a mobile app development company so that users can have a pleasant experience with your Airbnb-like vacation rental app.
Features For Guests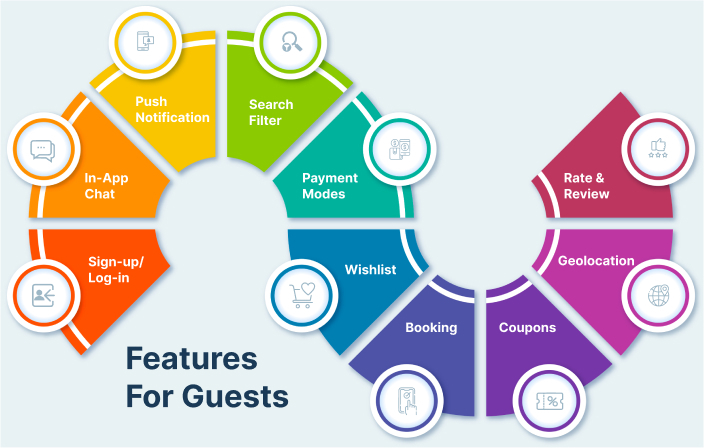 The key features that must be included in a vacation rental app for guests or travelers are:
1. Sign-up/Log-in
The user can sign-up on the app or web portal through their email ID or phone number. This is needed for user verification and to get important details about the user. Once verification is completed, the user can log in at any time and book the accommodation as per their liking. This is a much-needed feature for apps like Airbnb for the safety of users and correct verification.
2. In-App Chat
It is one of the best and most needed features to ensure the best customer support and engagement. In case the customer faces any queries, they can chat with the executive at any time.
3. Push Notifications
Push notifications are important to keep the users and associates updated regarding all the booking information and updates. So, if a guest books a room at a particular location, then he/she should be notified through push notification.
4. Search Filter
The search filter option will allow the user to search for their destination and the available accommodations in that area.
5. Payment Modes
You should include multiple payment options along with currency so that the guests can choose one option at their convenience.
6. Wishlist
In case the user missed the accommodation because of high rent or rush, they can save it in their wishlist and when the desired rates are displayed, they will get a notification about it.
7. Booking
The guest can look into their booking details and can check the current booking.
8. Coupons
By entering the coupon details, travelers can get a discount. They can also refer the application to others to get the coupon.
9. Geolocation
Apps like Airbnb should be equipped with features like geolocation by Google Maps so that users can find their listings with the utmost ease.
10. Rate & Review
With this feature, users can submit their reviews, ratings, and feedback without any hesitation.
Features For Host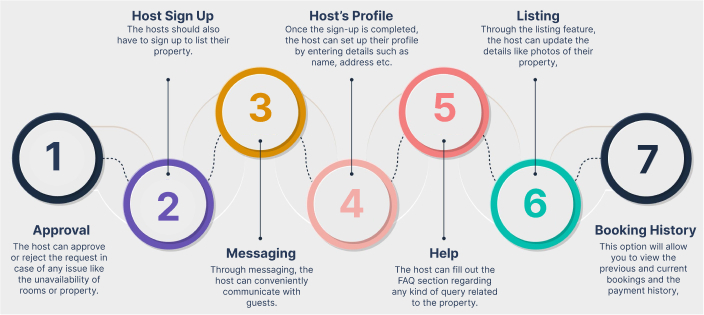 The necessary features for hosts in vacation rental apps are:
1. Host Sign Up
The hosts should also have to sign up to list their property. The signup mechanism will be the same as the guest's app. The host will also have to provide their phone number or email ID.
2. Host's Profile
Once the sign-up is completed, the host can set up their profile by entering details such as name, address, and phone number, and can set passwords.
3. Listing
Through the listing feature, the host can update the details like photos of their property, amenities, basic identifications, property-related documents, and bank details.
4. Approval
The host can approve or reject the request in case of any issue like the unavailability of rooms or property.
5. Messaging
Through messaging, the host can conveniently communicate with guests. They can send notifications about the confirmation booking. It is a common feature but still a powerful one.
6. Help
The host can fill out the FAQ section regarding any kind of query related to the property.
7. Booking History
This option will allow you to view the previous and current bookings and the payment history, including the generated revenue.
Features for Admin Panel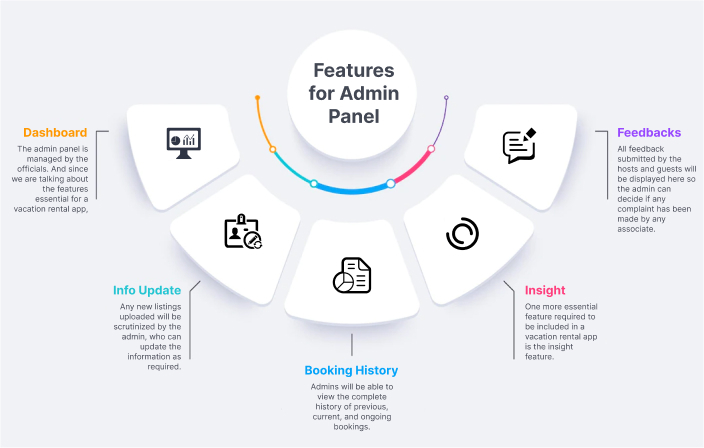 The Admin panel is the most important segment that will empower the admin to manage and control them.
1. Dashboard
The admin panel is managed by the officials. And since we are talking about the features essential for a vacation rental app, it would be best if it offered a good approach to managing the tasks.
2. Info Update
Any new listings uploaded will be scrutinized by the admin, who can update the information as required.
3. Booking History
Admins will be able to view the complete history of previous, current, and ongoing bookings. They can also remove, edit, or update the request made by the host and guest.
4. Insight
One more essential feature required to be included in a vacation rental app is the insight feature. It will allow the admin to collect the data and generate reports to plan future growth.
5. Feedbacks
All feedback submitted by the hosts and guests will be displayed here so the admin can decide if any complaint has been made by any associate.
Steps To Make a Vacation Rental App Like Airbnb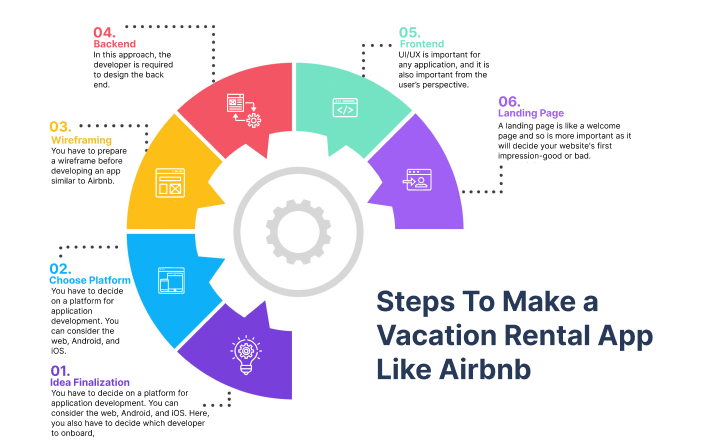 Idea Finalization
Even though it's clear that you want to make an app similar to Airbnb's concept, you need to include some unique features, and it would be best if you wrote things down.
Choose Platform
You have to decide on a platform for application development. You can consider the web, Android, and iOS. Here, you also have to decide which developer to onboard, and so you have to hire a dedicated developer for each platform.
There is also another way, cross-platform app development, in which a single code base will be used for making native-like applications for all the diverse platforms.
Wireframing
You have to prepare a wireframe before developing an app similar to Airbnb. It will give you an insight into how the project will look after complete development.
Backend
In this approach, the developer is required to design the back end.
Frontend
UI/UX is important for any application, and it is also important from the user's standpoint. Although it should be built correspondingly to navigate the user smoothly from one page to another.
Landing Page
A landing page is like a welcome page and so is more important as it will decide your website's first impression-good or bad. The landing page of any application will tell you what your app represents.
After the successful development of the app, you should also take care of the regular updates, so that the user always remains updated. Plus, it will also reduce the possibility of any cyber threat. The steps mentioned above are the right ones to build a vacation rental app, but it would be best if you hired a mobile app developer for it.
Time and Cost to Develop a Vacation Rental App
In general, you will need 600 hours to develop an app like Airbnb. This time also includes testing, QA, and bug fixing.
Once you have calculated the time duration for developing a vacation rental app like Airbnb, it is the right time to choose which mobile app development company you will hire.
The developers in Asia, like the Indian developers, charge $10-$80 per hour, which is way less than the developers in the US and Canada, who charge around $50-$250 per hour.
Nevertheless, based on the choice of company or developers, the average cost of developing a tour and travel vacation rental app like Airbnb will be around $6000 to $15000.
The technologies you would use to develop a vacation rental website are:
Frontend: React.js
Backend: Django/Python, Ruby on Rails
Database: PostgreSQL
However, the tech stack to build a vacation rental app will depend on the type of platform, (iOS or Android). You can see the details on our mobile app development service page.
Summing Up!
Today, in the travel industry, Airbnb is one of the biggest and most successful vacation rental brands, with more than 900 million stays booked now. There are many such reasons that are enough for a mobile and website development company to produce an app like Airbnb.
Overall, the three most crucial points to making your vacation rental app successful are-Features, tech stack, and promotion & marketing. Among all the features, these three are the most important ones.
Although, you have to come up with a unique feature so that the user has a similar experience but in a fresher way, these additional features will work like a cherry on top of the cake.
So, this is your chance to start a step towards success by implementing a similar idea to Airbnb, and Extern Labs will help you achieve success in your journey.