Before starting anything, answer this- What's your number one priority in life- career, wealth, or mental health?
The majority of you will answer career and wealth and that's pretty much obvious (No explanation needed). However, for those who put mental health first ( huge respect for you), it's difficult to do that.
Whatever your answer is you must read this blog whether you are simply on the page to get stress-release solutions or you are an entrepreneur looking to do business in this niche.
In recent years, there has been visible awareness among the population about mental healthcare and mental healthcare-related services.
In fact, the COVID-19 pandemic started a new wave of demand for mental wellness providing services. This also lead the mental healthcare industry towards digitalization and encouraged them to start providing mental wellness-related services remotely.
This led to the foundation of mental health applications. How fascinating this is that technology has been used as an instrument in eliminating the stigma that revolves around psychological problems.
The best thing is that these applications can be easily accessed by anyone seeking different methods to release stress but also avoid face-to-face therapy.
This is the primary goal of developing mental health apps.
So, if you want to launch your own mental health app, want to revise your current solutions to reach a wider audience, or simply learn about mobile development — Welcome!
Let's look closely at the development process of mental health applications!
How Do We Develop a Mental Health App?
It is quite evident that mobile phone users make up more than fifty percent of the traffic on the internet. This is one reason that today most businesses provide mobile applications to make it convenient for end-users to avail of their mental health services. In addition to that, such applications will also reduce the workload on the therapists.

Although from the business viewpoint, such applications allow one to reach a wider audience.
So, how will you develop a mental health application for stress release? What points and features you should consider for developing an application for mental health services?
We will answer these questions and many more in the blog. Let's start!
Types of Mental Health Apps You Will See in The Market

Mental health apps are of various types and before developing one you have to pinpoint one type or category in which you will proceed. This way only you can unravel the full potential of a mental health app.
Why so?
Because doing this will set the base for the features you wish to include in your application and will assist you in deciding how to proceed with the entire development process.
So, some commonly used types of mental health apps are:
Mental Disorder Apps
Such kind of applications enfolds all types of mental health disorders such as depression, stress, anxiety, bipolar disorders, and schizophrenia. These applications are based on all these disorders or just one. The features that these kinds of app includes are mood monitoring, keeping a journal, psychotherapy, and much more.
Post Traumatic Stress Disorder
PTSD requires constant attention and an individual experiencing PTSD requires constant support for anger management because they are afraid of relieving their past. The features that usually these app comprises are- music selection, self-talk methods, and breathing exercises.
Eating Disorders
Eating disorders can be developed by stress, anxiety, and other kinds of stressors. Eating excessively or not eating at all leads to severe distress to users that is software development companies always include mental health tracking features along with diet trackers. 
This also allows end-users to set a fixed eating routine and diet goals in turn recommend to their end-users what they should eat in what quantity and at what time.
Meditation and Self-improvement Apps
There are countless meditation and self-improvement apps since the pandemic. These are first-picked apps for stress management and for tapping relaxation. Such platforms cover stress management, mindfulness, destressing, relaxation, effective breathing, and anxiety control.
Understanding Target Audience
Understanding who you are targetting by building your application is vital for developing a mental health application because every age group has different mental states. For example- a young adult might be going through a heartbreak or might be shattered then an adult might be going through the same thing. This is mainly because they have different experiences and different maturity levels.
The three sides of mental health applications are:
Users
Common Problems
Mental health states
Much-Needed Features of a Mental Health App


Similar to other apps, a mental health application has to focus on its users. This refers to cognitive behavioral therapies, mood regulation programs, customized settings, and gamification.
Thus, the tools to implement a mental health app are limitless.
To make the application fully functional for both the doctors and the users, it will be best if you draft a plan first to tackle the end-users condition.
The planning and drafting will help in deciding relevant features.
Here are some main features of a best-in-class mental health application
Self-monitoring
Self-monitoring includes tracking the mood patterns of the individual and managing stress. People going through psychological conditions use these applications to test their symptoms and to track their progress. Self-monitoring allows users to record their thoughts, feelings, and mood. Such kind of features is heavily appreciated by the users.
For example: if you are going through an eating disorder, like tracking one's meals daily.
Support Groups
Support groups include a group of therapists and alike people that help them to overcome their mental illness. Through the application, users can share their journey and problems in a safe way as they will offer support from people who are going through a similar condition. However, these groups are monitored by professionals, prompting open discussions among users.
Notifications and Reminders
Notifications are like reminders for the users like going for a walk, relaxing, and some other stuff that requires a healthy mental state.
The main point of sending notifications is to pep-up self-monitoring by offering users customized alerts.
Alerts and reminders are well-accomplished solutions for all busy users, however, an overload of notifications will likely make the users stress out.
Guide To Make a Likeable Mental Health App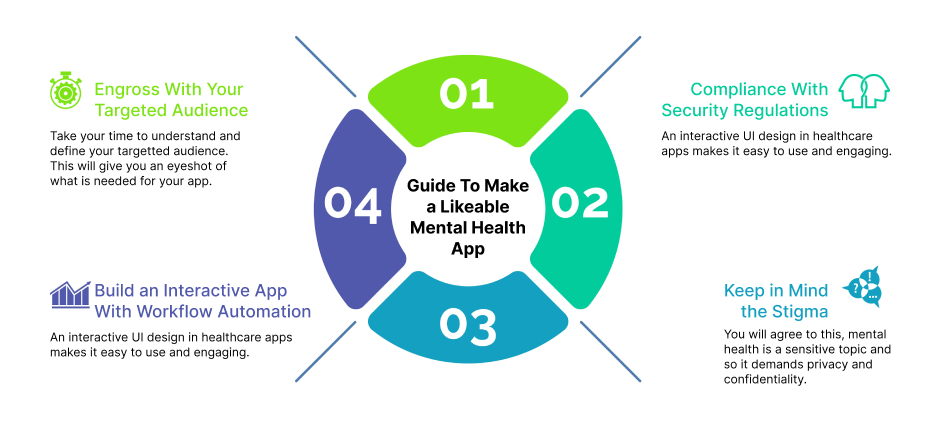 Mental health applications are made to improve the mental health of the users remotely through meditation and cognitive behavior therapy along with the provision of a strong support network.
But what will make your mental health app significant and worth the effort?
This is what we will discuss in this section. Below are some of the most relevant points or tips that will lay the foundation of your app making it innovative, worthwhile, engaging, and convenient for the users.
Engross With Your Targetted Audience
Take your time to understand and define your targetted audience. This will give you an eyeshot of what is needed for your app.
To understand it clearly, a person experiencing schizophrenia will try to reduce their hallucination with the help of a professional whilst an individual going through depression will emphasize cognitive behavioral therapy (CBT) to control their low mood. In simple words, every user has a different need depending on their age, symptoms, and their diagnosis.
There might be users who need to use your mental health application regularly, but this will not be that easy. So, how you can make your app engaging for end users, especially those with low motivation levels?
One solution to this is the addition of gamification features like achievements, rewards, coupons, points, and leaderboards that will increase the engagement of the users.
Health level 7 (HL7) is a set of clinical standards and messaging formats so HL7 messages and constantly remaining in touch with the therapist is a good idea to make a menstrual health app engaging for users.
Build an Interactive App With Workflow Automation
An interactive UI design in healthcare apps makes it easy to use and engaging. Process automation will cut the cost and will reduce the workload on the team allowing service providers to offer their services to a wider range of audience.
You can incorporate automation in the following parts of the workflow to increase the productivity of the application:
Appointment bookings
Payment processing
Prescriptions
Patient registrations
Symptoms controls
Compliance With Security Regulations
You will agree to this, mental health is a sensitive topic and so it demands privacy and confidentiality. Thus, while developing a mental health app it is important to eliminate exposure risks.
In addition to this, it is paramount to provide users with a breakdown of how, where, and with whom their information is shared.
However, make sure that privacy laws, particularly for telehealth companies vary from region to region.
Keep in Mind the Stigma
Even though people are getting more open about mental health issues, there is a stigma that surrounds this sensitive topic and is hard to erase. Individuals facing mental health problems still fear the reactions of their peers, family, colleagues, and health professionals. 
This makes it critical for developers to consider how their app could be used distinctively in a public place.
One example is including an option to use the app without sound that way it will attract less attention to the user in a public place.
Another thing we can focus on is that the logo of the app must not scream "Mental Health Application". A logo should be a simple symbol that makes complete sense to the user but not to others.
Common Features of a Mental Health Apps

Sign up
Creating a profile
self-monitoring
Journal
Chat & Video calling
Sharing
Therapy dashboard for doctors
Relaxing exercises
Gamification
Psychoeducation
Emergency support
How Much Does it Cost to Develop a Mental Health App?
Time to address the most important aspect of healthcare software development: the cost of developing mental health software. The value of a business is based on two facets: the idea's feasibility and its costs. Testing the feasibility of an application and the costs of development are primary things in the process of deciding whether putting your plan into action is worth it or not.
The features and functions incorporated in an application will determine the mental health development cost. However, the accurate estimate will be given by the amount of time app developers and designers spend on developing the app.
Moreover, fixing a budget will narrow down the choices of app developers and designers but then also funding is not the only aspect of developing a mental health app.
Hire Our Hand-picked Mental Health App Developers To Build a Product That Makes a Difference!
Starting a mental health platform depends on a variety of factors including the budget, aims, and target audience of a company.
The mental digital health market stands as the most significant segment supporting one and all.
If you have an appealing idea of how to help people fight their mental issues, it is time to set it into motion.
Extern Labs is a USA-based software solution partner for entrepreneurs and has helped 10+
companies that specialize in digital healthcare software solutions.
We have the necessary expertise and competency linked to the enhancement and handling of digital health processes that cater to the needs of important collaborators.
Contact us today, to develop an app that can become a lifesaver for your customers.