Ever since we set foot in the smartphone era, there has been no reminiscence. Within a flash of a decade, smartphones have become our closest companions. As a result, the profits from the mobile app development industry have escalated ten times. The mobile app future trend is undoubtedly predominated by Google apps, gaming apps, and social media design trends.
As end-users application contact frequency increases, changes in models and increases in device type occurs, which makes the future of app development multi-experience. Up till 2000, no one expected that social media would expand insanely. It is a platform where individuals can connect and communicate. But with the modern updates, it has become much more than that.
If we look at the Social Media Design Trends, social media is now like an open market for businesses to promote their products and services to attract more clients. According to a report, 32% of online patrons seem inclined towards social media networks as compared to physical stores.
As a consequence, the mobile app development industry is expanding at a skyrocketing speed. Thus, to survive and to generate revenue in this digital era, you should get familiar with the changing Android App Development Trends 2022. It is not wrong to say that the smartphone is a way to digital media success. And by the end of 2022, the mobile app market earnings are expected to reach about $693 billion.
Although, one frightening reality is that most mobile applications fail. And their inability to execute the latest trends is the main reason for their failure. This failure can also be because of losing out to your competitors who are good at adapting to Mobile App Future Trends.
So, what are the top social media design trends and how can they be executed in mobile app development. In our article, you will get to know about these.
So, make sure to read the article till the end to find out all the answers to your questions.
All About Successful Mobile App Development Strategy
One of the main reasons behind the failure of any business related to mobile application development is that they move ahead with the biased belief that- mobile development is about writing functional codes for compatible devices like mobiles and tablets.
However, the plan of action does not dwell around code creation alone. Rather, it involves deep market study, requirement research, front-end designs, and usability analysis before it deploys to the deployment stage.
The primary step to determining a successful mobile app development strategy is researching time and resources in the development domain.
Top 5 Social Media Trends In Mobile App Development
Below are mentioned some in-depth strategies embraced by the leading mobile app development companies and incorporated into the top trending social media apps to acquire immense success for their brands.
It is certain that the mobile application user experience has been great with these 5 Social Media Trends, which are making our lives convenient in countless manner.
The future of iOS and Android app development is brighter than ever before with these innovative social media trends.
And when it comes to the present and mobile app future trends, our encounters will always be better than what we expected.
Let's know about them one by one.
IoT (Internet of Things)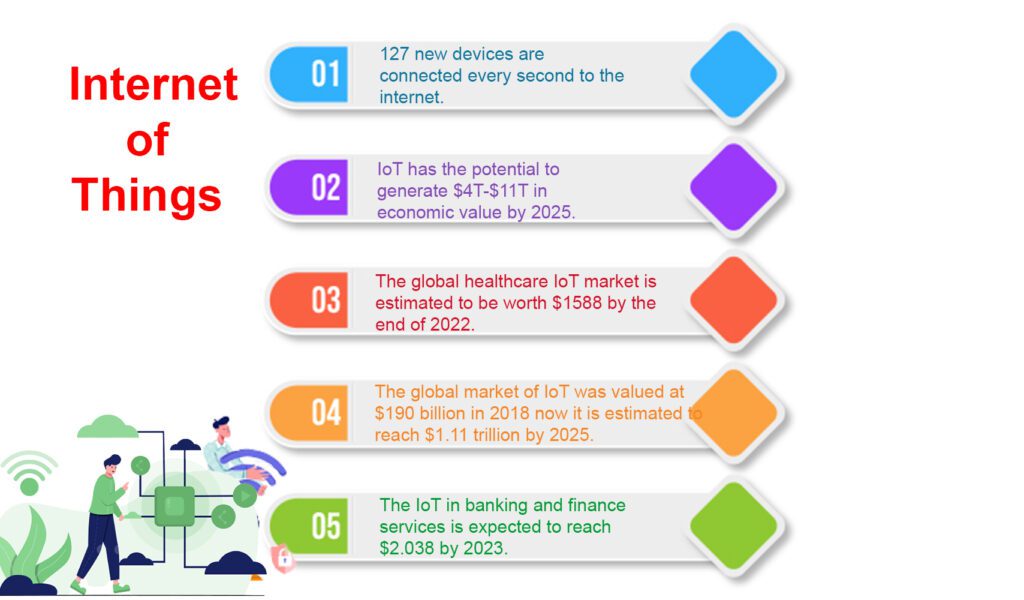 Back in 2000, no one could have imagined that the internet could be such an important part of our daily lives and would help us control our televisions, ACs, fans, kitchens, and bedrooms from far-off places. Even if you are in your office, you can switch off your fan, or lock your house door.
With an active internet connection, IoT app development, and IoT-powered devices, you can manage almost everything. Therefore, businesses are fastly implementing the IoT trends and application development as they will soon be as omnipresent as smartphones in the near future.
The idea of self-driving automobiles, 5G networks, and AI-powered IoT devices is the most foreseen mobile app development trend.
In other words, app programmers and businesses should get ready to implement applications that will offer an efficient digital experience to their end-users on smartwatches and other wearables, in order to provide a seamless digital experience to the targeted audience. Hence, getting a distinct edge over those who do not.
AI (Artificial Intelligence) and Machine Learning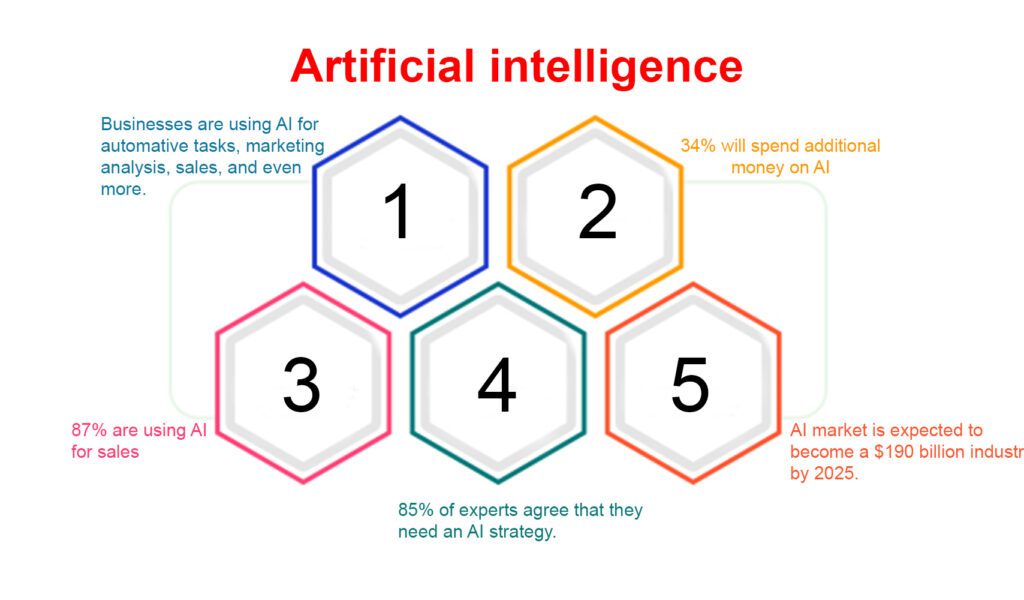 The task of AI on mobile phones is far more than virtual assistants, chatbots, or AI-dependent photo filter apps.
It has a bigger role with the implication of voice translations, customer predictions, and AI-based cameras.
Whether it is Android or iOS app development with the help of AI and ML (Machine Learning) services, it can make use of previous data correlated to a user's behaviors and searches and then execute them.
The combination of AI and ML is highly functional in the segment of eCommerce mobile development.
Furthermore, healthcare mobile apps are greatly coming upfront with the advancement of viruses and diseases. The use of AI in mobile apps has given the chance to cope with the changing realities.
The mobile app development services have made it very convenient for users to get good treatment, with the use of telehealth and wearable technologies.
Additionally, data breaches are the major cybersecurity fraud in the digital world. And with increasing social media users, data protection has become the prime concern for businesses and enterprises. And thus, big and small companies have started implementing AI and ML technology to minimize the number of data breaches incidents on the internet.
User-Generated Content
User-generated content (UGC) is the newest trend in marketing. But, what is UGC? And how is it good for marketers?
Blogging, social media networking, podcasting, reviews, and other types of content published by end-users are cited as user-generated content.
According to a recent survey, UGC content is trending on social media. As many users participate in giveaway campaigns by sharing posts from their favored brands to win exciting prizes.
The main reason why UGC gains attraction is because of its skills in building trust among customers and brands.
AR And VR Trends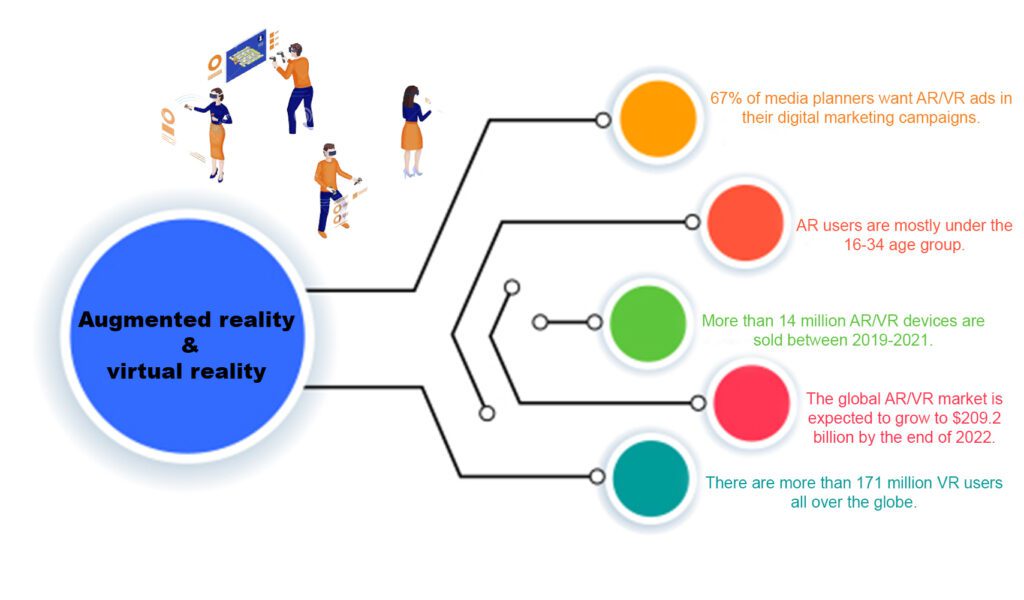 All the gaming and video realms are vanquished successfully by AR (Augmented Reality) and VR (Virtual Reality) applications. It is only recently that mobile application developers are utilizing these technologies to bring them into our everyday lives.
ARCore and ARkit are just trailers for this mixed reality transformation. Thus, before you approach mobile application development company to start your AR-fixed app plan. Do remember that its benefits are beyond your imagination, such as motion tracking, environmental knowledge, light estimation, and people closure.
AR-based apps have been introduced as fully functional mobile applications to expand tourism, healthcare, marketing, education, and much more. Facebook allows its users to interact through VR, and Instagram has a bunch of AR filters.
Right now, the healthcare industry is actively using AR/VR apps and devices as doctors can perform live surgeries from anywhere. The mobile development companies are creating the future through AR and VR with exploration activities, live concerts and music festivals, visual learning, and exploration activities.
5G
The mobile app development sector is one of the industries that has spotted the ubiquitous use of 5G technology. It helps them provide a brilliant customer experience and has various ramifications.
5G is no doubt the next-gen mobile technology that will take the place of 4G/LTE. On the whole, it will power up the IoT as the internet speed will change up to 100GB/s. Mobile app developers must consider the predicted change in velocity and upgrade the whole product. Technologies used in mobile app development have no endpoint.
Even in this year's budget, our finance minister announced conducting 5G spectrum auctions. This can be a revolution for the technology sector of India. There are great benefits of 5G in mobile applications as it can be employed in the AR/VR sector, IoT, supply chain, and transportation.
To Sum Up
The future calls for some amazing mobile development technologies which are beyond our expectations.
However, getting a customized app is now easier. With the social media design trends and Android app development, 2022 things are now a hundred times faster, better, and more convenient. And these trends are actively participating in daily businesses. Thus, you require a skilled mobile app development company to handle all your plans and for timely updates.
If you want to expand your business in this daily-transforming world then now is the time to take advantage of the vast range of technology and software solutions at Extern Labs Inc.