Stephen King once wrote, "Books are uniquely portable magic." In today's scenario, this statement fits the best. Because people are carrying an entire book library in their hands on their smartphones and tablets, this has been made possible by Mobile Application Development eBook services.
With the advancement of technology, our screen time has also increased, leading to a tremendous rise in online reading. As you see, online books are going viral in just a few hours. And today, most people refer to these eBooks as compared to the traditional hard copies. And, come to think of it, why will one spend loads of money on hard copies when you can read double the amount of books on eBook apps?
Books have always been a favorite pastime for passionate readers. But there is one truth; readers have evolved with time, and their reading ways have evolved a lot. As a result, many Android Studio eBooks apps have been introduced in the market in the recent era.
Nevertheless, only a handful of them has seen success.
Every business looks out for a unique and great sales channel to grow exponentially. No matter how accomplished or developed your business is, it always requires ways to reach a larger mass.
And this is the same for all kinds of businesses, whether it's a startup, small business, or a well-established publishing company. Everyone wants to involve more digital readers and plans to go digital.
If you are a reading enthusiast and a bookseller, it's important to have your own personal app, because you surely don't want to fall behind.
Well, to develop an Android Studio eBook, you don't need anything. You don't have to have a knowledge of coding and programming. There's only one thing you need to keep in mind, keep ideas unique and well-planned and you will be all set to rise in this industry.
In this blog, we will discuss the Android App Development eBook and its complete journey, together with its functionalities, strategies, and how to develop the same in a cost-effective way.
Let's see!
What Is An eBook?
In current times, Android programming eBooks are a flourishing sector in the IT industry. With a simple search of "eBook", hundreds of blogs and sites on the same page will appear on your screen. Many programmers design free applications so that one can read books on several devices.
Fun fact:
Softbook and Gemstart's Rocket ebook were the very first eBooks launched in the year 1998. And for the first time, a horror novel of Stephen King's was launched exclusively in eBook format in the year 2000.
It was the very first step that led to the whole revolution wave that undertook all the book lovers.
And as the name implies, an eBook app is a type of mobile service that is created with the idea of making the entire reading system more comfortable, enjoyable, and liberal.
eBook Applications Inflation
Mobile applications have always been an important aspect of our daily lifestyle. We start our day with the alarm clock app and tend to see our smartphones every single minute. And this hefty usage of mobile applications has helped in generating high revenue for various businesses.
Therefore, hundreds of apps are launched on the market every single day.
According to Statista data, the total earnings of the eBook marketplace are estimated to reach $23.12 billion by the year 2026.
For any bookseller, getting an Android App Development, eBook service will be beneficial as it will help them grow their sales and revenue. It will also offer the benefit of customer loyalty.
And your eBook app will allow customers to purchase the book from the app rather than going to a bookstore to buy it.
So, if your consumer favors your app and enjoys reading books, you will build a strong customer base, and that will keep your customers coming back to your applications, intensifying your income stream.
Types Of eBook Applications
Well, there are several types of eBook applications in the market, but to narrow down your options so that you don't find any difficulties in choosing, there are two main types of eBooks.
Both types have a very slight difference between them if we look from the user's point of view.
Moreover, before knuckling down with the mobile eBook app development procedure, you should first decide which one you will be fixated on.
Let's understand in detail the two types.
Actual eBook App
Any real book lover will allow others to read books as well, at any time and in any form, such as pdf, epub,fb2, etc. These types of eBook reading apps will allow their customers to select, download, and stream any book online/offline at any time.
App For Online eBook Stores
This type of application will be good for booksellers who want to offer virtual copies of their books as their one product. At present, there are several apps in this category, for instance; Amazon Kindle, Wattpad, Google Play Books, Apple Books, and many more.
Thus, when you visit the right Mobile Application Development eBook company they will inform you of the right application for you. They will inform you about the functionalities and the ways to earn money from your app and will offer you the best marketing game plan for your target audience.
Features For Android Development eBook
In your approach to eBook app development, you should consider the below-given features.
These features and components of an eBook app will influence how your app functions in the market and whether end-users like it.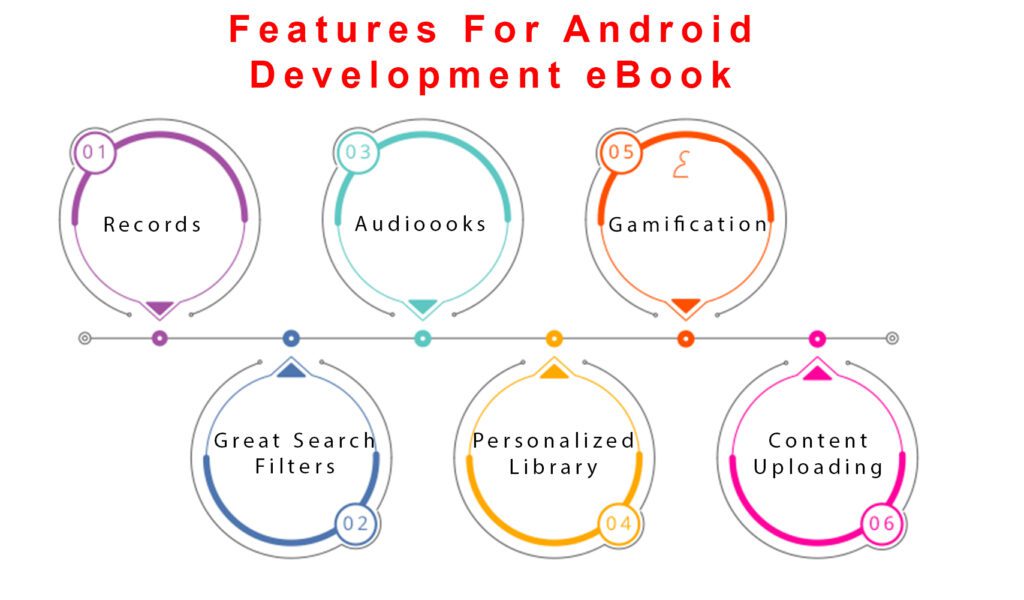 Some of the prime features of an eBook application are-
Store Records
It will be an important feature to involve writing and reading-like software. You should have a product record in the app, whether it's an online or offline store. Remember to make the listing pattern and design as comprehensible and interesting as possible. Plus, make the buy and call to action buttons as simple as feasible.
Great Search Filters
Make certain to utilize tags that are related to your niche, like genre, book title, reviews, ratings, author name, and so on.
The tags will allow users to quickly find what they are searching for by just typing a few words into the search engine. In addition to this, make categories similar to the tags to make your app very easy to navigate.
Audiobooks
Bibliophiles can also enjoy their favorite novels while traveling with audiobooks. Therefore, millennials love this feature as they can listen to the book while being on the move. Nevertheless, integrating human voice can be expensive, but text-to-speech can also be used.
Personalized Library
With the "My Library" feature in your Android Programming eBook app, end-users can manage their purchases and download books, read and unread books, and more.
Personalized Reading
This feature will allow eBook app clients to customize their reading modes with some interesting options. The options include bookmarks, notes, highlights, dictionaries, night mode, eye safety themes, font size, and much more.
Gamification
This feature is commonly used to maximize end-user engagement by offering various rewards to motivate clients to read more in your app.
Content Uploading
Several eBook apps also include content uploading features that allow the writer to upload their work in exchange for app reviews.
Sharing
It is good for eBook apps to incorporate social networking features like Facebook, Whatsapp, and other community features. By this users' reviews, and ratings will automatically be published to their accounts, just like the Goodreads community.
Payment Methods
Incorporating a reliable payment gateway will enable users to pay for books and subscriptions. The payment gateway should be secure to keep the end-users financial details safe.
How To Create An eBook App- Android Development eBook Steps
Market Analysis
First, start by doing an in-depth market analysis on local and global eBook apps. Search for top companies in this segment.
Read their customer reviews to find out what their strengths and weaknesses are. As your competitor's weakness can become your strength.
You can also conduct surveys on your targeted audience to learn more about their unmet needs. For instance- the dark eye mode was incorporated into all eBooks when users complained about the eyesight issues from continuous use of eBooks.
Understanding The Needs
The newly introduced app should offer some great features to suppress its existing competition. Find a is a way to attract customers. And the best way to do so is by identifying the customer's requirements and understanding what can be improvised to make your service better.
Penny-Wise Solutions
Most of the popular eBook apps use economic measures to expand their app efficiency. Like, some of them are offering free contests and cross-platform promotions for writers to get high reach.
Trial Testing Before The App Launch
The advanced trial and testing will help you in three ways-
It will save you the initial cost of launching the application and eliminate the bugs afterward.
Grants a good opening and a grand first look at your eBook mobile application.
After trials, any kind of loopholes can be discovered, and it will help in resolving issues before the proper app launch.
These app development steps will always be similar, however, the business model may vary based on the market trends, application niche, and some other factors.
The Total Cost Of eBook App Development
The cost of the Android App Development eBook rely on several factors like-
Features and its components
The type of technology used
The Size of the app
The cost of hiring the right development company
Integrated platforms
The cost of marketing and maintenance.
On average, eBook app development will take about 5-6 months in any mobile app development business. The cost of developing an eBook app is between $15k and $20k.
But, as I said above, it will depend on the app's complexity, size, and features.
In addition to this, the geo-location of the development business will also show its impact on the final cost of eBook application.
Final Takeaway
Reading has been and will always be the best pass time for us, not because of the changes it has gone through over decades but because of the wide imaginative world, it opens up for people.
And in this modern time, the eBook app development associated with online eBook stores will continue to dilate in market niches, providing a convenient method for users to uncover new reads in a specific category.
This will also help in making money for all Indian writers and small publishing companies. Moreover, starting an eBook business is hard and it needs serious investment of both time and money.
At Extern Labs offer both app development and consulting services. We will be delighted to share our knowledge on eBook app development for both Android and iOS platforms if you have any queries.