I don't take my car outside more often because it wastes a lot of my time searching for a little space for it to park. Nowadays, not only me, everyone is experiencing this kind of issue. And it gets more annoying when you live in overcrowded metropolitan cities.
So, what's the answer to this? Should we all stop using vehicles?
Certainly not. Then?
There's a solution to every problem. And the quick fix to this problem is found in the car parking app development concept. Many modern cities have already started to adopt this technology for the comfort of their citizens. You can also try this new concept to earn good revenue if only you have detailed knowledge of how to create a car parking app and what features should be included in the car parking app.
But first of all, we should all thank the person who came up with the concept of creating an application for finding empty parking spots. In these times when the number of vehicles is constantly growing, these applications are like a blessing and will constantly gain more popularity in the near future.
If you are ready to take this risk and launch your car parking application, you have landed on the right page. It would be best if you read the entire article. In today's blog, we will be sharing useful tips on car parking app development.
Car Parking App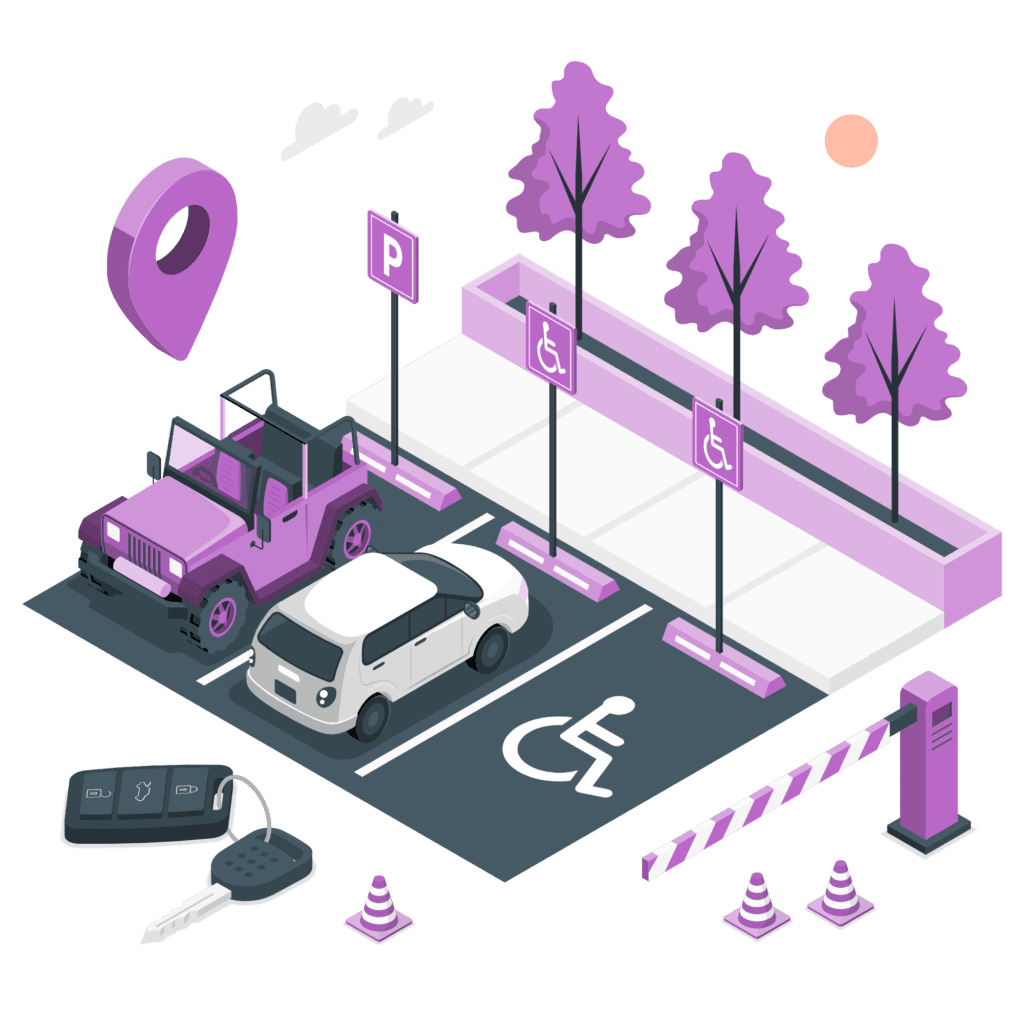 Probably, no field can not be automated using mobile applications. And the parking industry is not a special case.
There are smart parking applications that enable drivers to instantly find a space to park their vehicles, which saves a lot of precious time.
Now there are car parking apps in several cities; schools, complexes, universities, and more. According to a report from INRIX, in New York City alone, people spend around 107 hours (around 4.5 days) per year looking for vacant locations for parking. This accounts for an immense $2,243 loss in time wasted, fuel, and vehicle emanation.
The top five cities with poor car-park experiences are Los Angeles, San Francisco, Washington, and Seattle. On top of that, every fourth American abandoned their trip because of parking challenges. This also affects the US economy negatively- 63 percent of drivers avoid driving to shopping malls, airports, leisure, or sports academies due to car parking issues.
Such issues boost the demand for the best car parking app development.
After all, no one will ever want to struggle while finding an empty spot to park. And finding a parking spot near your building is like winning the lottery.
And weirdly enough, you must also recall where you parked your car.
In such desperate times only, innovations take place. These best car parking apps help the drivers and us to find the perfect parking spot according to the vehicle size.
Parking apps are like a huge sigh of relief in this misery for all of us.
Let's talk about the main thing, car parking app development.
Car Parking App Development: What Issues it Solves
Car parking app development solves some common issues.
These are:
Finding Free Spaces
Getting a free spot among a myriad of cars in an open space is very challenging. The car parking apps locate an empty spot, making things easy for drivers to locate the empty space to park their vehicles.
The parking app will also show directions turn-by-turn to the nearest empty car-park slots with all the needed information like fees, rules, and fines.
In addition to this, the app will also have a parking reservation feature through which drivers can pay and book an empty slot in advance.
Do you know that 15% to 74% of traffic hitches occur due to failure or time-consuming car parking searches? The best Car parking app features will recognize nearby parking slots or reserve the empty slots in advance to minimize traffic jams.
Abundant-Space Parking Meters
It feels like a maze hunt to find a spot. Things get more complicated if the spot is already taken. And in the meantime, tracking your fellow in that maze is a next-level difficulty.
Imagine having a car park solution in hand (Car parking application), you can see space allocated for your vehicle and how relieved it feels just by reading.
In the case of multi-space parking, the application can notify drivers and staff members, resulting in better management.
Baffled by Rules
Each parking lot and the building has its own rules and parking fees. Like short-term bookings (usually for four hours) and long-term bookings (for more than four hours). Car parking applications can go a long way for drivers to understand whether parking areas charge on an hourly basis or charge fees per evening, day, or month.
Reduces Air Pollution
With the upshot of car parking app development, you don't have to invest much time revolving around looking for a free parking space, contravening the straight road direction, and thus increasing air pollution.
The transportation vehicles spend up to 28 percent of their trip time navigating to find a free parking spot. Thus, these applications can help cities lower their ecological footprint.
How do Car Parking Applications Work?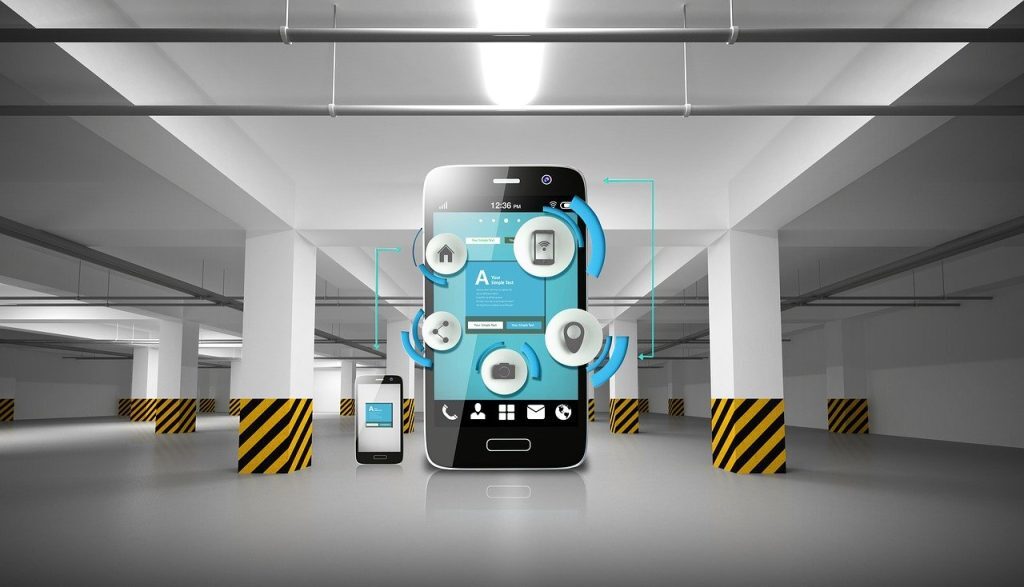 In simple terms, Android and iOS car parking applications show vacant slots and help the driver locate the nearest possible one.
The application has the option to pay the parking fees through multiple options. More than that, a car parking app also has a feature to remind the car owner about the time left for parking.
However, the car parking app has five functional stages through which it works.
The workflow of the car parking app is:
Searching
The application starts working with users hunting for a parking location. There will be a GPS to locate them, or you can type in a location manually. In continuation, the app will show the nearest parking slot available for parking.
Comparing
Once the end-user enters the location for parking, the app will show multiple nearby options. They can look at various options, compare the options through their ratings, and make the final call.
Booking
Once you are done comparing several parking slots, they can book the parking slot and make the payment if needed.
Driving Assistance
The end-user can then reach out to their parking spot through the in-built driving assistance and get directed to their correct spot.
Parking
This is the last step. The user can park their vehicle in the booked spot.
Car Parking App Development
Finally, after all these upper talks, it's time to discuss the main point- Car parking app development.
The steps in car parking app development are-
Problem analysis
To create anything, you first have to analyze the problem. In this case, you must discover places where people face parking issues. Usually, these kinds of spots are sports complexes, restaurants, malls, etc.
You should make sure that your on-demand car parking app contains features that drivers want to use. Otherwise, the app will have no sense.
The Creation Process
The creation process for making any app is complicated. Giving complete details of the same will not be possible. But, we can look into some important details.
Let's start!
User's perspective- fewer clicks or taps, the better the apps. Users don't like apps that need regular clicks. Therefore, you have to make sure that your parking app design is not like this. The UI of your application should be user-friendly, clear, and intuitive.
Always think of a way to surprise or make the users happy. Thus, in this case, your application should not only show empty parking spots but should also provide the details for each spot, such as the spot photo, type of parking, parking charges, etc.
App testing is important to make sure your app runs smoothly without any errors or crashes. There are QA engineers for the app testing to make sure your car parking reservation app works flawlessly.
Find a good developer/ developer company
This is actually the most important point for the entire car parking app development. If you are not a developer, you can't cope with such a complex task. So, you have to hire a developer or an app development company who is an expert in making applications for finding parking spots.
Features of the Car Parking App
Features are important to make your car parking app successful, so you should add relevant features to your app. The features of the car parking application are divided into three sections depending upon the user type.
The three different categories for features in the car parking application are:
1. Driver's app
2. App for parking supervisor
3. Admin panel
Features for Drivers' Panel
Registration and approval
Vehicles list
Map
Parking search
Parking space details
Parking space booking
Payment
Parking history
Customer reviews & ratings
notifications
Features for Parking Supervisor Panel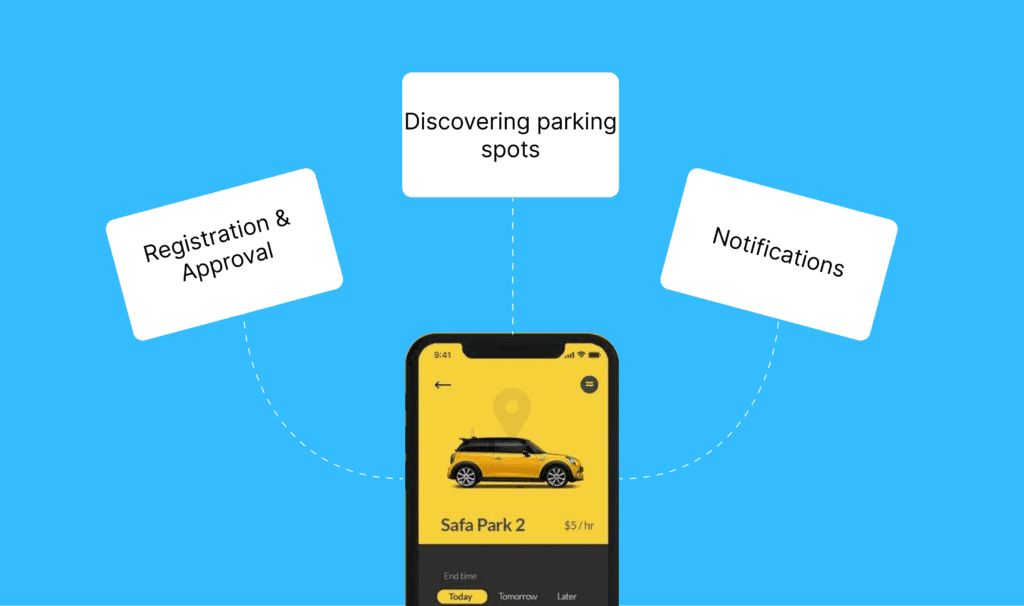 Registration & Approval
Discovering parking spots
Notifications
Features for Admin Panel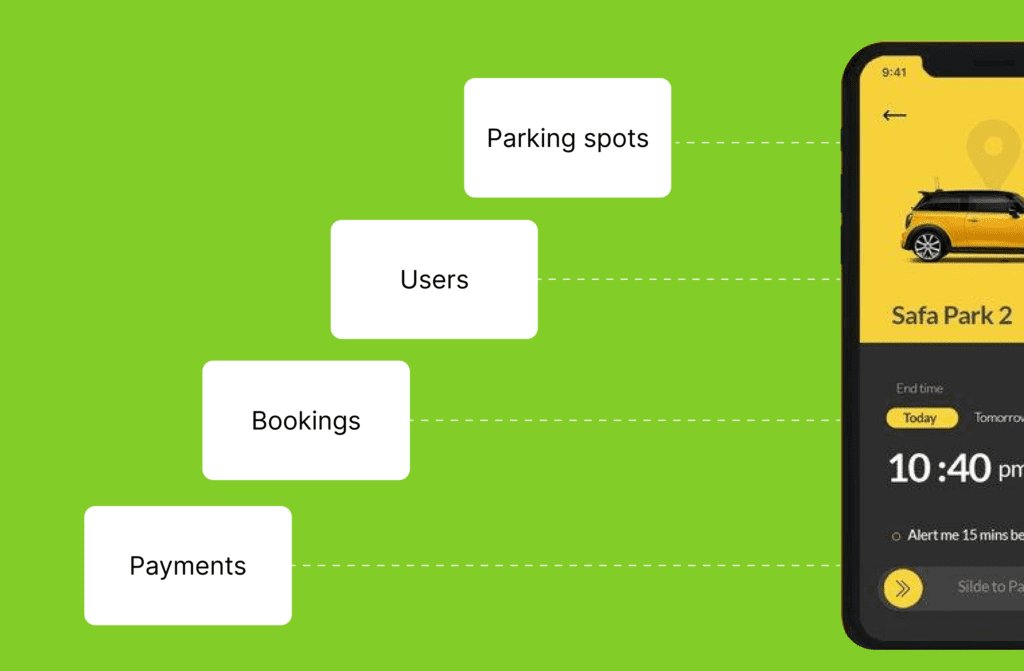 Parking spots
Users
Bookings
Payments
If you need some of the more advanced features, you can reach out to the best app development company that works as per your preferences.
However, some of the advanced features that you can add to your car parking application are:
This location tag feature will allow users to tag their favorite parking spot in a specific location. By doing this they can book the tagged parking spot the next time they are using the app for locating the parking spot.
You can make your app accessible to everyone everywhere. Through this, you can provide your services in various cities.
With heatmaps, one can offer users real-time information related to the parking spots. By doing this, users can search for parking slots before leaving home during the busiest days.
With this feature, you can allow users to add to the waiting list so that if your favorite spot is available, you will be notified so that you can book it immediately.
By making your map with multiple languages, you can offer your services worldwide. The multi-language feature will attract more users to your app and will improve your sales.
The Tech Stack
While developing any application, you have to build it for different OS and devices. To offer a seamless experience of your application over any device, you must use a framework that supports cross-platform applications.
By using cross-platform frameworks for your application, you can invest less in resources and can use a single codebase to create multiple platforms.
Few technologies that you can use for cross-platform app development are:
Suppose you want to develop the car parking application in the native format and want to invest dedicatedly in each platform; in that case, you have to hire a developer for each of the dedicated platforms.
Revenue Model for Your Car Parking App
It is very obvious to ask how you will make money through your car parking app. For creating a business model for monetization, the quality, and service of your app should be remarkable.
Some of the solid revenue models for car parking apps are:
Commission Per Booking
The commission-based monetization model is the most common and widely used model. This model is very similar to home service booking apps. Thus, every time the end-user books a parking slot, the owner of the parking place will charge a commission.
Subscription Model
A subscription model is also a very popular revenue model. In this, the app owner can provide a monthly or yearly subscription plan for the users who uses the application to a great extent. The subscription model will provide a better quality of user experience. It is aimed at building long-lasting relationships with the customers and improving the customer retention rate.
Marketing & Branding for Parking Owners
By using this revenue model, the parking owners can pay for marketing and promoting their places by highlighting the benefits of their business.
Reward Points
Reward points are one more revenue model to increase the customer experience. This model comprises gamification in the application giving users extra bonus points for using it for a long time. Through this customer loyalty is cultivated that making a car parking app a source of constructive relationship with them.
Popular Car Parking Applications
1. ParkMobile
2. Parker
3. Park Me App
4. Best Parking
5. Parkopedia
6. SpotHero
7. Parclick
Finishing Up!
In this blog, I have tried to cover each and every aspect of the question of "how to create a car parking app?"
While developing your own car parking application make sure to remember the things we discussed above to shine in this market. If you have a plan for a car parking application and are in search of a technical partner, reach out to us.
We can help you with everything that requires technical knowledge. Our expert developers have helped many businesses develop applications from the ground level and we can help you as well.
With our years of technical expertise and hundreds of clients around the world, Extern Labs have made a leeway. We can help you with the car parking app development project and can build an application as per your liking.
Now don't be shy and contact us to get started right away!