So, who are you rooting for at the FIFA World Cup 2022? 32 countries, including Messi's Argentina and Ronaldo's Portugal, have qualified for the Qatar World Cup. You must be aware of all this if you are a football lover.
For many, football is not mere a sport; it's an emotion.
And this emotion is elevated to the next level to make the audience more delighted and thrilled.
You are thinking, "How?"
Through indulging in the fantasy sports business.
Yes, let's understand this through some facts:
Football is the most esteemed revenue-generating sport of all time. 4 billion people all around the world are huge fans of the game, and many are passionate about it.
This is what the fantasy sports industry takes advantage of, creating an engaging fantasy football app that will keep football fans interested for a long time. This works awesomely for football or any sports enthusiast, as these apps are fascinating and entertaining as the sports lover gets a chance to use their knowledge to win and earn rewards and points.
It is true that if you are pursuing a career in gaming, you can make a lot of money. Only the United States and Canada have more than 9 million fantasy sports players, according to data. Building a fantasy football premier league app is easy if you know the detailed steps.
Let me tell you one more fact,
There are 6.3 billion smartphone users, and the number of mobile phone users has increased by 36% and is now more than 1.14 billion. So the mobile industry is literally on fire.
So, now you know it's a good idea to develop a fantasy football app, right? Let's now understand the detailed process of building a fantasy football app.
Do You Understand Fantasy Premier League?
The Fantasy Sports Premier League is a virtual gaming platform. The users are the participants who have the option of assembling their own team of real-life players for the fantasy premier league.
You can create your account by filling in some basic details. Every player will have a fixed amount of points to create a team of 15 players.
Fantasy sports applications, whether it's for football, cricket, or any other sport, are getting popular in the blink of an eye, and so they are the fastest-growing business all around the world.
In addition to this, these games are so interactive that one can not resist playing them for hours.
If you have a basic idea about the fantasy premier league, let's now understand the football game development process.
Fantasy Football Apps: What The Stats Have to Say?
The fantasy football app development industry in the US has expanded to more than 8.88 billion dollars in 2022.
From the year 2021 to 2026, fantasy football app development is estimated to increase by $6.11 billion. In addition to this, the market's expansion speed will accelerate between 2021 and 2026 at a compound annual growth rate of 6.51%.
Asian Americans are the largest fantasy sports demographic within the united states.
Fantasy football is played by 78% of North American fantasy sports players.
Over 9.1 million users worldwide played the fantasy premier league in the 2021-2022 season alone.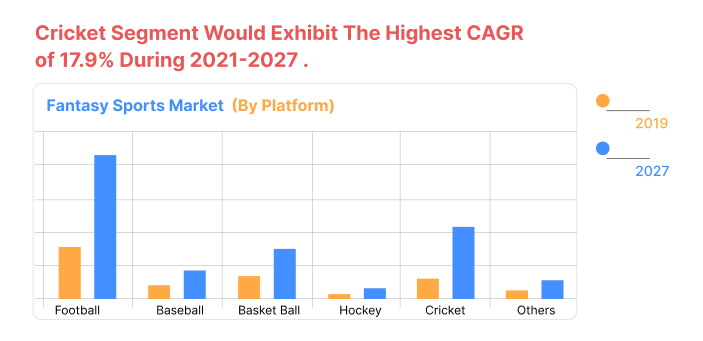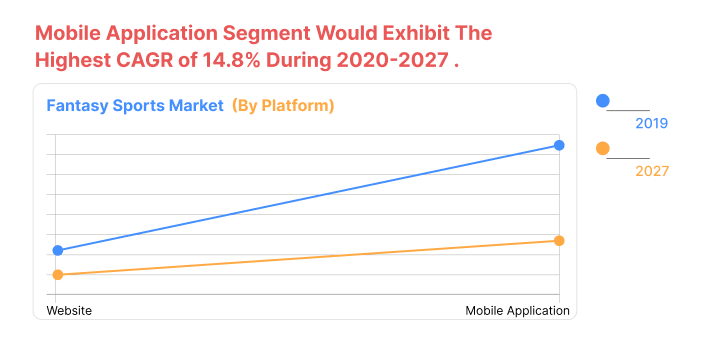 Types of Fantasy Premier League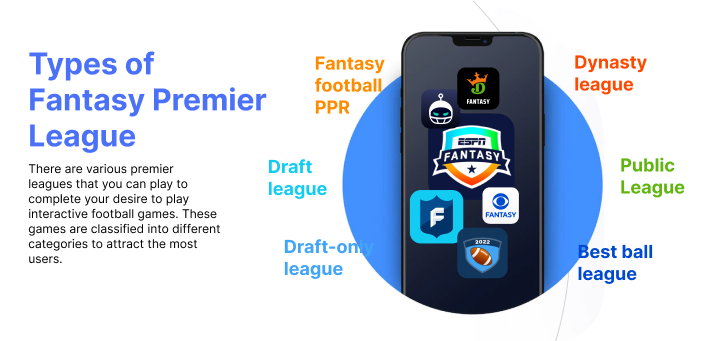 There are various premier leagues that you can play to complete your desire to play interactive football games. These games are classified into different categories to attract the most users.
Some of the notable types of fantasy premier leagues are-
1. Fantasy football PPR
2. Draft league
3. Draft-only league
4. Best ball league
5. Public League
6. Dynasty league
How Does a Fantasy Football App Work?
The business model of fantasy football app development is to promote and engage users with the game so that they win real money and earn loads of profits. It is a win-win situation.
1. The player first needs to register himself with his email ID or any other form of social login to create an account.
2. They can sign up straight away or they can use the referral code given by their known ones. However, signing up with a referral code will give users some reward benefits.
3. If the users want to participate in the league, they should have an entry ticket to the league. It can be achieved by paying the entry amount. There are several payment options offered in the fantasy football app to facilitate quick payments.
4. Once you get permitted in the league, the player will have to make a football team based on the options they get from the fantasy app.
5. The end-user can make his team based on the prices given to each specific player.
6. The users can make numerous changes within the lock-in period. This is completely managed by the app's admin panel.
7. In the match, the user can analyze their team's performance based on the players they have selected.
8. After the game ends, the points will be given to the player according to their performance in the real game.
Features to Include In a Fantasy Premier League App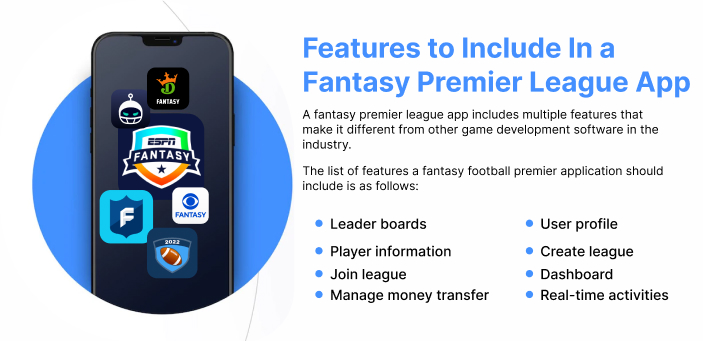 A fantasy premier league app includes multiple features that make it different from other game development software in the industry. These features allow the apps to build a good connection between the users and the app environment.
Features are essential to making an application unique, and they also create a sense of importance in the team's mind.
The list of features a fantasy football premier application should include is as follows:
Leader boards
User profile
Player information
Create league
Join league
Dashboard
Manage money transfer
Real-time activities
Guides To Build a Fantasy Football Application

Finally, coming to the main point, let's cover the important aspect of fantasy football app development. In this section, we will understand the app development procedure through a step-by-step guide, which is important for you to know.
1. Perform Market & Competitor Research
As the title suggests, you should conduct thorough market and competitor research to analyze the statistics of a fantasy football app. You can learn a lot about business strategy by conducting competitor research.
With proper research, you can analyze the steps that you should take for fantasy football app development to make your app stand out among others, and you can efficiently decide which method you can choose to develop a fantasy football app.
2. UI/UX
You should know that fantasy football app development must have a unique UI and UX. This is the stage where you will finalize the app design and decide what kind of UI/UX you want to have for your fantasy football application.
After all, the user interface (UI) is the most vital part that will attract the maximum number of users and improve the user experience.
3. Features & Functions
Once the UI and UX are finalized, you should look into the features and functions of the app. Some of the features are already stated above. You can make a list of features that you want to add to your fantasy football premier league app. Make sure to choose the best and most exclusive features for your app, as they can help you generate amazing revenue.
You can go through your competitor's fantasy football app and study its features and functions; this will give you a little idea of what features to include in your own fantasy football app.
4. Development Phase
In this phase, you hire a mobile app development company. For developing a fantasy football app, you will need an experienced and skilled fantasy sports app development company. This will result in the successful development of a fantasy football app.
You should communicate with your developer about the application requirements on a regular basis to avoid delays in the creation of features and functions.
5. Testing & Launch
You must be aware that every business owner knows that fantasy football app development doesn't really end with the development stage. After the development stage, it is important to make sure that your fantasy sports app development company delivers the app after testing the bugs and errors in the application.
Once there are no bugs, it's a green signal for you. Now you can launch your app with the help of your development team.
6. Marketing & Promotion
Here comes the final and crucial stage of fantasy football app development. Through marketing and promotion, you can attract a massive audience to your app and make it to the top. You have to advertise your app in the market through promotions and marketing strategies. This way, it will become more popular than your rivals'. You should not avoid this step and can take the help of a digital marketing team or company to make your app stand out among the many others.
The Price of Creating a Fantasy Football App
If the blog is about development, it's impossible for us not to talk about the cost needed to develop a fantasy football app. Creating a fantasy football application will cost between $23,000 and $50,000.
However, there are always factors involved in the development of an app that affects its cost. It would be good if you went through these factors that affect the cost of building fantasy football apps, as you would get an overall cost estimation.
Some of these price-deciding factors are-
Type of App
| | | |
| --- | --- | --- |
| Fantasy Football App | Time | Cost |
| Simple Fantasy Football App Development | 3-6 months | $20,000- $33,000 |
| Complex Fantasy Football App Development | 7-13 months | $33,000- $50,000 |
Features & Functions
The more features and functions you'll add to your fantasy football app, the more time it will take to create it. And since the developers charge on an hourly basis, every added feature will increase the number of development hours, thereby increasing the cost of developing a fantasy football app.
App Platform
The app platform that you will choose to develop a fantasy football app will also increase the cost of the project. You must be conscious that there are two types of app platforms: iOS and Android.
If you create your fantasy football app on Android, it will be less expensive than it will be on iOS.
Development Team
Hiring a fantasy sports developer will also affect the overall cost of the development project. However, it largely depends on the type of development team.
| | |
| --- | --- |
| Type of Development Team | Cost of Development |
| In-house | $80,000 |
| Outsourcing Agency | $45,000 |
| Freelancers | $25,000 |
| Local Agency | $135,000 |
Tech Stack Used in Fantasy Football App Development
The tech stack needed for building the best fantasy football apps is:
| | |
| --- | --- |
| Function | Tech Stack |
| Front End Programming | Js, CSS, HTML, Flutter, Kotlin C, and Swift |
| Cloud – Services | Amazon AWS, Google Cloud |
| Payment Integration | Braintree, Stripe, Net Banking, E-Wallet, PayUMoney |
| Database Management | MongoDB, Mysql, Cassandra, PostgreSQL |
| Push Notifications | Twilio, Apple Push Notification |
| UI/UX | Adobe Illustrator, Photoshop, Adobe XD |
| Back End Programming | Xamarin, Angular Js, React, and Iconic |
To Sum Up!
The fantasy football app development industry is one of the leading technologies in the virtual gaming industry. With a fantasy premier league, you can have a complete experience and access the game more quickly.
This field is great for building a career and being the best among your competitors. To do this, you will need an enthusiastic and creative build that is capable to hold users on your apps for long hours.
Hopefully, this blog was helpful to you. If you are running a business and want to create a fantasy football app, then you must hire a mobile app development company.
Being one of the leading software development companies, we would suggest you hire a dedicated developer with years of experience and skills in building fantasy sports applications. Or else read our blog on fantasy sports app development to get more information.
Get in touch with our team to learn how we work.