People all around the globe are passionate about games like football, basketball, baseball, and cricket. Indians are especially crazy about cricket. This craze of sports among the audience inspired the entrepreneurs for Fantasy Gaming Apps development. Initially, there were several gaming apps where one can enjoy playing their ideal sports. But, in recent years, the whole scenario of Fantasy Gaming Apps has changed.
Indians are sentimental about cricket. It's not weird to say that cricket is like a religion for us in India. Look at the ongoing women's world cup, every Indian right now is watching matches and keeping track to support the women's cricket team. As a result, there is the immense popularity of the Fantasy Sports app. Dream11 is one such Fantasy sports and gaming app.
If you also have Cricket App Ideas and are eager to know about Fantasy Cricket App Development: its features and cost then this article is for you.
Read the article to know at length about Fantasy Sports Apps.
What Is Fantasy Sports App?
Before getting started on anything, it is crucial to understand what is fantasy sports app.
Fantasy sports is a kind of trend that is gaining the attention of all the big gaming businesses and organizations. Today, Fantasy gaming apps have a major hunch on real-life sports events. The games associated with Fantasy Gaming Apps are cricket, football, tennis, hockey, rugby, and baseball. Dream 11 is a popular Fantasy free Cricket Streaming App.
So, today we will focus on fantasy cricket apps and Cricket App Ideas.
Let's frame the question. What are fantasy cricket apps?
The fantasy cricket app is an online game that allows users to play a virtual cricket game. In this, players assemble virtually and form a so-called virtual team of real players from an ongoing professional cricket sports event.
These virtually formed teams then compete with each other on the basis of the statistical achievement of the actual player in the real ongoing game. In fantasy cricket matches, the user acts as a manager of the team where they can buy or drop players, as a real sport. The Fantasy Gaming Apps of cricket has gained humongous popularity because through this users can experience the real-life excitement and thrill of their favorite sports.
There are several fantasy cricket apps and Free Cricket Streaming App. However, among all the fantasy cricket apps present today in the market, Dream11 by far, stands the tallest among all.
About The Dream11 App
The Dream11 app needs no introduction among cricket lovers in India. And so, the story of Fantasy Cricket App Development and Dream11 has driven the attention of entrepreneurs and sports lovers.
Dream11 is a one-of-a-kind Fantasy Gaming App and betting platform in India that legally offers cash rewards to its users. The Dream11 app has grown fastly supporting 20 million-plus users, from different types of fantasy sports betting.
Currently, the fantasy sports market has seen a growth of 18-20% in fantasy app users from the year 2017. There are more than 352.9 billion fantasy mobile app downloads and 180 million people are using fantasy sports in India alone.
Dream11 is considered as a Unicorn and a member of "Unicorn Club" for the very-first Indian gaming app services and start-up.
But, have you ever been curious about what Dream11 provides to users as a Fantasy Gaming App? And how is it different from the free cricket streaming apps and other gaming apps? And does it include actual legalized betting?
How Does a Fantasy Gaming Apps Like Dream11 Works?
The fantasy Cricket App Ideas like Dream11 offer a single-match every day on their fantasy cricket platform for sports fanatics where they can implement their cricket knowledge and expertise to showcase their ability in sports and in return get rewards, cash prizes, and points.
Once you are aware of the shading involved in Fantasy Cricket App Development then only you will be able to find an accurate mobile app development company for your upcoming project.
So, Dream11 does not only offer cricket but it includes several other games. The process is very easy. All you have to do is, select your favorite game, build your own team and you are good to go.
So, the steps the user has to follow when using the fantasy application are:
Select the sport
Create your team
Determine the captaincy
Create multiple teams
Handling the team
Rewards
Business Model Of Making Money Through The Fantasy Gaming Apps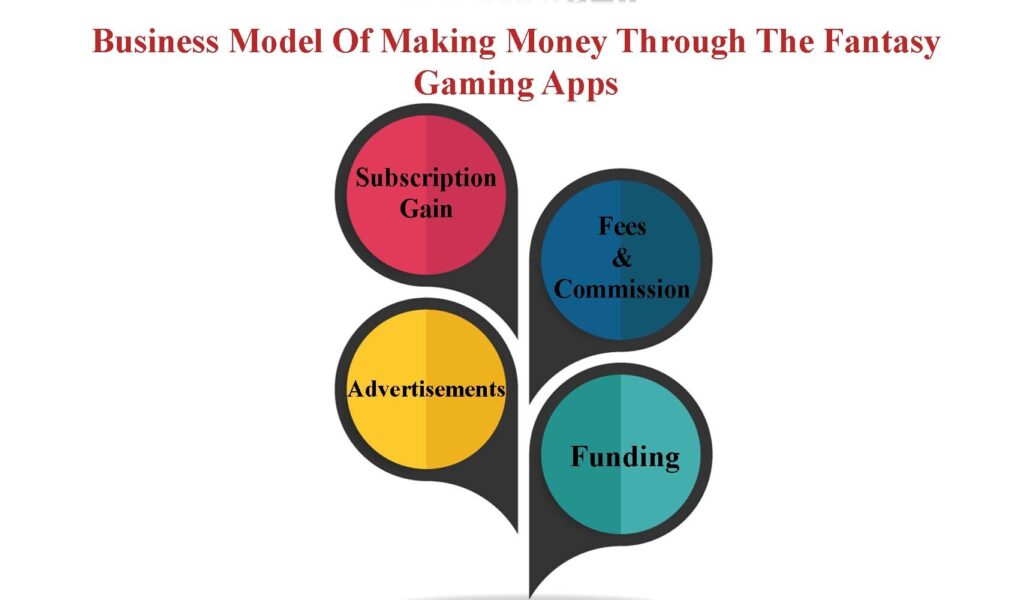 The Fantasy Gaming Apps like Dream11 follow the concept of season-based games team-building and scoring based on the real-life performance of the squad players in the real-life match.
This type of business model dwells on four main points that are pre-eminent to any brand's success as a Fantasy sports betting application.
Subscription Gain
As a versatile Fantasy Gaming App, Dream11 commenced a manifold market that targeted cricket, hockey, football, kabaddi, and basketball lovers. Regular contests and moneymaking rewards in every sports category can also attract lots of users and generate remarkable subscription gain. In addition to this, they repay the subscription with loyalty programs and incentive systems along with staple event prizes.
Fees & Commissions
Dream11's became a part of the Unicorn club and it was strengthened with the commission it received. For every single match, the company gets a percentage of rewards in the form of commission and the remainder is distributed among the winners. A Fantasy Gaming App must make a part of its net revenue as fees and commission for every sports match reward.
Advertisements
Initially, Dream11 was run on an advertisement-based model that stuck to a typical seasonal format. In the year 2012, the company changed its business to a daily match-based model and sanctioned users to put money on the teams. The advertisement revenue still makes a good form of a percentage of its annual earnings.
Funding
Seeing how its business model bloomed, the brand has provoked venture capitalists to the fortune of a fantasy game based-app service. Dream11 made its whole year of profit with its title sponsorship deal of IPL 2020. With unique Fantasy Gaming Apps, you can easily attain multi-round funding.
Key Features For Fantasy Cricket App Development
An app is known for its features. Features are the key that helps an application stand out and shine from the rest of its competition.
Here are some key features that a cricket fantasy app like Dream11 should include-
For Users
The user's features are important for a Fantasy Gaming App to act interactively and intuitively are as given-
Registration/Login
Profile setup
View player statistics
My offers/Rewards
Create/join tournaments
Select upcoming leagues/tournaments
Create a team page as per points/skills/formats
For Admin
For Fantasy Cricket App Development, one must equip the app with administrative features that are goal-driven and advanced. The admin features are crucial for ongoing/upcoming contests, players' list, their earnings, and third-party cohort services.
Admin Login
Supervise results and points
Payment management
Fantasy points control
Notification and request management
Manage leagues and players
View list of users, payments, and transaction history.
Add On Features
To make any Fantasy Gaming App more popular among the audience, you can include additional features that give interactive engagement. Some of these features are-
Live match ratings: The live match ratings allow users to view live results of ongoing matches along with some text updates. There can be options of video and text content that will engage the audience with tips for their team selection based on past and current sports figures.
Live rating API Integration: It is regarding the third-party service and game statistics. APIs from sports TV channels like Star Sports, ESPN will permit admins and users to view player stats, match stats, game schedules, and many more.
CRM Integration: It will entail admins to manage relationships with users for grievances, prizes, payouts, etc. for customer service it is advised to offer live chat support to users.
Push Notifications: It will permit admins to issue mass notifications to users with all the updates related to competitions, news on players, team updates, game schedule changes, and live matches results.
What Is The Cost For Fantasy Cricket App Development?
The below-mentioned four factors determine the total cost and time required for a Fantasy Cricket App Development.
Application Platform
There are many kinds of game betting platforms. The cost for your Fantasy Cricket App Development service will depend on the type of platform you choose to develop.
Complexity
A fantasy sports business encourages a unique business idea that demands various different technological approaches. But, the more complex and composite the app, the more time, effort, and cost will be there.
Design
You can expand your business with a functional and responsive design.
Features
You can include the above-mentioned features for a progressive web app with rich API integration. The total number of features will also influence the cost of the Fantasy Cricket App Development.
Overall, for Fantasy Gaming Apps like Dream11, the development cost starts from $5000- $10,000 for a single platform, either Android or iOS. Moreover, the cost for app development also depends on the types of mobile app development companies you choose.
If you have cricket app ideas and you are searching for a mobile app development company, then you can reach out to us. We have skilled technical app developers who are experienced in developing fantasy sports apps.
Why Extern Labs Is Best For Fantasy Cricket App Development
Extern Labs Inc is an expert in app development. Our programmers are experts and cricket enthusiasts and so they know what the audience wants. In addition to this, we focus on innovation and customization therefore every application we develop includes some features that will make you stand out in the competition.
Our dedicated team makes sure that the project of app development is completed and delivered on time and within the budget.
Summing Up
It is never too late!
If you have Cricket App Ideas and you keep on thinking of developing an app like dream11, then keep in mind that there are many who are working and already developing an app like Dream11. And all of them are trying to become the best Fantasy Sports app.
So, you should also take one step ahead now. Plus, the craze of cricket is going nowhere thus fantasy gaming apps business is still on the boom.
Use this opportunity and launch your own customized app like Dream11 in this IPL 2022 with the help of us. Take the benefit of millions of cricket fans in our country and be a titleholder of this cricket season.
Contact us today to get a quote.