Our world is developing and moving at a high speed, and so people are attempting to find specific new solutions to take care of their daily stuff. Digitalization has made everything just a tap away. You need to order medicine, cabs, or dress. With a few clicks on your smartphone, you are done. Yes, things are getting this much simpler now. In this rapidly growing concept of on-demand services, there is one more category of Grocery Shopping Mobile Apps.
It is not at all weird to say that the rise of Grocery App Development and Grocery Delivery App Solutions is seen as no less than a blessing for society out there. People are loving the concept of saying adios to long queues they have stand-in while buying groceries.
Grocery Shopping Mobile Apps gained much popularity in the year 2020, and this segment experienced high growth. The majority of the traditional grocery chains have started to develop a Grocery Ordering App and improve the grocery software so customers can order food remotely.
However, stuff goes through evolution every single day, this is how they expand and grow. These days, Grocery Shopping Mobile Apps offer more than just online grocery shopping. The Grocery Ordering Apps provide the business an opportunity to increase sales and thus generate revenue.
In this article today, we will talk about grocery delivery services and Grocery Delivery App Solutions for your business.
Let's start!
Grocery Shopping Mobile Apps: Statistics
Globally, online grocery shopping is a $1.04 trillion market. In 2020, the overall percentage of grocery sales reached 10.2%. No doubt the Pandemic has greatly influenced the market, and by 2025 it is expected that the total sales in online grocery shopping will double.
If we look at the Indian online grocery market; according to Grand View Research, it was valued at $2.9 billion in 2020 and is now estimated to expand at a CAGR of 37.1% from 2021 to 2028.
The online grocery market has seen immense growth in the past few months due to the changing lifestyle of the consumers, growing digitalization, and the new generation that prefers buying stuff online.
Because of a busier lifestyle, people are actively looking for convenient online platforms and Readymade Grocery Apps instead of walking down to the nearby vendors. Mobile apps are the prime source for online grocery shopping. Walmart experienced the highest number of downloads ever in 2020 and took first place in both the Google Play Store and Apple Store. Another big player, Amazon, reported a 20% increase in its app downloads since April 2020.
However, even after COVID, a large part of society still chooses online grocery shopping and Grocery Ordering Apps as their main option.
Why Are Grocery Shopping Mobile Apps Popular?
In 2022, the app stores are flooded with Grocery Ordering Apps. Let's see why Readymade Grocery Apps are so much in demand.
Convenience
Finding a sufficient amount of time from the daily busy schedule to buy groceries is quite difficult. You cannot always purchase groceries on time. And the grocery buying task can also take a lot of your time, thus taking away even the little free time you have. With Grocery Shopping Mobile Apps you can purchase grocery stuff at your convenience.
After all, you also need a little time to arrange groceries delivered to your doorstep.
Fast Payment
During traditional grocery shopping, most of the time is wasted at the billing counter, waiting to make payments. Sometimes the queue on the billing counter can be so long that you will end up wasting all the free time you have.
The Grocery Delivery App Solutions can save you from this annoyance by making the payments hassle-free.
Special Rewards And Offers
Online shopping is all about good deals. You can get exclusive offers on your daily essential groceries. And the best part is, whenever there is an offer, you will get notified. So you can get what you need at an effective price.
Types Of Grocery Shopping Mobile Apps
To know about the types of Grocery Ordering Apps we have to look at the problem from the business point of view. Thus below-mentioned are the types of Grocery Shopping Mobile Apps-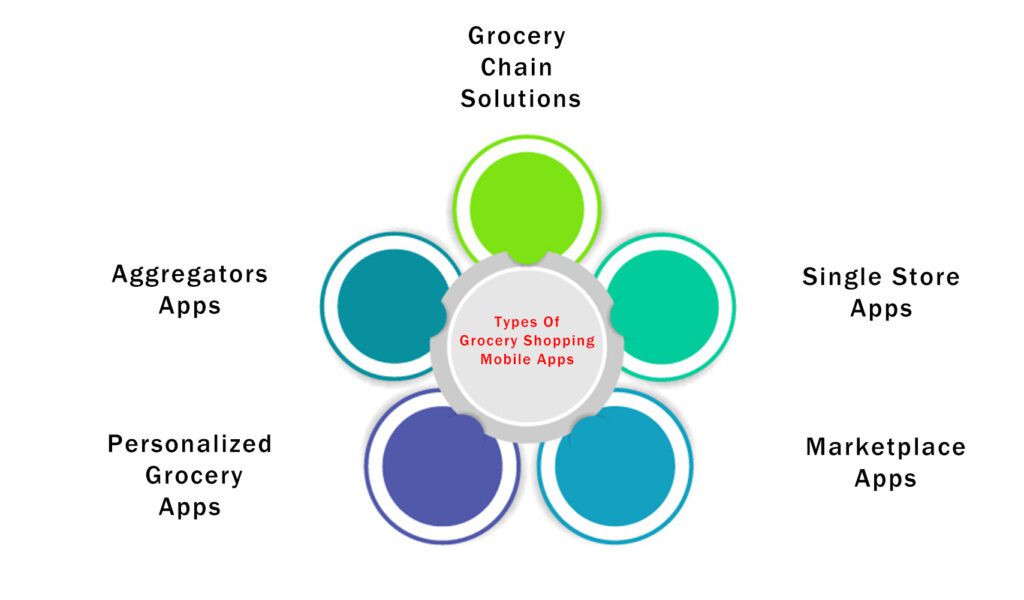 Grocery Chain Solutions
Walmart is a good example of an online Grocery business. It takes care of its customers' demands by providing them with special on-demand Grocery Delivery App Solutions. The functioning of Walmart is similar to micro-level operations.
Aggregators Apps
The above-mentioned service gives customers a generated list of available groceries in a specific area. Customers can select any store from the list of groceries. The user will only have to select grocery items from the store product through a specific Grocery Ordering App of a particular grocery.
After the completion of the payment part, the user will only have to wait for the confirmation of their order from the grocery store. After the notification is received, the Readymade Grocery App will let the user see the progress of their order till they reach the specified address.
Here, the Grocery Shopping Mobile App will not have any obligations as it only specifies relevant shops and their related information on their page.
Personalized Grocery Apps
This kind of Readymade Grocery App is developed for the shoppers, allowing them to plan out their daily Grocery requirements in an effective manner. It helps the customers in creating their grocery list, setting timing, and sending the list with their contacts.
Marketplace Apps
These types of Grocery Ordering Apps are similar to the aggregator ones. The only difference is that here in the marketplace they have an entire team of delivery persons who deliver the groceries to the customer's given address.
Single Store Apps
In the single store app model, the grocery store owner gets a Readymade Grocery App developed from the mobile app development services for its shop and is obliged for managing and maintaining everything from the app management, keeping the menu updated, delivering the orders to the correct address, and collecting payments.
Some other categories of Grocery Shopping Mobile Apps are:
Price comparing applications
Grocery discount applications
Food delivery platforms.
In the end, the primary purpose of all the Grocery Shopping Mobile Apps is to make the entire grocery shopping task easier for the customers and offer an amazing experience.
How nice it will be if we bring all the above-mentioned platforms into your one program. Amazing right!
Let's see some of the current successful Readymade Grocery Apps present in the market, as you should know about your competitors.
Current Leaders In Grocery Ordering App Segments
The on-demand Grocery Ordering Apps are among the highest-grossing industries at current times. Some of the big businesses that have successfully made their mark in this business are-
Instacart
FreshDirect
BigBasket
Dunzo
Grofers
Spencers
The Walmart App
Basic Features For Grocery Shopping Mobile Apps
Now it's high time to specify the most essential grocery app features that a Grocery Delivery App Solution should have:
Grocery User Panel
Registration/login
Users profile
Search Products
Wish list
Schedule delivery
My order history
Payment options
Feedbacks & ratings
Share
Invite friend
In-app calculator
Admin Panel
Manage customers
Manage shop owners
Category management
Orders management
Make refunds
Sales report
Enquiry option
Dashboard
Real-time analytics
Delivery Personnel Panel
Delivery request notification
Accept/ Reject delivery request
Track customer's address on the map
Delivery confirmation
The Grocery Store Panel
Confirm order notification
Listing management
Accept/Reject orders
Payment options
Feedbacks
In-app chat/In-app call
These are the basic features that a user looks for in such kinds of Grocery Delivery App Solutions. The customer wants access to your new Grocery Ordering App, choose the store, select foodstuffs, and carry out payment options.
However, you don't have to restrict yourself by only administrating the above-mentioned. You can offer your customers some other options as well, as long as you are confident that people love these tools.
Advance Features Of Grocery Shopping Mobile Apps
Once you have incorporated the Grocery Shopping Mobile Apps, you should know about some of the additional features that can be added to the Readymade Grocery App. This is to make sure that your app always stays ahead of the competition.
Repetitive Ordering
The majority of the people have more or less the same grocery list every month. So why not simplify the entire process of placing and delivering the orders. Therefore your Grocery Delivery App Solution should have an order history. But using this you will create a user-friendly Grocery Ordering App that will facilitate and improvise online grocery shopping.
Premium Model
This model will increase the user's engagement and strengthen the loyalty of people who have selected your Grocery Ordering App. In Grocery Shopping Mobile Apps or any other segments, the user would appreciate special rewards from your side.
Speech Recognition
Not many people are fond of typing. Many would rather love to just talk. Thus, incorporating a voice recognition feature can enhance the user's online grocery shopping experience.
Price Comparison
Customers will love to check some cross-reference comparison results to view the most ideal option. It means the users can bring off their free time and shop with the best benefits.
Required Team Structure For Grocery Delivery App Solutions
Having the right team is the most crucial aspect of developing Grocery Shopping Mobile Apps. By selecting an experienced team of mobile app development, you can be certain of the hit of the app to a great length.
It can only be guaranteed by selecting the best grocery app development company that has good expertise in the mobile app development niche.
While choosing the mobile app development firm, make sure that their team consists of skilled and professional members, such as:
Project manager
Designers
Quality analysis experts
Delivery manager
Summary
The wealth of a company is always indicated by the presence/absence of a mobile application. In this case, we are talking about Grocery Shopping Mobile Apps. Developing a decent Grocery Delivery App Solution is a good strategy to achieve success in business. Experts predict that each year the number of online purchasers will increase so the demand for dedicated app solutions will also increase.
If you are a traditional grocery store owner, then get in touch with Extern Labs Inc, and let us plan a grocery delivery app solution to grow your traditional business.