Open Source Digital Experience platforms can mean anything to anyone, and this is how it should be as it implies to various platforms that deliver digital experience.
Basically, all businesses try to generate a solid foundation of users' trust and understanding. Because this is the ultimate goal of any brand, right?
With the exposure of this attempt to allow businesses to connect with consumers, digital experience platforms have come to light. Digital Platform Scales both customer satisfaction and guarantees a smooth overall customer experience.
Even if you are aware of the importance of customer satisfaction for your brand's reputation, it can be difficult to understand what exactly to start and how to improve the overall consumer experience. And business owners know that every stage in the process matters whether it is browsing the company's website, sales of the product/service, or customer service.
All of these elements together are responsible for an overall consumer experience with your business/brand.
A digital experience platform assists companies to understand the relationship between their brand and consumers and help them to discover new methods to improve this relationship.
Does your company make use of the digital experience platform? Do you understand the benefits of digital experience platforms?
Discover with us, what is an open-source digital experience platform, how it works, and why your business needs a digital experience platform.
What Do You Understand By Digital Experience?
To be clear, the digital experience cannot be only defined as a product or a process. It is much more than that, it includes what is delivered to us (users), received from us, and stuff learned about us.
Therefore, any interaction with consumers through any digital platform is a digital experience. Here, the digital customer experience includes:
Your website or other web pages on which your products/services will appear.
Mobile apps and ads
Social media contents, blogs, and podcasts
Email messaging and advertising
Online advertising
Displays and other IoT devices
Online customer support
In-store kiosks
In simpler words, the digital experience is about engaging the customers by offering a personalized experience, in real-time. It's about carrying out a holistic message across multiple platforms and devices, to present a harmonious company image while taking advantage of each platform's unique benefits.
This is done to build a stronger consumer relationship. Offering an out-of-the-way omnichannel customer experience is predominant for a business's success. It involves everything from digital marketing to sales, brand development, and customer service. Positive and productive digital experiences are actively rewarded.
According to a report, 86 percent of customers pay more for an exceptional customer experience. Moreover, a bad digital experience will have a negative effect as the consumers will walk away from the brand with just one bad experience.
Since we are explaining digital experience, we will also throw light on some important definitions of the respective industry
Now that you know about the influence of the customer's digital experience, how can you do so?
Confused! This is where an Open Source Digital Experience Platform comes into the limelight.
Open Source Digital Experience Platform
The digital experience platform is abbreviated as DXP. It is a set of technologies that design and deliver messages across the consumer's digital tour. An open source digital experience platform (DXP) should operate on all digital channels and devices-basically anywhere that the customer will probably interact with your business or brand.
An open source digital experience platform not only delivers and manages the content but also interacts with digital customers' lifecycle. One main characteristic of a digital experience platform is its potential to deliver a consistent message and brand image all over the consumer's digital tour.
A full-fledged digital experience platform includes the below given critical components: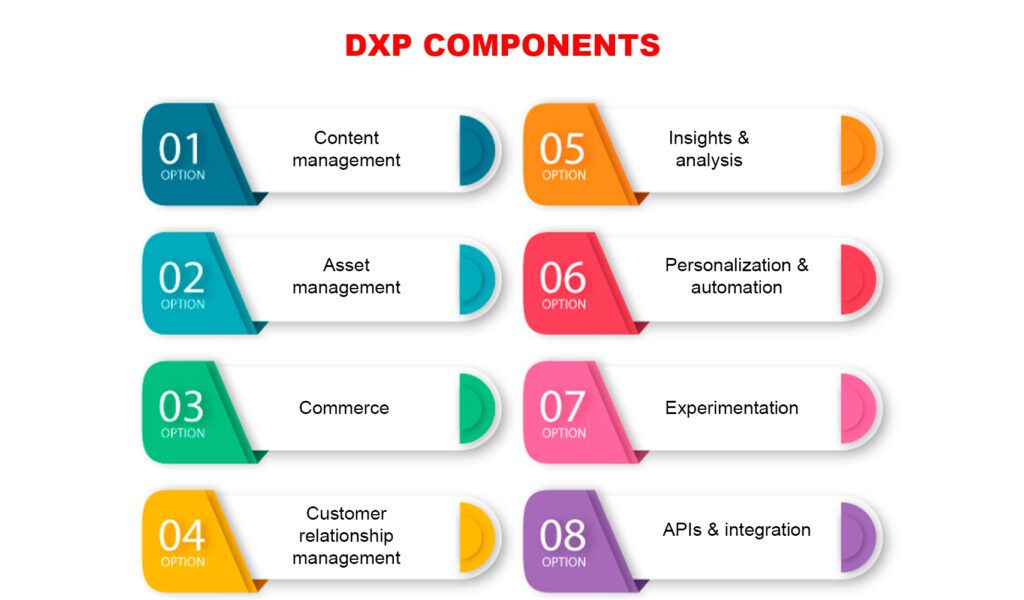 Content management to present as a core repository for your key contents.
Asset management for all digital talents like images, videos, audios, etc.
E-commerce to sanction digital storefronts, payments, and order tracking
Customer relationship management to manage and exploit consumers' data
Knowledge and analytics to investigate channel content and performance in real-time
Personalization and AI to design customized customer experience.
New experiments on your content to enhance performance
APIs and integration to share the digital products with third-party webpages and devices
Next is the definition of platforms associated with open source digital experience platforms. All these platforms validate the businesses and creative content makers to generate the digital track that we travel daily.
As the network became cheaper and faster, the digital experience also took flight. Management of text and images transformed into the management of text, images, documents, videos, and audio files. And because of this enhancement, the terminology related to digital experience got confusing.
Digital Experience Terminology
If you are into digital marketing then you must be aware of or probably heard of- WCMS, CMS, and DXP. Let's clarify these terms for you.
Web Content Management System (WCMS)
A web content management system is developed for webpage content management. According to industry experts currently, the client's demands have been shifted from WCM to a broader domain of digital experience platform.
Content Management System (CMS)
These days the delivery platforms of digital content have stretched beyond web presentation. Now, the definition of content management has changed. Content Management System (CMS) includes templates, processes, and standard format software that allows digital marketers and their webmasters to produce and control text, graphics, audios, and videos for web landing pages, blogs, campaigns, and other marketing tasks.
The current CMS solutions separate content from presentation, making space from unification run by APIs. in the current scenario, the content designed for your webpage can be used digitally on any medium.
Digital Experience Platform (DXP)
As these connections and potential grows, the focus shifts to the end-users experience that a digital presentation provides.
According to Gartner, DXP is a combination of technologies based on a single platform that offers a wide range of audiences with in-line and secure access to data across several digital touchpoints. Businesses use open-source digital experience platforms to design and improve web pages, portals, and other digital experiences.
The Evolution Of The Digital Experience Platform
As you know, the internet has now reached all the homes and workplaces, we are now in the digital era. As the internet has become a ubiquitous part of mankind, it is obvious that it was a necessity for centralized management of the text, images, and graphics for the creation of websites. Thus, Web Content Management (WCM) became predominant.
Since the smartphone and other digital devices have proliferated the demand for app creation also exploded, even the search methodologies got evolved. Now information is equivalent to mobile phones. So websites can no longer be the only way to link with the internet, and content for websites should be available to other channels as well.
Benefits Of Open Source Digital Experience Platform
The distinct advantages of digital experience platforms are-
Constant development and uninterrupted delivery.
Personalization and customization of content.
Alliance through APIs, plugins, and connectors.
Potential to develop a custom journey.
Marketing automation benefits
Door to machine learning and other uses of artificial intelligence.
A partnership between the digital marketing team and development operation teams.
Features Of Digital Experience Platforms
The sooner you dive into an open-source digital experience platform you will realize that every option has its own strength and features.
Dependency on open source digital experience platforms is increasing and the features are leading to the future of digital experience.
Currently, the below-given features are among the topmost features-
Content management
AI-powered insights
Manifestation
Cloud capability
Integration
Search Engine Optimization
Site navigation
Customer digital journey mapping
Security and access control
Social media connectivity
Platform design
Digital commerce
Why Your Business Needs A Digital Experience Platform
We live in an era, where we are connected with the world of information and services that can be accessed via various channels.
The need for personalized and connected occurrences is increasing. We as a user foresee all kinds of information at our fingertips every time, thus giving the spotlight to the digital experience platform.
Also, in the recent pandemic, enterprises have shifted their operation and workforce to a virtual environment. In this kind of environment, great importance is given to understanding the demand for digital services.
The open source digital experience platform is now elementary as businesses pay more attention to delivering exceptional end-user experience across their space.
Why Choose Extern Labs?
Providing correct and informative content to relevant end-users will help a brand or a business to gain favor from consumers. In this ever-changing digital world, this should be on the priority list of every organization's sales and digital marketing team.
The best open source digital experience platform from Extern Labs Inc. empowers organizations to design and deliver solutions in the entire digital experience journey.
Is your organization focusing on creating its own digital experiences? Contact us today, to know more.