If you are searching for ways to implement On-Demand Doctor App Development, you are in the right place!
In today's article, we will make an in-depth elucidation of the development of the Clinic Appointment App. We intend to enlist all possible Doctor Appointment App Features, software and will explain the targeted audience.
We will also check out the tools and technologies the developer might need for the development of the Doctor Appointment Booking App For Android.
Let's move ahead!
About Clinic and Doctor Appointment App
According to a study done by Accenture, it takes approx 8 to 9 minutes for a person to schedule a doctor's appointment through phone calls. What if you book an appointment as quickly as you order pizza or book a cab?
Thankfully, today's healthcare industry is embracing a consumer-centric prototype. As a result, we get more privilege to schedule our visits to doctors or hospitals digitally through Clinic Appointment Apps.
Patients can make use of doctor appointment booking applications to communicate with healthcare professionals online. So, apart from booking appointments, online patients can also receive consultations with doctors from the comfort of their homes.
The doctor and clinic appointment apps function is twofold; as a patient and as a doctor.
The Healthcare Industry And IT Services
If you are in the healthcare business, then you know that booking appointments daily in a traditional manner will decrease the productivity of your team. And you may want to increase the productivity and excellency of your healthcare services.
The best way to do this is On-Demand Doctor App Development or Clinic Appointment App development for your workplace.
The healthcare industry is a well-known industry, which is why the competition and healthcare software business is so intense.
With the availability of high-internet speed, there is abundant flexibility in medical treatments, and communication has also been improved among doctors and their patients.
This is the reason why you should take advantage of the IT services and shift your clinic to a digital platform.
However, for this, you will need a robust solution to fulfill the never-ending healthcare needs. Creating a Doctor Appointment Booking App For Android and iOS is one option, and can be a lifesaver for your business, employees, and patients. After all, no patient will love to be packed into a room full of other patients during the pandemic.
On-Demand Doctor App Development: Market Overview
According to recent research, the appointment scheduling software business will continue to expand. It is estimated that the online booking software market will experience a surge of 15.1 percent by the year 2024, with a total market value of $360 million.
In this segment, the USA acquires the largest share of the entire online booking market. Although, it is expected that China and India will soon outshine the USA.
COVID has intensified this trend, and more and more people prefer Clinic Appointments Apps instead of face-to-face interactions.
Here are some facts that you should be aware of if you wish for On-Demand Doctor App Development-
43 percent of patients choose to book appointments online.
The clinic appointment app market is booming at a CAGR of 37%.
IoT, AI, and Cloud technologies are one reason for the adoption of appointment solutions.
72% of users and 60% of healthcare professionals say that online clinic appointment app booking platforms motivate patients to keep appointments.
More than 50% of users first go online when searching for a new healthcare provider and service.
43% of patients choose to book online appointments.
91 percent of health service providers use cloud-based systems.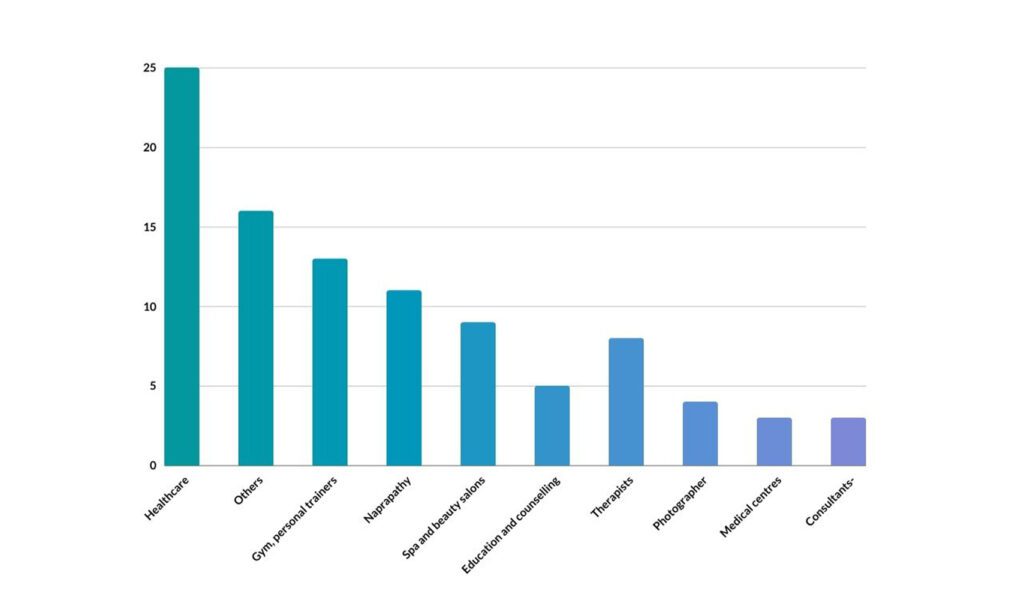 How Doctor On Call App Development Works?
The comfort of Clinic Appointment Apps is bifold. However, before going into the benefits of Doctor On Call App Development Let's have a look at how it works in the real world.
From the patient's point of view; with a clinic appointment app, individuals no longer need to call the office to schedule appointments. In a few clicks, they can plan their visits with their doctors at their suitable and free time. This will save both doctors and patient times.
From a clinic point of view; with an On-Demand Doctor App Development one can automate the appointment booking process. Thus, your staff will not have trouble handling things manually. A clinic booking app can be a backbone of a healthcare system.
A doctor on call app development is very important as you will also want to minimize the number of patients in your waiting room to maintain a social distance because of the recent pandemic turmoil.
Benefits Of Clinic Appointment Apps
Besides convenience, there is more about clinic appointment apps. Patients will get benefits from-
24 hours access to scheduling options.
A vast inventory of available healthcare professionals is present.
Automatic message reminders and connections with their digital calendars.
Facility to submit any prior existing health-related documents before the consultation.
Secure payment options through the apps for the patients.
Doctors will also experience more than convenience through on-demand doctor app development. When one builds doctor appointment booking apps for android and iOS. They aim to reduce the operational cost and maximize the overall number of visits to the clinic.
The advantages that a clinic appointment app brings to doctors and healthcare professionals are-
Enhance the use of front desk resources.
Improves the medical data record and its reporting.
Smoothens the payment process.
Maximizes efficiency and generates good revenue.
Collaborators Involved In On-Demand Doctor App Development
A clinic appointment app or doctor's appointment app can improve the efficiency of clinics, healthcare, and the entire healthcare marketplace.
There are mainly three collaborators in any doctor on call app development, and they are all interdependent on each other. They are as given below:
Admin of the organization
The end-user
Doctors/Clinicians
The additional collaborators are pharmacies and clinical laboratories.
Doctor Appointment App Features
For on-demand doctor app development, you should attentively pick all the doctor appointment app features.
Let's have a look at some of the features that will bring value to your clinic appointment app.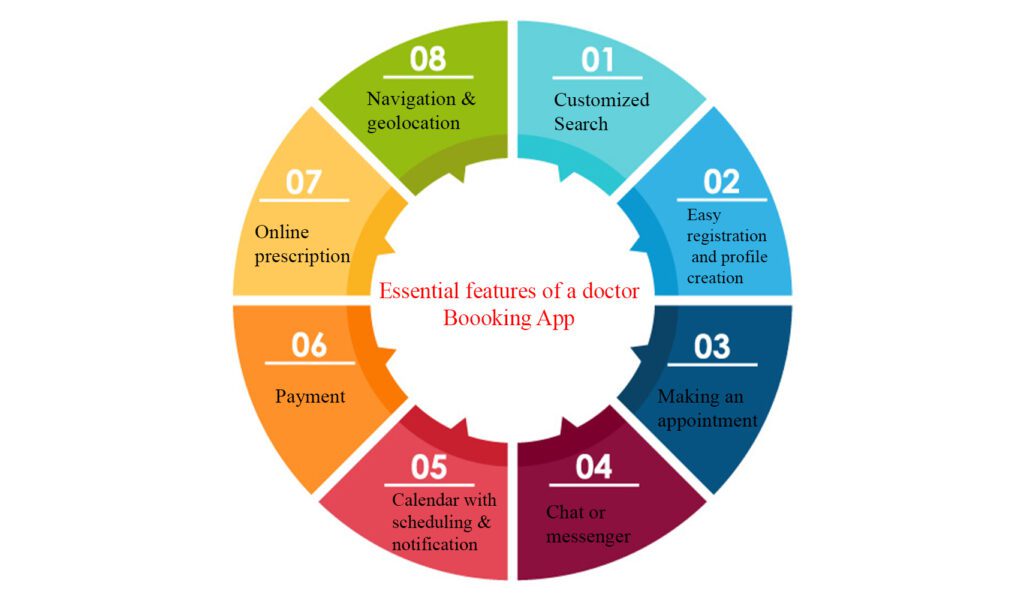 Registration and profile creation
There are two main parts to this feature. Because there will be two types of users- patients and doctors. Patients should mention necessary bare minimum personal information like their name, age, sex, address, medical insurance, etc.
Doctors should mention proof of their medical degree, their specialty, and experience.
Customized search
A patient should be entitled to find a doctor according to his requirements, medical specialty, location, price, and other preferences. The app developer should incorporate various search filters so the customer can find relevant data and results.
Booking appointment
It will be the most important feature of your clinical appointment app, so make certain that it should be flawless. The scheduling process should be manageable and straightforward. After a patient selects a doctor, he requests an appointment and the doctor can either accept or deny the request.
A chat module
This feature is valuable for a quick connection between the patient and the doctor. It helps in discussing symptoms and other issues.
A Calendar and a notification message
This feature is to enhance the user experience and make the doctor's appointment process more convenient and reliable.
Geolocation
It will help the patient navigate or find the doctor nearest to him/her. This feature should also notify all nearby clinics and emergency rooms.
Video call module
It is also a user-friendly addition to the application. Sometimes there is no need to personally visit a doctor. So this video conference or call feature can be a timesaver, and it will be an additional advantage in your application.
Payment options
A secure and reliable payment gateway to pay the fees online will bring profit to your business. You can also utilize a paid subscription module or take a fixed percentage of the doctors' fees after every successful appointment to generate revenue.
Online prescriptions
Doctors should be allowed to prescribe medicines and practices at the time of consultation. And a patient should be able to check the prescription and get the information on where to get the medicine through a clinic appointment app.
As you can see, the list of features is huge, and you can add some extra features if you want. Thus, the key to building this specific type of software solution is to pick the proper technology and a reputed mobile app development company to attain a balance between convenience and functionality.
Some Of The Popular Doctor Appointment Booking App For Android And iOS
Due to the pandemic, online medicine has become an important tool for doctors, patients, and healthcare businesses. Users find it much safer to consult a doctor from their homes. Here is a list of some of the best doctor and clinic appointment apps that customers love-
ZocDoc
Doctor on Demand
Practo
MFine
TATA Health
Cost Of On-Demand Doctor App Development
The total cost for the doctor on call app development is decided by the hourly rate of your mobile app development agency or team, the type of contract, and the app complexity.
However, the total cost for on-demand doctor app development will vary from $54,000 for an MVP (minimum viable product) per platform to $84,000 for a complex doctor or clinic appointment app.
You can also choose a cross-platform app development process, using React Native tool, like doctor appointment booking app for android and iOS, to keep the app development cost less.
Final Words
The doctor and clinic appointment app is the future of modern medicine. It will empower doctors, patients, and healthcare industries to capitalize on a powerful technological device (Mobilphones).
If you are thinking of trying your hands on on-demand doctor app development you can ask for a quote from Extern Labs Inc. feel free to look at our portfolio to find out our developed similar projects.
If you have any queries on on-demand doctor app development and about how to build a clinic appointment app, contact us, we will be more than happy to help you!