For us Indians, Cricket is like in our blood. Be it T20 matches, test matches, world cup matches, international cricket matches, or a Gali cricket match, cricket is the one sport that is highly enjoyed and played by we Indians.
For us, every season is a cricket season. The IPL auction has just ended and with this, India's biggest cricket festival is almost on its way and soon everyone will cheer for their favorite IPL teams and IPL players in 2022.
Don't we?
Obviously, we will do that. Because for us cricket is not just a mere game but a religion. We cheer for players, dance for them and their team success and it also uplifts comradeship.
Whilst, the revolution changes the delight. A few years ago, we used to sit back and just watch the game on our televisions. But, now we can play along with it and can also receive a great amount of money through it.
This is the reason why Fantasy sports apps are on the rise in India, and so daily new apps come into the market.
At present, fantasy sport is a $150 billion market in India and is still on the boom so will continue to add players or end-users by every second. In India, over 500 million people watch cricket online and 40 percent of them play fantasy sports.
Leading the mass, there are four well-known fantasy league sites, Dream 11, My Team 11, Apne 11, and My 11 Circle.
In this blog, we will provide details on the difference between the four fantasy apps- Dream 11, My Team 11, Apne 11, and My 11 Circle.
We will also learn about what Fantasy sports are, how to develop one and how much it costs.
What Do You Understand By Fantasy Cricket?
Fantasy cricket is an online cricket game, you have to constitute 11 members of a virtual player team by choosing the real-world players. Once you have made your team you will have to enter the tournament.
By this, you can procure money on the basis of the live performance of your team players in the matches. Thus, the better your selected player performs, the more points you will collect. In order to win the tournament, the player you selected in Fantasy cricket will have to perform well and make more runs.
As more runs will get you more points, it will also make the respective player the highest rank player on the scoreboard.
As a result, these betting (legal) fantasy cricket apps are becoming more and more popular with the audience.
These apps are specially designed for audiences who are crazy about cricket. These apps will bring entertainment to cricket fans and the joy of playing cricket matches online.
Now, with the high internet speed and high-quality smartphones, the trend of online entertainment has seen a sudden surge.
However, because of online betting, many people mistook it as an illegal app, but it is a game of strategies, expertise, and most importantly knowledge of real players' performance.
So, definitely, it's a legal segment. And as a result, many international players are endorsing this type of Fantasy cricket gaming platform.
If you are also thinking of funding in cricket fantasy app developments. Then through this blog, I will also share some interesting information related to this.
The Famous Cricket Fantasy Apps In The Market.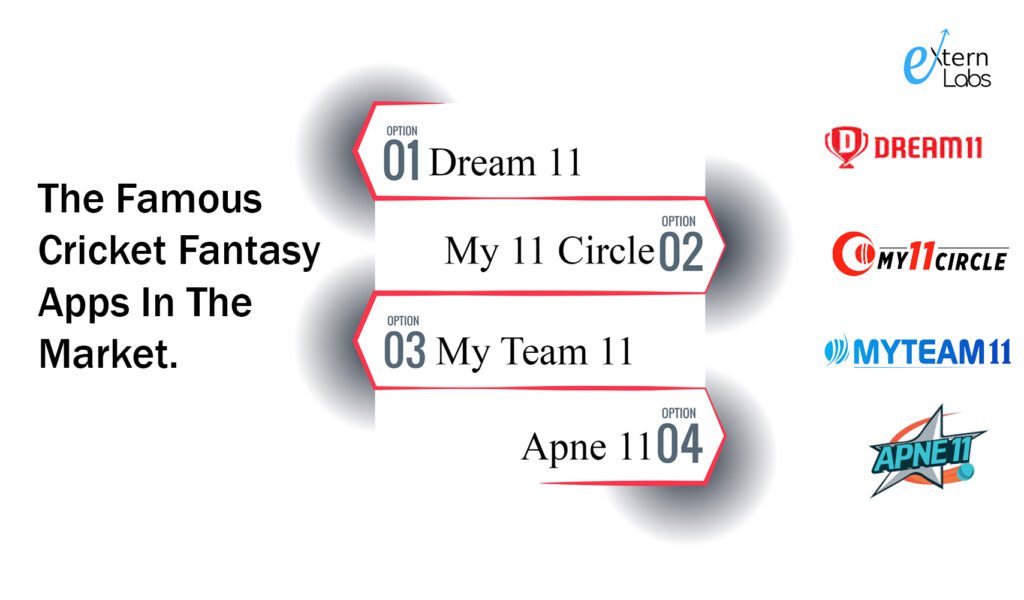 With the surge of crowds on online Fantasy cricket apps, there are few applications that became the most favored apps and have the highest number of downloads.
Some of the popular fantasy cricket applications platforms are-
Dream 11
My 11 Circle
My Team 11
Apne 11
Let's discuss in detail these fantasy cricket applications and the differences between these applications. And understand the differences between Dream 11 Vs My 11 Circle and My Team 11 vs Apne 11.
Dream 11
To start with, Dream 11 is India's very first cricket fantasy app platform. The application is launched as the leading segment in the Indian market of applications. Dream 11 was introduced first time back in 2008 by Harsh Jain and Bhavit Sheth.
And now it is a premium fantasy cricket app for all the cricket Crazyhead. In 2012 only there were more than 1 million user subscriptions on Dream 11 and since then the number kept increasing today there are more than 50 million users registered on Dream 11.
As a result, Dream 11 is now India's biggest and the most famous sports game. By using your knowledge of cricket you can make your fantasy cricket team of 11 players based on cricket strategies and skills. So, you can say it's a medium for showcasing your cricket expertise.
You will get points based on the performance of your selected fantasy team players in the real matches and you will be competing to make the highest rank on the scoreboard. After winning enough match points, you can transform your points into real money and transfer them to your digital wallet through a convenient process.
FYI, Dream 11 is the first fantasy cricket company that introduced the idea of earning legally from sports and cricket matches by making it too much fun. And so, later there were many clone apps similar to DReam 11 in the market.
The brand ambassador of Dream 11 is our one and only cool captain- M.S.Dhoni.
My 11 Circle
The second popular fantasy cricket app is My 11 circle. And like other Dream 11 clone apps, it also became the famous fantasy sports app.
This platform was initiated in 2019 by Bhavin Pandya and Trivikraman Thamy who are also the co-founders of Play Games 24 × 7. It is still the youngest app section in the market. And it grows as a challenging app for all other apps in the same genre like Dream 11 and My team 11.
It is because My11 circle has an easy UI and an awesome credit budget. The audience gets easily attracted to its smooth controls and its compassionate features.
It also manifests that right now, the market has immense possibilities for learning, and at the same time the market has minimum competition.
The platform also provides international and national cricket championships. This makes users more excited as they can have their international players team.
My Team 11
Another famous and well-admired cricket fantasy application is My Team 11. Like the other applications of this category Dream 11 or My 11 Circle, you can effortlessly make your own real-life fantasy cricket team of 11 players and collect points through their real-life performance in actual matches.
And in the end, convert these points into real cash. Along with sports like cricket, you can also play different types of games. This feature makes the app more entertaining and fun. My Team 11 circle allows users to participate in different matches and tournaments to win exciting plus wonderful prizes and bonuses.
Also, if you don't want to lose your hard-earned credit points, you can create your own championships and make your team play as you want. Because the application offers more than the regular play. It helps in improving and enhancing your overall gaming experience. The My Team 11 circle app was launched by Vinit Godara and it has gained 10 million followers in a very short time.
Apne 11
One more application that made its grand entry in the fantasy cricket application market is Apne 11. The application was introduced by the former Indian cricketer and captain Kapil Dev.
Kapil Dev is the brand ambassador and the brand advisor of the Apne 11 and this attracted more users to the platform.
Along with it, the company also offered a 100 percent cash bonus deposit as its launch offer to its audiences. This application offers cricket fans an opportunity to flaunt their cricket knowledge by using their selected team on the actual field and receive points based on their performance.
How To Develop A Cricket Fantasy App?
Let's be clear on one thing, developing an application is one thing and developing a ranking application platform is different. You will always wish to have a perfect application that can catch the eye of all your competitors. For this, you have to hire some professional web development company in this field.
Technologies You Need To Develop A Cricket Fantasy App
The list of technologies which you will require to develop an app like Dream 11, My team 11, and so on are-
Kotlin in Android App Development
Swift in iOS app development
Node.js meant for backend development
MongoDB, Cassandra, or SQL especially for Database.
Azure Stream Analytics for the purpose of Real-time analytics.
Socket.io so as to chat
Integrate Live score API (application programming interface)
FIFS licensing
Back-end Team Requirement for developing A Cricket Fantasy App
Android programmer
iOS software developer
Back-end developer
A Project Manager
Business Analyst
QA Engineer
UI/UX Designer
OR
You can leave this work to an app development company and by this, you will get a fantasy app like DReam 11 or My 11 circle designed by trained and experienced programmers.
This will lessen the burden of all the development work from your shoulder and you can focus on other important factors.
Key Features To Know While Developing A Cricket Fantasy App
All the important features can be divided into three groups:
User-friendly features
Admin features
Extra features
User-Friendly Features
Registration
Home screen
Contest
Payment options
Contest Details
My Contest
Profile
Admin Features
Admin Log-in
Dashboard
User control
Match handling
Games category handling
Earning managing
Payment controls
Managing rewards and bonus points
Extra Features
Live cricket match scores
API Integration
CRM Integration
Push notifications
Real-time data analytics
GPS location tracker
End-user mail reminder system
How Much Does It Cost To Develop A Fantasy Cricket App?
The total cost in the development of any cricket fantasy apps like Dream 11 or My 11 Circle- for having the main user panel feature will cost up to $8000 for the iOS and Android OS.
Moreover, the total cost for the admin panel is around $9000.
Although if you wish to develop a fantasy cricket mobile app that will be compatible with all mobile platforms along with web pages then it will likely cost around $20,000.
Also, the development cost will depend on the total hours it will take to develop the app and some other factors like:
Application Platform
Application Design
Size of Application
Type of Application
Native apps
Hybrid apps
Web apps
Location of developers
With the growing popularity of fantasy cricket apps, Extern Labs app developers are offering top-notch development solutions to enterprises. For a customized and unique fantasy sports app, you can hire a dedicated developer from us who will assist you to develop an advanced app using rewarding features and the newest technologies.