We are all aware that, at the time of the pandemic, online businesses took a hike and became more important than ever. Online businesses did exist before lockdown, but they were not that popular. It's a lockdown only when people realize the perks of on-demand online services.
Now it is very common to have basic daily needs like food and medicine delivered right to your doorstep. And thus, it is the best time for companies that are into delivering goods.
We are a generation living in a technology-driven society. People are getting accustomed to services and products that offer more practicality and comfort. We want to actually be habituated to obtain every single thing with just one click. And this trend is not limited to only one domain or service.
One such service domain is the Fuel Delivery App. The on-demand fuel business and Fuel Delivery App Development have been heightened to serve society in this segment and have already proven to be successful in their first attempts. Until now, these kinds of services were only popular in the US and London.
However, the fuel delivery sector is on the track to create disruption in the economies and is proliferating across the globe continuously creating a good impact.
Here, we will take a close look at the functionalities and features of the fuel delivery app and will draft a plan for Fuel Delivery App Development.
Read till the end to get the in-depth information!
What Do You Mean By Fuel Delivery App?
Getting food, medicine, groceries, and electronics delivered to your doorstep is not new, we are all familiar with this concept and are actively using it. In fact, buying stuff online and getting it delivered to our place with just a few taps on our phone screens is what we all love doing.
And fuel delivery is one and the same. The only difference is that the fuel delivery app supplies the fuel at your current spot, the fuel delivery person restocks your vehicle, and you are all equipped to go.
The fuel delivery business is the buzzing topic in the industry, and so is the demand for fuel delivery app development. As it is very helpful for those who get stuck somewhere in a remote area.
How Does It Work?
This is the most common question that society asks, and they are very curious about this. Because it is still an emerging business and people are still not aware of it.
So, users will download the field delivery applications; through the apps, they can place orders for fuel if they run out of it, or they can also pre-schedule it.
The nearby verified vendors will be notified about the same, and the fuel delivery vehicle will reach the users' location through the app.
Have you ever been stuck somewhere because you ran out of fuel? Or have you been in a situation where you have to line up in a long, endless line to get fuel for your vehicle?
If Yes, then you can understand how important a fuel delivery app is. Delivering fuel to customers' spots when they have to reach their stopping place in a hurry will save them enough time as they don't have to stand in long queues at the petrol pump station.
Furthermore, it also ensures that you travel worry-free and never get stuck on your journey because of a fuel shortage.
We can say, fuel delivery apps are like Uber and OLA. Their working process can be explained in three steps-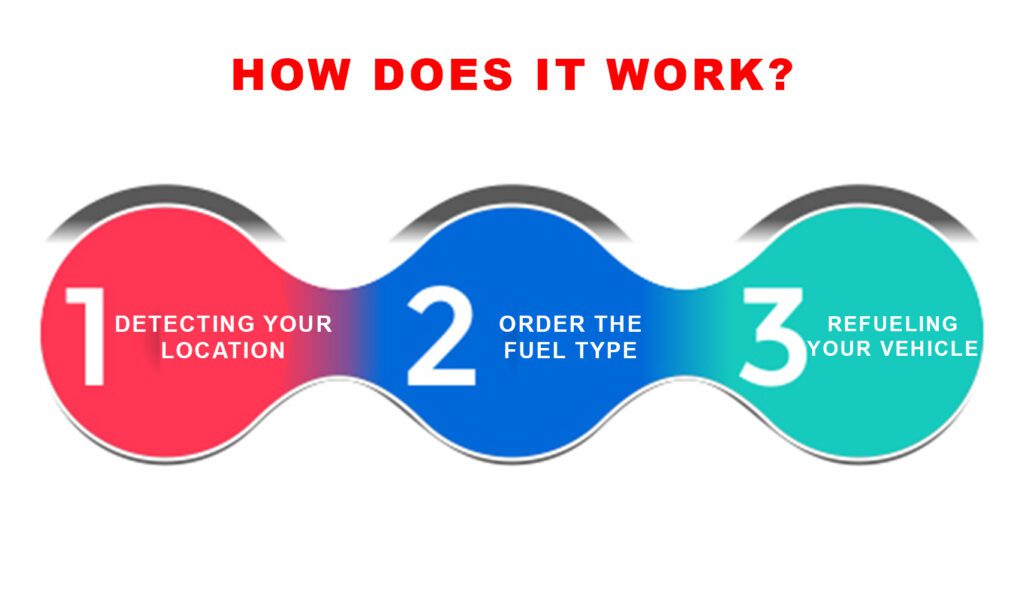 Detecting Your Location
When the customer taps a button on their smartphone, the app will spontaneously detect the location for fuel/gas delivery. Plus, users can also use the manual option to indicate their location.
Order The Fuel Type
In the next step, the customer will specify what type of fuel they need and its quantity. The mobile app services generally offer a range of divergent fuel and gas types.
Refueling Your Vehicle
The customer will have to wait for the delivery agent/driver to reach their location. Instead of going to a fuel filling station, the customer can order the mobile fuel filling station at their location. Isn't it interesting!
The payment is done when the vehicle's tank gets refilled.
Moreover, before making any decision and starting a business, it's vital to check the advantages and disadvantages and how it will be beneficial for your targeted customers.
Let's have an in-depth analysis of the pros and cons of the fuel delivery app development and how it is appropriate for the customers.
Fuel Delivery Market Details
On-demand fuel delivery application services are a recent trend in the entire segment of delivery services. But day by day, it's gaining popularity. According to a report presented by Businesswire, the fuel delivery apps service market is estimated to expand by $1.2 billion, with a compounded growth of 3.4%
The fuel delivery business is embracing advanced technology to improve its delivery services and to stand on customers' expectations of getting a quality product in a short time. The main component that's stretching the fuel delivery market is the increase in global vehicle production. The sales quantity of commercial and passenger vehicles are increasing and so the demand for fuel delivery systems is also growing.
So, unquestionably in the near future, there will be more and more fuel delivery apps.
Benefits Of Fuel Delivery Apps For Users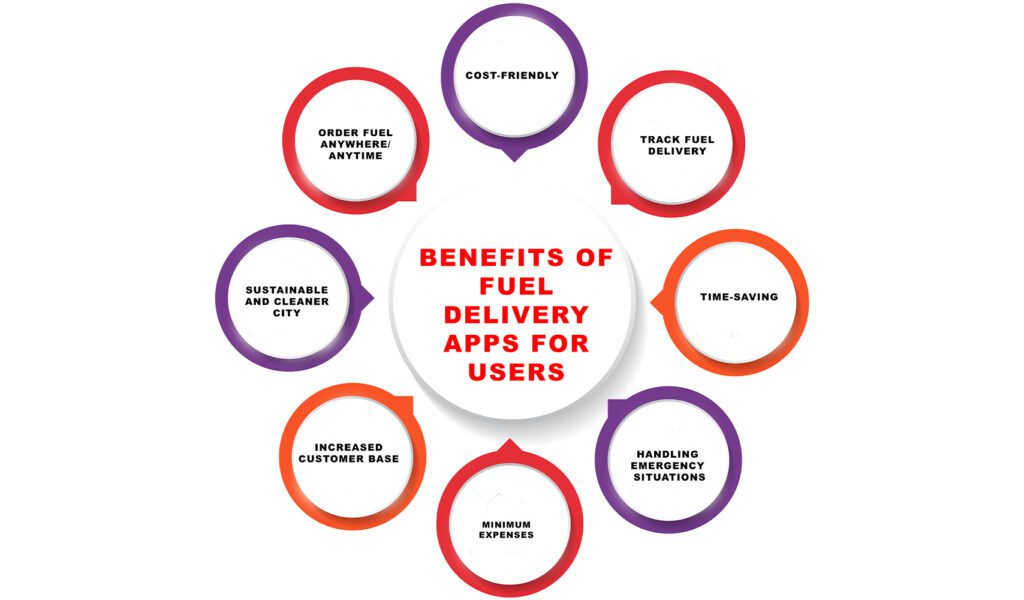 Order Fuel Anywhere/Anytime
The field delivery application enables the customers to order fuel from anywhere. The customer can select the fuel type and quantity and it will be delivered to their location hassle-free and in no time.
Cost-Friendly
The customers can view the prices of gas and fuel in advance and can pay easily through various payment options.
Track Fuel Delivery
A customer can locate and view the location of the delivery agent in real-time through GPS and map integration features.
Time-Saving
Using a fuel delivery app is much faster than driving to a fuel or gas station and spending hours standing in queues to get the fuel refill.
Handling Emergency situations
A fuel delivery app can be your lifesaver if you accidentally run out of fuel or gas in a remote location.
From a commercial point of view, setting up a fuel delivery service is valuable for the following reasons-
Minimum Expenses
With the fuel delivery app development the total time, cost, and land required to build a fuel and gas station will be reduced.
Sustainable And Cleaner City
Fuel delivery services are more environmentally friendly in contrast to a gas station experiencing frequent problems with accurate storage and safety.
Increased Customer Base
By providing fuel to users at their respective locations and not being restricted to a certain location, businesses can increase their user base.
Some Example Of Fuel Delivery Apps
People are still curious and ask questions like, "can you get fuel delivered?" and "what app delivers from the gas station?"
However, seeing the market trend, it is no wonder that in recent years there have emerged a number of fuel delivery apps that gained popularity very soon and took the lead position in this sector.
If you are also willing to get your hands- on fuel delivery app development, then it's important to know your competitors. Let's examine some of them:
Booster
Also popular as Booster Fuels. It is an American petrol and diesel service provider. The company offers user-friendly, convenient services to its customers. The company has its own line that is smaller compared to regular fuel vehicles, so they can easily fit into any parking size. Plus, the company charges no delivery fees for its service.
Yoshi
Yoshi is another American on-demand fuel delivery company. It allows its users to order fuel on demand. However, the company charges a delivery fee. But it also offers memberships that embody free weekly deliveries. Besides this, the company also offers other vehicle services like oil changes and engine cleaning.
MyPetrolPump
It is India's very first fuel delivery company. MyPetrolPump offers on-demand fuel services and doorstep delivery as well. When the order is received, the company's vehicle goes to the nearby petrol station and brings the fuel right to the customers' location. The company is quite successful.
Now, as you see all of these above-mentioned companies are very well established and popular. This is because they very well understand the customer's requirements. So, if you also want to start your own fuel delivery app first imagine yourself in place of customers to understand what customers demand.
Things To Keep In Mind Before Fuel Delivery App Development
Even though you are ready to start your fuel delivery business, are you aware of what you should do first? Below are important points that you should take into account before you start your fuel delivery business.
Manage The Vehicle That Will Deliver The Fuel
Evidently, one can not deliver fuel in a simple vehicle that we use to deliver other goods. Fuel is a highly delicate, flammable, and very nasty substance. So, it should be stored and transported under specified conditions.
You can consider using an air-tight, combustion-proof truck.
Hire Trained Drivers
It's always beneficial to hire a professionally trained truck driver when you have to work with such a dangerous substance. And the sooner the fuel gets delivered to the user, the better they will take advantage of your services.
Convince Fuel Carriers To Collaborate With You
You have to do deep research and consider what type of fuel carrier you should collaborate with. You can do two things- either collaborate with fuel carriers or with fuel station owners.
Follow All The Protocols
It's important to document your business to make everything official. However, apart from completing the registration and submitting registration fees, you should also follow the government guidelines. This can vary depending on your region.
Now that you are aware of all the prerequisites, now is the time to think about fuel delivery app development and fuel delivery app cost.
Fuel Delivery App Development Features
To create a successful app, you have to design three main panels-
User Panel
Delivery Agent Panel
Admin Panel
Each panel should incorporate some standard features. These features are:
User Panel
Registration/Login
On-demand fuel/gas delivery
Cost estimation
Multiple Payment methods
Tracking order
Referrals
Rating and reviews
Delivery Agent Panel
Availability ( Online/Offline)
Delivery Agent's Dashboard
In-built navigation
Profile
Payment
Delivery details
Admin Panel
Login
Manage bookings
Cost management
Manage fuel vehicles
Track deliveries
Analytics and order records
Steps To Start Fuel Delivery Business
Following are the steps that one should follow to start their own fuel delivery business:
Completing Registration And Obtaining License
Like with any other business, you have to get approval from the government and a license from the official authorities. There are some guidelines that official authorities have provided, and every fuel delivery business should meet the guidelines.
Location Enabled Transport Network
If you got a license to run the business, you will need a fuel delivery truck to deliver on-demand fuels to the customers. All the fuel delivery vehicles should be loaded with a GPS unit for tracking the vehicle and keeping track of the total amount of fuel delivered.
Most of the fuel delivery app businesses deliver several types of fuels. So, the delivery truck should be able to carry several types of fuels like gasoline, petrol, diesel, CNG, etc.
Alliance With Fuel Suppliers
For your business, you have to collaborate with fuel suppliers who can give you a continuous supply of fuel for a longer time. For this, it is essential to have good knowledge of fuel and gas providers. Then only you can manage enough stocks for your on-demand fuel delivery app business.
On-demand Fuel Delivery App Development
For your business, you will need a dedicated fuel delivery app that incorporates multiple features that will smoothly run your fuel delivery business. If you want to be a master in the fuel delivery business then you should provide excellent customer service.
It is up to you to decide what features you want to include in your app and whatnot. We have already explained the basic features of a fuel delivery app.
Marketing
Once you have passed the stage of fuel delivery app development, you have to make efforts to market your application and services through various online and offline platforms. You will need a good marketing plan, or you can also hire a marketing service to make people aware of your services.
Time and Cost In Fuel Delivery App Development
How much does a fuel delivery cost? Well, it banks on how much time it takes to deliver the fuel to your location.
However, if you are interested in finding out how much a fuel delivery app costs, we will discuss it in this segment.
The total time and cost for fuel delivery app development can only be calculated based on the following factors-
Features incorporated into the app
Geolocation of the app
Functions of the app
Testing team
The mobile app development process
Overall programming method
Business plan
Well, to make things easier, understand the app designing procedure in this way-
Apps can be divided into three categories- simple apps, mid-level complex apps, and highly complex apps.
A simple app will include basic features. The app development process doesn't have to link into third-party APIs, and a backend is also not required. For a simple fuel delivery app development a programmer will only need standard UI elements, simple filters, and map markers. A simple app will take 500 hours and will cost in the range of $38,000.
A mid-complex app will require custom UI elements, real-time chat, payment options, integration with an API, and much more. It will take nearly 1000-2000 hours to develop a mid-complex app and the pricing will be $80,000.
Moreover, a highly complex app is built with advanced features like custom animations, audio/video processing, a complex backend, and several other types of databases and functionalities. The time frame for developing a complex application is more than 3000+ hours and the cost will start at $30,000.
It would be best if you reach out to experienced mobile app developers and get a quote for your design. And after you get a basic knowledge of what features you want to incorporate into your app, you can ask for a quote for your project from an app development company to know the total cost.
Conclusion
No doubt, the on-demand fuel delivery business holds a lot of potentials, and it is the niche with the least competition in the market, right now. If you are thinking of developing a fuel delivery app and want to generate revenue by helping customers get fuel anytime and anywhere, then this is the best time.
The market has an immense scope to serve in the near future it will amplify its services in almost every sector.
Are you looking for the right technical partner for your fuel delivery business who can assist you with in-app kind of technicalities like in fuel delivery app development?
No worries, we are here!
Extern Labs, will give complete end-to-end customized solutions, and answer all your questions on how to start a fuel delivery business.
We are here to be your technical ally and will offer you full counseling.