In countries where LGBTQ rights have been accepted, you can spot many dating apps that are solely dedicated to them. And in countries where LGBTQ rights have recently been legalized, people are coming up with ideas for developing LGBTQ+ dating apps.
The concept of dating is not new, nor is the concept of online dating. However, online dating apps for the LGBTQ community are something new that has gained lots of attention recently.
Why not, after all the regular dating applications and websites were only suitable for straight people. But the world has progressed a lot and is growing daily.
Now if the LGBTQ dating apps are getting popular then how come we won't write any blog on this.
In this blog, we will be covering all aspects of developing an LGBTQ dating app.
Let's move ahead and discover how to develop the best LGBTQ dating app in 2023.
LGBTQ+ Dating Mobile Application
There are some popular LGBTQ dating applications that have successfully transformed the space of online dating by creating dating apps for queer, gay, lesbian, bisexual, or transgender people. Several dating apps are solely for the queer community.
The gay dating apps provide a launch pad for all the people in the gay community so that they can find their ideal partner.
The whole notion of online dating is to allow two individuals to find their like-alikes and get to know each other. If they make a good connection, they can try dating each other. The main reason for developing online queer dating apps is to connect people of the same community, which can sometimes be challenging for the queer community. Along with this, online gay dating apps solve many such gay community problems.
After all, the attitude of the public towards same-sex people has changed positively, giving freedom to queer individuals.
LGBTQ Online Dating App: What The Stats Say?
A survey organized by pewresearch.org states that 55% of US LGBTQ adults agree that they have used an online dating website or application at least once in their lives. Around 28 % of the population claims that they met their current partner through LGBTQ dating apps. And around 37 % of adults are using the LGBTQ application or websites to find their ideal match.
The revenue generated by these dating apps in 2021 was $3.08 billion, which was a generous increase from the previous years, as in 2019 the total profit was USD 2.52 billion and in 2018 it was USD 2.23 billion.
Monetization Opportunities Offered By Gay Dating Mobile Applications.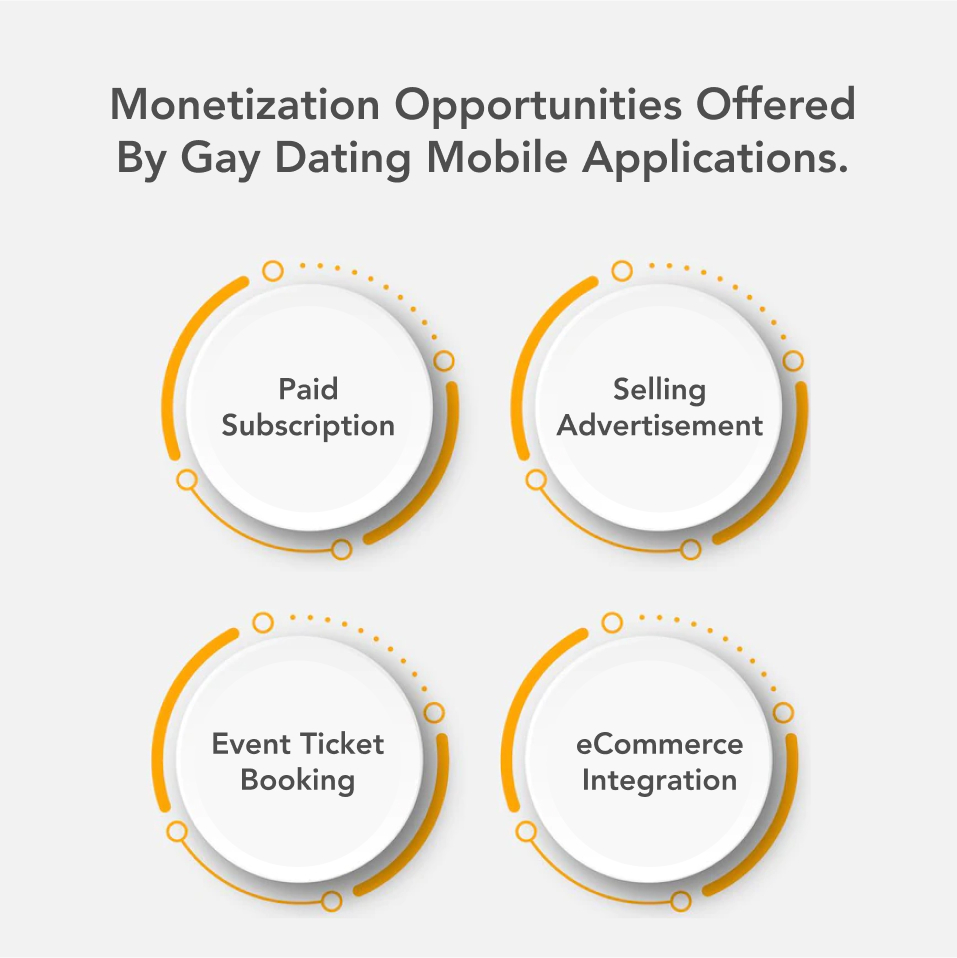 As mentioned statistically, the queer dating application market offers various opportunities to generate revenue as end-users are willing to spend their money to find their life partners or their ideal matches.
The proof of this is- the dating apps' paid subscribers have reached an overwhelming $10.8 million, up from $3.4 million in 2014. As for Tinder, it has 6 million paid subscribers all around the world.
Thus, if you want to create a dating app for the queer-gay community; it is quite evident that the app will definitely make money for you.
Moreover, we are here to help you with our services, with our ideas, and through our blogs.
Here are a few ways through which you can make money through your online gay dating application:
1. Paid Subscription
The very common and general profit stream is paid subscriptions.
In paid subscriptions, users have to pay to use all the app features, and the billing is on a monthly or annual basis. For instance, it allows the application users to get benefits from various features – an ad-free application version, profile showcases, and unlimited swipes.
This method guarantees an instant return as soon as the user installs the application.
2. Selling Advertisement
Affiliate networking is the best way to earn a great amount of money for your queer- LGBTQ dating apps. Showcase the relevant advertisements and interesting deals and offers from shops, cafes, jewellery stores, clubs, florists, gift shops, etc., and you will get paid for displaying these advertisements on your applications.
Generally, the earnings from this model are received through affiliate businesses depending on the number of clicks and installs.
3. Event Ticket Booking
Most often, when two individuals are on a gay dating app, they plan to meet soon. This is where you can easily offer event ticket bookings. The users will take more interest in this as they won't have to leave the app to find places for the meet-ups.
4. eCommerce Integration
It will be a beneficial way for the LGBTQ dating application to integrate eCommerce functionality into the application, offering end-users to purchase interesting products and services.
Basic Features of the LGBTQ Dating Mobile App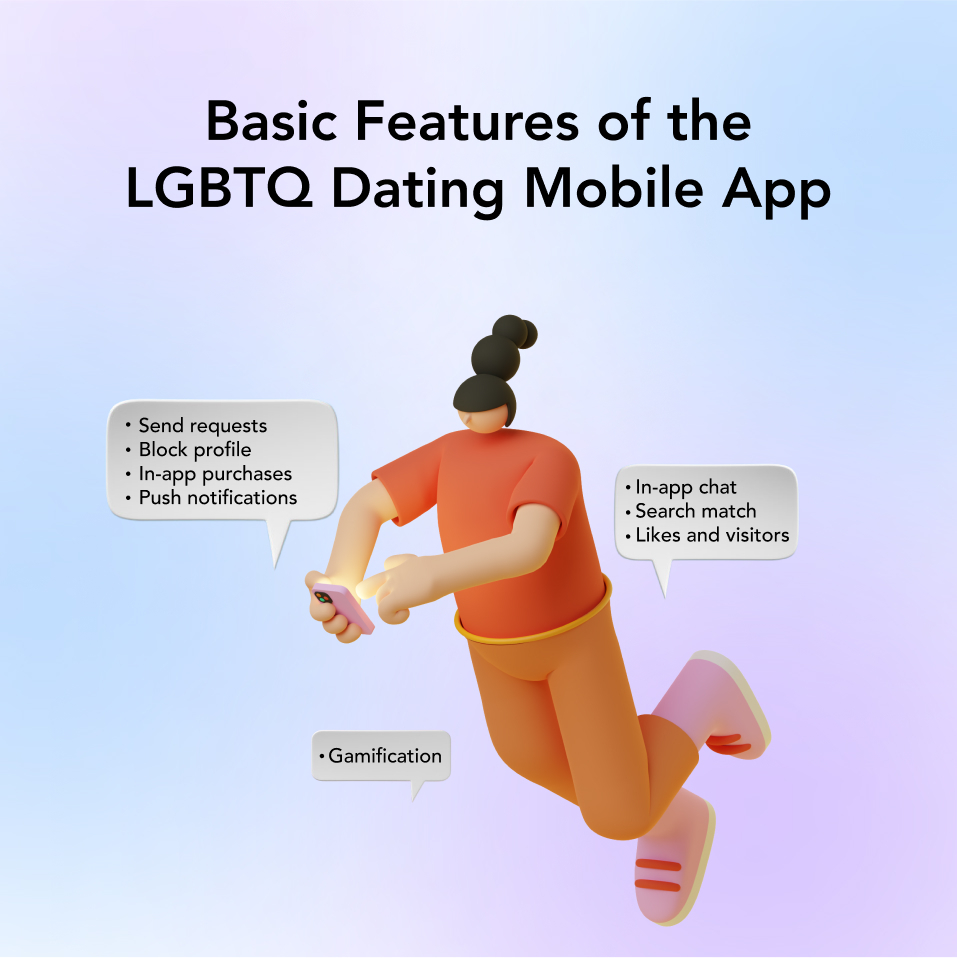 Some of the basic features that should be included in the gay lesbian dating mobile application are:
In-app chat
Search match
Likes and visitors
Send requests
Block profile
Gamification
In-app purchases
Push notifications
Report and spam
Make payments
Upload pictures
Identity verification
Logout and deactivate
Advanced Features of the LGBTQ Dating App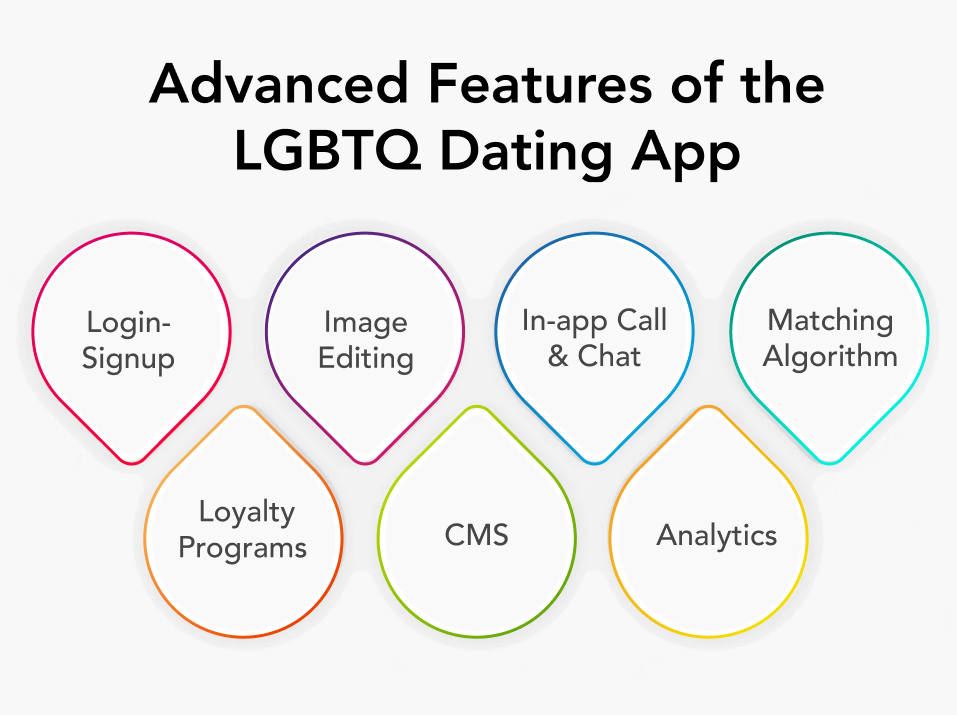 There is huge competition in the world of dating, and your lucrative unique app ideas can really be put to good use by having some unique features and functionalities to attract the audience.
Here is the list of some advanced app features that can work amazingly for your gay dating app:
1. Login-Signup
This feature allows convenient sign-up and sign-in for the application's users. With this, there is no requirement to fill in boring details, as the customer can easily start using the application by integrating it with their social media handles, as they wish.
2. Image Editing
The queer dating application requires the app users to display their profile pictures and extra pictures, thus, the users often like to do slight editing to their images to conceal zits or enhance their looks or overall appearance a little.
Therefore, it would be great if the application provided image editing tools to the customers, so they wouldn't have to leave the app to visit another site for image editing.
3. In-app Call & Chat
When customers have the facility of in-app call and chat features, it makes it simpler for them to use the application because they can have long conversations with their connections within the application itself. This also boosts user engagement by making users shell out more time on the app.
4. Push Notifications
It is one feature that allows people to always stay updated and informed of new events, matches, or messages. Push notifications can even be integrated with geolocation functionality to inform the user that their data is in proximity. This can be a beneficial feature for the application.
5. Matching Algorithm
It is an AI feature that evaluates the behaviour of a person on all digital platforms, as the behaviour analysis depends on the digital footprint of a person, which comprises information about them on social media, YouTube playlists, search history, and types of pages visited, and more. Big data technology is used to conduct this type of analysis.
6. Mathematical Algorithms
The matching on online dating apps is done based on mathematical algorithms to evaluate the accuracy of the information provided by the users on their profiles. The profile information is also analyzed through various surveys; like-
Physique, and height.
Interest compatibility, in terms of hobbies or favorite foods.
Personality characteristics like gender, age, etc.
Friend connections to develop more trust and confirm user safety; for this purpose, data is used from social networks.
Moreover, since mathematical algorithms are quite in-demand, they are not always precise and accurate.
This is mainly because people also put flawed information about themselves in their descriptions or surveys.
7. Geodata Matching
By making use of geolocation data, an algorithm will be able to offer users a date near to their current location if they prefer this.
Also, if the user moves from their location and wants to look for their ideal match in a new location, the feature will allow this.
So, geolocation matching offers many benefits.
8. CMS
"CMS" is abbreviated as "Content Management System." This functionality is used to skillfully manage the content uploaded to the application. For instance- news, blogs, events, etc. Content is important to keep the users occupied with the app, and thus good importance should be given to CMS. In this case, they can be used for improving profiles.
9. CRM
Customer Relationship Management (CRM) is a great feature. It is crucial for maintaining a good customer relationship. CRM integration is customer-focused and keeps an eye on their likes and dislikes so that suitable services and recommendations as per their preference can be offered.
10. Loyalty Programs
The end-users like the concept of appreciation as it makes them feel special, and this helps in increasing their engagement with the application.
So it would be awesome if rewards were offered like gifts, coupons, a couple of tickets for shows, movies, etc. This will be significant in increasing the loyalty of the users towards the application.
11. Analytics
This feature can be useful to track the user's interactions within the dating app, like how much time they daily spend using a specific feature or glancing at a specific type of content. This will allow the dating app to provide tailored services to the app's users to boost sessions with the app further.
Required Tech Stack For Developing LGBTQ Dating App

| | |
| --- | --- |
| TASKS | REQUIRED APPLICATIONS & TOOLS |
| 1. Programming tools | Kotlin, Swift, Java, Objective-C |
| 2. Os | Android4.4+, iOS 11+ |
| 3. Database | MongoDB, SQL, Redis, PostgresSQL |
| 4. Framework | Express.Js, React, Node.Js |
| 5. Web Server | Ngnix, AWS, Apache |
| 6. Cloud Storage | The Amazon service, Heroku |
| 7. Payment Gateway integration | Stripe, CCAvenue, PayPal, 2Checkout, TransferWise |
| 8. Analytics | Firebase, SDL Analytics |
The Total Cost to Develop an LGBTQ Dating App
The cost of developing an LGBTQ dating app can only be estimated depending on various factors that have been added to the application.
Some other points on which the cost of mobile application development depends are-
Timeline
The timeline includes app design, API design, app development, and development.
Team,
The development team will include a project manager, iOS/Android Developers, Back-end Developers, UX/UI Designers, and QA Testers.
Location
It can be an economical affair when you hire programmers to develop an LGBTQ dating app in the USA or western Europe. The programmers from the Asian region are the most affordable and are popular for delivering the best quality for less money.
App Features & Functionalities
Any mobile or desktop application with only basic features will cost less compared to an application developed with advanced features and third-party integrations.
Number of Platforms
If the app is built only for one platform- Android or iOS—it will cost comparatively less than an application created for both the iOS and Android platforms.
An app built for multiple platforms will eventually double the app development cost.
However, by considering all the above-given factors, a rough figure can be estimated. Development of a basic featured mobile application for a single platform will cost around $25000-$30000.
Besides, an application with advanced features developed for both the platforms, Android and iOS, can increase the app development cost by up to $50000- $60000.
Choose Extern Labs.
We are a mobile and software development company with industry experts on our team.
If you want to develop an online LGBTQ dating app, then you have to carefully study the market trends, functionality, and chances of benefits for your upcoming app. One way would be to start the product launch in a small niche to avoid big competition. And this will also give you a chance to grow and earn good revenue.
To make things short, be creative and take inspiration from the world around you.
Now that you are informed about all the features, costs, and factors required for developing an LGBTQ dating app, it's time to hire an expert mobile app development company to get a quality mobile app that can work seamlessly.
Contact us today to get a free quote for your online queer dating application.