You'll probably have heard about "MarTech," but if not, no worries. It is a brand-new, not-so-common term among marketers and developers.
But is it only a term, or is there much more to it? Is MarTech a useful thing?
Well, it is definitely not a new fad tech term. MarTech inholds a magic box that offers compelling data that can guide you to skyrocketing interaction with your end-users. MarTech is the crossroads of digital marketing. And one thing is clear; it's here to stay!
If something so powerful has been introduced into the market, there must be a blog about it.
By the end of this blog, the term MarTech will be apparent to you, and you will see how it can influence your business in various ways.
Let's get started!
MarTech: Definition
MarTech is a blend of marketing and technology (you must have guessed this).
It deals with the use of the MarTech stack, its tools, and technologies that marketing personnel use to collect, inform, and execute their campaigns.
With the Martech stack, marketers can create, communicate, transfer, test, automate, integrate, and adjust their marketing efforts.
What is MarTech?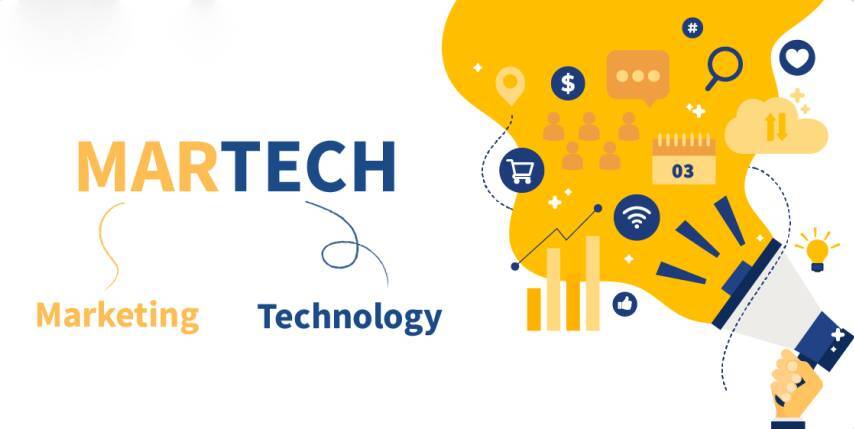 Above is the definition of MarTech. Let's dig deeper into this definition to understand MarTech and its stack more clearly.
Actually, MarTech is software and a platform that aids an organization or an individual in achieving their marketing goals. It is an umbrella term and covers everything, be it email templates or data analytics.
The critical point to understand here is that every person and every business has their own unique MarTech requirements, and this exponentially growing domain is making big jumps to fill any kind of open niche.
Considering the data of the last few years, it is pretty evident that this field has experienced exponential growth.
The MarTech industry has grown 20% in just one year, and in present times, 70% of the businesses in America have increased their marketing budget by around 6%.
However, being in a digital marketing team doesn't mean being a technophile. But, it does imply that you should understand the essential benefits of the tools to improve your marketing strategy and achieve business goals.
The use of technology in digital marketing is not new, but with the adoption of the MarTech stack, one can see a dramatic and dynamic rise in their business.
Who knows, it might be possible that your competitors are already using MarTech stacks to plan successful campaigns. You should start today if you still haven't started thinking about automating and optimizing your campaigns through MarTech stacks.
But how does technology affect marketing?
To understand it more vividly, take the example of email marketing.
Martech allows marketers to ad-lib send triggered emails to end-users as a response to their specific actions.
For example, when a user visits your website and gives an email address to download your blog, you can use this action to send an email to provide them with targeted information about your services or products.
With MarTech, you can learn more about customer preferences and needs and track the links they can click when they get an email.
Benefits of MarTech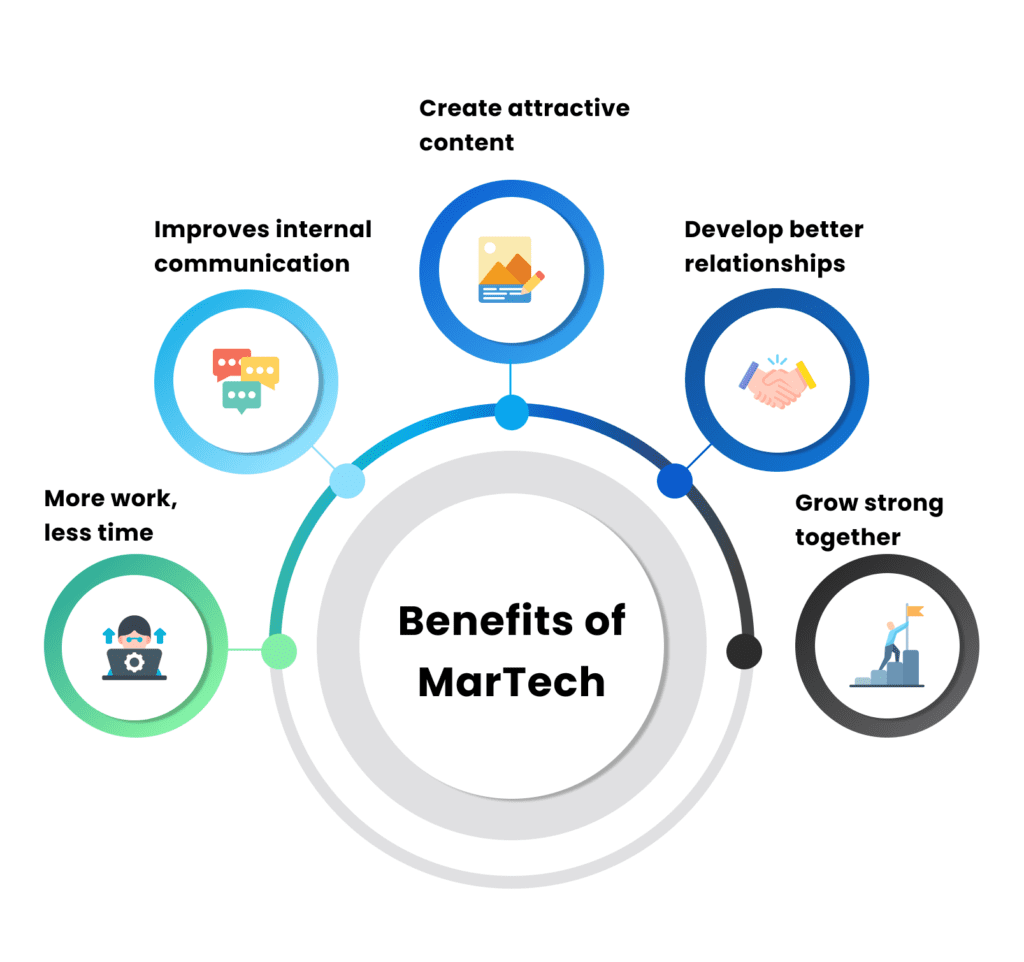 MarTech is a new term, but marketing technology is definitely not. The marketing team regularly relies on technology and tech-related tools to deliver content directly to the point. And this is one primary reason why digital marketers and marketers love their technology.
The benefits of marketing technology tools are:
More work, less time
It saves time and smoothens workflows using tools and marketing technology tools to do continuous and time-consuming tasks like data pulling, converting file formats, and generating revenue.
Improves internal communication.
This opens the gate to communicating openly on matters like project status and team goals to enhance tracking and provide complete visibility of progress to the team members.
Create attractive content
It would be best to make your audience feel like you really understand them by using the insights and data to understand performance, optimize the commission according to the requirements, and deliver it to the targeted audience.
Develop better relationships.
Nourish the customer and buyer relationship by always knowing what to say by having easy access to past conversations, subscription information, and more.
Grow strong together.
The worth of each tool will enhance and amplify when they all together minimize the friction in the work roadmap, in turn letting you work faster and wiser.
What Is a MarTech Stack?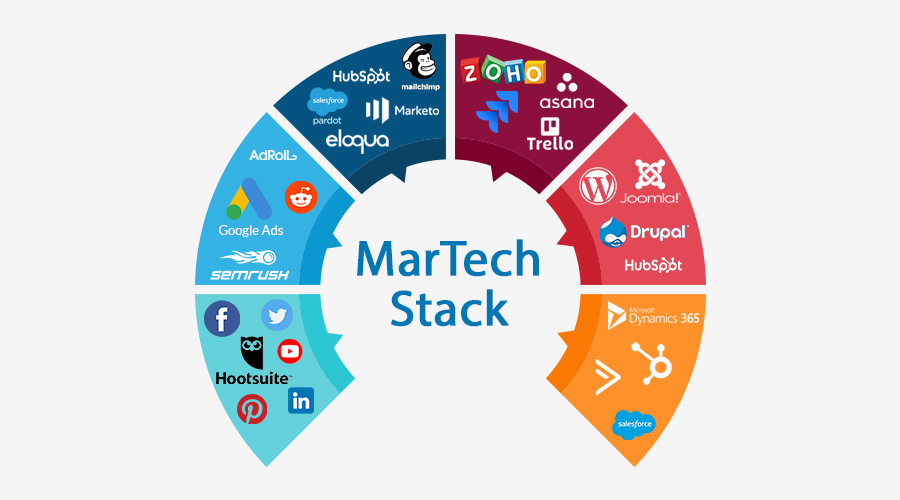 Google Analytics (GA) is not the only tool in the marketing technology toolset. Google Tag Manager (GTM) collects all the additional data; Crazy Egg and similar heat-mapping tools show how end-users interact with your website and services and give details about the actual improvements.
This is just a pinch of salt on the salt hill. There is an array of marketing technology tools. Some most common ones are:
Marketing Automation Tools (SharpSpring, Marketo, etc.)
Email Marketing Service (MailChimp)
SEO platforms (Semrush)
Ad platforms (Google, Facebook)
CRMs ( Salesforce, Hubspot)
Popular MarTech Trends.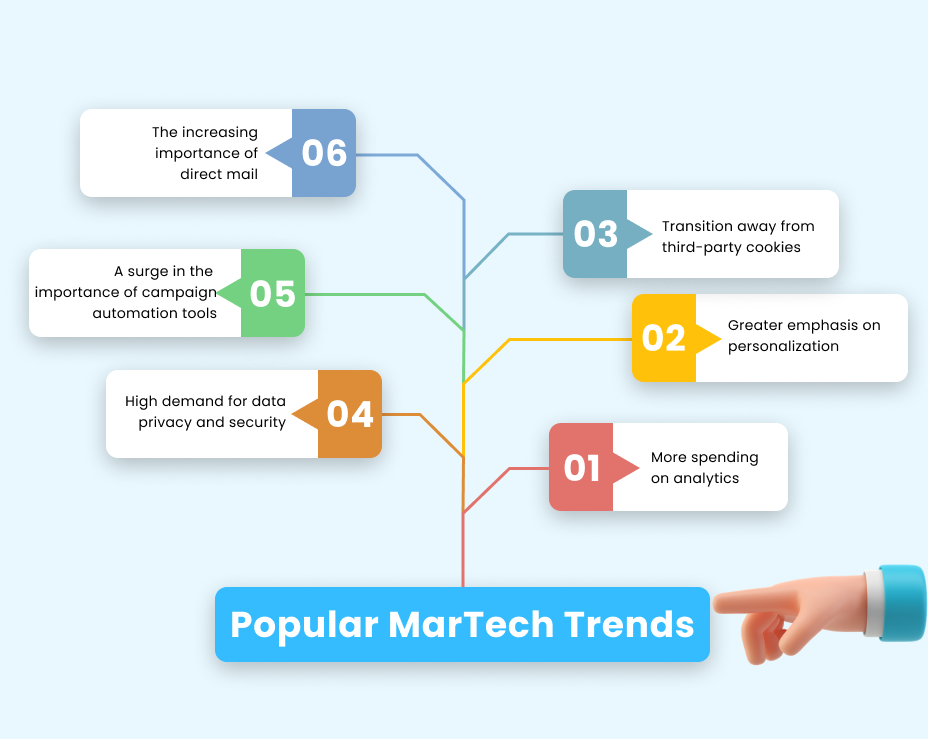 To help you choose a suitable MarTech method that you can count on, we enlisted the six biggest MarTech trends that will impact both the MarTech world and the marketing world.
More spending on analytics
If you think of skipping the idea of adding an automatic analytical tool to your MarTech stack, then don't.
These tools will help you understand almost every aspect of a marketing campaign, from users' behavior to their conversion rates.
Moreover, the marketing analysts' budget will grow by 61 percent in the next three years. That's massive. No one wants to miss an opportunity to get early access to a tool that can literally change the way they do business.
A few benefits of marketing analytics tools are:
Getting real-time, inclusive outcomes of marketing efforts across niches.
Enhancing lead generation through actionable acumen.
Gaining vision into customer behaviour and preferences.
Making use of predictive analytics enables businesses to be proactive instead of reactive. 
Greater emphasis on personalization
We now understand the significance of personalization in marketing maneuvers. This strategy means delivering tailored content to customers. This customization builds a strong connection with consumers, dealing with them as individuals rather than as a mass market.
Some joint personalization opportunities are:
Targeted emails
Personalized video messages
Product or services recommendation
Social media
In the near future, this pervasiveness will only grow, and the companies that don't use tools will fall behind. 99 percent of marketers believe that personalization helps to create strong customer relationships, and 44 percent of consumers agree that they are willing to switch to a brand that can personalize its marketing material better.
If you are still not taking advantage of these tools to learn more about your potential customers through their tools, then you are lagging in building relationships with customers.
Transition away from third-party cookies
If you are a marketer that heavily depends on third-party cookies, please hold your seats as you may experience a bit of a shock.
In 2020, Google declared that it would phase out third-party cookies within the next two years. Google Chrome comprises 65 percent of the web browsing market, which will have an overdramatic impact on gathering users' data.
So, if you or your team depends on the information from the cookies to understand users' behavior, you have to reconsider your strategy. According to an Adobe survey, two out of five brands are still unprepared or have a strategy to gather consumer information post-cookies.
Moreover, the marketing analysts' budget will grow by 61 percent in the next three years. That's massive. No one wants to miss an opportunity to get early access to a tool that can literally change the way they do business.
A few benefits of marketing analytics tools are:
Getting real-time, inclusive outcomes of marketing efforts across niches.
Enhancing lead generation through actionable acumen.
Gaining vision into customer behavior and preferences.
Making use of predictive analytics enables businesses to be proactive instead of reactive.
Thus, to prepare for the future, digital marketers must get along with this trend of customization and personalization to understand their potential customers.
High demand for data privacy and security.
If you regularly watch the news, you must be aware that data breaches are common. The United States alone has experienced data leaks of 660 annually to over a thousand dollars within the last decade.
If you think this isn't related to you, think again. Your website and end-users data are the most valuable assets of your company, and you have to protect them from all ransomware attacks.
A surge in the importance of campaign automation tools
Automation in marketing will make every facet of your marketing maneuvering smooth.
Utilizing these tools will reduce the total time spent, errors, and unnecessary expenses. We are not making the statement overstated. The marketing automation market is expected to grow 8.55 percent annually, with 50 percent of businesses already leveraging these tools.
Time-saving
An effective spend
Scalability
Strong measures of success
The increasing importance of direct mail
Direct mail is still alive; 42 percent of the direct mail receivers engage with your send through reading or scanning.
Seventy-three percent of Americans prefer direct mail marketing because it gives them the freedom to read the mail at their convenience.
That is why you should reevaluate your company's direct mail strategy to find new avenues for you to contact your potential customers through their physical maildrop.
Some of the advantages of direct mail include:
Personalization opportunities
Builds trust
Ease in tracking
Accompany your digital campaign
cost-efficient
Why are Businesses investing in the MarTech Stack?
The primary reason why lots of businesses are investing in MarTech technology is humongous competition.
Since the leading businesses have recognized the power of MarTech tools, others fear being left behind and thus see this investment as an opportunity.
This has led to the increased adoption and enactment of MarTech platforms, especially technologies and solutions that offer automation for their marketing plans. In addition, growing businesses desire to upgrade their company and employees through MarTech platforms that can be used company-wide.
It's All About Data!

Marketing is all about relying on facts and figures. Because of the prevalence of data in marketing, businesses, big or small, have gained immense opportunities and challenges.
In terms of challenges, small and medium-sized businesses (SMBs) now have to put extra effort into safeguarding their users' data to avoid becoming the victims of cyberattacks.
More data equals more information about the user and the prospects, which means more opportunities to expand.
Advanced MarTech solutions are friendly with other systems in the entire department, assisting marketers in uniting and retrieving information across the previously inaccessible business.
To sum up,
What is the future of digital marketing? When businesses are shifting all of their marketing digitally, there has been a lot of emphasis on implementing technologies that help these and have already become more pronounced. With the importance of this implementation in marketing, companies are frequently asking what MarTech tools they need and how MarTech will benefit their objectives.
In short, the potential of a MarTech tool is to aggregate and analyze data. And we can look for more businesses to support their MarTech stacks with investment when digital marketing continues to rise.
There is no doubt the benefits of MarTech are substantial, but hand-picking tools and managing a MarTech stack team will take a lot of time. To stay ahead of the competing curve, hire a marketing technologist. Their attentiveness will assist you in focusing on your team's everlasting needs instead of the following up-to-date tool. 
Our experienced software development team can help! To avail of our services, you can request a demo today.