There is a new trend seen in the recruiting business in recent years. With the evolution of technology and software, gone are the days when businesses used to advertise job openings in newspapers and leaflets. Things have been transforming drastically, from leaflets, and newspaper advertisements to job websites and now job apps.
And we also cannot ignore the fact that the pandemic has entirely changed the game for job recruiters and job seekers.
New World, New Rules!
People are using smartphones these days to manage everything and every aspect of their lives, and job searching is also among those aspects. Accordingly, devoted job portals and app development for aspirants are becoming popular. And it's not like a high-tech expert is the only one using these apps; users from all segments and industries can use these apps.
These applications are actively running in the market and experiencing great profits. Thus, organizations that are planning to develop the best job portal app to increase their business, are on the right track.
However, job portal app development is not an easy task. That is why we came up with this article today, to give you all an insight about job portals and app development, its cost, features, and much more.
Let's have a look.
What do The Job Recruitment Industry Figures say?
Online recruitment portals have experienced rapid growth since the 2000s. With the internet being a basic part of our daily lives there has been an immense increase in the use of job portal apps by both employers and job seekers.
LinkedIn is the top-rated job portal across the globe. LinkedIn connects more than 740 million visitors and enables them to access its large database. Plus, there are 55 million registered companies from over 200 countries.
Another interesting fact is that the US has the predominant number of LinkedIn users. Furthermore, 75 percent of the LinkedIn users are from other countries and 39 percent of the LinkedIn end-users pay for the LinkedIn premium. More than half of the traffic on the app comes from mobile phones.
The growing popularity of job portal apps in India has transformed the whole process of searching for the right job by making the process more convenient. Seeing the massive potential of job portals, enterprises are increasingly becoming curious about joining hands with mobile app development companies to start their own job portal and app development.
Need for Job Portal And App Development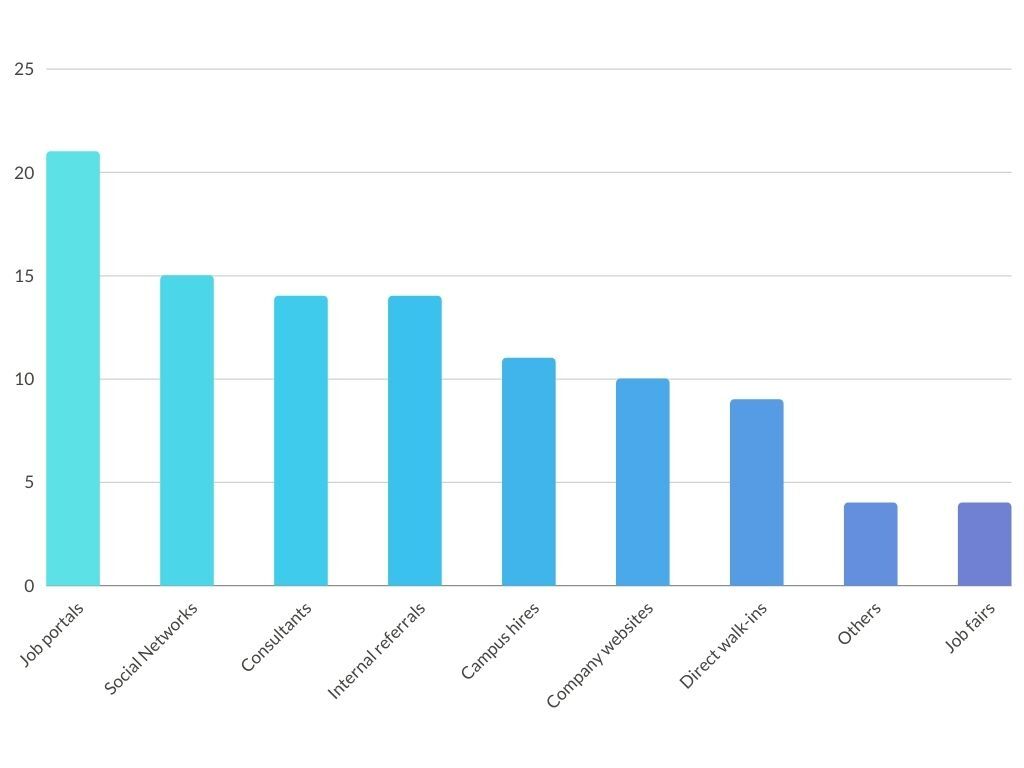 Let us see some statistics that show the importance of job portal mobile applications:
59% of candidates use their mobile phones and job portal applications daily to look for new jobs in a specific industry.
More than 20% of people have a resume or CV uploaded on their mobile phones to make the job search and application process easier and smooth.
Over 60% of candidates view their interested company page on their smartphones and apply to them for the vacancy using their phones.
The January 2022 Index highlighted by MEI shows that there is consistent improvement in online recruitment. The index graphed 282 in January 2022 from 256 in January 2021.
21 of the 27 industry sections are registered on online job portals.
Popular Job Portals Applications
LinkedIn
Glassdoor
Indeed
JobAware
SnagAJob
Goods & Co-Culture
Have you tried any of these apps? According to you, Which is best app for job?
Perks Of Job Portal Applications
One of the huge benefits of using job portals is that it provides infinite job options. Job seekers can easily search through various job vacancies to find the best job that suits their requirements.
Perks For Job Seekers
Lucrative- The users are likely to spend on other commodities like food, transportation, and attire for walk-in interviews. But through online job portals, they can conveniently apply for the desired job position from anywhere without breaking their wallet.
Routine Job Alerts- The best job portal app will offer routine updates for the job openings. This is to ensure that the user doesn't miss any opportunity to apply for their desired job and to kick-start their careers.
Confidentiality- If the user registers himself as a candidate all his personal and professional details will be kept private. It will only be shared if the user approves it.
Efficient- Job portal applications are very effective. They reduce the recruitment process. The users will just have to submit their resumes and wait for the employers to respond.
Unlimited Job Opportunities- The best job portal app will have an array of job vacancies from all the top companies. So, one can easily browse through the list to choose the job they have desired for.
Perks For Employers
Easy Selection Of Candidates- through a job portal you can easily sight a list of job seekers with the required skills and expertise. This will make the entire hiring process very efficient.
Brand Promotion- Job portals allow employers to promote their firm brand online. The majority of employers and recruiters agree that these portals increase their ability to attract the best talents.
Quick Resume Search- some of the best job portal apps use ease-to-use filters. You can set the filters to find the most suitable resumes as per their requirements. This smoothens the entire hiring process.
Money Making Strategies In Job Portal And App Development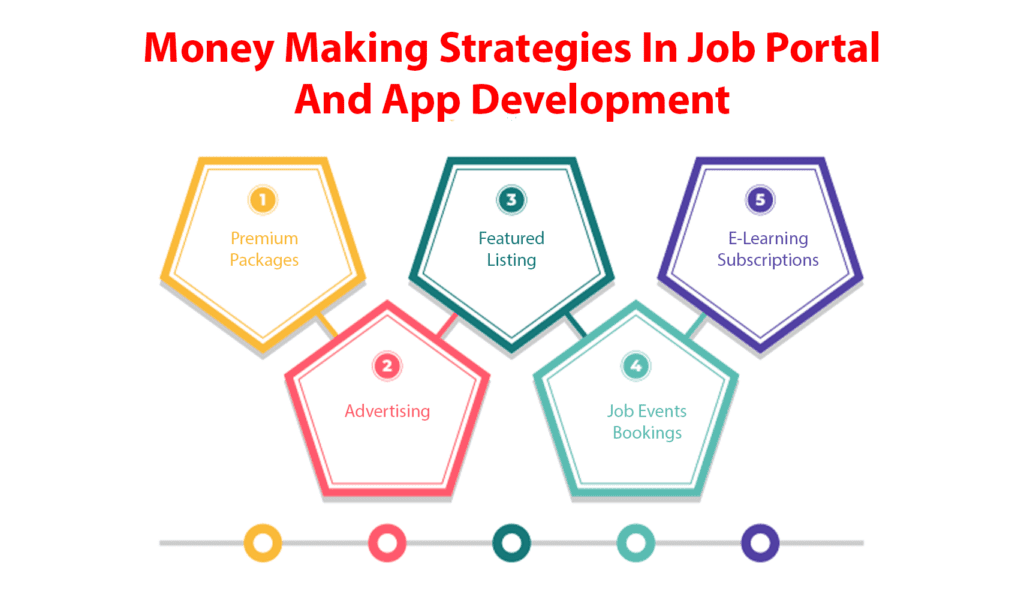 Premium Packages
It is the best way of making money through a job portal application that results in revenue generation. Through an app, you can charge a monthly/annual subscription fee for the following services-
Resume access
Routine job listings
Permission to education resources related to recruitment
Access to a community where all employers can share tips and hacks for getting jobs.
Advertising
Advertising is a very efficient and effective way of generating revenue through your application. One way is direct ad sales. Here, the organizations related to your job portal will pay you a certain amount for an ad space upfront.
Your revenue will be based on how much traffic your apps get and the number of people who click on the advertisement. But, also remember to not ruin the charm of your site by placing too many ads.
Featured Listing
Another method is to feature the profile of a certain employee on your homepage, or on your blog and newsletters. For this, you can charge capital from the employers.
For a featured listing, the employer can select several featured news with different payment packages for each.
For example- advertised in the top list for 5 days, 10 days, or thirty days.
Job Events Bookings
You can organize seminars and webinars with industry experts that can help job seekers in their career boost. The users will buy tickets for the seminars on the job portal itself.
E-Learning Subscriptions
One another creative job portal ideas are to generate revenue through your application. You can offer various paid programs for the professional development of the candidates.
You can also offer digital certificates to job seekers so that they can add them to their portfolios.

Features To Add In Job Portal App Development
Job portal app development is a multi-level process as it involves the collection of certain skills and knowledge in the job-search marketplace. Thus, to move ahead and create your job portal application, you have to identify the basic requirements of the application. Furthermore, try building an app that brings maximum value to end-users. Your job portal application should be secure and should be easy to use.
Below, we have mentioned some features and functionalities that you can incorporate into your app for better functionality.
Candidates Panel
Registration/Sign up with social media
Handling resumes
Governing profiles
Using filters by experience, place, keyword search, and much more.
Access a professional resume writing service
Push notifications for job alerts
Save jobs
Schedule interviews
Recruiters Panel
Subscribe/Login
Work posting
Prospects through email
Resume filtering and downloading
Invites to apply for the job
Subscription plan
Admin Panel
Manage the advertisement work
Handling candidates profiles
Content management
Invites
Generate earning records
Some Advance Features For Job Portal And App Development
Strong Backend solutions
Document scanner
In-app chats
CV creation
Video conferencing interview
Ticket bookings
E-Learning courses
CRM integration
CMS integration
Real-time analytics
Dashboards
Payment gateways
Required Team For Job Portal And App Development
Creating a customized job portal application is a tough task as it requires professionals with related expertise. Therefore, it is important to communicate with a reputed customized mobile app development company that holds intellectual and skilled experts that aim to provide you with on-time delivery. You can also look for jobs in android app development.
The required team for a job portal and app development is given below:
Project head
UI or UX designers
Android and iOS developers
Backend developers
QA Analysts and testers
Looking for these experts and building a whole squad will itself take months and requires considerable investment at the very initial stage of recruitment.
Although, an app development company will already have skilled and trained staff, plus their own office and hardware.
So you don't have to train the team and invest time and money to get them acquainted with the company's policies, project plans, and processes.
Additionally, you will have to worry less about the technical aspects and you can be certain to get faster delivery of products (as the experts of the industry will work for you).
Cost For Job Portal App Development
Determining the actual cost of developing a smartphone application is a daunting process. An app maker also cannot offer an exact cost estimate at the beginning because app development costs differ based on the number of features incorporated into the app.
In addition to this, creating an application is a lengthy and complex process. And so most app development companies charge on an hourly basis. And the total hours in developing an application will depend on the complexity of the program.
However, according to guidelines, a job portal application can cost $40 – $60 per hour. This equals about $45,000 – $60,000 for developing an average job portal application.
Plus, the rate of app development can be affected based on the geolocation of your hired app development company.
For instance- an app development unit in the US can cost around $200 to $250 per hour. Similarly, an organization in Europe can ask for $125 to $170 per hour.
And in India, you can easily find an expert app developer offering expert-level facilities at a lower cost. The majority of the application development companies in India cost between $25 and $35 per hour.
Summing Up
The increasing need to get the desired job has led to the growth of mobile job portal applications. As a result, there will be a substantial hike in the overall cost of app development in the upcoming years.
So, it will be best to associate with an expert mobile app development company today in order to transform your business ideas into reality.
For any queries regarding job portal and app development, feel open to contacting us.