It is a fact that user experience (UX) is a drill, a strategy, and a process that determines and smoothens a customer's journey and engagement with a brand and its company.
If you look around, you will see all the famous and successful companies that have recognized the power of UX and implemented UX features to improve their services to ensure customer satisfaction and delight.
However, in order to do this correctly, companies should have the skills to learn about their customers or users. Understanding the users' needs is a limitless path and drives UX demand for continuous refinement in the product/service.
The data extracted from customers is crucial; it is like the magic crystal ball that guides you on the way to moving forward.
One of my seniors used to say that you should never make any decision that is not supported by relevant data. And that's true.
There is also a famous line by Jim Bergeson.
"Data will talk to you if you are willing to listen."
There will be no value in data if it is not collected and analyzed effectively. And to add more value to the UX, AI and ML are utilized to make accurate predictions regarding user behavior.
The motive of today's blog is to tell you why AI/ML and UX are a match made in heaven.
AI/ML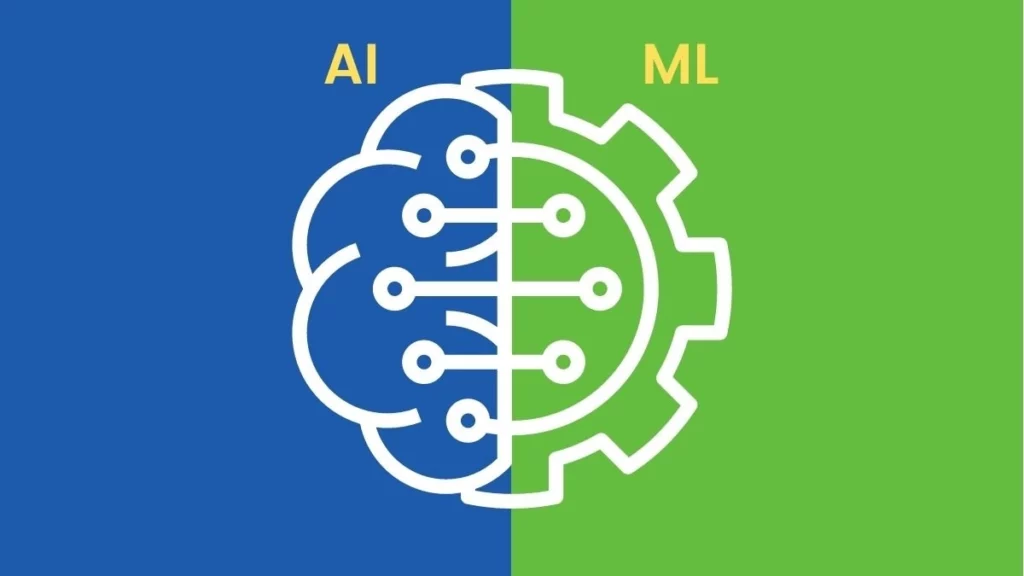 AI and ML have infiltrated our lives so deeply that we can't even recognize them. Our generation is the joyful consumers of the functions of AI/ML-so long as it is a search result by Google, suggestions by Apple Maps, suggestions by Amazon, customer support through Chatbot, or watching dramas through Netflix. We are also users of unseen applications that are powered by AI/ML- for instance, the fraud and security protection applications.
However, many people fear the "rise of robots" and see it as a threat to their jobs. But, let me clear this to you, AI won't only take jobs; it will create them too.
For example, in our field of content writing, as soon as the Google search engine and its analytics were introduced, the role of SEO executives was introduced.
In fact, there is data that shows, that AI and ML will displace 75 million jobs and will create 133 million new job opportunities as well by the end of the year 2022.
But, how are AI/ML and UX related? And why are we talking here about AI/ML and UX?
It is because all of these practices have the same goal, which is to learn about the customer and offer them customized solutions.
In this rapidly modifying world of technology, AI has redefined the digital world. AI has had a positive influence on various domains like finance, retail, banking, healthcare, etc.
But, before we understand how AI/ML is improving UX, we have to understand what exactly  User Experience (UX) signifies.
NitroXpress is one of the best logistics service provider in India that offers fast and cost-effective logistics services.
About UX
UX incorporates all the information from the end user's interaction with the brand or company, and it encompasses the entire customer journey. In today's customer-centric era, all companies focus on learning more about their users' needs and requirements so that they can offer the best possible product or service to the customers and satisfy them.
According to a report, around 80 percent of the audience leaves a website because the web pages are not optimized.
The UX design gives people a positive experience so that they can be loyal to the company. Initially, this domain was handled by the marketing teams, and they used to perform the analysis and all the background research manually.
All acknowledge Artificial Intelligence and Machine Learning technology (AI and ML), enterprises now have a powerful weapon for delivering a better UX.
Companies are offering increasingly more services to customers to attract customers and generate revenue. But, with the increasing services, there appears to be a challenge to maintaining a simple, sober but elegant design.
It is proven that a graceful design with a pinch of animation and a dash of an exemplary color palette is the ideal recipe for great UX.
The Significance of UX Design
The User Experience greatly impacts how a brand is distinct from others, how influential it is, and how you can generate more revenue through incisive UX design.
However, the UX term is easily mistaken with the term "User Interface Design," but in reality, they are two different things.
UX design is a procedure that ingrains the entire procedure of receiving and merging products with functionalities like usability, product design, and branding. The procedure of UX starts with the initial product idea and finishes when the end-user experiences the service or product.
True UX is much more than designing and supporting end-users with the extra features that will help develop a feasible, viable, and suitable decision about the services offered by the organization.
One good example of the enhanced UX experience is the automated chatbots that help users understand the services better and support them throughout their journey with the company, right from browsing to selecting services to finally paying for them.
How AI and ML Will Improve UX

The application of AI and machine learning has made it simpler to divide the information easily based on demographics, behaviors, patterns, and many more.
The main idea behind this is to ensure that a user gets a new experience depending on their behavior that is derived from their previous search history. Thus, in this way, every dimension of human behavior that is sought through these programs is then fed into algorithms that generate useful patterns.
With the help of an interface, these patterns get transformed into services that assist organizations in improving their UX.
Perks & Benefits of The AI and ML in UX:
1. If you have applied good and intelligent algorithms, then the data can be processed about site users, and it will help in keeping the data safe for future use.
2. The prevailing model can be altered, as per this information, so the data can be applied effectively. The algorithms can be altered based on the information, and the present models can be calibrated from time to time to make the most appropriate use of the data.
3. AI professionals can repeatedly use a machine-based learning system to keep in synchronization with metrics such as the users' location, bounce rates, and exit pages. Thus, AI and UX have proved to be effective ways to conduct different types of analysis.
4. If these metrics are utilized, the analyst will have an explicit platform to determine the requirements and the behavior of the end-users. This information can be used in forecasting and audacity for running new ideas or making new improvements in the product.
5. When deep learning techs like artificial intelligence are partnered with large sets of data, it goes a long way in boosting UX because AI and ML help in evaluating thousands of variations in designs and giving an alternative that can be applied to the system.
6. If one faces the issue of a twisted approach to A or B testing, then this is where artificial intelligence enhances the performance of AI and UX. It depends entirely on the binary approach that reverses the actual test results.
From a mainstream view of user data to more specific user data, AI and ML can fully rejuvenate the UX by providing a lot of suggestions that can be implemented by marketers.
ML equips the programmer and the developer with piles of data and presents admissible information, that can be utilized by the marketer to create extraordinary products/ services.
To a great extent, the data is considered genuine, but before instigating the product or service, the company also makes sure to take opinions and surveys to ensure that the given data is the best match for the users, which confirms the suggestions made by AI and ML.
Challenges one Faces While Using AI and ML in UX
Both AI and ML are congruent and friendly with UX, as all of them share the same goals and principles. But that's not it. There is much more to their actual execution; designers have to understand the skills to execute AI and ML in UX.
The product designing team will have to disrupt the granary and initiate the process on the basis of some principles, such as:
1. It is vital to generate a common language and to do this, it is important to convey the business goals and the required AI and UX. If you want to improve the UX and offer a good customer journey, then in this case, the AI with ML methods and the UX should work in the same language and should share the same concept.
UX designers and AI developers should communicate on a single platform and develop a roadmap that will be equivalent to a great UX.
2. Second, these days, technology has allowed the easy and efficient storage of data; even the storing of historical data has now become exceptionally efficient and realistic. So, if AI and ML have interacted with UX, the merger of qualitative and quantitative data becomes important. The qualitative data is collected with open-ended methods such as questionnaires, user interviews, and tests that allow the users to highlight the features of the product.
3. The quantitative data, on the other hand, talks about how the product or service is used. Thus, with the accessibility of these types of data, the UX demands can be ascertained to a great extent as their ominous analysis results are accurate.
What Does AI/ML Hold for the Future of UX Design?
Artificial intelligence and ML have a bright future. Deciphering the full potential of AI will offer infinite opportunities for organizations that support AI to boost both the product user experience and the UX design process.
AI will help UX designers accomplish the dream of withdrawing from designing products for a complete user base in favor of customizing the user experience for each end-user.
One possible aim for the future is to pioneer screenless products and services that offer customers secure online products.
Organizations today are experiencing positive consumer delight, and it is evident that AI and ML are doing the trick and redefining the UX. According to the study, there are businesses that leverage the power of deep technologies like AI and ML and support productive analysis that is expected to maximize their triumph rate by 65% as compared to those who depend on traditional technologies.
The future of AI and ML in the UX space is assuredly bright because, today, every organization has the assets to utilize the information for its benefit. Autocorrect is just one-dimensional. There are many dimensions that can be explored using AI. The Alexa applications are in an advanced stage and they are becoming even more useful with enhanced performance, especially the voice applications.
It is also true that no other technology can improve the UX the way AI and ML do. AI/ ML and UX make things easier for everyone, be it a consumer or a company.
Summing Up!
The aim of writing this blog was to show some light on the positive influence of artificial intelligence and machine learning on UX designs and the end-user experience.
The combination of AI/ML and UX holds enormous potential for the future.
We at Extern Labs have the skills and experience to build AI-powered UX solutions for different industries.
You can contact us and let your idea see the light of the world!
Thank you for reading it till the end!