Have you heard the name JioMart?
JioMart is an online grocery service provider.
If you already know about JioMart and want to know how to build a JioMart app clone, then you can also google it (he hee).
Either way, you landed on this page to know more about JioMart and how to develop a grocery delivery app like JioMart. So, without wasting much of your time, let me provide you with detailed insights about a grocery delivery app and how to build a grocery delivery app like JioMart.
Let's get to the basics first. (This is why the blogs exist-they explain the A-Z of a given topic in the simplest language possible).
The Grocery Delivery App is a mobile application that lets people order groceries online from home with the utmost comfort and ease. Your groceries will be dispatched to you at the specified place. It reduces the need to go out to local stores to even purchase a single grocery item.
JioMart is one such grocery delivery app, founded by Reliance Retail and Jio platforms. JioMart is an Indian-based grocery delivery service. It offers grocery delivery and delivery of daily essential items from nearby stores to the user's doorstep. You can download and examine the features of the JioMart app.
Now, let's come to the stats.
According To Statistics……
It is not surprising to find out that around 30 percent of the consumers in the United States order their groceries online.
And this demand is continuously increasing and will propel more in the near future. By the end of 2022, it is expected that the on-demand grocery delivery marketplace will touch an estimated value of USD 133.8 billion.
This is all because of the sudden shift in the consumer's shopping trend. Due to this,
The demand for grocery delivery mobile application development solutions also increases with the sky-rocketing growth of grocery delivery apps.
This could create several new paths for technology startups, regular grocery stores, and IT companies to invest in grocery delivery app development projects.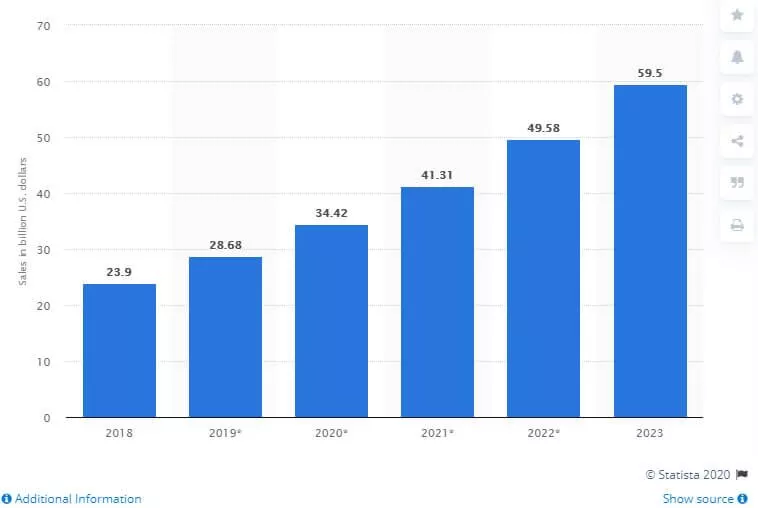 Online grocery shopping sales statistics in the US from 2019 to 2023.
As people are becoming more technically advanced, the use of mobile apps for shopping is becoming normal now. Online shoppers are increasing every single day, and there has been tremendous growth in using on-demand grocery delivery apps for grocery shopping.
The general public is praising this new idea of ordering household items without the need to visit a physical store.
With online grocery shopping, you don't have to wait in the checkout queue and you can get your household items at your preferred time.
And this explains why businesses and tech companies worldwide are taking an interest in grocery delivery app development.
Grocery Delivery Mobile Apps
The on-demand grocery delivery application is classified into two types. The online grocery delivery mobile app industry is very competitive and there are various players in the market.
Thus, it is crucial to pinpoint from the initial stage which type of grocery delivery app you should develop for your business.
The entire planning, processing, capital investments, and operations will depend on what type of app you are building.
Let's understand the two kinds of grocery apps in brief: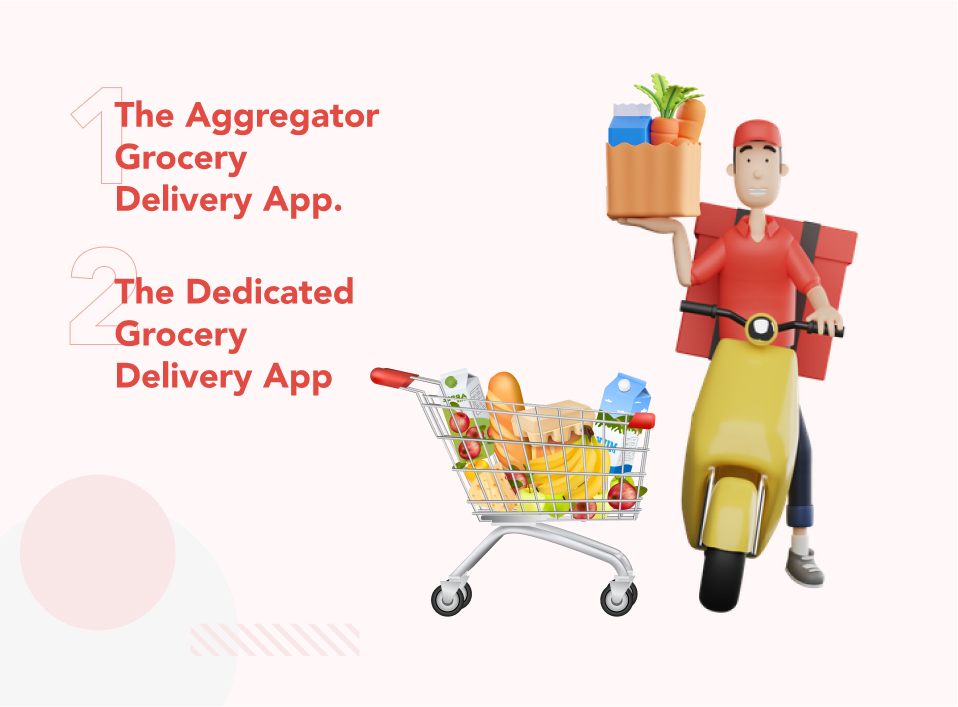 The Aggregator Grocery Delivery App.
In the aggregator model of a grocery delivery app, you have to unite with local store owners that have their own chain of stores, or you can bond up with various stores.
This type of app will showcase a list of grocery items, from which the users can select the desired product to purchase.
The Dedicated Grocery Delivery App
This type of app will have all the features of the aggregator model. However, in an exclusive model, you have to manage the entire order process.
Various grocery stores sign up on this platform to sell their items, and the app owner will have their own fleet of delivery executives.
Your main role will be to smooth the order placement and deliver grocery items to the customers. In this model, the online grocery platforms take more responsibility as they need to have a dedicated group of delivery executives.
How Does a Grocery Delivery App Like JioMart Work?
The grocery delivery mobile app functionality is not very elaborate. Simply, it virtually provides all sorts of grocery and household items by applying filters in order.
After searching for the items, the users can add them to the cart and perform the final checkout. The users can also choose the time slot for the order's delivery.
The detailed steps of how a grocery delivery app works are as follows:
The user will sign up by filling in the necessary details.
After completing signing up, log in with your email ID and password
Search the items you want to purchase.
Select products and add them to your cart.
Add your delivery address details
Approve the order confirmation.
The admin will receive the order request
Your order request will be redirected to the grocery store manager.
The store manager will respond by either accepting or declining the request.
Admin will reach back to the customer by sending a notification
The store manager will generate the order
They will update the admin that the courier service has collected the order.
Order delivers successfully to the customer
The courier service will update the admin and the customer.
Must-Have Features In The Grocery Delivery App
Some of the essential must-have features in the grocery delivery app are: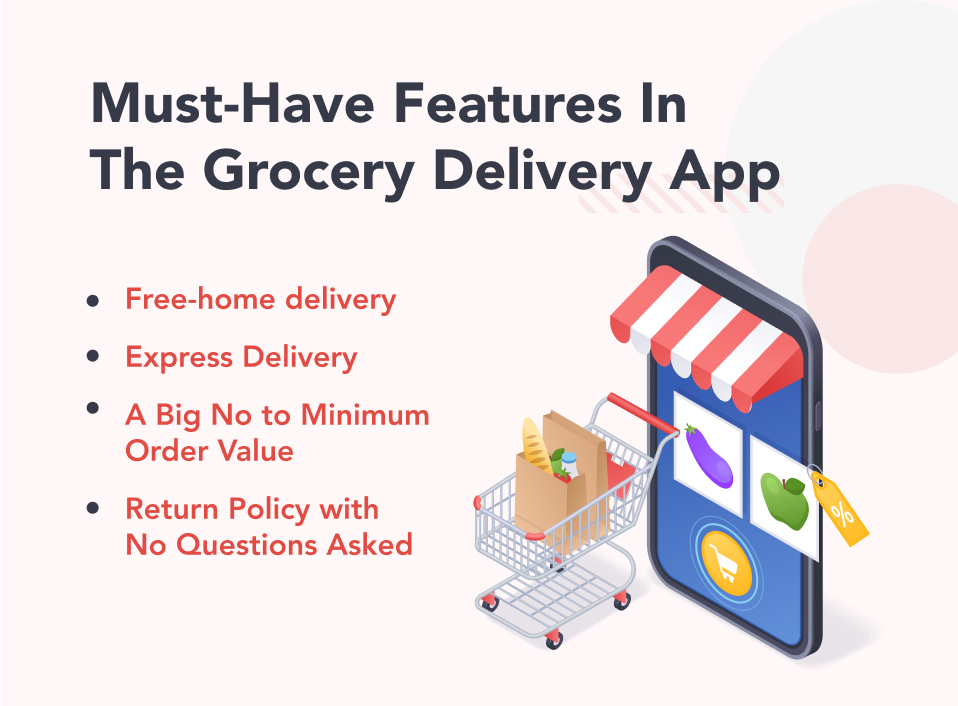 Free-home delivery
Since it's a grocery "delivery" app, it should provide free home delivery of groceries and household items. A grocery delivery app should not impose any kind of charge or pain on the customers. By including this feature in your application, one can save money and time while buying groceries online.
A Big No to Minimum Order Value
A grocery delivery app should not have a minimum order value. The app should allow users to place orders as per their requirements without any barrier to the minimum order value. The customer should be able to order the items within their budget to get free delivery at home.
Express Delivery
The app that delivers groceries should always offer express delivery. The groceries should be delivered at home in a few minutes after placing the order.
Return Policy with No Questions Asked
If the grocery item is not appropriate, the end-users can return the item without giving any explanation. This is the return policy with no questions asked. It is a good feature that a grocery delivery app can provide for ordering online groceries.
General Features of a Grocery Delivery App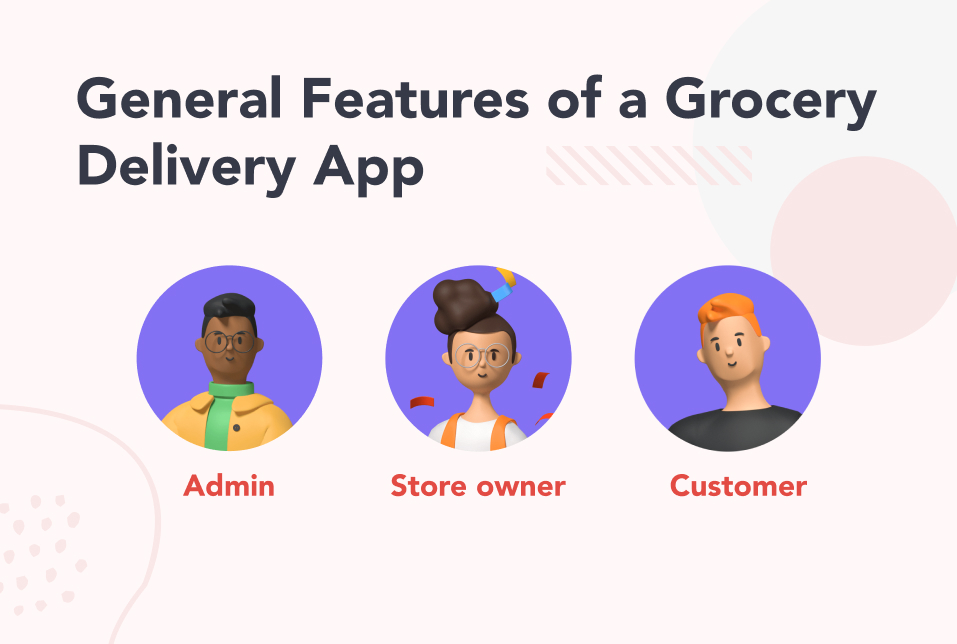 An application can not exist with some basic set of features and different entities. In a grocery delivery mobile app, there are three entities:
The features included in the app for all three entities are:
Customer Panel
Registration
Browse Products
Advanced Search
Payment Mode
Schedule Delivery
Order Tracking
Settings
Reviews and Ratings
Store Owner Panel
Store Locator
Store Pickup
Managing Profile
Live Tracking Path
Admin Panel
Store Management
Co-ordination with store owners
Product list management
Order tracking
Customer Management
Feedbacks
Notification
Payment Management
The Business Model of the Grocery Delivery App

Whichever industry it is, the business model that you will be approaching is very crucial. In the grocery delivery business segment, the business models are not very complex. The business models that one can follow are:
Commission
In the commission model, the app owner will charge fees on every order that a grocery store gets on your portal. In addition to this, you can also make a profit through the delivery services.
Promotional Charges
You can add the promotional features through which grocery stores can promote their stores on your app by paying the charges decided as per market standards.
Own Supply
If you have started your entrepreneurial journey with a vision, then you can start your own business and can purchase goods directly from the source and list them on your online portal. In this business model, you can fix a revenue model by charging delivery fees directly to the customers.
Grocery Delivery App Development Cost
The cost of developing a grocery delivery app matters. However, it depends on a number of factors, such as:
The reputation of the development partner
Geolocation of the app development team
Timeline and team size
Minimum viable product or a full-fledge grocery delivery app
So, how much does grocery delivery app cost?
The total cost of building a grocery delivery app will be around 15 to 20k USD. You should learn about the cost of the application's creation to prepare a proper budget.
Decide whether you need an MVP grocery delivery application or a fully-fledged application with advanced features.
For a minimum viable product (MVP), the cost will be up to 15 to 25k USD, while for a fully-fledged app, the budget will be raised to 25 to 35k USD.
Make a Grocery Delivery App in Four Easy Steps With Extern Labs
Extern Labs is a grocery delivery app development company, and we are masters of this domain. With Extern Labs, app development will be way easier.
We develop on-demand delivery apps in four easy steps:
Begin with designing an app template
Brand the app's appearance by using the color schemes from your logos.
Adding the product list
Finally, launching the grocery app.
I know you must have conducted deep research on the grocery delivery niche. Developing a smoothly working, flawless grocery delivery app will require an experienced mobile app development partner because it requires various API integrations and customized functionalities.
We will be your partner in developing a flawless grocery delivery app with the help of an advanced tech stack and an experienced team.
Visit our website today or contact us.