You must have come forward with the term "e-Learning management system" most often in e-Learning articles. And thus, it is important to get a good comprehension of what a learning management system is? And the advantages of the e-learning management system. What features should you look for in top Learning Management System platforms?
There are many things to think about when it comes to selecting the right e-Learning management system. Do you need assistance in finding the right learning management platform?
In this article, we will help you discover the importance of an e-Learning management system and will list some of the top e-Learning management platforms.
What Do You Understand By e-Learning Management?
Before jumping into anything, it is important to clarify the term "e-Learning management system." Let's break down the terms to understand their core components.
e-Learning: Learning does not mean any depository for training. An e-learning management system is like a one-stop-shop for all things related to L&D in your organization.
Management: It signifies that it is more than a platform that provides access to online learning courses and other study materials. It is an efficient system that entitles you to control the entire learning and development process.
System: Computing some of the work and eliminating human error to a certain extent, an e-Learning management system helps make the learning and development more systematic.
To put it simply, an e-learning management system sanctions you to effectively generate and roll out L&D in your organization.
The e-Learning management system is an application that is used to manage, track, and report learning programs.
At present, a Learning management system (LMS) has spread its roots in almost all the major industries, like schools, educational institutions, the healthcare industry, the corporate industry, etc. It is functional in recognizing the communication gap between the tutor and the learner by regularly checking each individual's progress on the basis of regular quizzes and assessments.
E-learning makes the whole learning process more fun with the help of video tutorials, stories, and gamification.
Learning management platforms have successfully changed the learning perspectives of each and every individual all over the globe. It has offered a broad scope for the consumers to select and learn in whatever field they are interested in because all the data can now be exchanged across the globe.
Where Is the e-Learning Management System Used?
You can easily find many connections between learning management systems in all industries. Any users who wish to adopt online learning must use a Learning management platform.
However, the e-Learning management system is used by:
Almost all corporate enterprises.
Educational institutions (Schools & Universities)
Several government organizations.
All private tuition and institutions.
What Purpose Does Learning Management Systems Solve?
The e-Learning management system is a platform available for all individuals and professionals who want to learn, improvise, and display their skills.
Students can select learning programs from various learning management platforms, and experts can offer learning courses. It offers freedom to its users to learn any topic they want easily from anywhere at a comparatively low price.
Thus, to answer your question, an e-learning management system solves all the major learning problems of each individual, such as-
Employees drilling is available in almost all industries, whether it is IT & Software, educational, corporate, or government. It is essential to train the employees as per your requirements, and the learning management platforms can do it effectively. It automatizes the majority of the tasks. In addition to this, it tracks the progress of each candidate. As a result, a lot of time and money can be saved by the organizations.
In the e-learning management system, one can smoothly design learning programs, tutorials, and courses and can post them so that anyone can enhance their skills with those study materials. This will also be available even if the employee leaves the company or retires, thus, the knowledge stays safe.
In addition to this, one can also educate the general public by designing awareness programs and lectures on anything that can be useful.
Benefits Of e-Learning Management Software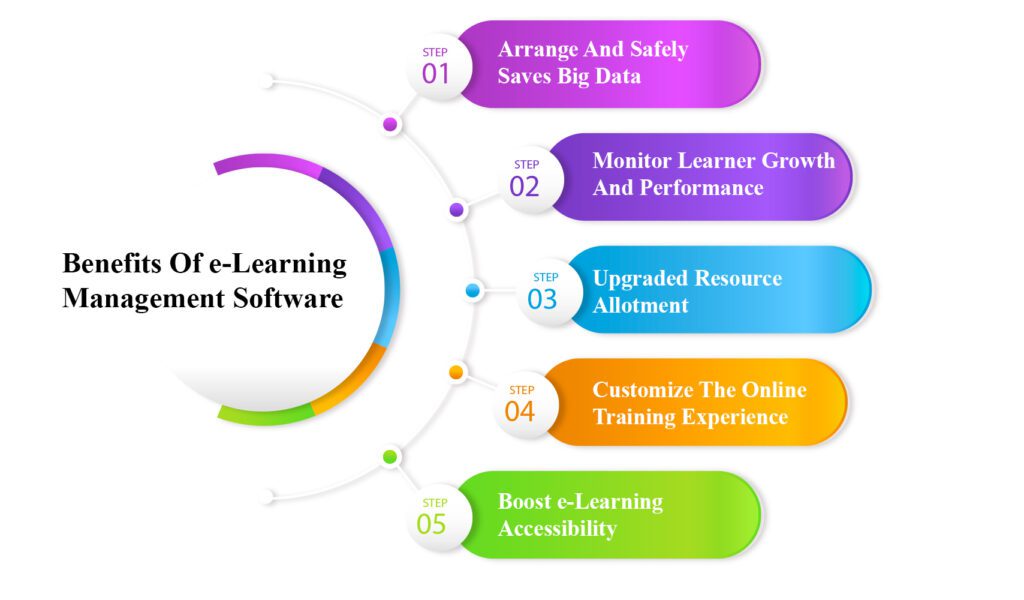 Arrange And Safely Save Big Data
The e-learning management platform allows you to collect all the important information in one location. This feature also makes it easy to sustain and update all your learning materials. Plus, most e-Learning management systems provide advanced coded messages so that you don't have to worry about data getting into the wrong hands.
Monitor Learner Growth And Performance
Virtually, all e-learning platforms offer in-built reporting and analytics. Thus, you will be able to track several features of your online learning program. If the e-Learning management system has a scarcity of reporting capabilities, you can easily purchase plug-ins to improve its functionality. You can easily track anything from learner engagement to e-learning test results. This also implies that you can recognize patterns and trends in the form of graphs and charts.
Upgraded Resource Allotment
There are several ways where a learning management platform can help out in allotting online training resources more productively. In addition to this, you can identify features of your online training program that are not meeting your expectations. Low learning engagement is an indication that you should re-examine an online training activity. Plus, a learning management platform will help your e-Learning team to update online training modules on a large scale. Hence, you will have the power to keep the corporate learners updated by using a single tool.
Customize The Online Training Experience
One can allot different learning paths or resources for all company learners with the assistance of an e-learning management system. By this everyone gets personalized online training they need based on their learning goals. You can even unlock the navigation to choose their online training activities. All these features help in providing a more effective online training experience and improve engagement.
Boost e-Learning Accessibility
Advanced learners look forward to on-demand online training resources. Not to mention, we live in a digital age where information is always at our fingertips, all thanks to our smartphones, and wearable devices. As long as you can log in to the system, you will have the opportunity to expand your knowledge and skills.
Features To Look For in e-Learning Management System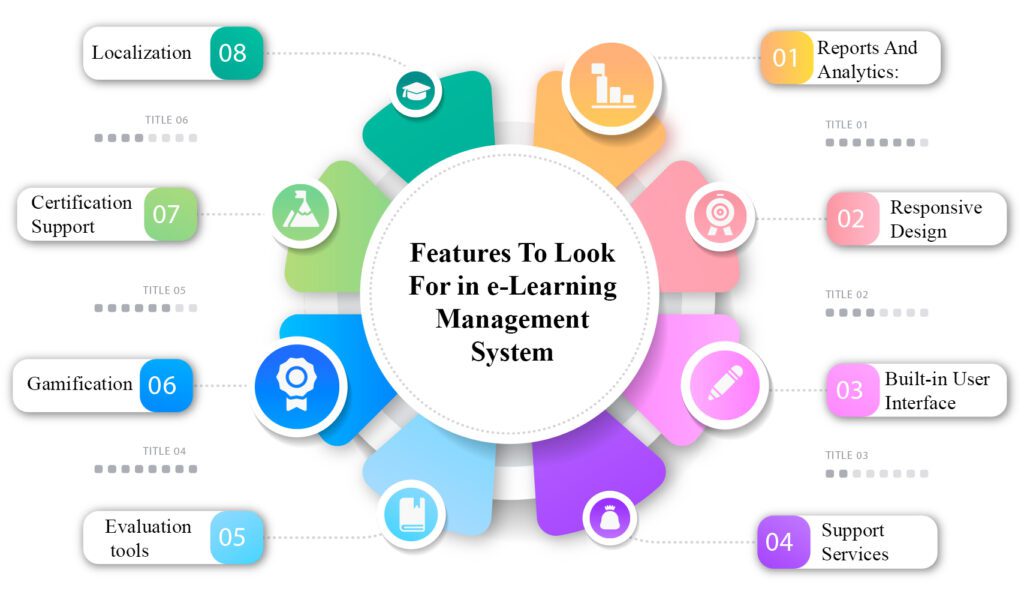 Some of the top features that you can contemplate in an e-Learning management system are-
Reports And Analytics: You will be able to examine online training initiatives to determine if they are on target. The LMS also provides detailed analytics that allows for evaluating the performance at an individual and group level.
Responsive Design: Some of the top e-Learning management platforms have an accessible design. User-friendly online training gives everyone the chance to benefit from online courses. Therefore, your e-Learning management system should be responsive, in order to create a layout that features all the breakpoints.
Built-in User Interface: Any system will be of no use if your e-Learning team is not able to use the user interface and fails to navigate the learning management platform. The LMS platform you select should have an in-built user interface that lines up with your e-Learning team's abilities.
Support Services: All learning management platforms offer distinct support services. You should determine the assistance level that you need based on your e-Learning team's experience and the intricacy of the tools.
E-Learning evaluation tools: One should assess the learners regularly to identify the gaps that are necessary to be filled. Most of them provide in-built e-Learning assessment tools, like learning templates.
Gamification: Some users need extra incentives to engross themselves in online training courses.
Certification Support: This is an important feature for organizations that offer company policy and online training, and those that require advanced certification features.
Localization: Plurilingual features are crucial for organizations that plan to deliver global online training resources. Every individual on the team should have the opportunity to develop their professional skills.
Nonetheless, these are some of the basic features of an e-learning management system. Also, there is no one rule for all LMSs. Every company has its own unique requirements and budget concerns.
Are you more interested in e-Learning management systems and tools? Read the article- Guide To e-Learning Tools, to explore more about the e-Learning management system.
How To Develop An e-Learning Management System
How to develop an e-Learning management system for your business?
To create a customized e-Learning management system for your organization or schools, one first should select the accurate niche. Most of these systems are available in the digital market, thus they should be distinguishable.
A general roadmap for developing an e-Learning management system is-
Brainstorming and planning
Needs analysis
Designs
Coding and development
Incorporation and Testing
Implementation
Deployment
The cost of creating a custom e-learning platform will be higher than the ready-made ones. Extern Labs is an easily manageable organization with a specialization in web and software development. And we will be happy to share our expertise in developing an e-Learning management system.
How To Select The Best e-Learning Management System?
If you see, there is no industry that does not require an e-Learning management system. Depending on your industry needs, you should select the ideal LMS platform that will meet your business requirements.
However, when choosing an LMS platform, you should follow the below-given steps-
Mention your objectives
Does your training need analysis?
Ask all the stakeholders about the idea.
Does this LMS platform contain features that you need?
Will the LMS platform you chose will meet your future needs?
Do you have any particular LMS platform in your mind? If not, then our list of the top LMS platforms will help you.
Top LMS Platforms
Adobe Captivate Prime
With the help of Adobe Captivate Prime, you can train our employees and customers efficiently with a next-gen e-Learning management system.
It is recognized by some of the leading organizations. It has been awarded for excellence across various categories. And is used by millions of engaged learners.
TalentLMS
TalentLMS is among the best all-in-one solutions to create and deliver training programs. TalentLMS lets you build courses in a minute and you can go live by the EOD. With TalentLMS you can create courses easily, it is accessible at any time, place, or on any device. Plus it is available for free.
360Learning
360Learning is a collaborative learning explorer. This platform is superior in combining powerful e-learning management features with collaborative tools that drive engagement. 360Learning is best for organizations that want their employees to learn and upskill continuously. The platform can create courses in a few minutes and deliver personalized learning experiences.
Mindflash
Mindflash is best for creating initial programs, training, and distinct content. It is a cloud-based e-learning platform that offers simple, instinctive training solutions for employees. It comprises a content conversion feature that will let you create new content for courses.
SkyPrep
SkyPrep platform is good for both small and large organizations and offers an easy solution to train employees and customers. With SkyPrep you can create online learning programs fastly with very little effort. In addition to this, you can also enhance the learning by using game-based learning programs to make the tutorials more enjoyable and engaging.
ProProfs Training Maker
ProProfs LMS is best for businesses of all sizes along with educational institutions and private tutors. It offers pre and post-training support and people of all experiences can use it with ease. It is a good quiz-making tool and is best for workplace training.
Docebo
Docebo is a multiple environment e-Learning management system and is devoid of any integration issues, thus saving a lot of time. It is a popular learning management platform all over the world. It features APIs, gamification, language, white labeling, and personalization. It offers powerful user interference and an audit trail.
Moodle
Moodle is open-source and it is assisted by a global community of developers thus localization becomes very easy. It was one of the popular learning management platforms for creating a single strong, safe and secure platform for tutors, administrators, and customers. It is a single platform for learning, course creation, and quick backup with convenient information management.
Litmos
Litmos is an amazing platform for managing resources, generating feedback, reports, and tracking the progress and performance of users. It is a famous Learning management platform and very easy to learn. It is commonly used for training employees and customers for compliance learning. It advances the skill upgrading performance.
Canvas
Canvas is best for education and helps to make the learning process more simple and convenient thus increasing the productivity of its end-users. Canvas is a famous learning management system for learners and tutors to display their skills whenever they want.
Final Thoughts
An e-Learning management system is an important tool for building effective and efficient learning and development courses within an organization. An e-Learning management system should enable a change in behavior and progression in skills with a pinch of functionality instead of a mere imitation.
With that being said, remember to select between an existing and a custom-made one according to your needs, values, and structures.
We hope this new way of digital learning will be beneficial for the development of the entire human race.
Want to try out this great e-Learning management system? Ask for a quote today to get started.
Thank you for reading!