Fintech stands for financial technology. Finance is a traditional industry, but the involvement of advanced technologies in the financial industry results in fintech. So, it is like being on the periphery of finance and innovation. However, to be clear in the beginning, fintech companies encompass both unbanked and underbanked people, thus providing more handy services.
There has been a rapid emergence of fintech startups that offer innovative and attention-seeking services all around the world. These fintech organizations provide solutions in areas such as mobile payments, wealth management, financial management, digital wallets, insurance, digital banking, lending, and analytics.
Today, the fintech industry is a game-changing industry because of its use of cutting-edge technologies like blockchain and AI to boost business growth. Thus, the motive of today's blog is to give you all an insight into technology trends in fintech that will rock in 2023.
Fintech Market Overview: Facts & Figures
Fintech is the unification of technology and finance in a harmonic way. And its collision with the industry is enormous. In the beginning, it was mentioned as a cutting-edge innovation, but now fintech solutions are a daily necessity.
The evolution of fintech industries has actuated both pure fintech participants and digitally transformed banks and motivated them to leave traditional banking and share markets.
Today, a big part of fintech includes original but inventive traditional services. Fintech startups develop new solutions and offer them to existing organizations, especially to those who are establishing payment systems and mobile wallets.
If you look around, mobile banking has become immensely popular among people of all generations, who prefer using online banking apps.
Some of the popular fintech startups are neobanks, payment gateways, and cryptocurrencies. There are a total of 61 fintech unicorns, and 472 fintech startups are valued at over $1 billion.
According to a Statista report, by the end of 2021, 8,775 fintech startups were recorded in America, 7,3385 in Europe, and 4,765 in the Asia-Pacific region.
Another report by PRNewswire.com stated that the intercontinental fintech market is anticipated to reach $309.98 billion at a compound annual growth rate of 24.8% by 2022.
The stats above depict how fintech's potential and necessity are realized by the general audience and industry and will continue to generate a revolution in the financial industry by improving traditional financial services.
How Fintech Startups Decides The Technologies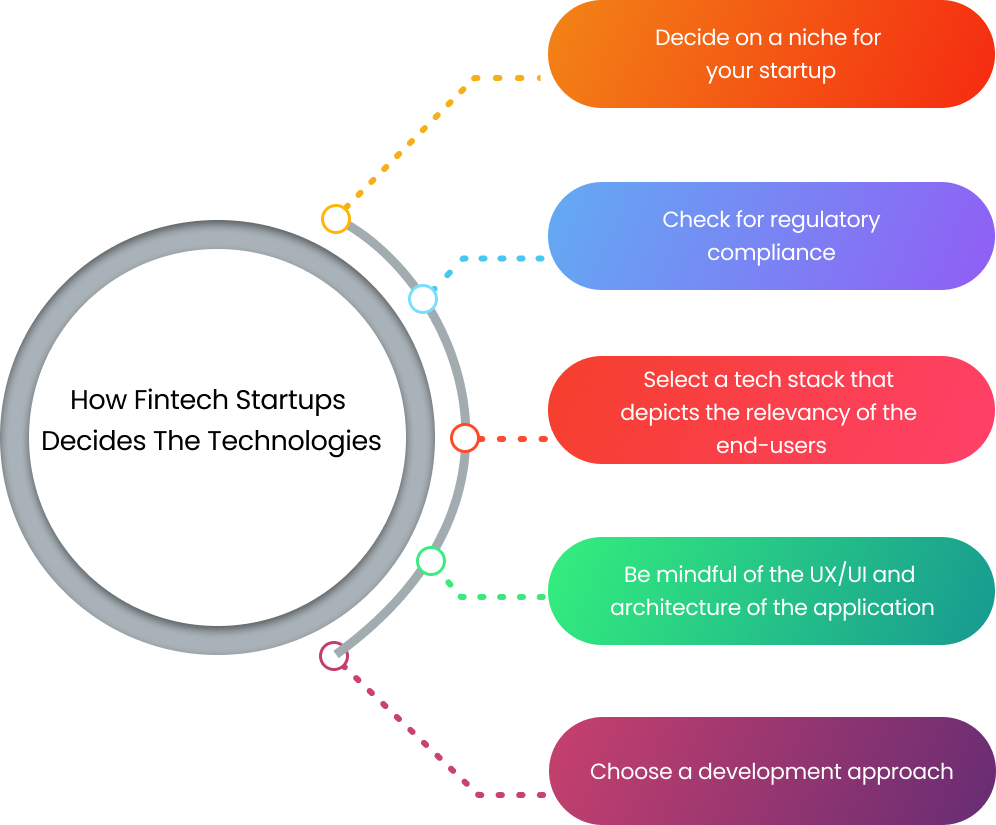 We never said that choosing a tech stack was a cakewalk. Every fintech startup needs different technologies. Nevertheless, the main aim of any fintech organization is to surpass both the standard finance brands and their present fintech competitors.
To simplify the process of choosing the right tech stack, check out below the crucial factors that will surely affect your tech stack selection.
Decide on a niche for your startup: Every niche, whether it is banking applications or digital wallets, has fixed requirements. Therefore, it becomes important to decide on a niche and to certify regulatory compliance for your startup.
Check for regulatory compliance: Every country has different rules for financial regulators. Therefore, you should offer solutions that comply with the rules and regulations of the country and should harmoniously handle KYC, AML, and several other procedures.
Select a tech stack that depicts the relevancy of the end-users: You have to identify your audience's nuisance and demand that they add the relevant features. Recognize the technology that will fulfill these needs and can integrate the features.
Be mindful of the UX/UI and architecture of the application: Select a tech stack that fulfills all the design requirements.
Choose a development approach: The technology stack that you will select on the basis of the above points will help you get a clear perception of the development approach.
And here's one additional tip for you all that hardly any blog or article will mention.
Always take examples of successful startups and learn to form them. However, here, it doesn't mean that you have to mimic or make a clone. No, absolutely not.
This is only to analyze your competitors.
Now, let's get to the main topic of technology trends in fintech.
Technology Trends in the Fintech Sector
For this section, we have evaluated fintech projects, innovations, and startups, and have compiled the results in a form of a list of the top five technologies that will surely be rocking in the fintech sector in the year 2023.


RegTech Solutions Are On The Rise
RegTech stands for Regulatory Technology Solutions, and it has been put to good use in recent disruptive fintech software innovations. It has been utilized for creating automated solutions and to control regulatory monitoring, compliance, and reporting.
The benefits of RegTech solutions are that they are cheap, fast, and simple for the management of ample data. With RegTech, you can offer a precise automated search of a specific regulation. It provides speedy pre-and post-trade consent while associating financial institutions, consumers, and regulators while protecting the interests of all three parties.
In current times, there are a total of 150 RegTech companies. And it is apparent from the given data that there is a need for RegTech solutions. And very soon, this niche will continue to be filled with many more startups. This is why fintech owners should consider becoming the prime RegTech providers in the financial sector.
Artificial Intelligence will add massive value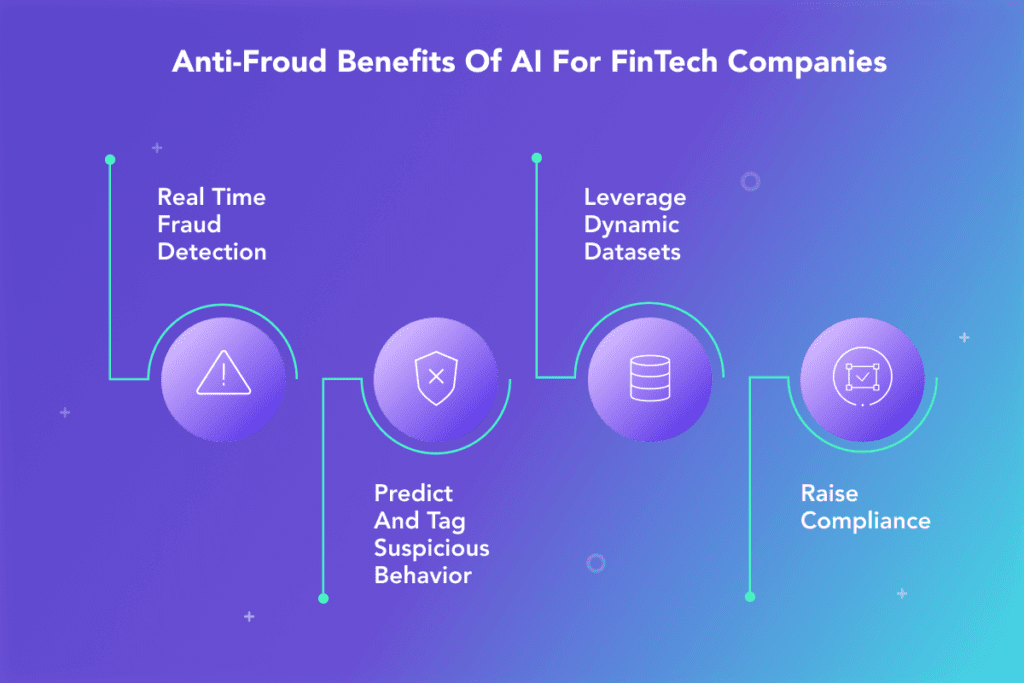 There is an estimation from McKinsey that AI (Artificial Intelligence) can generate around $1 trillion of additional value for the global banking organization. Financial institutions and banks have been adopting an AI-first mindset to prepare them to resist the invasion of their territory by lengthening their technology firms.
AI applications are infiltrating the entire range of financial industry operations across the front, middle, and back offices. They include custom products, tailored user experiences, analytics, chat interfaces, automatic transactions, and Robo-advisors, plus alternative credit ranks based on non-financial information and facial recognition authentication. The office applications involve smart processes, improved knowledge representation tools like graphs, and fraud detection.
AI has a lot of unexplored potentials that keeps attracting fintech investors. If it's still not clear to you, then here's an example.
The Alpaca Forecast AI Prediction Matrix showcases a good example of AI applications in the financial sector. It is a price-determining solution, developed by Bloomberg. This software is capable of processing deal records, recording demand movements, defining patterns, and can also predict future price changes.
The Blockchain is Disrupting the Established Financial Protocol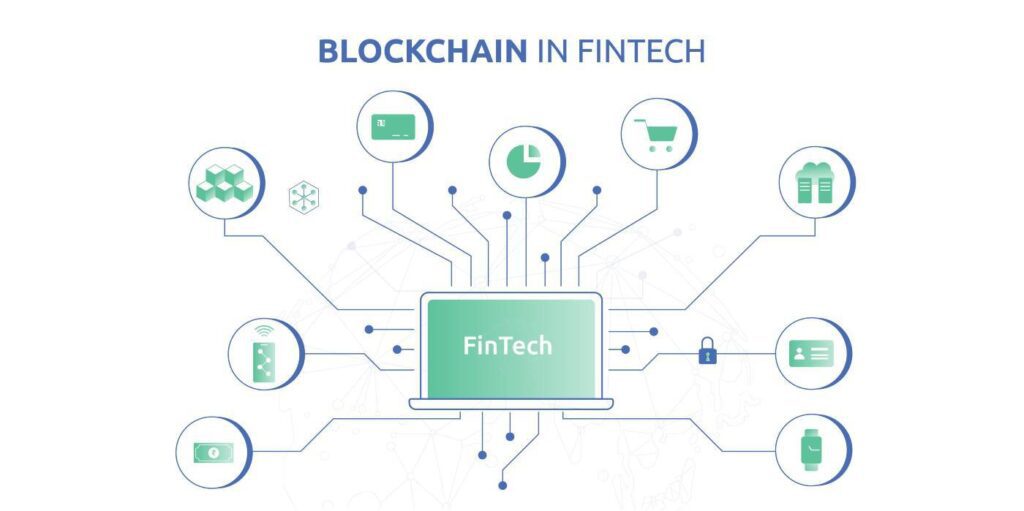 It has been a long time since the introduction of blockchain technology. And there have been no recent headlines regarding blockchain, but that doesn't mean the innovations are not happening.
There are various Asian-based banks that have officially adopted blockchain for secure financial transactions.
With blockchain, each transaction will be encrypted, with zero possibility of penetration. In blockchain technology, the network stakeholders will have to approve the transactions to avoid all hacking attacks.
Seeing all these benefits of blockchain technology the blockchain transactions have been implemented all over the world, from Australia to Russia, and each month more new institutions join this club.
IoT for a new generation of trust in finance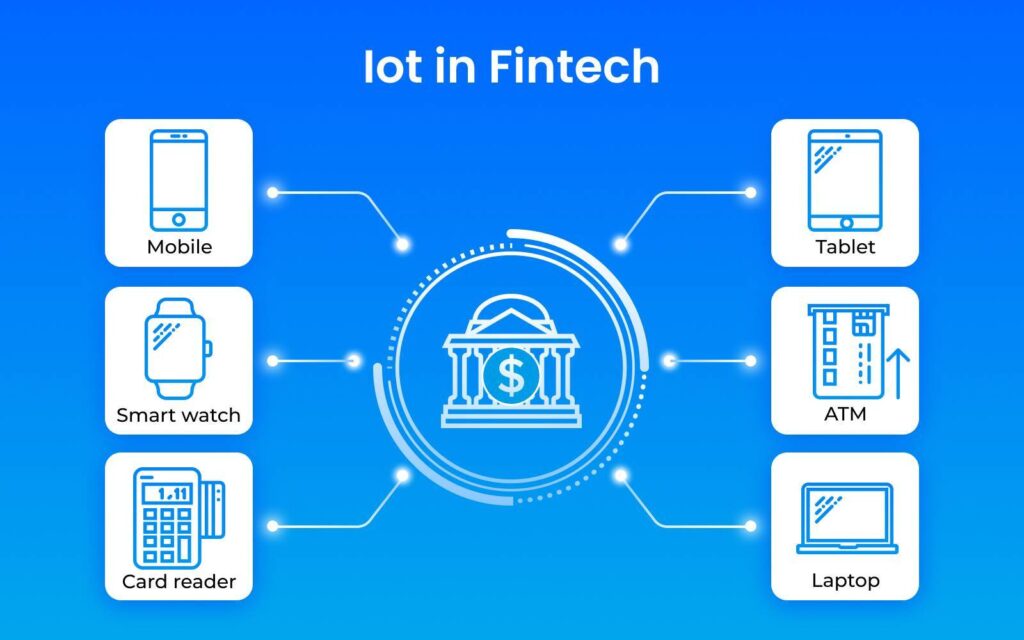 IoT is a coming-of-age technology, with some essential consequences for financial IoT systems. It is composed of three parts: smart sensor systems; wireless networks, and application and operations support.
In addition to IoT sensors, IoT communication solutions are also proliferating, creating a dense net for devices to communicate across wired and wireless networks. Embedded systems and cutting-edge technologies are developing rapidly, thus enabling more intelligent communication with objects.
In banking, IoT-based inventory involves the linking of IoT and blockchain and improves risk management by making sure that accounting records match actual-world transactions, thus building a new system of trust.
Open source, SaaS, and serverless to lessen the barriers to entry.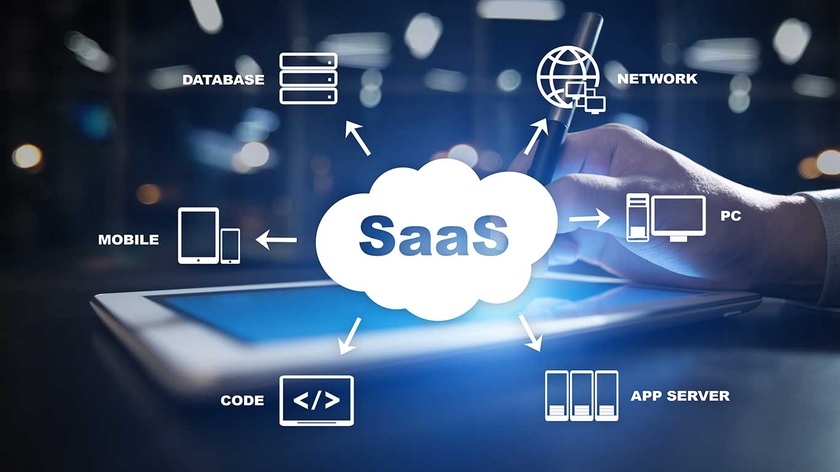 Speed and expandability are prominent for new businesses and financial innovations, especially in the current intense competence of the digital economy. Open-source software, software-as-a-service (SaaS), has become a must-have for technology players and for new fintech businesses.
SaaS enables companies to use the software as needed without the headache of maintaining it by themselves. Plus, the serverless framework will eliminate the requirement for firms to run their own servers.
The serverless architecture will also minimize costs because costs are linked to executed software code, regardless of business requirements. Open-source software is a blessing for organizations that want to scale quickly, as it offers free-to-use source codes and gives developers a head start in developing their own applications.
Besides these five technologies, there is one more point that I would add to this list.
It is conversational banking.
How is conversational banking used in Fintech?
Conversational banking encompasses tasks like responding to the client's most frequently asked questions, like how to gain access to a lost card, and how do I know my password? And much more similar to this, as these requests can be processed automatically.
Account management and financial management use chatbots to walk clients through the process of registration, transactions, and taking loans. Chatbots can also act as financial advisers and keep track of budgets, taxes, and money streams.
Takeaway
The five technologies mentioned above are trends in fintech that are becoming more and more integrated and interlinked, giving a massive boost to fintech and innovations in the financial industry.
With the advancement of technologies and ever-changing requirements of the financial industry, the changes are unavoidable, and each year the Fintech industry modifies in a new way.
Combining RegTech, AI, IoT, and ML with blockchain technology and conversational banking will play a major role in attracting users and improving the efficiency of the fintech industry.
And only by incorporating these technologies and trends in fintech into daily regular operations, you can see the desired results.
Adopt all these technologies wisely if you are focusing on your own fintech startup. Remember that all these tech stacks are useful technologies, and it will only be beneficial if you have an expert team that has knowledge and experience in using these technologies.
So, first begin with planning and analysis, then define your tech stack, and hire the team.
Still not clear about the technologies! Reach out to us. Our experts will help you choose the right technology so that you can succeed in your business.