On-demand Apps are one of the most used apps among all mobile apps. They provide instant services on your doorsteps which is why we all use one or more on-demand services via a mobile app. You must have used one of them as food delivery, taxi, grocery, and many more. But, have you ever thought that one of them could be an excellent idea for a business?
Laundry Apps are a new idea in the On-demand market; they provide various laundry services in a particular town. Not many service providers work in this department, which makes it a great idea to work with. Here we will discuss everything about A Laundry App from a business perspective.
What are the Benefits of Online Laundry Service?
Traditionally, we did the laundry ourselves, then modern life restricted us to use machines or external service providers. Here are some major benefits that A on-demand laundry app provides to its users.
You can pick the date and time of pickup and as well delivery details with the service you want and it's done.
Online laundry apps promote local laborers and laundry service providers by providing them with extra work.
Good revenue for every employee and member.
Helps users in various cleaning tasks which cant be done by themself.

How do Laundry Apps Works
Users have to download the app or visit the service provider's website.
Register or log in with your contact details.
After successful login, users can browse through service catalogs and select their needed service.
Now, pick the date, time, and address for both pickup and delivery.
Make payment as shown within the application or you can choose to pay at the time of pickup or delivery.
Your request is sent and will be processed by the provider, still, you have to keep your clothes ready to be picked by the service provider and wait for their man to come to your door.
Now, it's on the service provider's part. They will do what has to be done for the best of your service.
As your mentioned delivery date, you will get your clothes or laundry done professionally.
Types of Laundry Apps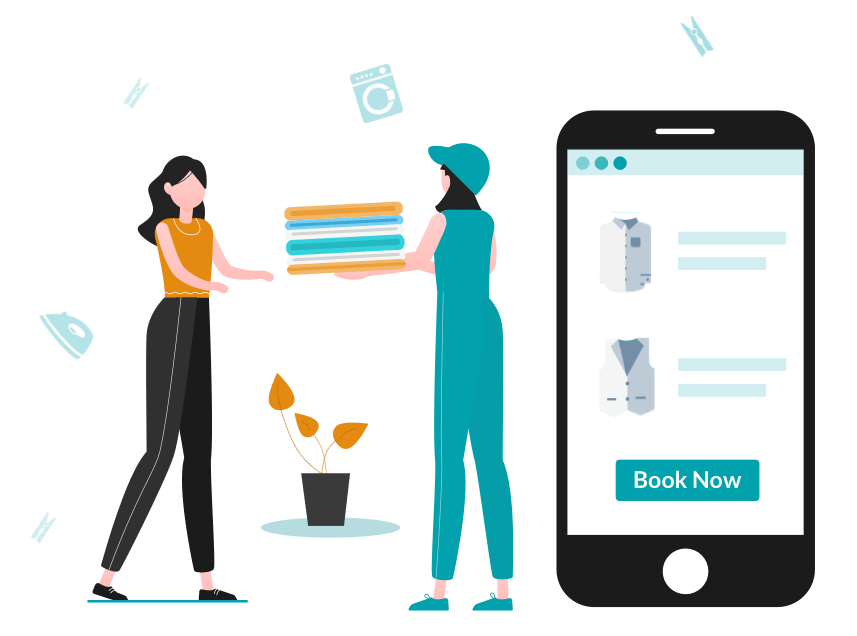 Laundry apps can be divided into three parts-
The most convenient way, you can build your application will be all yours and for laundry services, you can contract with some of the local laundry service providers and set a price and other essential elements externally.
The second way is to create a marketplace of laundry service providers and list them in your app. Users will choose a service provider and service according to their needs and pay within the app. App owners don't have to do anything, And they will generate revenue through a small commotion cut from transaction values.
The hard and Most earning way to build an on-demand laundry application is by making a whole system for your on-demand service. This will need a big investment but it came will higher income as well.
Technologies Needed to Make an On-demand App

Cloud Technology
All user data, monetary transactions, and many other details need a secure server and the cloud is the best option for them. Cloud tech will securely store data while making secure and stable data transfers to make things systematic and wide.
GPS Tracking
In our Laundry app, we are going to need GPS in two integrated features. First to locate the user's location and the other is to track the delivery boy's devices to keep everything in detail.
Audio QR
This is a new feature that allows users to command via voice and virtual assistants. And the amazing feature is that it will allow users to run the app from directly their AI devices.
Payment Gateways
You should add various payment methods as much as you can with cash-on pickup options. It will allow the user to use their ideal payment method for convenience.
Analytics Dashboard
Dashboard or the home screen should look pretty and relevant to your business. It will help in user engagement and better performance of your application.
All you need is a expert Mobile App Developer who can help you in managing and developing a innovative Mobile Application.


Key Features for On-Demand Applications
Push Notification
Designing An Easy Login Page
Facilitation of Order Tracking
In-App Chatting and Calling
In-App Camera
Cost Calculation
Feedback and Rating
CRM and CMS Integration
Marketing & Promotion Tool
Setting Up of Reminders
Mention Every Service Available
Split Payment
Messaging
Payment Method
Cost of Developing On-Demand Laundry
This is the major part of the discussion and the reason for you to being here. Developing Laundry App is going to be a major and longer part on the road of developing your business. The cost of developing a laundry app is going to depend on the time taken in development. We can brake the development in five parts which will need specific expert work.
Application Design & Stretagy
Native Platform Development
Front-end or UI/UX Development
Back-end and Database Development
Testing & Support
Now, you know almost everything about On-demand Laundry App and you need a business and app. When you have your strategy decide a native platform or a hybrid application. Android development will cost you less and time will be less to compared to iOS. As your plans, you can Hire Mobile Developers.
For back-end, you are going to need a small team for maintaining and testing once you have successfully build your initial backend. All this process will going to need 400 to 600 hours and 3 or more dedicated Expert developers. And one more thing is the country, You have to pick one country that has some lower cost developers and your estimated amount will be 10,000USD to 30,000USD.

How to Hire Developers for Laundry App Development
First thing, you need basic information of development and set a timeline of your work that has to be done in your way to build a successful Laundry App. You are going to need app developers that you can hire in three ways –
Dedicated Team: This is the most expensive but promising way for any development. You can build in-house team of developers and experts. Your team will help you archiving big goals in time and this way you can build a deployable version in single month.
Hire Development Company: You can hire a full-fledge Web and Software Development company who will help you in building your dream application with every single requirements. They will take the whole development responsibility and will help you until you have a fully-functioning mobile application.
Remote Developers: You have knowledge of development and strategy then hire dedicated remote developer for each task. They can be task based or on hourly basis. It will save you a good amount of money but take some more time to finish the work. To know more about benefits of hiring a remote developer read out post on remote developers.
Use this article to build your Laundry App and Business and use our 100+ App Ideas for Business for more. On-demands app possess great potential for business and this laundry app is a new idea from one of them. They only require single or two page UI and a two person on back-end.