Python is an advanced programming language used for mainstream programs. It is a highly efficient programming language for both small and large-level implementations. The Python language primarily strengthens code readability and complete clarity.
Since its launch in 1991, it has been the number one pick for many programmers. And the present-day vogue for Python has increased the demand for talented Python programmers.
After all, Python is one of the largest utilized programming languages in the whole IT sector.
So, it's quite clear why enterprises are looking for an experienced Python developer for their team. But the problem arises when you demand to hire Python developer.
Where to find Python developer? And where to hire an efficient programmer?
You don't have to worry anymore, because we are here to help you. Seeing the increasing demand for Python programmers, we decided to create this blog that can assist you in finding one.
We will give you in-depth information on how to find a Python developer and how to shortlist a good Python web or app development company.
So let's start!
What Is Python?
Before we go ahead with making a decision among a plethora of Python development companies, it is important to know a little bit about Python, its benefits, and its applications. So that you can make a primed decision.
Python is a demanding, mainstream programming language with countless applications in today's modern world. It is the most favored programming language in the modern world. The reasons are simpler coding, simple compilations, and many more.
Do you know, Python is used to develop some of the world's best websites, including Google, Youtube, Dropbox, Instagram, Spotify.
At present, Python is the third most utilized software programming language in the world.
According to data provided by Statista, there are about 1.4-4.3 million Python developers, and technologies like AI and machine learning also include Python.
So, it's not hard to say that Python is seizing the development world.
Some other traits of Python that make it one of the top languages of the world are-
It has extensive libraries like Numpy, Pandas, Scikit, etc., which are exemplary for data analytics, visualizations, and other complex computations.
The coding process in Python is very easy. Because the language uses simpler codes with an easy to write syntax.
Python also has a huge online community that assists newbies to learn faster.
Python is uncomplicated and so it is easy to learn for new developers.
Besides this, Python is unknowingly changing the industrial terrain by supporting the automation and IoT sector. Industries can maximize their yield by minimizing human involvement.
In addition to this, the manufacturing and retail sectors can make good future decisions on the basis of the data collected from the past and present. And this Python will help them by authorizing quick data analysis.
What Skills A Python Developer Should Have?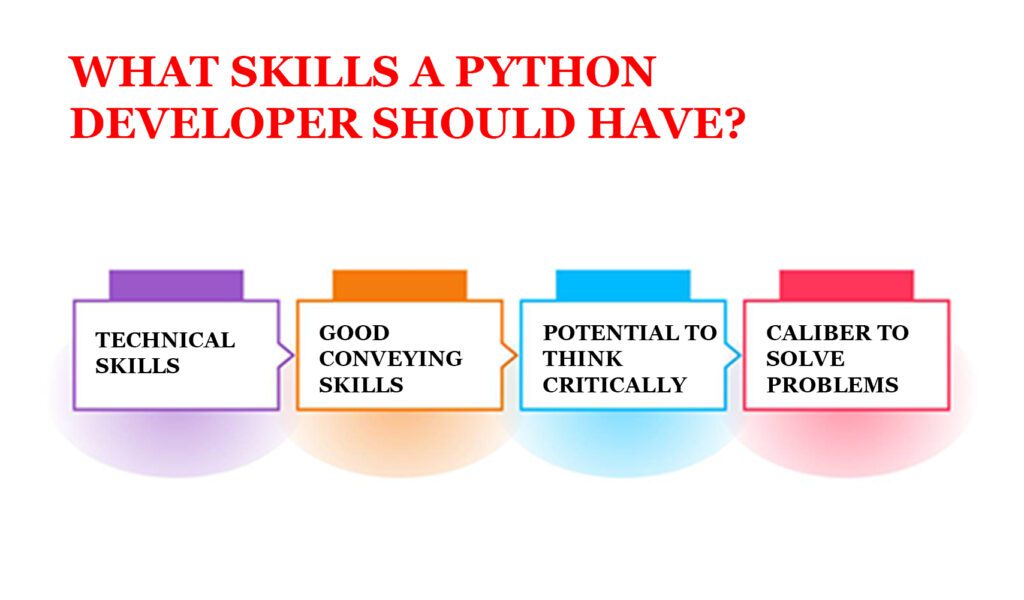 Hiring a Python developer that is well knowledged and experienced in the latest trends will advance your company.
It is essential to look for a full-stack developer with a varied skill set. Well-developed skills will differentiate an expert Python programmer from those who have basic knowledge of the language.
If you want to hire the most qualified candidate for your team then look for below given technical and non-technical skills:
Technical Skills
Python is a broad language. There are two versions that are used commonly. However, each version is not attuned to the other. As a result, you should hire Python developer who is articulate in distinct versions of Python.
To make programming easier, faster, and more effective the developer should also be proficient in frameworks, modules, tools, and libraries. All of these features are required to enhance Python's functionality.
Good Conveying Skills.
Good teamwork is an essential part of creating software. A computer programmer should be capable of working in a team and have the aptness to comprehend and communicate thoughts and ideas with different individuals.
Potential To Think Critically
With the knowledge of the framework, the development process can be done effortlessly. Thus, reducing the total time required for programming. A good software programmer will think ahead and formulate their process in the most effective way possible.
Caliber To Solve Problems
Everyone with knowledge of software development knows that problems can and will be encountered at a minimum one stage of the process.
Therefore, a developer should be liable to debug any such issues that occur to avoid the project from falling behind schedule.
What Skills Does A Python Developer Require?
Some other skills that every Python developer must have are-
Good understanding of frameworks
Basic Python expertise
Data science knowledge
Good grip on relational object mappers
A clear understanding of deep learning
Theoretical and practical insight of AI and ML
Design skills
Analytical expertise
Theoretical and practical understanding of architecture processes
A Quick Three-Step Process To Hire Python Developer
Before getting into more detailed information, it's critical to understand the fundamental process of hiring a Python developer.
Below are three straightforward steps that will help you get started:
Describe Your Job Requirements
Python has various usage and it can create many different types of applications that suit various business needs.
So, you should always initiate by defining your job requirements and the project our team is pursuing. Specifying the job role will enable organizations to be clear and incisive in the job details. While reviewing applications, knowing the task you are seeking to recruit a Python developer will result in a neat and structured interview process.
Interview The Candidate
Conducting an interview will allow organizations to interact with qualified candidates. By an interview, you can gain a good understanding of a candidate's mindset and can openly discuss the job details. You will also get to know how they communicate and if they are a good fit for your organization or not.
Test The Selected Candidate
After the interview process, the next step will be to test their skills in Python programming. A test will evacuate any candidate that doesn't have enough Python knowledge for the job role and you can observe how long it takes the candidate to complete the given task.
With a test, you will be confident in the skill sets of the candidate you have hired.
Where To Find Python Developers?
You can find many portals online where you can hire an experienced Python developer or Python development company.
In fact, by simply writing in the Google search bar, you will have hundreds of results in front of you. After that, the only thing left is to decide how to shortlist the options based on the above-mentioned points.
Freelancing Platforms
If you have a small project in hand, you can depend on freelancers for quality work. Upwork is a good site for freelancers. You can review various aspects related to freelancers and agencies on Upwork. Like their hiring rate, pay price, and much more.
Good Firms
There are some web portals for clients and regulars to share their reviews and ratings. These websites display all the important aspects of a company or an individual including their ratings, hourly rate, and locations.
Social Platforms
There are many social platforms where you can hire Python developers, and can get professional patrons. Some of the good examples of these platforms are LinkedIn, Facebook, etc.
Python Development Company
You can always think of creating your in-house team, but it will cost you a hefty sum. And by hiring freelancers, the price will be minimum but the quality of work cannot be guaranteed.
This final option is a fine balance between both price and perfection- it is hiring a Python web development company.
Merits Of Hiring A Python Developer
Recruiting a Python developer can give a boost to a more encouraging Python community for business.
Python programmers can inspire other teammates at your organization to learn more about the programming language. Because it is the easiest programming language.
By hiring a Python developer, you can accelerate your IT operations and data analytics processes. This will help your organization achieve greater productivity and improved efficiency.
A Python developer can recognize complex applications, so they are capable of resolving complex issues.
By hiring a Python developer in your team your organization will have extra command over your business processes.
Python is an object-based computer programming language, so a trained Python developer will have a strong library. It will permit the organizations to lessen the code length and better optimize the development process.
Summing Up!
To sum up, Python is the best programming language to invest in right now. And if you have made up your mind, then you need to be careful while selecting a Python developer or a Python development company.
Make certain to follow all the mentioned steps and verify every single detail. Since, it will be a game-changing decision for your organization, make it carefully.
Extern Labs is the best Python development company that will provide you with advanced development services. We at Extern Labs make sure that you get what you have asked for. Our team of experienced and passionate Python programmers is always ready to sign up for fresh challenges to offer you the best result.