The word "Metaverse" is on the tips of people and is a hot topic these days, with news related to the metaverse being released daily. Two years back, who would have thought that Facebook would rebrand itself as "Meta"? However, big changes like this have stirred a debate about the way we think of technology.
Experts say that the Metaverse is the new redundancy of the internet, driven by VR/AR technologies.
Mark Zuckerberg at The Verge conference said that-
"You can think about the Metaverse as an embodied internet, where instead of just viewing content, you will be in it."
With the wide use case of the Metaverse, in very little time, the metaverse concept will become a reality.
In today's blog, we will discuss the metaverse wallet, its features, concepts, metaverse blockchain, metaverse crypto, and how to create a metaverse wallet?
But first, it's important to know the basics.
What Exactly Is Metaverse?
The metaverse is a virtual world through which we can interact with each other in the form of digital avatars. Even though the Metaverse is still in the development stage, it will not restrict us from developing any compatible technologies that will merge with the metaverse.
It is a virtual space that allows users to play, perform, and work in a virtual mirror but with real and fantasy scenarios like science fiction and dragons in a more heuristic and more familiar environment like shopping malls, homes, and even offices.
And if talking about the metaverse, the metaverse wallet and the metaverse blockchain should be mentioned.
The Metaverse blockchain is an open-source, public blockchain. Metaverse is a blockchain-powered system that delivers developer-friendly tools and UI and is easy to use so that non-technical individual can also use this revolutionary technology in their daily lives.
Here are some points on Metaverse for you so that you get the knack for it.
One can access the metaverse through a PC or handheld device, or with a VR headset. If you enter a metaverse, you can experience a virtual world where you can work, play, shop, host concerts, and parties, and socialize with others.
In addition to this, the Metaverse is also a digital world with a digital economy. It is an online reality established on decentralized finance (DeFi). Here, users can trade their values and assets using cryptocurrencies and NFTs (Non-Fungible Tokens).
What Is Metaverse Wallet Anyway?
Metaverse wallets are often compared with other blockchain wallets. Nonetheless, it comprises some unique capabilities. In metaverse wallets, the tokens can be stored, received, and transferred. Plus, the metaverse wallet allows its users to create and distribute digital assets like metaverse crypto. And they have the freedom to choose the capital's name, amount, and creditors.
Metaverse wallets have the resilience of using NFTs.
The Metaverse Is The New Fashion In The Tech Industry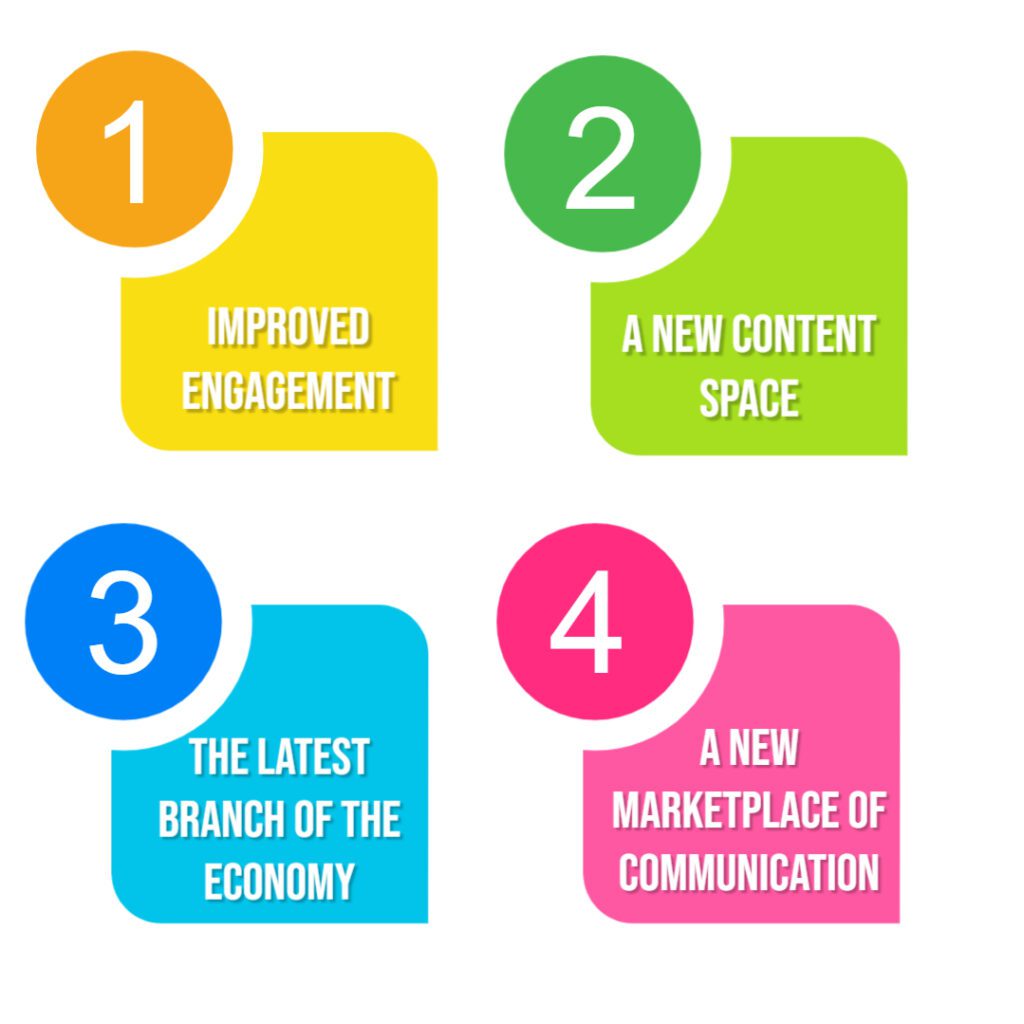 The Metaverse is the new black and it has been mentioned in several fantasy novels, films, and series.
If you notice, the word "Metaverse" itself is a blend of two words: "Meta" means something, and "Verse" means in the short universe.
Thus, it is a universe that is beyond the physical world. In the past few years, the metaverse has gained quite decent attention from some big tech companies like Facebook (Meta Platforms), Google, Microsoft, and several other big and small companies.
So, why are these tech giants eager to launch this?
Some of the obvious reasons that fuel this hype are:
Improved engagement
A new content space
The latest branch of the economy
A new marketplace of communication
How does The Metaverse Wallet work?
Metaverse wallets are like blockchain wallets but with some extra features. The metaverse wallet will allow the user to hold, receive, and trade metaverse cryptos and tokens. Along with this, the metaverse wallet also permits the individual to create and issue digital assets. The users can select the asset name, its amount, and creditors. However, the metaverse wallet is still evolving and continuously improving to optimize its services.
Moreover, in the metaverse wallet, users can hold ETPs (Exchange-traded products). The gold-based smart asset (ZenGold) is based on the metaverse blockchain, and ZenDou is also created on the metaverse blockchain.
Required Features In An Metaverse Wallet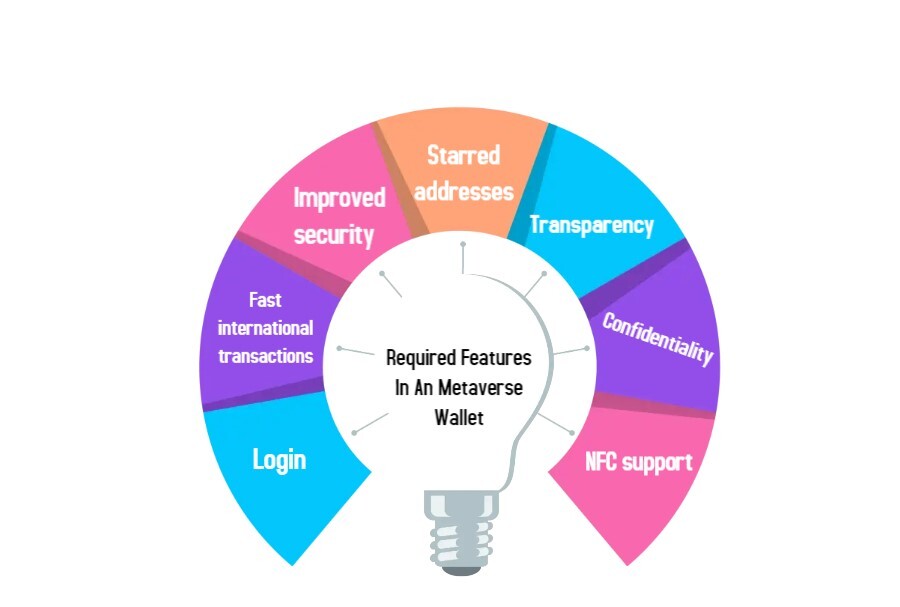 Some of the must-have features and functions in a metaverse wallet are:
Login
Fast international transactions
Improved security
Starred addresses
Transparency
Confidentiality
NFC support
Notifications
How To Create A Metaverse Wallet?
Generally, the metaverse wallet development involves several stages. In this section, we will list a step-by-step guide for developing a metaverse wallet.
Stage 1. Choosing The Type Of Wallet
The very first step in creating a metaverse wallet is determining the target audience. Your targeted audience should have a big influence on the design, features, tech stack, and integration. And following this, you have to select the type of metaverse wallet that you want to create. Generally, there are five types of crypto wallets- desktop wallets, online wallets, mobile wallets, hardware wallets, and paper wallets.
Stage 2. Market, Audience, and Competitors analysis
It is quite often while developing any software project, to conduct thorough market research, and perform a competitors analysis. This analysis will help you understand the product your audience wants to see, and you will be able to find a successful solution to those problems.
Stage 3. Choose The Main Characteristics
Now, if you know what your audience needs, then you should move on to recognize the core features of the application. We have already mentioned the key features above.
Stage 4. Designing
At this stage, you will need a template where you can describe the orientation of your wallet and end-user flows. And the designer will design a prototype and layout. If the prototype gets approved, the developers will start working on it.
Stage 5. Technology Selection
Now if you have finalized the design and features of your wallet, then examine the tech stack for the wallet's development.
Stage 6. Development
Back-end, blockchain, web, and mobile developers work on the design and features of the metaverse wallet and develop the product.
Stage 7. Testing
The QA analysts examine the codes for errors and problems and test the usability, effectiveness, security, and the system as a whole.
Stage 8. Deployment & Maintenance
With an effective end product, you can launch the solution. A solid metaverse wallet by a development company will provide additional support and maintenance to its clients even after delivering the product. Thus, if you experience any difficulties the team will resolve the issue for you.
Leading Metaverse Cryptos And Tokens Are:
Decentraland (MANA)
Decentraland metaverse crypto powers the metaverse and is utilized as a medium of trade on the platform. It has a market value of around $6 billion.
Axie Infinity (AXS)
AXS owners can vote on a proposed decision that will influence the AXS ecosystem, and how the community will spend it. In the near future, it is proposed to change the AXS tokens so that they can be used to purchase digital stuff and services.
Sandbox (SAND)
SAND is a utility and staking metaverse crypto. SAND holders can make use of the coin to buy virtual kinds of stuff and services.
Enjin Coin (ENJ)
ENJ is a blockchain gaming company. Plus, it offers many interconnected gaming experiences where you can play to earn. Enjin coin is unique and its token is embedded in every non-fungible token minted in the ecosystem, that offers real asset value.
Final Thoughts!
The metaverse is the new black, or we can say, an improvement of the current technology. This is an ideal transformation in content utilization that will lead to the depletion of the current internet form.
And if you also want to become a part of this future version of the network, then you should also think about creating your own metaverse technology, wallet, or application for other metaverses. Hopefully, this article will provide you with all the clarity you require for creating a metaverse wallet.
However, feel free to reach out to us if you have any doubts.