In today's blog, we have decided to talk about IoT services and IoT use cases in finance. And will also provide you with some universal examples of Fintech businesses that have used IoT services.
If you are a millennial, then you might remember that way before these wearables, voice assistants, and smart gadgets that we have been habitual with today, we have seen Hollywood movies and characters using high-tech vehicles loaded with sensors and voice assistants (Transformers) and superheroes receiving notifications on their wristwatches.
Once, IoT was a domain of fantasy, but things are not the same anymore. Technology is evolving at maximum speed. Things that once we have dreamed of are now in momentum today and a new class of tools and devices introduced daily are making our life way much easier.
Here, when I am saying, "making our lives easier", I am pointing this out in all domains- education, healthcare, finance, agriculture, sports, and more.
Ever since digital money was invented and cryptocurrencies are getting popular, they are replacing fiat currency.
Thus, banks and financial institutions are heading in this direction and are actively implementing IoT services in their systems.
Let's see how IoT services are revolutionizing the fintech ecosystem.
What Is the Internet of Things?
In our past blogs, we have already mentioned the IoT and given its definition. But, for our new readers, we will again explain IoT.
The Internet of Things is an entire system of interconnected devices that collects and conveys data through a wireless network, thus connecting the virtual world. And with this advancement in digital IoT devices, the transmission of all types of data has now become super easy.
And to receive a large amount of data, the devices should send signals to the server and other devices.
This is why there are many benefits of the IoT in finance and banking and it is receiving recognition from all organizations across the globe.
In short, the whole concept of IoT is to connect all things in the world through the internet.
The report from Business Insider states that by the end of the year 2021, the IT budgets of all the world's banks will increase by $297 billion, which is a 14 percent increase from the year 2019. And we can clearly see that.
Another survey done by absolute Market Insights states that the global IoT in Fintech will grow at a CAGR of 55.3% between the years 2019 and 2027.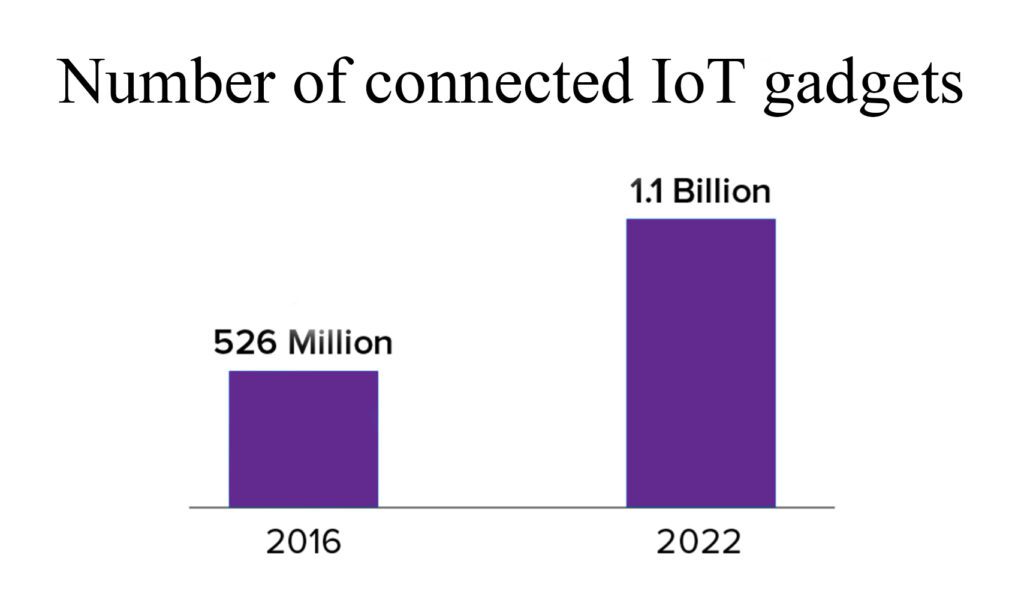 Let's see how the Internet of Things is changing the way we bank.
IoT Use Cases In Finance
Banks and financial institutions all over the world are trying to leverage the power of the IoT to attract customers in their sectors. With the evolution of mobile banking apps, the majority of the world's banks are helping in tracking customers' preferences through sensors. And this is how financial service providers are moving to the next level.
Some of the ways through which financial sectors are utilizing IoT services are:
The IoT in Fintech can be used to fetch and analyze data to generate meaningful information to get specific consumers' needs.
The Internet of Things removes the complexities of daily operations by decreasing the need for human labor. IoT in finance and banking can also be used to solve financial issues like examining saving and spending patterns, appraisal sheets, balance sheets, and financial planning.
IoT services can also be used to enhance employees' productivity and always keep them connected.
The IoT offers solid data protection along with authentication options.
IoT services can also assist financial institutions to upgrade risk management by collecting real-time, authentic data on customer capital.
Benefits of IoT in Finance And Banking
Cashless Payments
Instant support and personalization
Smart ATMs and Banks
IoT for voice technology
Improved spending clarity
Blockchain-based smart contracts
Authentication and security
Fraud detection
Banking on wearables
Risk assessment for insurance and loan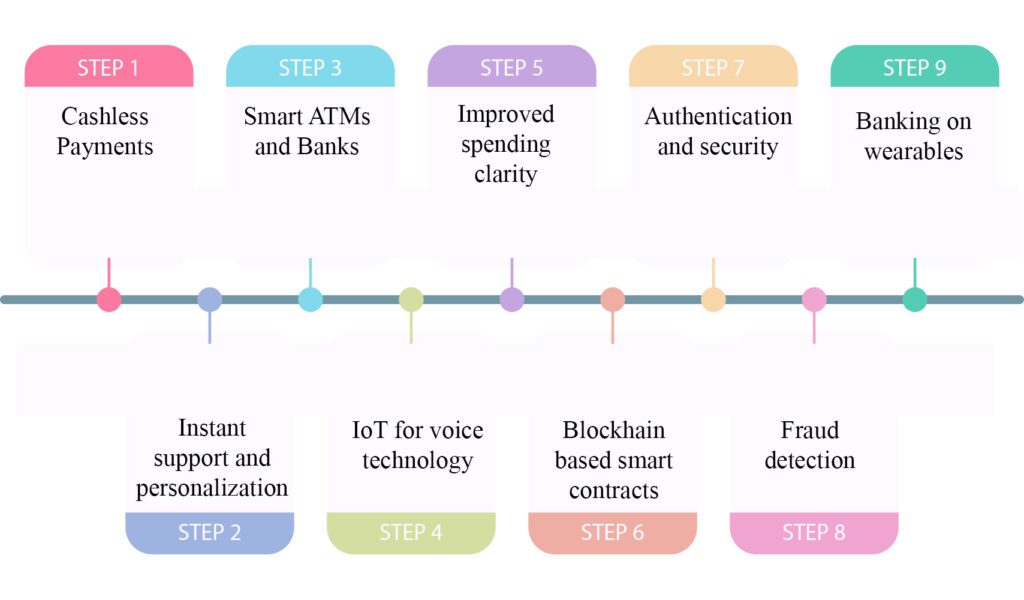 Cashless Payments
The very first thing that's in my head right now, is how the way we use to make payments has evolved over the decade. One thing heavily responsible for this cash-less trend is the Fintech mobility service providers.
Apart from payment mobile applications, there is also an IoT app development company for wearable gadgets.
Now, one can easily make payments through wristbands and can check their credit history and balance through IoT payment systems.
According to a report by prime Indexes, 60% of the financial institutions are arranging to make wearable devices a mainstream payment method.
This IoT in Fintech is going to become a huge trend. As per the report by Statista, the total number of connected wearable gadgets will be around 1.1 billion by the end of 2022.
So, there is no IF, IoT services in the financial sector are going to launch new methods of payments in the near future.
Instant Support And Personalization
This may seem at distance but is right around the corner. With the help of IoT services, banks can customize their service to another level.
Fact: 79 percent of the bank's IT shell-out budget revolves around enhancing customer service and customer satisfaction.
Therefore, for offering instant customer support, fintech institutions are adopting AI along with IoT. This can prove to be an absolute way of increasing customer experience and satisfaction.
Smart ATMs and Banks
Truthfully, IoT can be an awakening of traditional banks. The scope of IoT services is boundless.
For example- if you enter a branch, the initial details of the clients could be delivered by an IoT-based app or device to offer real-time services.
In addition to this, banks can examine the data and patterns obtained by IoT to strategically place ATMs and bank branches keeping the requirements of the customers.
IoT For Voice Technology
Voice technology has always been popular since the very first time it entered the market. IoT in Fintech has also played an important role in using this technology innovatively.
According to Business Insider reports, by the end of 2022, the AI voice assistants will offer operational costs of over $8 billion across global banking institutions.
Improved Spending Clarity
No doubt, there are several financial and banking apps that give information on how much is their balance, how much they are spending, and to what instant they can save money. However, the integration of IoT technology can take this process to the next level.
And come to think of it, it is much better than payment slips and statements.
Authentication & Security
With the advancement of IoT in the banking sector, authentication and security are becoming strong as customers can now log into their IoT-enabled mobile apps, and can make payments with just their fingerprint.
IoT services have also allowed banks and employees to store the credentials of the users that can not be changed.
Blockchain-Based Contracts
As reported by Business Insider Intelligence, the benefits of using blockchain for identity verifications have already been logged, it can't be modified. The potential of blockchain to protect authenticated credentials has been examined by several financial administrations.
The best example is the Commonwealth Bank of Australia which guarantees to have completed the principal worldwide trade transaction between banks using blockchain, smart contracts, and IoT.
Fraud Detection
With the help of IoT services, it is possible to make IoT devices more protected and shielded from cyber threats and attacks. An AI-derived IoT device will be able to detect any fraudulent activities that aim to extract the data from the devices which can instantly alert the financial institution to take proactive actions.
Banking on Wearables
Wearable gadgets have been the "Success" for financial institutions and banks till now, because of the evolving system of devices and the low cost of getting started. Many famous wearable applications like Apple Watch and FitPay are associated with banks and have even dispatched their own wearable gadgets for contactless payment solutions.
The Challenges Of IoT in Fintech Business
With the adoption of IoT in banking, there have been benefits to banks and financial institutions. However, there are also some major hurdles. These hurdles include:
Data Privacy
In the Fintech ecosystem, protecting sensitive information has been slow. This is where banks face challenges, they fail to provide personalized customer service over the Internet of Things.
This is also the reason why AI is used to avoid fraud in the Fintech ecosystem. AI strengthens and improves the process of dealing with cybercrimes.
IoT in the Fintech ecosystem with in-built AI collects sufficient data about their customer's financial transactions, which will help in improving security and makes the entire procedure more efficient.
Data Management
For financial institutions, collecting customers data from various devices will complicate the entire data management system. They have to manage the data with security risks at various levels. Once IoT services are integrated into the financial and banking business, the amount of data generated is vast, and this data should be properly stored to offer the best possible experience.
Examples Of How IoT Is Transforming The Fintech Ecosystem
Stripe
Stripe's IoT software customizes the payment aspect for companies of all sizes through a secure cloud-based infrastructure.
Kontakt.io
Kontakt.io delivers low-energy Bluetooth beacons that can be utilized for mobile payments. Some of its advantages are smaller lines, an effortless shopping process, more time spent on exploring other parts of the shop, and maximum data generation for the business.
Armis
Armis offers IoT security services for various businesses including banks and financial institutions. Its benefits are automatic identification of unmanaged devices, easy integration with existing infrastructure, and agentless tracking.
The Future of IoT in Fintech
As seen in the blog, IoT devices can impact a broad variety of vital aspects in the Fintech sector, and companies are slowly and steadily adopting these technologies. With the increasing demand of customers, if IoT solutions are used the right way, they have a bright future of disrupting the way business is done in the Fintech sector.
In today's world of connectivity, everything is connected either wirelessly or it is being wired.
And fintech can use IoT services and devices as a piece of valuable information to increase its market share and offer good services to customers.
In my experience, financial and banking institutions have now become less commonplace to visit, as everyone can manage their finances 24/7 from anywhere, anytime, and from any device through any network.
Extern Labs IoT development solutions can effortlessly link several IoT devices for effortless transfer and collection of important data through APIs and encrypted protocols.
With that being said, the development of IoT still remains a problematic area. Therefore, it is essential to collaborate with a skilled team to take benefit from the technology.
So, whether you hire an outside modern technology company or an in-house expert, make sure you work with a service provider that has expertise in the IoT domain and guarantees to complete the project at the decided time.
Contact us today to get details on IoT application development.