Whether you are a business tycoon of a well-recognized organization, a crypto enthusiast, or a student, you must have come forward with the word non-fungible tokens (NFT) and the NFT marketplace. And if you have heard about NFT, then you might be prying about how to make an NFT marketplace.
Non-fungible tokens, or NFT, are a fresh concept in the crypto world. And ever since it has been created, it has transformed the entire functionality of the digital world because of its spectacular valuable factors and characteristics. These non-fungible tokens (NFTs) are created and launched on a specialized platform called the NFT marketplace.
This NFT platform is the most innovative creation and thus makes everyone question; how to make an NFT marketplace? And how to make and sell NFT art?
Every organization is thinking of creating an NFT marketplace and laying the foundation for themselves in the famous NFT space.
And, why not? This is the perfect time to develop an NFT marketplace platform. After all, people are spending millions of dollars on fancy digital assets, so why not create a business out of it?
If you want to learn how to make an NFT marketplace from the very beginning, then this blog will be a great place to start for you. In today's blog, we will go through all the required steps, tips, and tricks to make an NFT marketplace.
Let's start!
What Does It Mean By NFT Marketplace?
The NFT marketplace is a program where one can hold, show, trade, or exchange non-fungible tokens (NFTs).
Thus, to be exact, NFTs are like digital capital that are regarded as real-world things, and they are commonly based on Ethereum Blockchain technology.
The NFT marketplace allows instigators to exhibit their NFT art to a large mob. Using NFT platforms, one can buy or sell NFT art at a specific price.
However, you can't directly get access to these marketplaces. To do so, you will need:
A crypto wallet
Cryptocurrency
And of course, a user's account.
An NFT marketplace enlists numerous NFT arts from all domains, as well as photos, arts, videos, and many more digital collectibles. However, particular niche marketplaces are in more popular demand than traditional ones, because they provide what an audience needs. They are specialized in selling specific artworks to target a definite group of audiences.
You might have heard news like-
"Ukraine launches NFT "Museum of war" for crowdfunding." or "Snoop Dogg and Billy Ray Cyrus to hold their hit song launch concert on NFT."
News like this shows how the public is interested in NFT platforms and why there are so many NFT admirers. Nevertheless, the NFT community is booming and there is increased traffic in NFT marketplaces.
How does an NFT Marketplace Work?
An NFT marketplace operates on a transaction protocol termed, "smart contracts." These protocols permit the networks to stock the information designated in the NFT transaction and manage the links between the seller and the buyer.
And a smart contract in the NFT marketplace means that the digital capital is irreplicable and unique. It will also allow having permanent information on the NFTs.
It utilizes blockchain-based smart contracts that contain a group of if/then statements. And predetermined conditions must be matched and verified for any action to perform. Thus, making the whole process of purchasing and selling non-fungible tokens becomes safe and convenient.
Why Creating An NFT Marketplace Is a Good Idea In 2022?
Why would one want to create their own NFT marketplace? Well, there are many different opinions on creating an NFT marketplace.
At present, NFT is the most famous and prominent marketplace. It performs similar to the eBay app and allows its customers to sell, purchase, and trade crypto products and non-fungible tokens, the same as an online platform.
According to stats, the market cap value of NFTs has been escalating rapidly and has reached tenfold from 2018 to 2021. At present, the worldwide turnover of the NFT marketplace is over $25 billion. Besides digital artworks, NFTs are also used for purchasing lands in digital worlds and publishing next-gen music ownerships.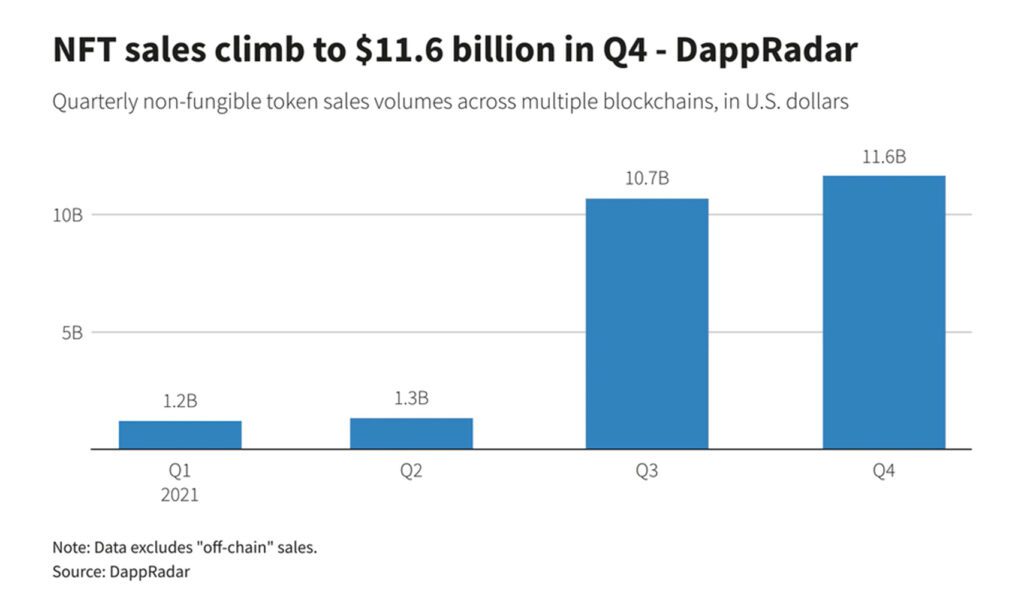 Some of the reasons why creating an NFT marketplace is a good idea are:
A new niche in the crypto world
As mentioned above, NFT is a very fresh concept in the crypto world. This promotes the concept of cryptographically safe and verifiable features of digital capital.
And since the NFT marketplace is like an e-commerce store for users to buy and sell virtual stuff, this implies that the domain is very liberal towards new users entering the e-commerce stores, as long as their products add value to the platform and users.
Friendly cryptocurrency on-boarding
As you know, NFTs are present on blockchains and make use of blockchain technology. Thus, they become easy to access for beginners. So, when someone purchases an NFT art, they try out different decentralized finance instruments like crypto trading, investment, loans, and borrowing.
What it means is that, if you are looking to create an NFT marketplace, you can incorporate some additional features like NFT backed loans, trading, and customer supporting NFTs with fractional ownership.
Insane Gains
There is no denying that the whole NFT trend is governed by insane gains that are made possible by crypto. However, only a club of genuine crypto believers buys NFTs to take great pleasure in their collection. Most people put their hands into it to hypothesize. And as long as they keep doing this, any platform or marketplace will become profitable.
Features Of An NFT Marketplace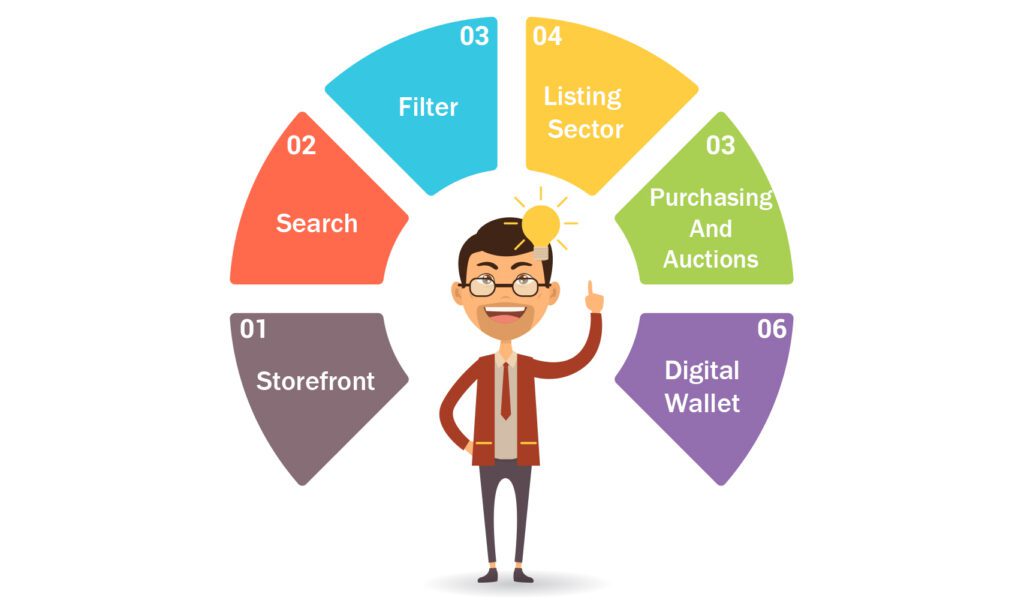 In an NFT marketplace, you will see a blend of the features of an online store and a blockchain platform. And of course, a creator should be able to sell their NFT arts.
Some of the important features that an NFT marketplace must have to gain more clients are:
Storefront
A Storefront is an important feature in an NFT marketplace. This particular feature offers a broad range of information that a user might look for. This comprises information related to the items, bids, art owners, and other relevant information on the platform. In some marketplaces, the storefront also includes the information related to the smart contracts, and the information is made available to the users. Thus, the user can verify the authenticity of the NFT items that were purchased.
Search Items
The NFT marketplace is available in the digital space, and every marketplace should support the management core of the NFT collectibles for its customers. Managing NFTs in the marketplace is a very crucial feature. As this feature will offer an exceptional experience to its customers. And this experience is offered with the support of item searches. All the NFT collectibles can be searched together at the same time without having any complications.
Filter
Filters are a vital tool for any kind of digital platform. And so it is with NFT marketplaces. Generally, an NFT marketplace is crowded with a wide range of NFT collectibles. Now, since the number of these collectibles is very high, it becomes difficult for users to find what they desire.
Thus, the thighs filter option is included to remove the irrelevant NFT items and only show the needed one for the customer. Through this, the search quality of the NFT marketplace will be improved.
Listing Sector
The listing factor gives users the power to select NFTs for buying and selling. The customer will have to initiate the process of searching, sorting, and filtering to choose their required NFT instantaneously. The listing sector equips the end-user with the power to explore the marketplace effectively and efficiently. This proves to be a beneficial process for users for verification of the NFTs.
Purchasing And Auctions
The use of an auction model is a very vital feature for an NFT marketplace. The aim of an NFT marketplace is to process a simple and civilized auction model that will make it easier for the customer to bid. The important part of this feature is to have knowledge about the expiration time of the bid. Therefore, it will also allow users to search for an alternative to buying non-fungible tokens.
Digital Wallet
The incorporation of the digital wallet is an important part of all NFT marketplace platforms. This is a feature that stores and transfers NFTs and cryptocurrencies into the platform. For every buyer who buys NFTs, the corresponding non-fungible token will be stored in the crypto wallet based on the customer's wish. Thus it gets very important to secure crypto or digital wallets for the NFT marketplace.
How To Make An NFT Marketplace?
If you are willing to create an NFT marketplace for your organization, then read the following steps to make a successful NFT marketplace.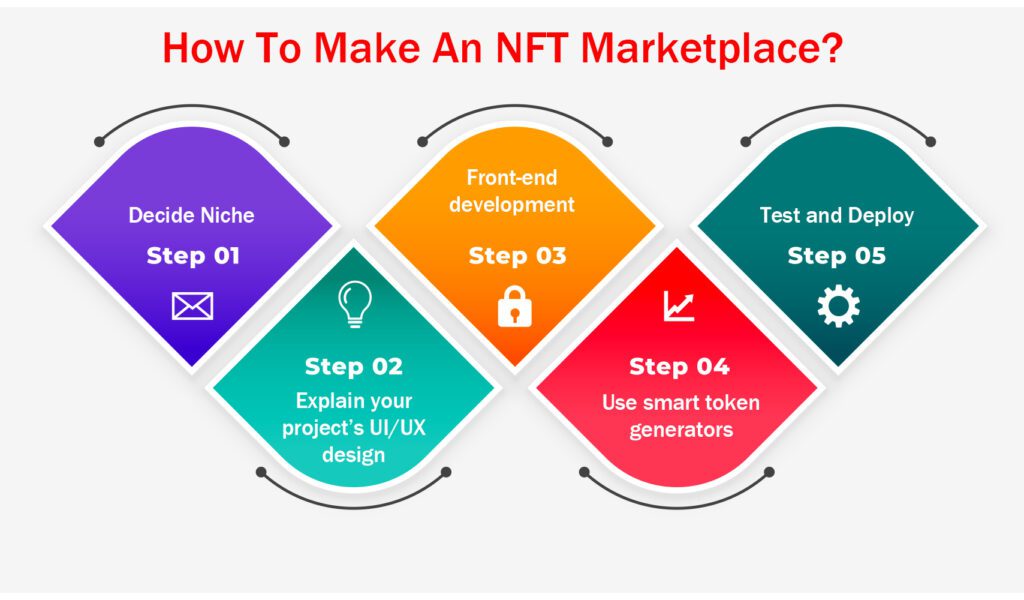 Decide Niche
Selecting a specific niche will support you to start an NFT marketplace development process. If you have a good concept in your hand, discuss it with your developers to plan the strategy and estimate the time required to create the marketplace. However, according to pros, one should focus more on the vertical market instead of a horizontal one.
Explain your project's UI/UX design
The UI/UX design (Graphics) is crucial for building an NFT marketplace. Your UI should be effortless and simple. A good UI/UX will enhance the usability and characteristics to offer a great feel and look to the platform.
Front-end development
If the design idea is ready, then the next step is to execute it. Select a trusted framework that meets your objective. Hire an expert NFT platform developer to guarantee great functionality and reliability.
Use smart token generators
While creating an NFT marketplace, back-end development will not look the same. Like blockchain, the NFT marketplace is a decentralized platform, thus the majority of the data gets verified based on blockchain technology.
Test and Deploy
This is the final yet most vital step in creating an NFT marketplace platform. In this stage, you have to identify and solve all backlog issues. Software tests will ensure that your project is operating smoothly.
Moreover, post-launch assistance is also important to eliminate bugs and to assure the quality and performance of your NFT marketplace.
Tech Stack Required For Creating An NFT Marketplace Platform
The technology stack that one will need for developing an NFT marketplace is-
Blockchain Platforms
Ethereum, Flow, Tezos, Cardano.
Storage Platforms
IPFS, Filecoin, Pinata.
NFT Standards
ERC-721, ERC-1155, FA2, dGoods, TRC-721.
Front-end Frameworks
React, Angular, Vue.
What Will Be The Cost To Make An NFT Marketplace?
The total cost and time needed for making an NFT marketplace will depend on the execution process of the marketplace. If you want a high-level, complex platform, then you have to invest extra money in developing your NFT marketplace.
Nonetheless, if you make use of a ready-made solution, then there is no guarantee of security, and the product's reliance will be on the place from where you have received the key. But, the development cost will be less in this situation.
Besides this, you can also hire a software development team to develop a customized NFT marketplace. The experts in the respective fields will create a fully functional platform and will add impressive features and designs to the NFT marketplace from scratch. Thus, the total cost may increase.
To Conclude:
As NFT popularity is growing daily, this is the right time to launch an NFT Marketplace platform. Such marketplaces involve several excellent features.
Think of this, starting an NFT marketplace when a huge mass is realizing that they can hypothesize on memes, images, and other digital content will be a unique business idea.
In addition to this, NFT holds great profit from commissions in any case, whether the NFT prices go up or down.
After reading this complete article, everyone who wants to know how to make an NFT marketplace is certainly on the right track.
Find an experienced development team to start your project from scratch.