Is Femtech the next new thing in healthcare? Femtech has been around for some time in the mHealth, or healthcare, industry.
Are you familiar with the term "FemTech"? Well, we will explain this here in this blog.
I'm asking this because various start-ups and IT companies are building products to improve women's healthcare needs. This combination of the digital industry and the healthcare industry results in an extraordinary range of mobile apps. In the last few years, the use of health apps has increased.
I mean, fitness trackers have always been around, but they weren't designed for female-specific needs until now when organizations realized that females are not only interested in their general well-being but also in other aspects like mood swings that occur during menstruation, as they can affect their performance.
By now, the mHealth industry has reached a peak, as it helps both patients and doctors provide faster and more convenient health treatments. This trend has led the way to the development of FemTech (Female plus Technology).
You can also build a FemTech app to attain success in this niche. However, if you think that it's an interesting idea to build a women's health tracking app development, then start looking for a mobile app development company.
Meanwhile, let's get familiarized with the FemTech world and how to develop a successful, fully-working women's health-tracking app.
About The Term FemTech
FemTech is female technology, it is software that uses technology to improve the health of women in particular. Technology is used to give women access to software to track and address the health concerns of women in particular.
Do you know, the "femtech" term was first used by Ida Tin, the head and CEO of "Clue," a period tracking app.
What's the need for FemTech?
Women's roles are changing over time. Female health is now considered a significant contributor to the growth of households and the economy, as more importance is now given to women's health.
Even big organizations have also started giving one-day menstruation leaves to their female employees.
To be more precise, FemTech is introduced to make the lives of women easier through technology. It can be anything—a menstrual tracker app or a pregnancy tracker application. But again, these are not the only examples; FemTech holds a lot more than this for maintaining the health of women.
Business Scope in FemTech Industry
There has been significant growth in the FemTech industry, which has been mostly accelerated by the growing ubiquity of chronic diseases like endometriosis, PCOS, and diabetes. Other than this, the importance of self-care management has propelled the demand for such apps.
With the rising awareness related to health and fitness, women are actively using these apps to track fitness goals and monitor their overall health.
According to a recent survey done in 2022, the leading health and fitness apps have experienced 2.93 million downloads from users around the world. According to the Statista report, the international FemTech market is expected to reach 60 billion USD by the year 2025.
The female healthcare market has the potential to boom in the coming years, reaching $50 billion by the end of 2025.
Some of the trends driving the women's health tracking app include IoT, AI, and remote patient monitoring.
Some other points that show the business scope in the FemTech industry and urge us to consider developing women's health solutions are:
FDA approved clue's cycle-tracking application for birth control.
Female-focused investment venture capitalists for eg- Fermata, and Avestria ventures are funding women's health startups exclusively.
In the US women make 80% of the health care decisions.
There are only 200 FemTech startups globally, and the majority of the companies work by applying IoT, AI/ML, and telemedicine technologies.
As a result, new entrants are expected to continue focusing on the aforementioned technologies to address women's health issues in some complicated, untapped areas such as endometriosis, geriatric care, mental health, and menopause.
Advantages of Women's Health Tracking App
The health and wellness apps for women mainly include period trackers or calendars. Such applications are designed to help women with several health issues. The areas where one can focus on developing women's health apps are:
Nursing care
Menstruation tracking
Reproductive health
Pregnancy tracking
Breast cancer
Thyroid issues
Chronic fatigue and depression
The pros of using a women's health app are:
Women can better control their health
FemTech is developed to give women more control over their health and lives. A women's health tracking app will give some insights to the users so they can make informed life decisions.
It also successfully spreads scientific awareness among women about their health.
In-time diagnosis
Aside from understanding their health and bodies, FemTech will enable women to detect any type of health issue in real-time, allowing them to take timely and corrective action.
Women can get healthcare in remote areas
It is important to make healthcare accessible to women in all areas, whether they are in a local or remote area. Since there are some taboo topics around women's health, females sometimes avoid going to the doctor, or it gets difficult for them to openly consult with a doctor.
And the increasing number of health-tracking apps will make healthcare services virtually accessible to women all across the globe.
Important Features to Add to Women's Health Tracking App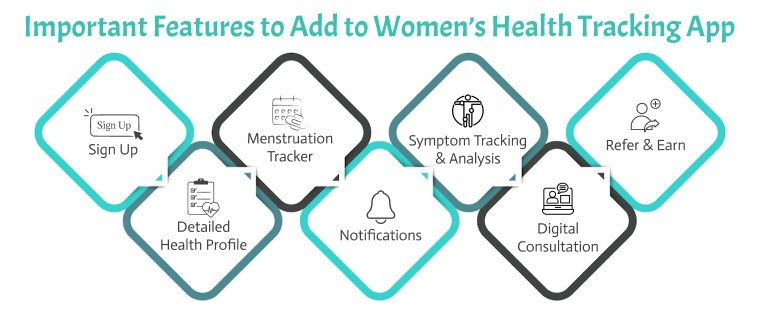 To create a successful women's health-tracking app, it is necessary to include features that provide a complete solution to the users and serve as the icing on the cake.
Some of the recommended features that you can include in your women's health tracking app are:
Sign Up
Any app should have a sign-up feature. Behind this is a very simple concept. If your app is user-friendly, its popularity will increase. For signup, you can include two options- either go for the standard sign-up procedure (using an email ID) or give an option for social media integration.
A simple and easy onboarding procedure will give an initial idea to the users about the app.
Detailed Health Profile
All health-tracking apps have a sweeping number of questions that one has to answer at the beginning, and the users sometimes get scared of signing up because of such an overwhelming number of questions.
If possible, add an option to skip the signup and try to ask basic questions first. These basic questions can be about their height, weight, age, and allergies. You can add creative options to the question and add personalized content to the application.
Menstruation Tracker
The menstruation cycle tracker is a must to include feature in any women's health tracking app. Such kinds of applications have a chance to attract a wider number of female users. As the menstruation tracker feature allows the end-users to visually track and analyze the changes in their health.
The factors that can be tracked by the menstruation tracker are the upcoming PMS time, the present cycle date, the fertility period, etc. Also, the UI interface should be visually appealing and not provide too much information in complicated biology terms, as this can be confusing for the general public.
Notifications
Notifications are an important feature, but the timing and number of notifications can make or break the app's popularity. The balanced notifications and reminders will definitely increase the reliability quotient of an application.
However, here, notifications can be of several types- daily log entries, medicine reminders, and reminders about the next cycle.
Symptom Tracking & Analysis
The symptom tracking feature will make the women's health tracking app more collaborative. Such kinds of apps can offer regular readings based on the symptoms and patterns.
New modern technologies like AI and machine learning can help you incorporate this functionality very conveniently.
And if your application supports wearable devices like fitness watches, then you can collect more data to provide accurate readings.
Digital Consultation
If you are creating a women's healthcare app, then it is quite evident that you will offer digital consultation to make your app more accessible to women. Generally, AI is used in chat APIs, and there can be many complicated and in-depth questions that women want to ask doctors. That's why digital consultation is needed.
Here, you can partner with professionals who are always on board and can offer advice and medications to the patients.
Refer & Earn
Refer and earn is one lucrative feature through which you can expand the user base and also give the existing users some benefits, giving them extra reasons to stay on your app for a longer time.
It is a win-win situation for all parties.
Other Secondary Features To Include in a Women's Health Tracker App


Registration with social media accounts
Upcoming PMS suggestions
Graphs of ovulations
Integration of the Fitbit app
Regular health tip notifications
Detecting emotional patterns and moods
Notification of fertility, periods, and ovulation
Reminders to take medications.
Steps To Develop Women's Health Tracker App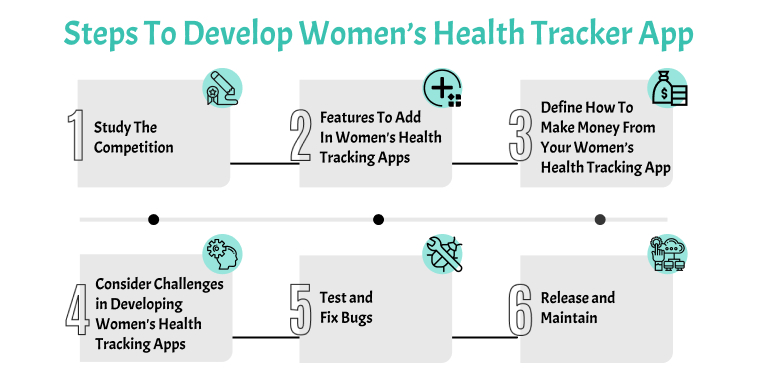 The prime challenge that one can face in developing a women's health tracker app is the accessibility of various solutions. There are plenty of health-tracking applications that cater to various health needs and thus have different feature sets.
So, instead of discussing the steps to develop a specific women's health-tracking app, let's analyze the critical stages needed for women's health-tracking app development.
Step1: Study The Competition
To create something unique that is worth attracting users, you have to study the market and your competitors. First, study the female health-tracking apps that have succeeded in the market. You can learn from their achievements and mistakes.
For example, some of the popular women's health-tracking apps in the market are Clue, Flo, and Natural Cycles.
Step 2: Features To Add In Women's Health Tracking Apps
To make any application more accessible and beneficial to customers, development and functionality must work in tandem. The features that you will include in your health-tracking app should be your main concern, and the app should also be able to render a splendid user journey.
Step 3: Define How To Make Money From Your Women's Health Tracking App
The growth and benefits of mHealth tracking applications are a way to know how profitable the category will be in the coming years. But to truly increase the revenue, you should know various ways to earn money through your women's health tracking app, like through in-app purchases, in-app advertisements, and paid apps.
Step 4: Consider Challenges in Developing Women's Health Tracking Apps
You might face some challenges in building your own mobile healthcare solution, so it's crucial to consider and know about these challenges in advance.
The challenges that you might face in health-tracking app development are:
1. Experts and Specialists
Partnering with experts and specialists will play a defining role. Without data collection, there will be no analytical accuracy. To interpret data and create a health solution, you have to collect information about millions of women's symptoms and cycles. It is important to have experts and specialists on board.
2. Design
A software development company will let you know how important a good design is for a wellness app or a women's health tracking app.
A visually appealing application is important to keep users engaged with your product. Plus, since it's a women's health app, especially a period-related app so women don't want anyone to see their welcome screen when they are logging into their period application.
3. The privacy of the data is crucial.
The privacy of user data is crucial. It also depends on how the app uses the collected data. However, it is important to remember that privacy policies vary from country to country. So whenever building a mHealth solution, you should be aware to adhere all compliance standards.
Step 5: Test and Fix Bugs
It is obvious that health apps for women should be tested by women, ideally in the context of real-life issues.
These will deliver a flawless user experience. Plus, the automated tests during the app development stage will help identify issues and fix them immediately.
Step 6: Release and Maintain
Now that you have built a period tracker app and thoroughly tested it, it's time to submit the app to the Google Play Store and Apple App Store. The app submission process can be overwhelming, so it is suggested that you consult a health app development team.
Once the app is available for download, you can celebrate your work.
How Extern Labs Can Help You With Women's Health Tracking App Development
Femtech has already made a mark in the health industry, not because it's a new niche or trend these days, but because prioritizing women's healthcare needs to be improved.
So if you want to address this women's health app market opportunity by launching your solution in this niche, Extern Labs can be a great partner for you. We are a leading healthcare app development company and have developed various mHealth solutions. We have prominent expertise in wellness app development services and can surely help you transform your idea into billions of users' realities with custom mHealth solutions.
Visit our website today, or contact us to start the journey today.