You should have heard or used Face Apps, they allow you to see future versions of your photos or we can say How will you look like when you are old. They are built with Artificial Intelligence and Machine Learning algorithms along with Augmented Reality. AI and ML help them in integrating users' faces into other images and video elements and the Augmented Reality Technology helps it in recognizing facial signatures of users' faces.
They work with simple mechanisms but they have built on very advanced and complex technologies which is why some of them are too accurate. Here, we are going to find the Top Five Face Swap Apps for 2022. Along with the app, we will be discussing how to develop a Face Swap App. This article is going to be one of our 100+ Mobile App Ideas for Business.
What is Face Swap App?
Face App or Face Swap apps are some of the trending apps that can provide variations for your facial data. One of the best examples is they can show how you will look when you are older or they can tune your face into any celebrity image or even video. They are trending these days with celebrity images and videos from various movies. They work too fast and provide instant results, here we are going to find some of the top face swap applications to use.
How Does Face Swap App Works?
They provide very fast and accurate results and this utility helps them in staying in the trend. Youngsters usees them to share their older versions or fits themself in smaller clips from movies that have been in trend on social networks.
They have three essential elements integrated which makes them this promising to users. First is Augmented Reality which helps in better face mapping and recognition so the output can be as accurate as possible. And the other tech is Artificial Intelligence and Machine Learning which help the application in their core algorithms and output results. For developing a decent Face Swap app, you will need some of the Best AR Developers and Python developers.
Top Face Swap App
There are tons of app swap or face apps that can be found on the Play Store and Apple Store, yet very few of them are relatable usable, and very few of them can provide considerable results. So, here we have found the top five of the face swap available for both platforms.
Reface
Reface is considered as one of the top face swap applications due to its accurate and surprising results. It has been considered as one of the tops because it has the most downloads on both app stores and is widely being used by social network users. Reface allows users to see their picture of the older version and made things easier to swap faces with celebrities from any specific movie. It has amazing AI and ML algorithms that can replace any face in any situation with the face of users. Reface is not only amazing with images, and it also has many advanced features for Videos and gifs as well. Users can directly share output result images to their social channels from the app itself.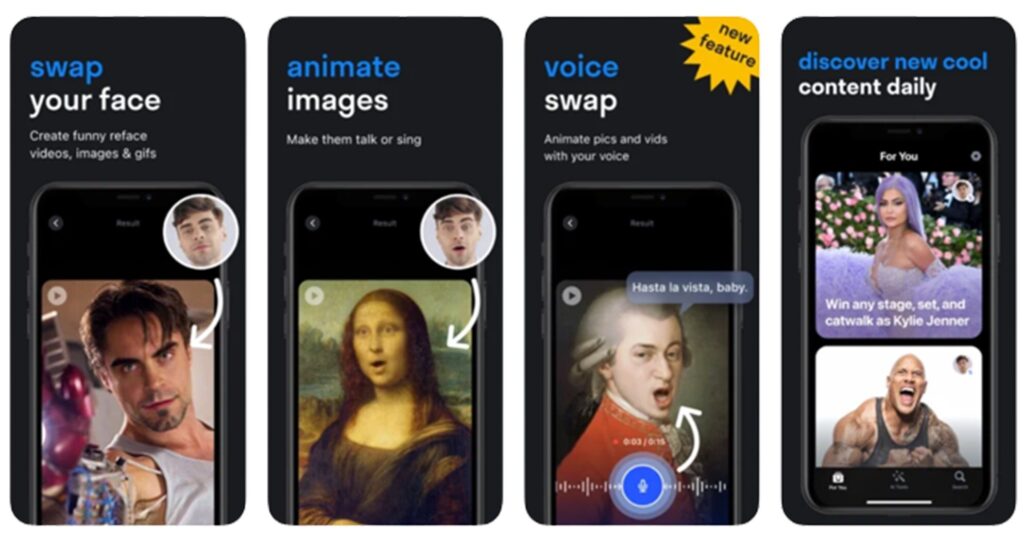 The feature that makes Reface the best
Easy and fast results with face swap to celebrities
Can replace your face with images, gifs,s or videos
Huge database for celebrity images
Convenient to share results on social networks
AgingBooth
The second best option according to our Mobile App Developers due to its internal elements and algorithms. AgingBooth has the most advanced and data-oriented, AR and AI algorithms which makes it more accurate with output results. The developers have focused on providing aging photographs in instances with accurate results.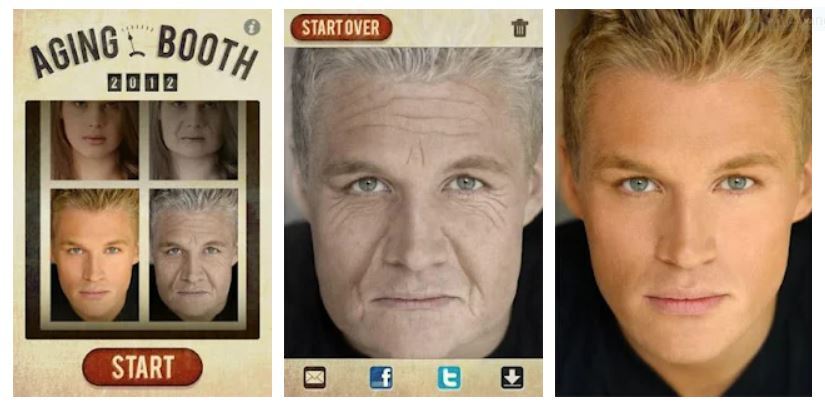 AgingBooth is the only one on the list that provides realistic images for aging photographs. Most of the features are free and without any watermark.
Advantages of the AgingBooth App
Advanced AI and AR tech can work even without the internet
Direct Sharing to Social Networks and other mediums
It has an intelligent photo editor featured, which automatically adjusts photos for better output


Meitu
Meitu has the best AI technology, which detects facial signatures with augment reality ad-ons making it a good choice in Face Apps. The best thing about Meitu is it has many filter options which give very smooth animated motion affect many others. Using Meitu is pretty simple, thanks to its minimal UI with fewer pages.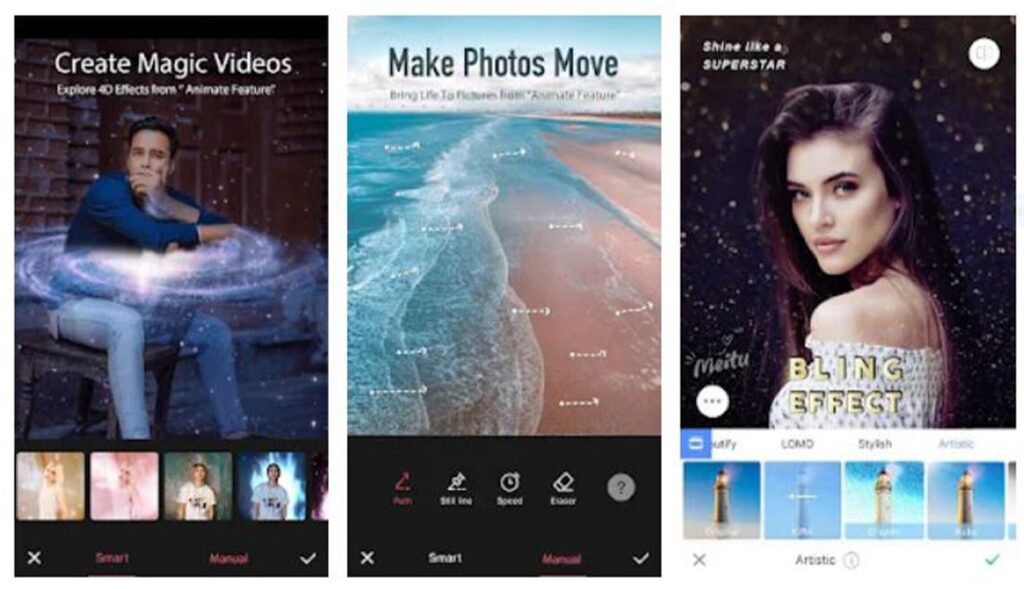 Meitu has one of the best built-in photo editors that help in the enhancement of the output photos in various ways. It also suggests stickers and smaller elements for photos.
Best things about Meitu- The Face Filter App
One of the best AI technology featured in Face Swap with better facial detection features and many small to big additional features.
The only one offering cloud server to help users save their images, videos, and other elements remotely.
They have patented their AI and face recognition technology which gives precise face data.
Oldify
Yeah! you heard it right, the app simply oldify you or your photos. As a technology geek, it has one of the best Augmented Reality techs which provides the most accurate face mapping data and makes Oldify one of the best alternatives for FaceApp.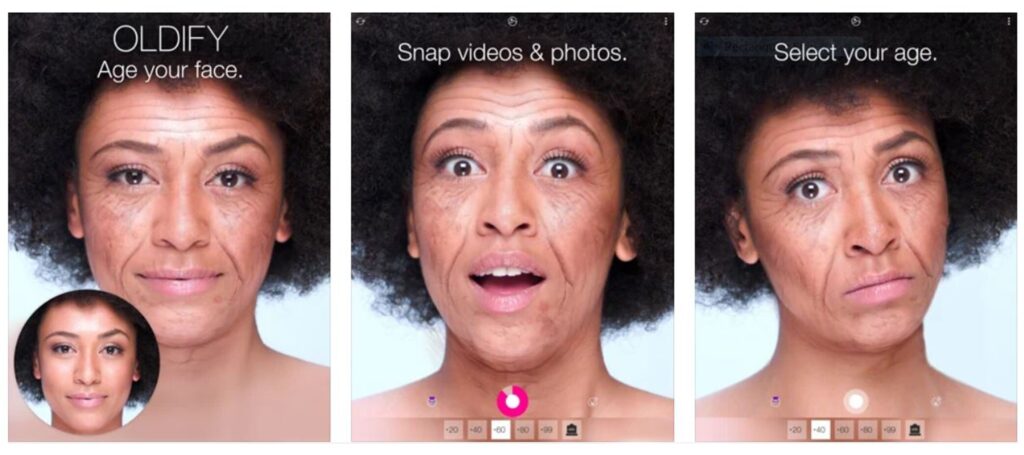 The developers of Oldify also build some alternative mobile applications for various uses like vampify stacheify and more. In addition, the app has a cool animated feature that allows users to record their videos of any activity like an old man.
Features of the Oldify App
App provides live results with the best output in an image, video, and more forms
Using Augmented Reality technology, which is capable of recognizing faces and inserting objects in the right place.
App algorithms are precise and they support the whole system without any AI tech.
Cupace
Cupace is more of a Photo Editor App than a Face Swap App but offers many great editorial features which lead it to our list of top face swap apps. It allows users to cut and paste their faces to any photo they like. Their editing feature is so advanced that it can help users add their face to any living or non-living object and make various types of images.

Cupace is more utilized for stickers, memes, and animations; you can face cropped faces and use them in any way you want. They have provided a huge database of elements that can be used for various purposes in many ways.
Features of the Cupace App
Different than others, helps users to cut and paste face images in various utilized ways.
Save your face data and use it as you want.
Better Image and Video editing features
How to develop a Face Swap App
Face Swap is a mobile app that can be native or cross-platform; to build one you have to plan the app with the platform you want to build it for. Now, you have the idea you will need expert developers who can build a face swap application for you. You can hire a dedicated Mobile Developer who can build an for you along with an innovative designer. For adding advanced features you will be needed some advanced technology developers like AI, ML, and AR developers. If you are planning to build a full-fledged face swap application then Extern Labs is the best option for you. We have highly skilled developers in the latest technology like Blockchain, AR, VR, AI, ML, and more.
These are the top five Face Swap Applications for Android and iOS with the most-used features. Each app is included for its special and unique features and advantages, you can pick one from the above that suits your requirements.