According to you, what is more challenging, coming up with an idea or bringing it to life?
The idea itself can not bring success, just like any implementation won't be a success without an outstanding idea.
Am I confusing you guys? Then, what's the answer?
The answer is, they are like nuts and bolts to each other. To make things work they have to work in harmony. And to make your ideas work, you will need a partner that understands your idea.
So, how to find that partner?
Hiring in-house developers is one option, but it's only good if you are ready to deal with the dismaying hiring process and other bureaucratic problems.
The second option is IT outsourcing. It is a common practice that is popular among small and medium enterprises.
The IT outsourcing market is huge, it includes some high-performing tech agencies and development companies offering high-quality work. You must give them a try, then only you can understand the difference and all the benefits.
However, choosing a tech partner to develop your product is not easy. You don't want a bitter experience in it, right?
So, in this article, we will cover some key points to consider when selecting your tech vendors.
Let's start and try to understand this.
IT Outsourcing: An Overview
IT outsourcing is a business method of inviting external providers to handle all the tasks related to information and technology like mobile app development, software development, digital marketing, etc.
Now, why companies should outsource tasks?
There are various reasons for this. For instance, to have their hands on the best talents conveniently, unlimited scalability, and better service quality. But in most cases, the decision comes down to budget and quality aspects.
According to a global outsourcing survey done in 2020, 70% of businesses have shifted to IT outsourcing because of significant cost reduction. 40% of companies turn to IT outsourcing due to flexibility and 20% have shifted to IT outsourcing for faster speed to market.
Moreover, cost reduction is still the main factor that convinces the client to turn to information and technology outsourcing.
Let's dig into how to choose the right outsourcing company for mobile app and software development.
How To Choose The Right Software Development Company?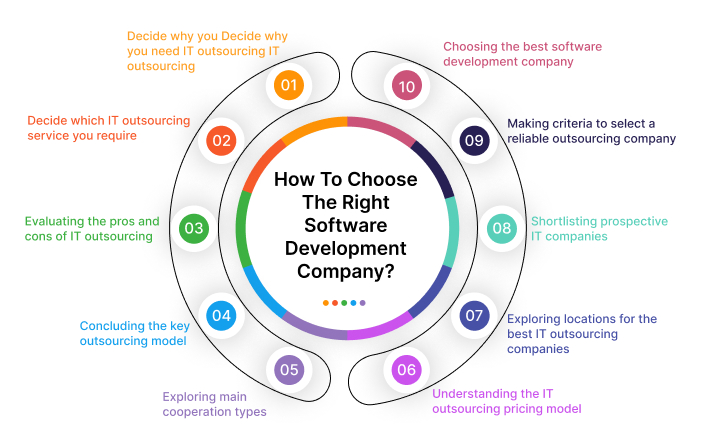 To not get drained in the massive pool of software outsourcing vendors, you should have a checklist with yourself for evaluating IT outsourcing partners. If you don't have one, read on, we are mentioning 10 important points to choosing the right software development company.
1. Decide why you need IT outsourcing
2. Decide which IT outsourcing service you require
3. Evaluating the pros and cons of IT outsourcing
4. Concluding the key outsourcing model
5. Exploring main cooperation types
6. Understanding the IT outsourcing pricing model
7. Exploring locations for the best IT outsourcing companies
8. Shortlisting prospective IT companies
9. Making criteria to select a reliable outsourcing company
10. Choosing the best software development company
Now, let's understand in detail each of the 10 IT outsourcing steps.
1. Decide Why You Need IT Outsourcing
You must have a reason and a requirement to look for an IT outsourcing company. Generally, there are some reasons why you should choose companies for IT outsourcing:
You are a guru in the field and you have a knack for digital products to solve customers' problems. If this is the case then you have to deliver the solution to the world for its testing. An IT outsourcing service company will help you build a solution that you can test as soon as possible without spending time on hiring an in-house team.
You are a small enterprise or an early-stage startup and definitely don't want to spend a hefty sum of money on development only. With IT outsourcing you don't have to hire an entire team like the designers, developers, QA engineers, and other experts to bring your idea into the market.
You might don't have any technical proficiency in your team and you also don't want to deal with the tiresome hiring. IT outsourcing can also cover other development-related services like UX/UI design, development, quality assurance, marketing, etc.
Hiring new members of a team is time-consuming. And if you can't have any time to invest a lot of your time in development then IT outsourcing is your only option.
If you agree with the above-mentioned points, then there is a great chance that your company will be benefited from IT outsourcing services.
Still have doubts, let's make things more clear for you. 
| | |
| --- | --- |
| Advantages of In-house team | Disadvantages of In-house team |
| High betrothal of the team in internal business processes. | Hiring an in-house development team is more overpriced  (You have to pay an additional amount for office space and equipment apart from salaries). |
| Complete control over the development process. | With an in-house team, your abilities will be restricted to the talent you hire. |
| Fast access to the team.  | After the development is over, your team might not have enough work to do. However, you still have to pay them. |
| | Employee retention is a real struggle in a competitive IT market. |
| | |
2. Decide Which IT Outsourcing Service You Require
You can outsource almost any work be it accounting, marketing, sales, shipping and logistics, IT management, customer services, and development. In the case of IT outsourcing, the services can be business analysis, project management, QA, UI/UX design, front-end and back-end development, iOS & Android development, and software support.
So, before looking for an IT outsourcing service provider you have to understand which service you want to avail yourself through outsourcing.
3. Evaluating the Pros and Cons of IT Outsourcing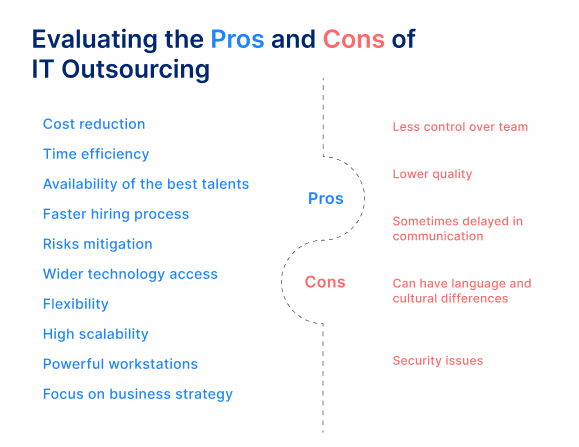 Just like any other thing in the world, IT outsourcing also has two sides, the good one and the bad one.
You have to evaluate the pros and cons of IT outsourcing that match your goal.
| | |
| --- | --- |
| IT Outsourcing Pros | IT Outsourcing Cons |
| Cost reduction | Less control over the team |
| Time efficiency | Lower quality |
| Availability of the best talents | Sometimes delayed in communication |
| Faster hiring process | Can have language and cultural differences |
| Risks mitigation | Security issues |
| Flexibility | |
| Wider technology access | |
| Powerful workstations | |
| High scalability | |
| Focus on business strategy | |
As you can see, there are two sides of everything, however, you can bring the risk of outsourcing to a minimum by selecting a reliable partner with proven success.
4. Concluding The Key Outsourcing Model
After knowing the pros and cons of IT outsourcing, businesses have to select a suitable outsourcing model.
Yes, there are types of outsourcing.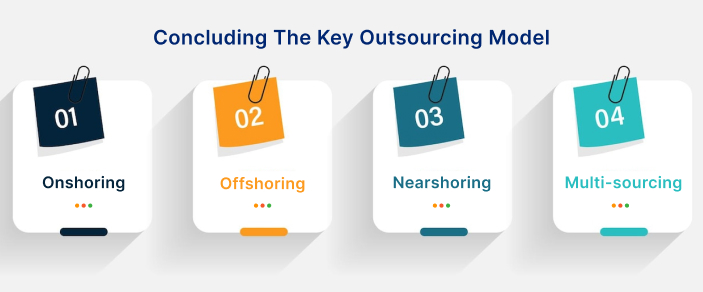 There are mainly four types of IT outsourcing:
Onshoring
Offshoring
Nearshoring
Multi-sourcing
The location of your service provider can make a huge difference. This is also a criterion for classifying IT outsourcing.
Let's understand this:
Onshoring type of outsourcing is also termed homeshoring because it involves hiring a team outside the company but in the same location. This outsourcing model has its own benefits like being in the same time zone. But, one shortcoming is limited capabilities in cost savings. This is the main reason why businesses avoid onshoring.
Nearshore means hiring an outsourcing company from a neighboring country that is usually in the same time zone as the tech team. The one benefit of this is that you all will be in the same time zone and thus can save money by outsourcing to a more cost-effective IT outsourcing country.
Offshoring implies hiring a tech service provider from a distant location, at least four time zones away from their own company. This is one popular IT outsourcing and allows companies to leverage tech services at more favorable pricing and can access a large talent pool. In offshoring, the team works in different time zones so your support team can work at night while your main team is sleeping.
Multisourcing will entail you attenuating the risk by hiring a few tech service providers from different locations to work on your project concurrently.
5. Explore Main Cooperation Types
Alongside the four IT outsourcing models based on location, there can be three types of projects:
Staff Augmentation
Project-based
Dedicated development team
Doesn't know what all these means? Let's review each one of them.
Staff Augmentation
Staff Augmentation can be a big rescuer if a company misses a specific skill and expertise in the main team and want to narrow the gaps. Thus, one good option is instead of hiring an in-house expert, you can reach out to service providers and get the required help.
The augmented team will act as your own employee. 
| | |
| --- | --- |
| Staff Augmentation Pros | Staff Augmentation Cons |
| Fill in the talent gaps faster | Onboarding process is longer |
| Flexible to hire as many professionals as you need | Search takes time |
| No need for hiring a whole team | |
Project-Based Outsourcing
This model includes hiring a team to execute a part of work or to develop a digital product that is planned and well-defined. The outsourcing company will accept the task, manage the development process, and deliver the ready-to-use product to its client.
| | |
| --- | --- |
| Project-based Outsourcing Pros | Project-based Outsourcing Cons |
| Mentioned timeline and result | Minimum control over the project |
| Quick hiring | Less flexibility |
| Saves time for the in-house team | Results might not meet your standards.  |
Dedicated Development Team
This working model is best for companies that want to build a complex project with an extended partner. In this model, the dedicated team works on the project full time and allows you to deliver the required results faster and offer higher engagement in your project.
| | |
| --- | --- |
| Dedicated Development Team Pros | Dedicated Development Team Cons |
| Extra control over development | The hiring process is longer |
| Zero micromanagement | |
| No need for developers' rotation | |
| Access to the experts | |
| Higher quality | |
6. Understanding the IT Outsourcing Pricing Model
Any IT outsourcing model will follow the four main pricing models:
Time & Material
Fixed prices
Rate card
Cost-plus
Time & Material


T&M is the most prevalent pricing model in the tech world. As the client will only have to pay for the number of hours the developer will work on a project.
| | |
| --- | --- |
| PROS | CONS |
| You can have complete control over the project and thus can change requirements anytime or can even shift the whole focus of the project without paying extra. | You will never know how much you have to pay for the entire project. The cost might change if challenges occur. |
Fixed Price

It must be clear by the heading that the service provider will deliver the project within a pre-decided budget and time. However, this model is only applicable to projects that have clear specifications, which means you can't change any requirements once the project starts.
In some cases, it is possible to ask for changes but the client will be charged extra for a change.
| | |
| --- | --- |
| PROS | CONS |
| You will be aware of the project delivery and project cost. So even if the time frame changes due to difficulties, you don't have to pay extra. | Every little change that you make in the initial project will cost you extra. This can be more expensive than T&M. |
Rate Card


It is a pricing model where you have to pay a predefined monthly rate for developers who works on the project.
| | |
| --- | --- |
| PROS | CONS |
| You know how much you have to pay each and every month for the project development. | You have little to no control over deciding who will work on your project. |
Cost-Plus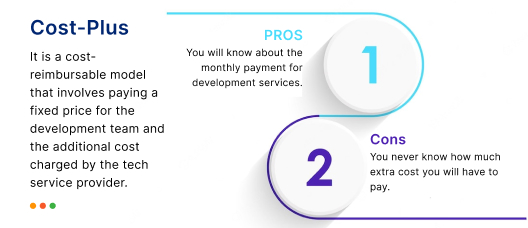 It is a cost-reimbursable model that involves paying a fixed price for the development team and the additional cost charged by the tech service provider. These extra costs are the expenses for workstations, taxes, and resources that a vendor spends on hiring.
| | |
| --- | --- |
| PROS | CONS |
| You will know about the monthly payment for development services. | You never know how much extra cost you will have to pay. |
7. Exploring locations for the best IT outsourcing companies
There are lots of options to outsource the development project. However, which location is the most popular one for IT outsourcing?
Is it even important to know? Definitely, yes!
The most popular destination worldwide will help you decide which one will be best suited for business.
For instance, In Eastern Europe countries like Ukraine, Belarus, Armenia, the Czech Republic, Poland, Romania, and Hungary offer lower prices even when combined with favorable taxations. The average cost of IT outsourcing service providers in Eastern Europe countries is $30-60 per hour.
Asia & Middle East is probably the most popular IT outsourcing locations for the cheapest services. And India is the pioneer in this area and is famous for offering low prices. The best IT outsourcing location in Asia are India, China, Malaysia, Vietnam, Indonesia, and the Philippines. The average cost in Asia and Middle East countries is $15-$40 per hour.
Latin American countries like Brazil, Argentina, and Mexico are prime targets for IT outsourcing among US businesses. Apart from great quality and price these countries are in the same time zone as the US and Canada. The average cost for IT outsourcing is $30-$50 per hour.
Extern Lab is an IT&Software development company located in three prime locations- USA, India, and Dubai. We have completed all projects successfully in time under a friendly budget. Our team accompanies highly qualified experts in ML, Big Data, AR, VR, IoT, and Artificial Intelligence.
8. Shortlisting prospective IT companies
We know, with thousands of IT outsourcing companies all around the world it gets very tough to select one for your project. That is why you should form a list of over five prominent prospects. However, while shortlisting the prospects, keep in mind the following factors:
What technologies does the company work on?
What is the balance of positive and negative reviews?
Is the company among the top IT outsourcing providers?
Does the company hold successful case studies with the latest innovations?
9. Making criteria to select a reliable outsourcing company
You have shortlisted the five prospective IT outsourcing companies, then it's time to select the best company for IT outsourcing. After all, here we are talking about business and money so making the right choice becomes essential. 
How you can make the right choice? By taking into account the below-mentioned points:
Background Check
Reviews and References check
Expertise Check
Cultural Check
Quality and Security check
10. Choosing the best software development company
Mentioning the entire process, finally we come to an end. After following the whole process you can clearly identify a company best suited to your needs and requirements. If you follow everything, you will be able to find an IT and software development company that can become your reliable partner for many years. 
Bottom Line
Finding the best company for your project is like searching for a needle in the haystack. You have to understand the differences and importance of key outsourcing regions and which location offers the best price along with the best quality.
Always go for one with economical prices, high expertise, and a large talent pool.
If you search for top mobile app and software developers in US and India, you can see a few leaders in the area like Extern Labs. It stands out the most thanks to its track record of coming up with innovative solutions and top-level expertise in IoT, AR, VR, ML, and big data. 
Moreover, Congratulations!
Now you know the secret to choosing the best IT Outsourcing company.