In this technology-driven world, a huge number of audiences are shifting toward the digital platform. It sounds good that the world is moving digitally, a plus point for all digital marketing companies and businesses.
But, every coin has two sides.
With the transfer of audiences onto digital platforms, the expectations of users rise, and thus the marketing technology gets more sophisticated. Along with this, the number of channels we want to reach keeps increasing. And for all these, the marketers are using the tried older ways of marketing which are certainly failing in current times.
Being a part of the digital marketing team, I have been learning a lot about digital marketing. One new thing I have heard and learned about recently is "Agile marketing."
And so, we decided to write today's blog on Agile marketing, its role in digital marketing, and some of the Agile marketing processes.
Agile marketing is a marketing approach that utilizes the principles of agile methodologies that are quite popular in software development.
But, what does it exactly means? Let's see!
What Do You Understand By "Agile Marketing"?
Every day, business owners and e-marketing are introducing new and efficient ways to complete their jobs with resources like time and money.
Advanced technologies are allowing companies to fulfill the customer's demand with improved data-driven insight. These changes can be adapted and implemented to enjoy more benefits, while those who are still stuck with the older methods are slowly becoming irrelevant.
Here, the new method I am talking about that is replacing the old-school version is "Agile Marketing."
In the year 2012, a group of specialists came together and held a long meeting and developed the Agile marketing process, and this is how everything started.
Agile digital marketing works in the same way as Agile technology, such as taking a strategic, sequential approach and devising and implementing solutions through collaborations.
Basically, marketers borrowed this idea from the agile software development methodology and redesigned it according to the marketing frameworks.
With Agile marketing, teams can develop better marketing strategies and can carry on with the execution.
How does Agile Marketing work?
You must be curious about this. Here's your answer:
The role of agile digital marketing is to ensure the smooth running of the work and to be resource-efficient without any dip in quality. This also means the utilization of task management software and tools to help the entire team manage their time and stick to project deadlines persistently.
Also, Agile marketing will motivate marketers to persistently bang out frequent releases to improvise their strategies and marketing campaigns. The agile marketing process doesn't mean looking at the marketing process as planned from start to end. But it is a developing process that is defined through the renewal of the process. Basically, you start with an idea and give it a shape with cross-functional team collaborations as you move ahead to different phases of the development.
Hopefully, you get the notion of what Agile marketing exactly is. They are also referred to as lean methodologies because they are intently enthralled with removing waste and streamlining processes.
Agile Marketing Stats
Let's have a quick look at some statistics on Agile marketing. These stats will show why the agile marketing process is becoming marketers' favorite all over the world-
According to a report, 53% of the marketing team have experienced faster release time with agile marketing.
98% of businesses have reportedly seen success by following agile marketing.
51% of the marketing team that is following agile methodologies stated that they have no problem improvising any task on short notice based on feedback.
Agile marketing also allows the entire team to collaborate and work harmoniously to complete any project.
2023 is another year full of possibilities and business innovations. And if your company fails to catch up with the others, it might get abandoned.
In fact, 50 percent of the traditional marketers plan to follow agile from the next year.
Agile Marketing Manifesto
Remember in the starting we told you a little history of how agile marketing came into play.
Well, there's more to this story.
It is a proven fact that it's not always necessary that what works for one line will also work fine for the other line.
And the marketing experts realized the fact that if agile is going to work for them, it will need some modifications to suit their respective purpose.
But, it also doesn't mean that the already existing agile model is flawed.
So, in 2012, a mind mapping software business fronted a program called SprintZero in San Francisco to record a common model for Agile methodologies. And this event led to the introduction of the Agile marketing manifesto, which is a list of values that includes seven points for lead marketers.
The full list contains-
Validated learning over opinions and gatherings.
User focused collaborations in the hierarchy,
Adaptive and algorithmic campaigns over big campaigns.
The process of customer detection over mere predictions.
Flexible vs. rigid planning.
Reacting to a change over a running plan.
Many small experiments over large bets.
Although it seems basic, it represents a considerable shift in the knowledge of marketing.
How To Get Started With Agile Marketing
The first step will be to distribute the team according to different marketing disciplines. Depending on the type of enterprise, there will be a team of designers, content writers, ad managers, social media managers, content creators, etc.
All these people work together to attain the same goal. And they meet up every day to give their work updates. Even though all of these people are working on different things and are using different marketing methods, their efforts will collectively answer a user story to solve a customer problem.
The user or the customer/targeted audience requires a tool to solve their problems. The entire marketing teamwork helps solve the user's problem with the product/service they are marketing.
To make this more explicit, we can look at this popular formula for writing end-user stories used in software development.
"As[a certain type of user], I want to [a statement about a problem that needs to be solved], in order to achieve [a certain type of goal]."
Each team then works together to achieve its unique goal of solving the user's pain points. And the "daily standup meets" (DSM), help to avoid silos and stay organized.
These types of projects usually take two weeks and are named sprints. At the start of the sprint, the team gathers and estimates the timeline of the project. Then they start the implementation. At the end of the sprint, the agile marketing team carries out the demo and showcases their work to look back at what they could have done better.
What To Expect In The Process Of Agile Digital Marketing?
Implementing agile in marketing will not be an easy task at the beginning. However, if you get leverage from stakeholders, it will become easier to set up the process for agile marketing.
Below are mentioned few things that you should remember when getting started with agility: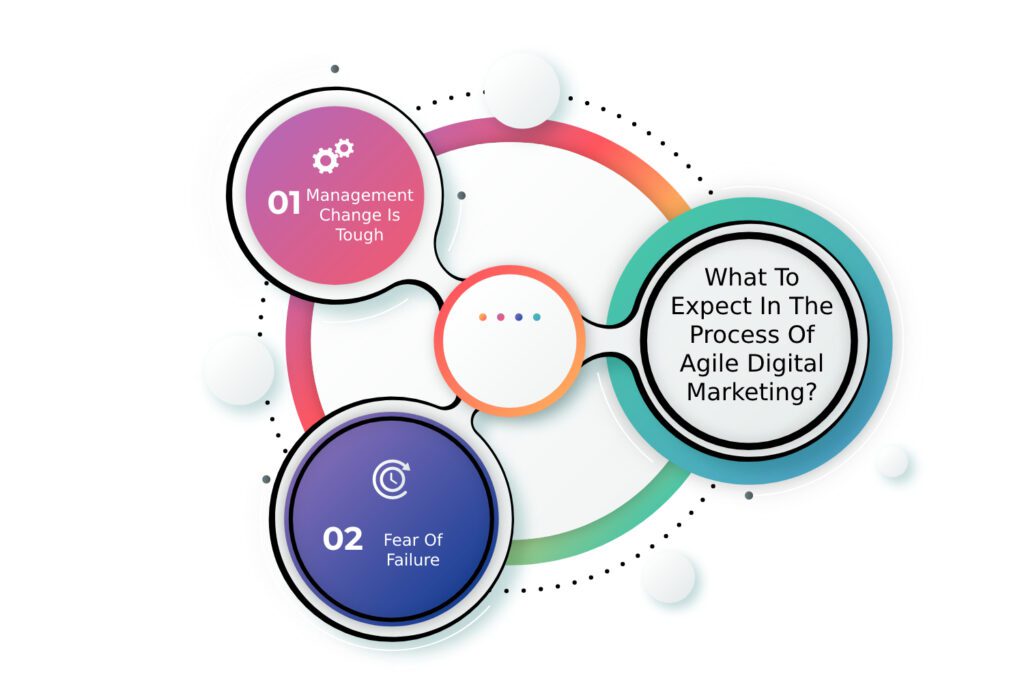 Management Change Is Tough
Everyone loves being in their comfort zone. And so it gets hard sometimes to convince people to leave their daily comfort zone and start something new.
Also, always being in a comfortable state is not good also sometimes little twists are good to make things better. So, you can expect that some of your team members might not like the idea of this new method, but they can be resistant to change. So you have to be ready with deep insights and data.
Fear Of Failure
Experimenting doesn't always guarantee success and applause. People will make mistakes, teams might fail, and a perfectly planned campaign can be canceled. But, in the end, this is all a part of project management methodologies.
No matter how popular the agile marketing process is, it can still give the burden of fear of failure.
The Benefits Of Agile Marketing
Boosts efficiency
Welcomes innovations
Delivers more ROI
Focusses on customers
Let's discuss these benefits in detail.

Boosts Efficiency
Removing not-so-important steps means teams work faster. This is also equivalent to more projects, which also means double the opportunities to bring in customers. Therefore, instead of wasting time on things that don't deliver value, we can all make efforts to do more important tasks.
Welcomes Innovations
By highlighting rapid testing, marketing teams employing agile can find all kinds of acumen much more quickly. It also means that their marketing efforts can be run by real data to provide customers with what they are looking for, rather than making them guess.
Delivers More ROI
If you are in marketing or related to marketing anyhow then you know that the older method of marketing was slow, and it was difficult to estimate and quantify time. However, with the Agile marketing process, the team can run multiple marketing campaigns without compromising quality, plus you will also get the advantage of modern analytics.
Focusses On Customers
The agile marketing approach keeps the entire marketing team focused on delivering what the client and the targeted audience want without getting shoved into unnecessary documents and meetings.
Conclusion
Shifting from the standard project marketing approach to agile marketing can be a bit intimidating at first. But this transformation will be simple if you follow the rules. Begin with your goal, receive buy-in from the senior marketing leaders who can lead the whole team, form your team and explain this new agile methodology to them. In the end, set up the technology, collect feedback, and analyze data.
Soon, you will gain momentum in your project and it will grow faster, giving better results.
If you are in the marketing field and searching for ways to optimize your workflows, then agile marketing is for you!
As a professional digital marketing service provider, Extern Labs offers economical and result-driven digital marketing solutions.
Extern Labs offers an end-to-end digital marketing solution to help your business prosper online.
Try today! You might thank us later.